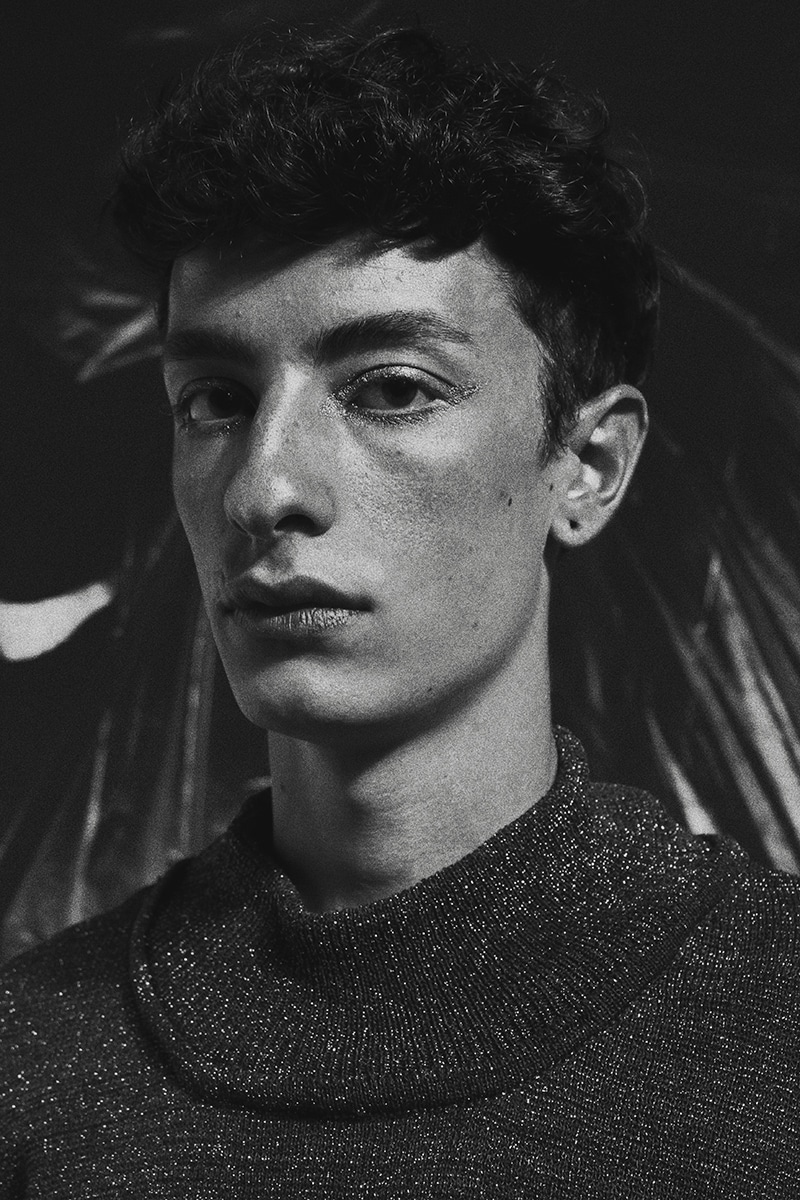 Francesco Mottola
For someone who's first fashion foray entailed creating petrifying hybrids with lengthened protuberances (I kid you not), Francesco Mottola has come a long, long way. The recent IUAV Fashion Design graduate and gothic-art fanatic exploit an utter addiction from Italian prose narratives hoisting a subversive preamble in his creative practice, leading up to the creation of men's clothing that explores unconventional artistry and question the menswear arena.
But above all judgments, don't be fooled. Believing that emerging designers could benefit from the support of a cult following than relying on a handful of industry insiders to help carve their lane, Mottola braced the helm of fashion leaders Arthur Arbesser, Alberto Zambelli, and Aquilano Rimondi, designers which provided him valuable insights in the realities of the fashion world. Approaching a design process in a similar way to how his favored artist would produce the ultimate track, Mottola's designs epitomize a guilt-free expression of grotesque dynamism in the most flamboyant way possible. For his graduate collection, titled "Anti," Mottola considered the works by Italian author Umberto Eco "Story of Ugliness and Story of Beauty" as a main narrative, exploring the dystopian and tapping into the mythological façade by juxtaposing the real and the surreal on a rousing crescendo. Moreover, crafting a collection that comes from the "fantastic creatures of the Medieval Era," Mottola's practice imbues a bittersweet concoction of the old and new, mix-matching tailored extravaganza with a literary nuance that gathers elements from fiction and a more rational hemisphere.
"I envision my practice as an escape from the ordinary […] Through my hybrids, I want to transition realism into the unconventional, for the simple fact I've always been drawn by a sense of nonconformist beauty," he reflects. And as modern times call for modern approaches, his vision sparks in meaning and thrill, both of which are quite adequate.
Below, the newcomer drips in thoughts. So, believe you me, as his prowess is one to watch, tune in now and don't feel sorry. You're welcome.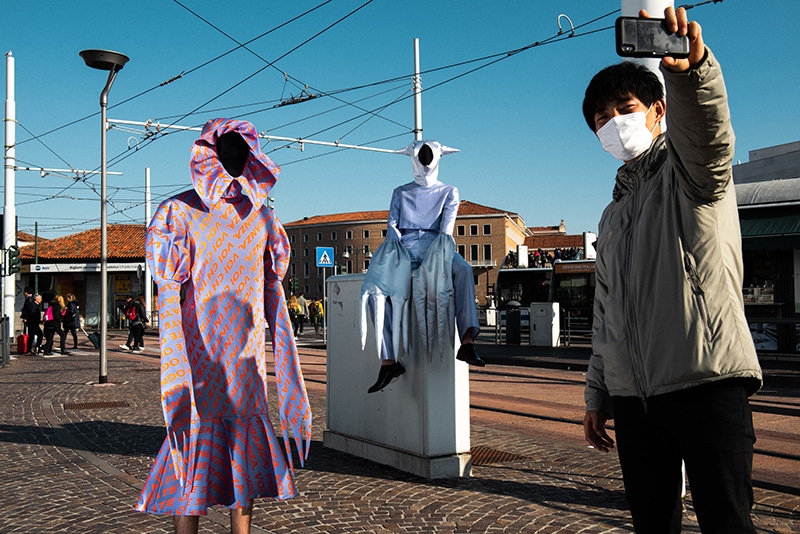 As the endpoint of your studies, what was the key message you were trying to achieve through your collection?
The core message I was trying to deliver related to an utter state of manifestation, experimentation, and creativity. I tossed out a manifesto for all those who felt that their aesthetic wasn't accepted by the people surrounding them. But ultimately, I wanted to serve a stimulus to break out from the conventional and the ordinary, aspect often present in fashion.
Your "beasts with lengthened claws" are what got people talking. They parped pretty well.  How did you create them?
I created my "beasts" by the readings the works of the Italian author Umberto Eco, titled "Story of Ugliness and Story of Beauty." I've always had a fondness for ugliness, deformed and medieval mythological monsters, sifting through fantastic creatures and popular beliefs in the Medieval Era. From this concept, I developed all of my final project, which also became my thesis content covering the likes of Medieval monsters, grotesque features, camp culture, and the uncanny.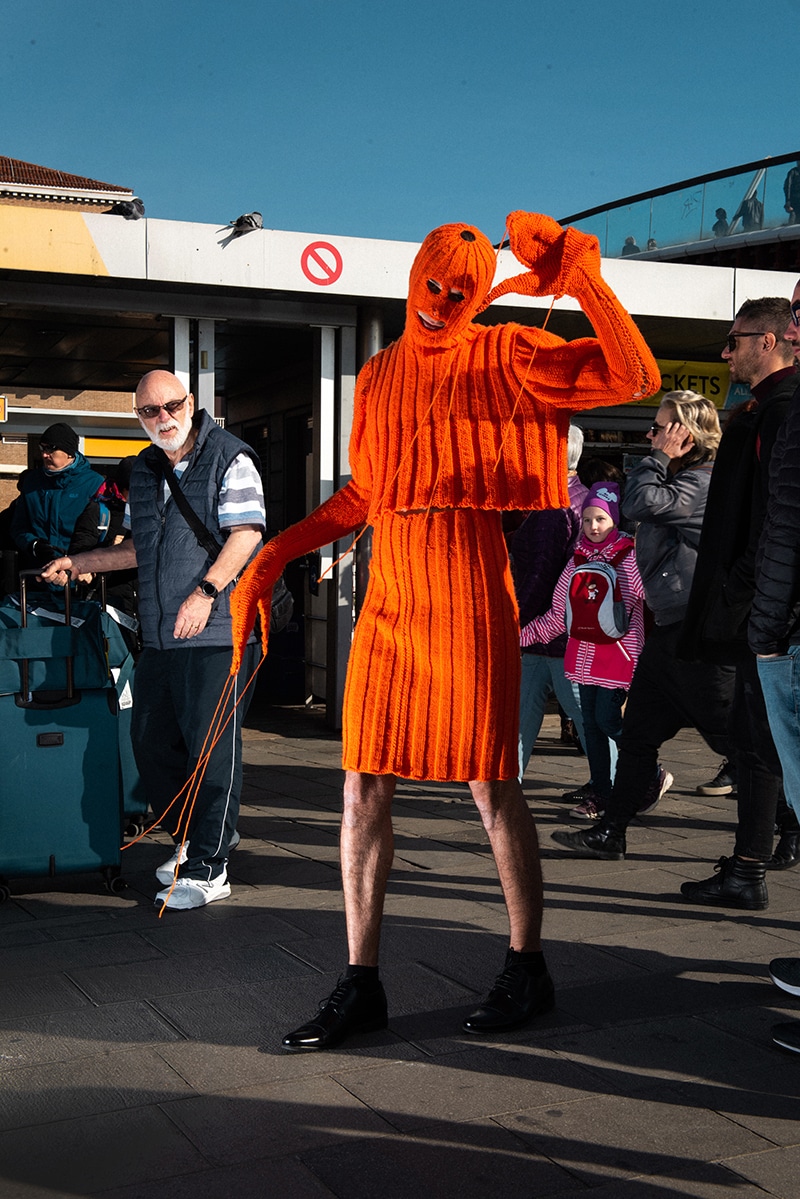 You tackle mythological monsters, ugliness, and the unconventional in your practice. I mean as cool as it sounds, that shit freaks me out. How did you come about such and why do you feel is relevant in modern terms of fashion?
I was interested to talk about things that have always defined overly misinterpreted or simply unconventional. To date, I think it's fairly relevant because I'm trying to express ideas (and spread approaches) not to sell. My project is a personal escape from the creative denial against the figures who try to coordinate the ordinary, limiting creativity into something rational and commercial. I don't want to create an image that we can find easily. Defying canons of beauty has been a much-prized go-to.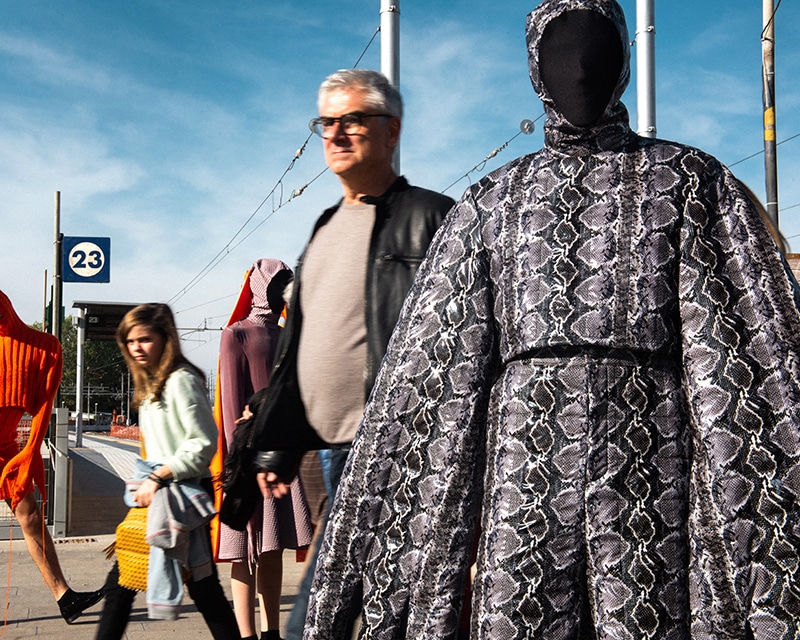 What drew you to delve into the grotesque, whilst living in a city such as Venice?
The concept of the grotesque and its definition amazed me from quite a young age, and I discovered it for the first time when I was in the process of developing my grad collection. Venice is the city that opened my mind. The energy it rendered was remarkable, hence my will to explore.
Do you see your clothing as fashionable items or more like something that pushes for a new definition of fashion? 
As a newcomer, I'd love to push for a new definition of fashion. I'm not interested in what is fashionable today and what isn't per se. I'm Fucking Young, with lots of ideas to give, concepts to express, and I kind of don't want to bore people at 22.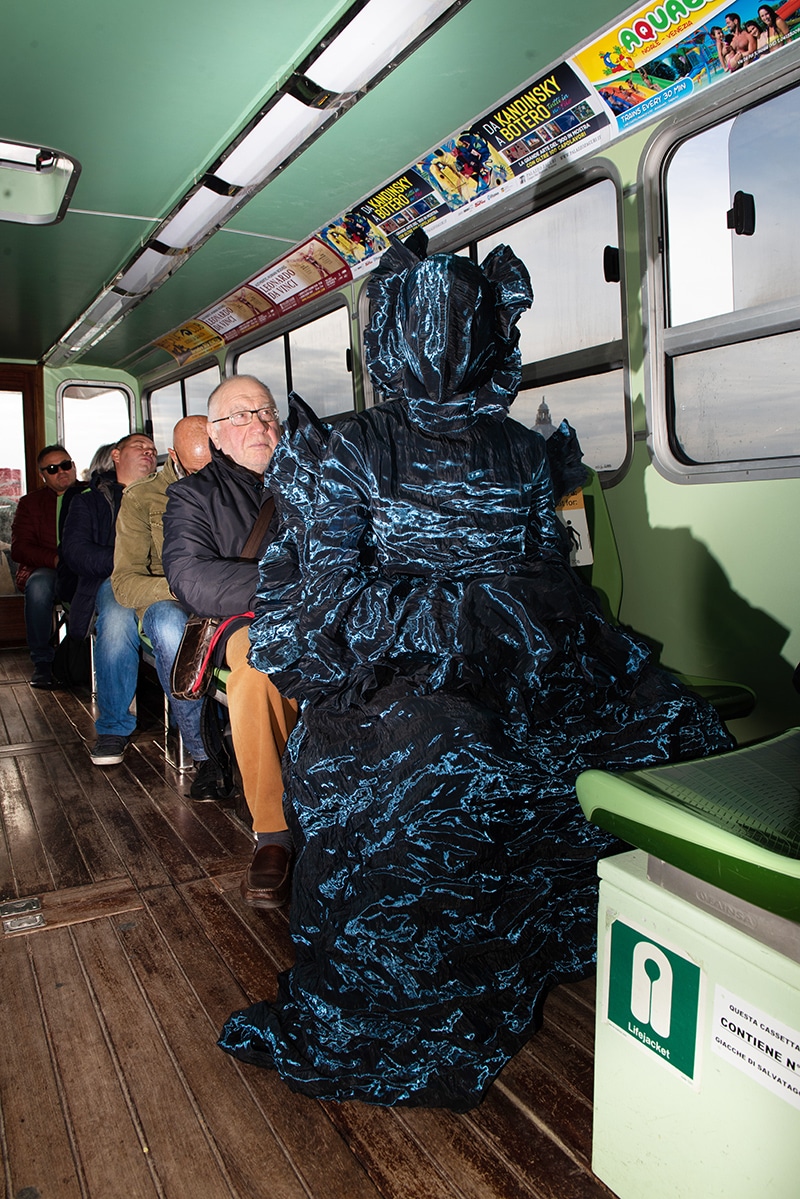 Tell us about your use of materials.
For my latest collection, I wanted to create different settings for each look through the fabrics and the colors I chose. I'm very curious about new technologies and how technology may further-place society on a new pedestal. Experimentation and the never-ending shifts in fashion are what I'm looking for.
Sustainability, as you realize, is a big win for newcomers in this industry. Do your garments come from an ethical process of craftsmanship?
Yes, they do. I'm involved in sustainability, but I'd like to know more too. Surely, if one day I'll fully establish my brand, sustainability will be one of the key themes I'll pay the right attention to. In the meantime, my knitted look, for instance, is entirely made by the hands of my neighbor, a lady who began sewing aged 14. Thinking about it, she got mad crazy about that outfit from my collection.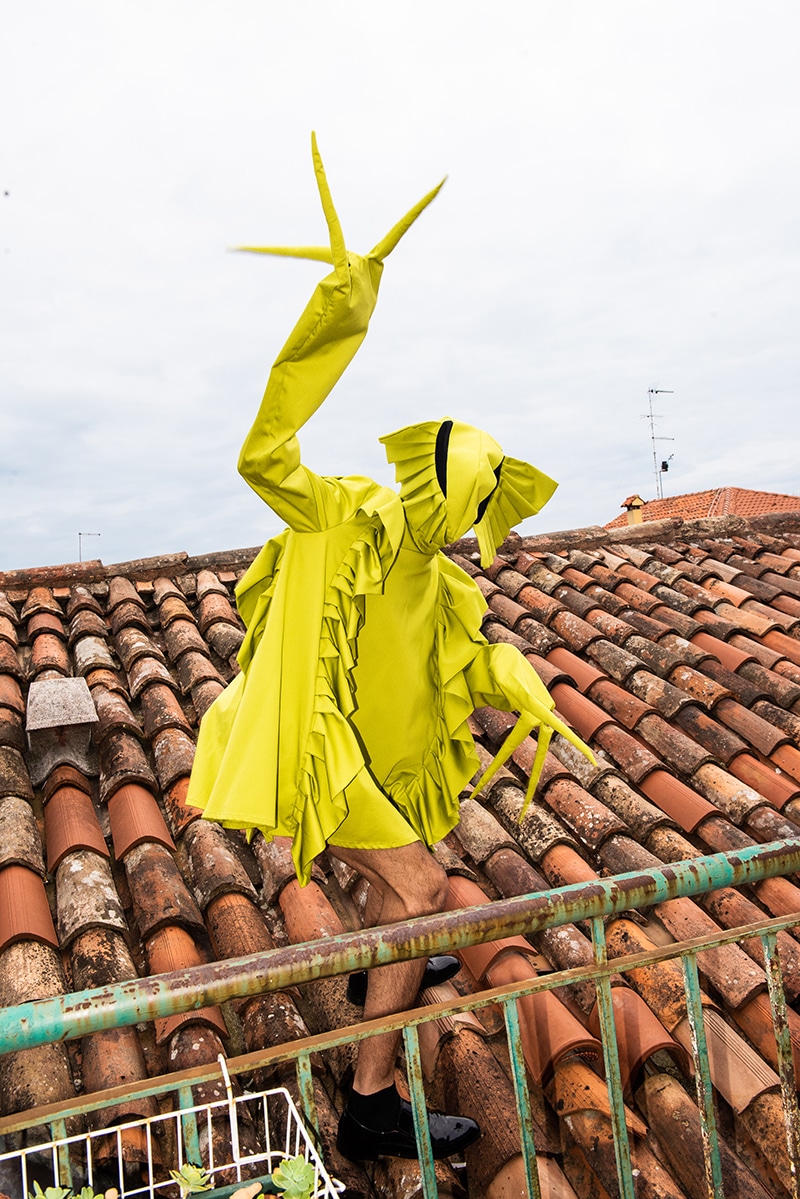 There's a natural comparison to be drawn between your work and the uncanny façade of Walter Van Beirendonck. How do you tackle the hype surrounding modern fashion? What's the narrative behind your identity? 
It's funny because a friend of mine told me the exact same thing. I've never seen the works of Walter Van Beirendonck before creating my own collection. But yes, it's true. Precisely, during his 90s, I find myself very related to his creations.
I do not tackle the hypes of fashion, because at this moment of my early career I don't need to think about the commercial market, as I don't have the urge to sell. The only thing I would like to "sell" is my creativity.
I think the narrative behind my identity is something under expansion, but what I'm sure to tell you right now is that a lot of people of our system got used to fashion as a means of wearable and saleable again and again. I want to break those boundaries in the craziest way possible.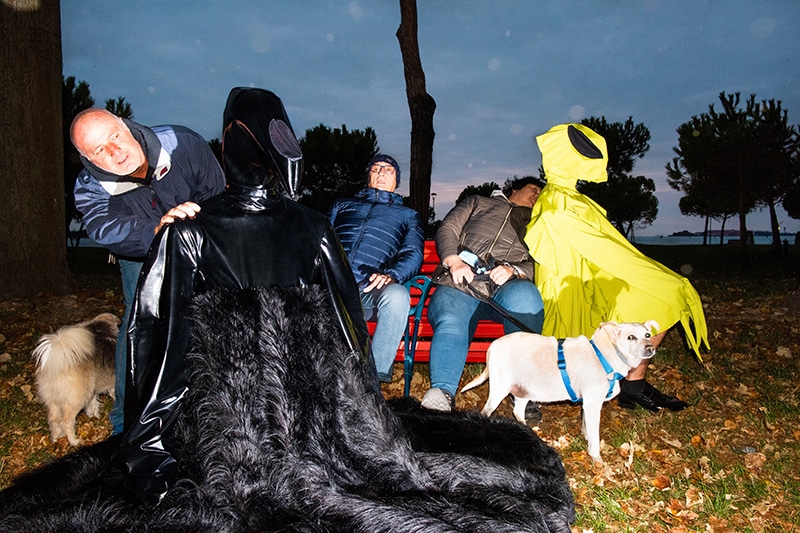 The volumes you use are very enthralling. Tell us more about the process… 
Well, thank you. I worked a lot on fabric experimentation, crafting large sleeves and wide skirts. I worked on tailoring alterations using my body as a prototype. But I worked on these volumes in a very simple way, as I had less time to create and finish the whole collection – only two months from the early concept to the final pieces. But I am very interested in volumes and pattern transformation.
What's next in the pipeline? 
I'm working on further garments, adding up new pieces with all the fabric leftovers (one of them is a trouser upcycled from old jeans and eco-leather residues). In addition, I've been selected for a Fabric Contest with Not Just a Label and SwatchOn, so I'm going to create a new look with their fabrics ahead of June 2020. Lastly, I'm also waiting (crossing fingers) to begin an MA at London's Central Saint Martins art institute.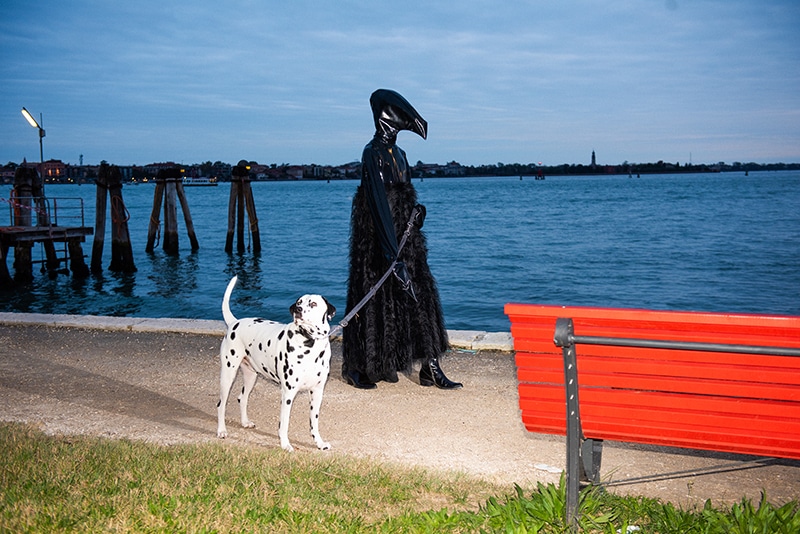 Designer: Francesco Mottola: @itsfrancescomottola
Image Credits: Lorenzo Marzi @hippatodahoppa_