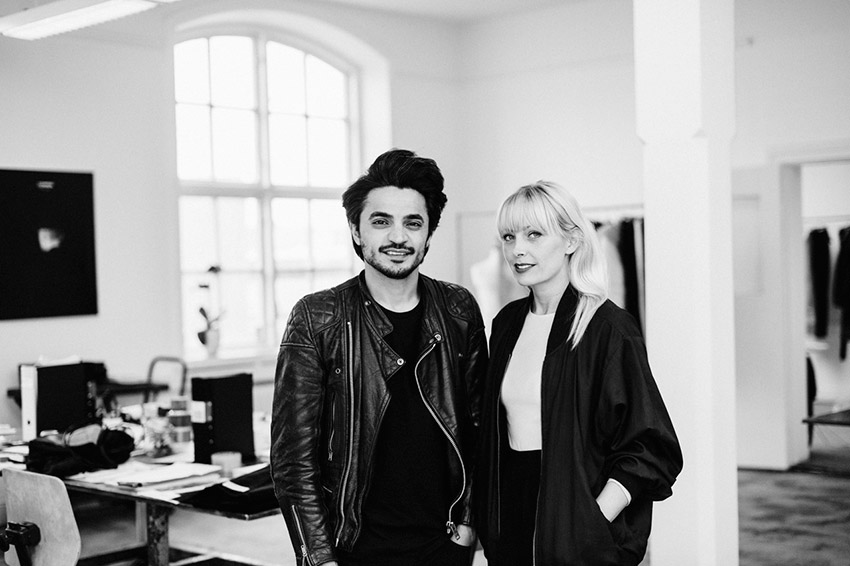 Central Saint Martins, Paris, London, Sweden, Emma Hedlund and Saif Bakir the duet behind COMMON are driven by international energy and a certain idea of elegance. Meet the designers of one of the most exiting new coming menswear brand.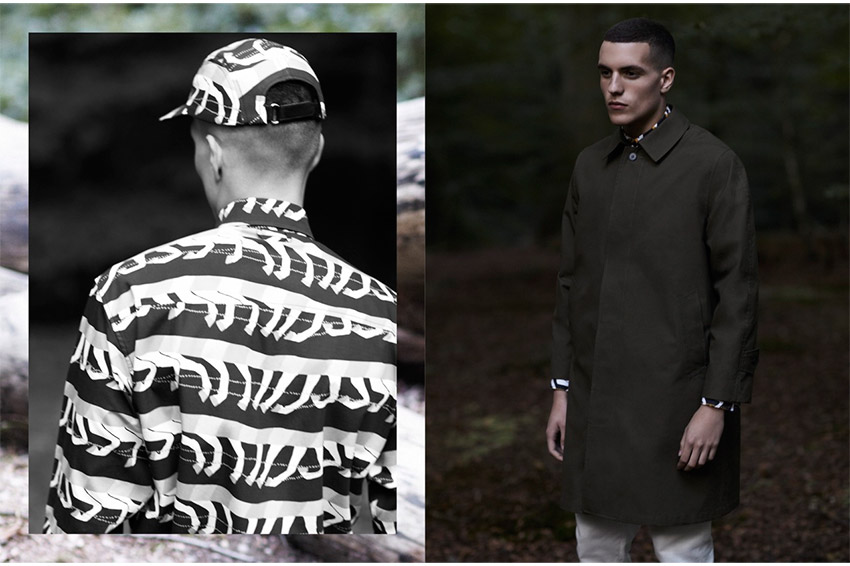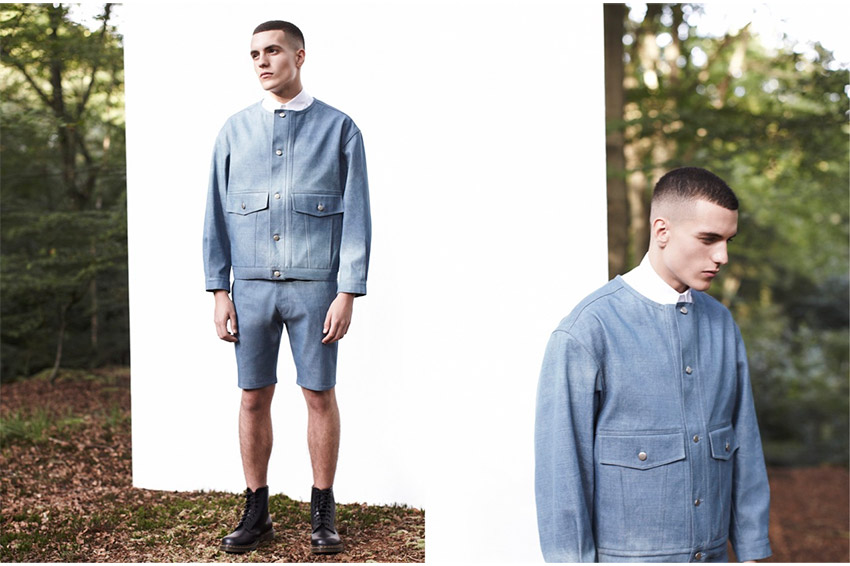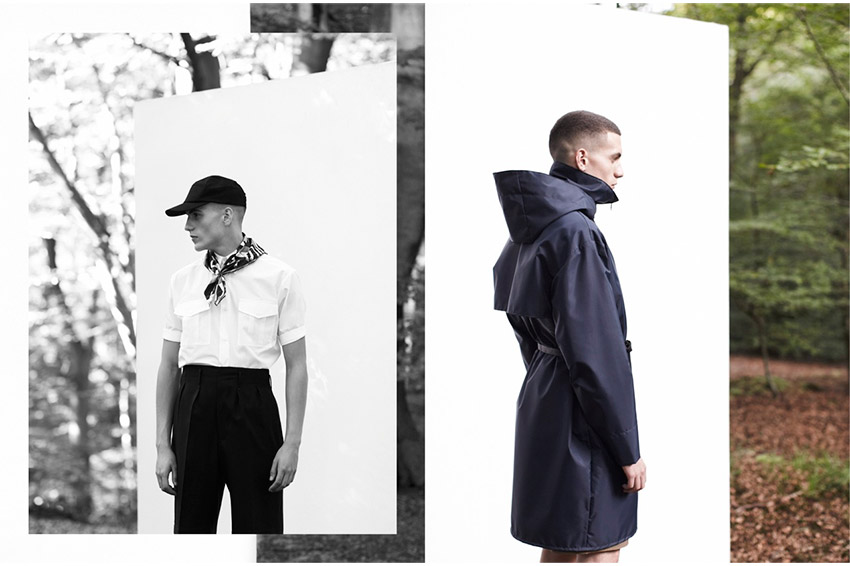 Can you tell us about your personal background and how you two met ?
Saif:
My parents are from Baghdad, Iraq but I grew up in Malmoe, Sweden.
Emma:
I'm also from south of Sweden and grew up in a small town not far away from Malmoe. We first met in 2004 in London at London collage of fashion where Saif was doing his BA degree in menswear and I was at the time in my foundation year before starting my BA at Central St Martins.
You had to go all the way to London to finally found out that you were from the same swedish city then? Some would call it fate…
Emma:
Yes that's how we met !
And We were both a huge support to each other during our degrees. We worked closely together and constantly picking each other's brain and exchanging ideas. It wasn't until Saif moved to Paris and joined me at Kanye West as Head of Designs that we got to work together professionally and realised that we were quite compatible on many levels. Setting
up Kanye's studio and label in Paris we came to realise that we could be doing the same thing for us and this triggered the desire to run our own label.
What is the idea of COMMON ?
Saif:
The name comes from a kind of play on words, yes we did something a bit common by launching a menswear brand but we are doing it in an uncommon way. And the whole story is about what we can put in common.
The final idea was to create a hybrid of quality wardrobe staples and progressive stand-out pieces. I would say that COMMON is a fusion of London edge, Paris chic and Scandinavian minimalism. By combining luxurious fabrics with suave cuts and subtle colors we aim to create a hyper-modern brand anchored in national pride.
«National pride» is really important in the story of COMMON, isn't it?
Saif:
Yes, what struck us while working for other brands was when we were looking for some specific crafting methods and that we realize some of them had disappeared or was about to. So when we decided to go on our own we immediately put the idea of dealing with «savoir faire» in the center of our soon to be company.
What's the process of a collection ? do you both have really specifics tasks?
Saif:
Well, the process is actually what I would call a normal creating process, we sit down and put together all the ideas and inspirational material that we think is relevant for the collection. Then comes the talking, and the yes or no, the add or subtract. It's all about balance.
Emma:
We've known and worked together for years and we both share the same sense of style and aesthetic, so we are very much in line with our ideas and work side by side during the development of a collection.
We always start off with an idea that develops into a story. You could say that our collections are continuous, a story under constant development of which we both are equal co-writers.
What did you learn from working for other brands (good and bad)
Emma:
From our previous experiences with other brands such as COS, Wooyoungmi
and Kanye West we have learnt a great deal, broadened our contacts and developed
as designers and entrepreneurs. It's important to have great knowledge of the industry
before setting up your own label as it differs a lot from what you are thought in school and
this is one thing we have learnt by working for others. Naturally we have also had bad
experiences and seen what not to do and this is an experience equally as important for us
as a young brand. And also I think we learned how to work as a team not only the two of
us but also with every single person that makes a collection exist.
Talking about getting on with people, tell us about collaborations and how you bring it to the
collection
Saif:
It's about bringing new skills to our universe. We are always looking for people who does things with passion and when we get to work with them it's a never ending source of inspiration.
Emma:
Collaborations are in the DNA of COMMON and a key feature in our collections. To emphasize this we launched  COMMON GROUNDS. A platform were we each season will bring in a new Swedish creative collaborator. The resulting products reflect our style and aesthetics, not only in fashion but across all disciplines of design. The collaboration with Lars Jonsson on our "House of Sparrows" collection was the first one out of Common Grounds collabs.
So where is COMMON heading now?
Saif:
We are picking stock-list in Paris and London, as we really want to have those three key point on the map (sweden was the first step). The idea of mixing the vibes was the genesis of COMMON so we believe that naturally the next step to growing up is to follow the original pattern of the concept.

Portrait photo by: Jesper Berg 
Lookbook photos by: Patrick Lindblom
Art direction: Stinsensqueeze