That between music and fashion is a decades-long love. In my childhood memories, it finds its natural place in the VMAs evening when the satellite broadcaster E! used to transmit live from the red carpet.
Today the bond has strengthened and the partnerships between brands and singers or musicians are more and more frequent.
Just recently, adidas Originals and Foot Locker have launched a capsule collection in collaboration with the Italian rapper IZI; the name is ADICOLOR.
We met him during the launch at the megastore of Corso Vittorio Emanuele in Milan and this and what he told us.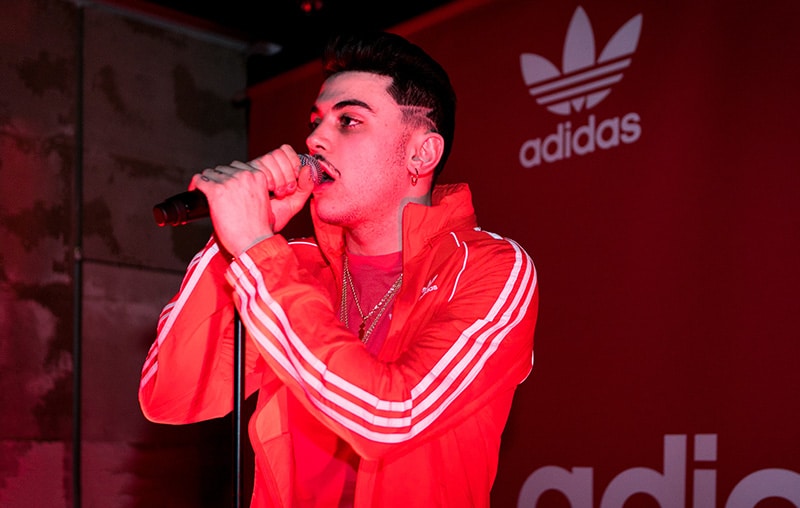 Who is IZI?
Izi is simplicity, instinct. It really comes from "Easy". There have been other names before but that's the meaning. Clarity, truthfulness, transparency. Izi is 100% me, I have never wanted to separate the character from the person I am.
How was your passion for music born?
Actually, it comes from poetry. I had been writing poetry since I was thirteen, but I did it just for pleasure. At a certain point, growing up, I could say it became a sort of rash. I was very introverted and writing helped me to open up, I discovered I could really vent through it. And then poetry became music very naturally, people around me told me I was good at it and I thought: Why not mixing business and pleasure? I said: let's try.
In 2016 you are chosen by the director Cosimo Alemà to interpret the protagonist in the movie Zeta and after that you launch on the market your debut album Fenice. In that movie, you played a rapper in search of luck. How much is that story assonant with your life and how much has that interpretation helped you in your path?
Ok, let's say that there were fiction and reality. Diabetes, for example, was true. The loss of the mother, thank God, isn't. If I can see myself in the character? Probably yes, for some aspects. But I have never tried to get lucky, I have always tried to be happy and I haven't got it yet. First of all, I've tried to make art, and provide my art with a way to express itself. When art turns into work, well… it's a little bit harder to keep the passion high, but I always try to think and remember when I was younger, what I wanted when I was a kid.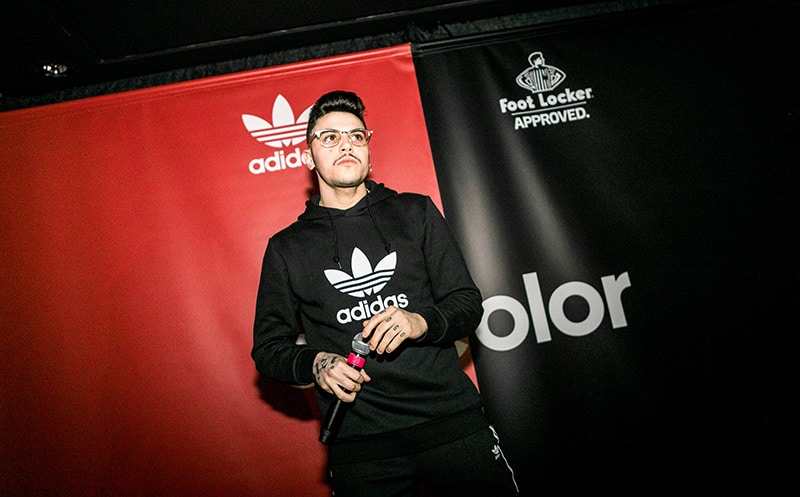 Coming to your collaboration with adidas Originals and Foot Locker and talking about sneakers, which are your favorite ones, the ones you've always loved to wear?
Well, I was born in Genova. Foot Locker in Genova is not like Foot Locker in Milan, that's for sure. But it's always been a colossus, a point of reference. I come from the suburbs, I could not afford any sneakers. But now that I can, my favorite ones are the Adidas x Kanye West's Yeezy, as well as the classic Gazella. Comfortable, but always on point.
ADICOLOR is the capsule name. Two are the selected colors: red and black. Which one do you prefer?
Black. Absolutely. I'm a black blast. I don't know why I like black so much, probably cause I don't like to see myself in colored clothes, or cause like white, it's simple, aseptic, Izi! But also because black is linked with dark and darkness, and dealing with a kind of rap which is mostly esoteric, black and darkness are fundamental as references.
Future projects?
I can't say anything, but I can assure that I have something coming up. There will be huge news. Surely a new album, I really need to concentrate on my music, you know… I need to rash. I'm trying to take my music to the next level, experimenting the most that I can.