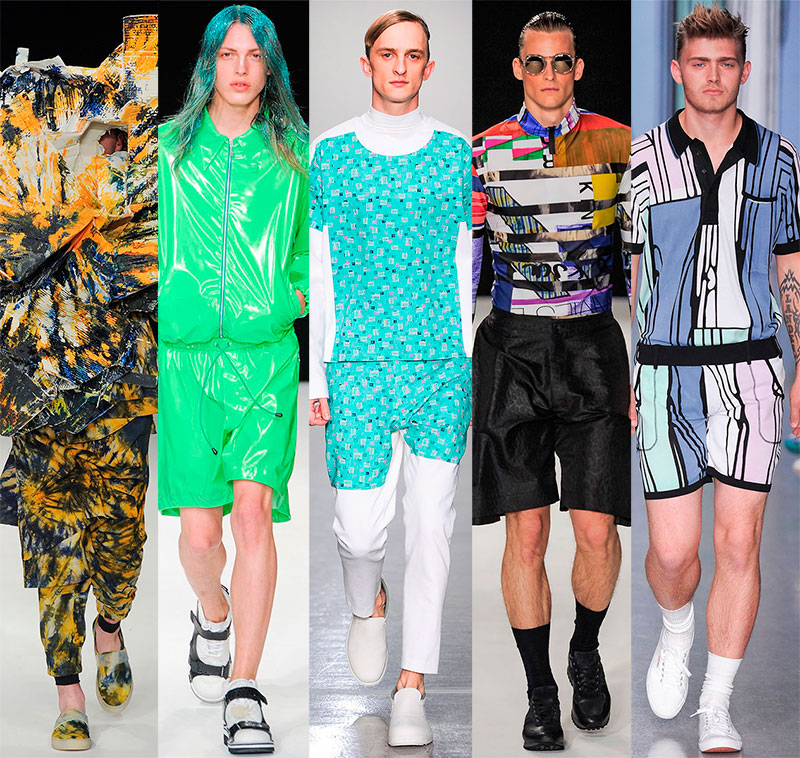 It was London Collections: MEN last week, and boy were we excited! Not only for the chance to see some cool London designers showing their sensational stuff, but also for the chance to wear crazy outfits without looking out of place! A fashion festival with wild clothing, dramatic looks, even more dramatic people and gallons of free champagne.  We loved every minute of it, but the highlight moments for us were definitely these….
The standout show from London Collections had to be Craig Green's! And by standout, we literally mean STANDOUT! After all, it really is hard to blend into the crowd when you're wearing sculptured scrap wooden panels on your head and all over your body. The wacky weird structures returned from Green's equally mind-boggling fall winter show, but this time in neon bright colours and tie dye patterns that are perfect for summer in the sunshine. His skillful layering, oversized cuts and tousled textured fabrics made us realise that he has much more to offer than the initial shock factor may suggest! We advise you to watch this space closely because it seems that DIY fashion has never looked more promising…
Party people of the world unite! Christopher Shannon has you're crazy clubbing attire ready and waiting for you in a variety of bedazzling and mind-bending colours. Classic streetwear staples such as baggy shorts, sweatpants, sweaters and bombers are given a 90s neon rave shake-up with daring dancefloor colours, kaleidoscopic squiggles and fantasia floral patterns! Perfect for the ultimate party lifestyle, these flamboyant looks are also ultra-modern, with neoprene and patent fabrics abound to give you that extra edge of excess which is pretty much de rigeur for any hardcore party goer out there! Your warped summer sessions have never looked so wild….
We can always rely on Agi and Sam to give us a summery spectacle. And this time around was no exception, with a multi-coloured myriad of intense pattern and blinding colour, which typically marks their eccentric left-of-centre shows. The silhouette was more refined and formal on this occassion, with suiting, chinos and blazers as the key points of reference, but charming quirks were still in abundance, from tropic tribal Aztec prints and abstract ditsy patterns to fruit-flavoured colour blocking in tangerine zest and curacao cocktail blue. A splendid summer sensation!
James Long took the London Olympics as a key source of inspiration for his sport-themed summer show, which suddenly made cycling the most chic and sexy sport around! Mesh bombers and sweatshirts combined with feather-light fitted shirts and tees, which had a satin-like finish and resembled lycra biking-gear. This velodrome vibe was executed in a totally fashion-forward way of course, with vibrant prints and stripey patterns in disco-dazzling colourways. Long's somewhat signature Bermuda shorts remained, but this time in rubbery materials to reflect the cycle-sport setting. A refreshingly fussy and fun take on the ever-present sport-luxe trend.
Sibling gave us a tantalising taste of the West Side storey from a perfectly roughed-up East London perspective. AllAmerican bruisers with perfectly coiffed James Dean quiffs strutted down the runway with cheeky smiles and double-denim, in workwear jumpsuits and bombastic bombers. The Sibling knit evolved into a more urbane wearable cool, with latticeeffect woven vests, trackpants and shorts in bold shimmering colours, from turquoise blue to candy pink. Fun prints pushed the fun factor to the max, with lurid leopard patterns for the downtown jungle, American all-stars for the All-American boy and fantastic light-bulb graphics for the street-smart brightsparks. It was up-town magic meets downtown grit, and packed a perfect streetwear punch!