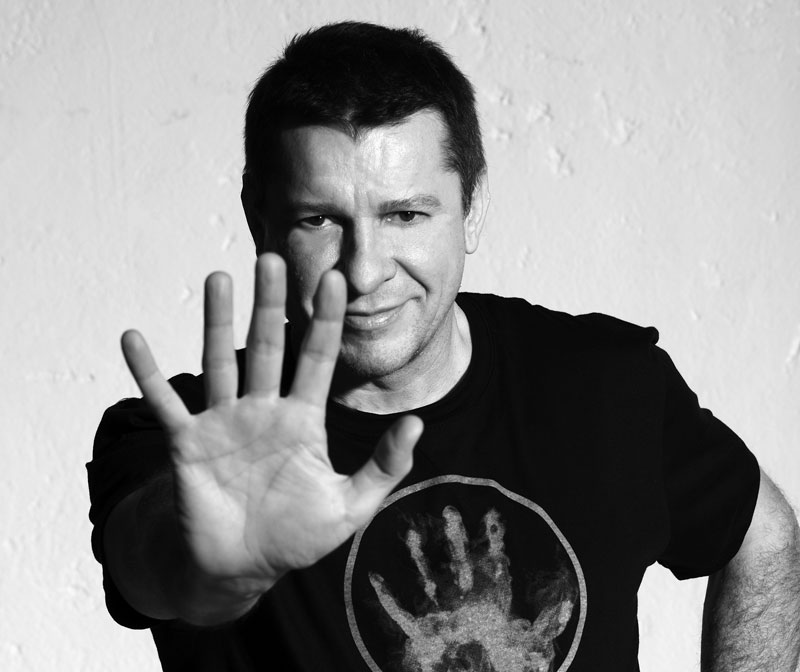 "I still have my feet on the ground, I just wear better shoes". – Oprah Winfrey
No doubt, his shoes are the better ones. He's Bruno Bordese, eccentric genius of the footwear. With a twenty-year experience, he has managed to blow the dust away from the cumbersome concept of craftsmanship by giving it a new grit and a cool, casual "sound".
After working ten years closely with Cesare Paciotti and five with Alberto Guardiani, hisunconventional aptitude makes him a consultant for companies such as Moschino, Vivienne Westwood, Yohji Yamamoto and more recently Casadei, Roberto Cavalli and Rochas Paris. In 1995, Bruno chooses to turn his name into a brand and walk alone in his own shoes: worn, lived, comfortable as he likes them. He is a pioneer, a visionary. Capable of transforming the sneaker into a prêt-â-porteraccessory, he attracts the younger, that are for him the world of today and tomorrow.
FY! – Hi Bruno! What about telling us of  your beginnings and your collaboration with Vivienne Westwood?
Bruno Bordese – I started from the research of the past. I wanted to revive something thought by creative people many years before, put new life into something that had already been created by adapting it to the contemporary times. It was while following this kind of path that I was approached by Vivienne Westwood in London. I have had the opportunity to collaborate with her and Andrea for about six years.
FY! – Not only Vivienne Westwood but also Yohji Yamamoto, Testoni, Levi's, Casadei, Roberto Cavalli and Rochas. How did each of these collaborations influence your job and how much did they contribute to making you the designer you are?
BB – Each designer and line that I followed are independent islands. At Vivienne's I put my skills at the service of their research and design. Together we managed to create really special products. We did some incredible things that we sold a lot: the stranger they were the more people wanted them. As for the relationship with the others… In the '90s there was an interesting partnership with Franco Moschino. I was in charge of men's shoes and we set up several parades together. I also followed the very first collections by Dolce & Gabbana and their footwear. And then Cavalli, etc. I have always tried to respect and bring out the soul of these Maisons. All these experiences make you grow wiser from every point of view.
FY! – What is today the brand Bruno Bordese instead? What does it represent or want to represent?
BB – Well… it is not easy to answer. Having covered a long way and worked in so many different situations, it is obvious that now  I am looking for the essence of what I have always been and of what I would like to be in the future. In fashion they follow styles, it comes back in vogue what was done 10, 20, 30 years ago, maybe slightly changed. An example: all the 90s' grunge, at the time with its story and its specific weight, is here again, in a new interpretation. Ergo, there is a Bruno Bordese style that I've wanted to keep over time, made of research but also clean lines, shapes, materials. Much is also linked to what I am best known for: the used, those "vintage" shoes that I realized in 2001 after a lot of experiments. To achieve that result was very difficult, indeed today many companies that make that type of product are well-organized. Today I'm on the road, the one, that aims to satisfy the wide audience that follows me and loves to buy my product season by season. Technically speaking, in my opinion a shoe has to be practical. The shoes are worn every day and that is why they should be comfortable as well as fine.
FY! – Who's the man who wears Bruno Bordese's shoes?
BB – With my style, I am able to gain the attention of very young boys. This gives me great satisfaction because, over the years, you might feel rusty. Appealing the youths between 20 and 25 gives my work sense and measure. They are my customers. They are the lovers of a disco that, after a brief decline, has returned stronger thanks to the international DJs, real pullers of guys who like to have fun and get dressed tastefully.
FY! – If I say handmade, what's your reply?
BB – My product is made ​​in Italy. Despite the help from various computers and programs or machines that have changed and become technologically advanced, what remains is the craftsman's, man's dexterity. The more you use your hands, the higher that added value that may not be easy to find especially in the Far East where the made ​​in Italy is still very important.
FY! – In such a delicate moment for our country, how much important is for the made ​​in Italy to emphasize and spread  the craftsmanship and tradition concepts?
BB – Very often, behind the fact of using the  made in Italy "label", it maybe hides the not total capacity of each. Not anything that is made in Italy is beautiful. You have to work hard on the craftsmanship and above all the real luxury. If we want to talk about made in Italy we should speak of  luxury because, crisis or not, the made in Italy is expensive and just because it is expensive it must be valued more and more. Only in this way the crisis can be got over, because you're able to offer the world  a product that is really greater than the common and not made in Italy products….
FY! – Let's speak now about the F/W 15-16 shoes collection. Tell us of the inspirations, the lines, the showpieces.
BB – The inspiration comes from a path that I've undertaken a few years ago. You cannot cheat your customers, they are loyal and if they do not find what they expect, they may feel lost. For sure you must always give something new. What I am doing today is to continue to produce the so-called classics – that is the motorcycle, double zip, etc. models – together with new versions that I rework season by season: from the red to the total bright blue to the crackle materials.
FY! – It's the first time you have launched a capsule collection of clothing, a 30-piece collection… The mood is contemporary , rock but revisited… Which are the showpieces? Would you like to talk about?
BB – It was for giving an even greater identity to my product that I decided to make this mini-collection. It was and is a dream, a realized one. I've used a lot of leather. I've used it on sweatshirts, jackets, motorcycle pants. My shoes stay my first inspirational source. I wish these items would become small icons, I would like to change and take them on without upsetting the collection at each season but just renewing and readapting on the basis of the new seasonal trend.
FY! – Among the 30 items, which is the one you'd choose for yourself?
BB – I'd choose the studded jacket, indeed  revisited with the side buttons and called Nureyev, because of the Soviet inspiration. Also the Napa-stuffed quilted jacket is very fine. Then I've already worn the sweatshirts, and the pants- biker suit. Let's say that the collection was made ​​on me. It is something that I'd put on, despite not being 20 years old anymore.
FY! – There are a lot of interesting items…
BB – First of all they are wearable. I've wanted to create clothes imbued with the same philosophy of my shoes. My shoes are bought by people who use up and destroy them. For example the DJs of Tale Of Us or DC10 in Ibiza showed me the shoes they consumed  but they are not ready to get rid of. I wish even the pieces of this collection, which is small, would become a sort of second skin for those who'll use them.
FY! – We like the idea, the concept!
BB – My sources of inspiration as well have always been the vintage or otherwise the military uniforms: from the officers' to the ordinary soldiers' ones. I have a collection I started in the 90s in Miami that I continue to care even today: all kinds of camouflage,  baseball players' and the other American sports' jumpsuits. All that is uniforms is part of my inspirations' language.
FY! – In your life, what couldn't you ever lack?
BB – My holidays, absolutely! They're a form of relaxation – at the seaside in the warm months and in the mountains in the cold ones – and of mental recharge too. Last week , for example, I went to Rome. It was a little time I did not go there and breathing so much art really fell me up. Very often the Italian cities, although I usually visit them, manage to make me amazed. For example I go very often to Florence and every time I go and look at the buildings I'm struck as if it's the first time I've seen them.
FY! – As usual, our last question… For you, what is really FUCKING YOUNG!?
BB – I must admit that I clicked I like at the first moment, even if I can't remember exactly when. I was fascinated by the freshness in the interpretations and  in that kind of fashion that you can see in the street but only in small groups of boys. It reminds me a lot when I started to work as a stylist. There is research and I really appreciate the fact of finding things a little more absurd which are adapted to today's contemporary. Sometimes you need the exaggeration as well, it is right. You have no ties to anyone, you do not have to answer to anyone. Exaggerations related to art but especially to the youth. Fucking Young!  is young by nature. As a youth, you can do whatever you want!
FY! – Thank you Bruno, it was a pleasure!
Take a look at Bruno Bordese's FW15 Collection below: