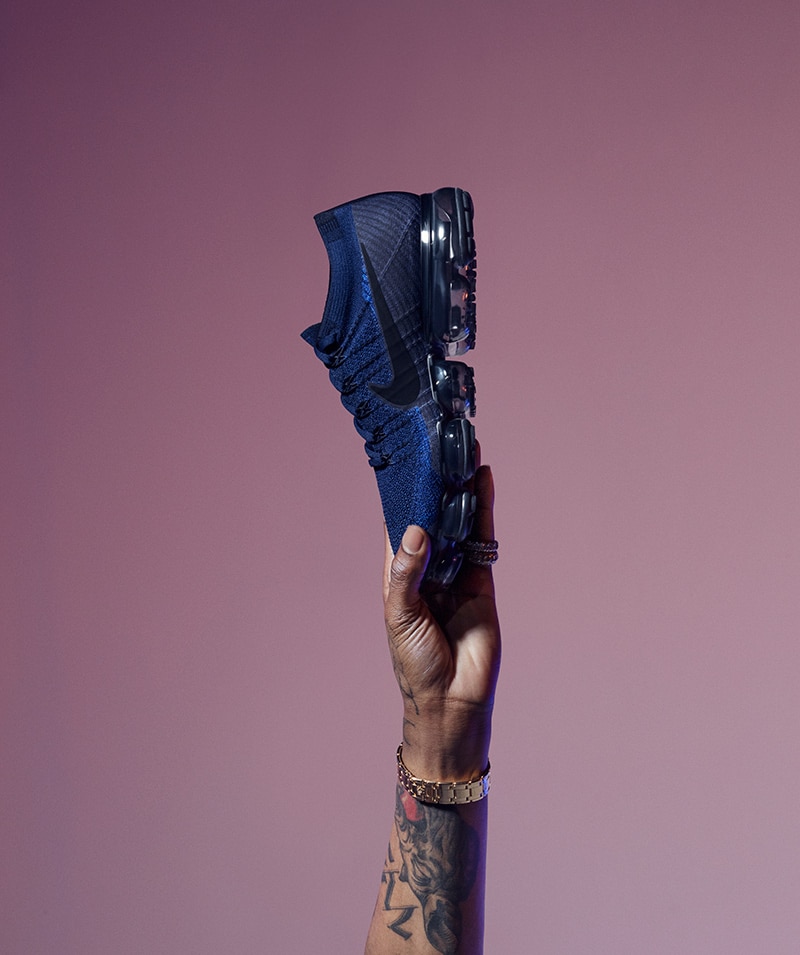 Nike has recently unveiled Travis Scott as the face of its upcoming Air VaporMax ''Day to Night'' collection campaign. We caught up with Travis for sneakerheads chat around his love for Forces, Flyknits, VaporMaxes his less-known collab with Rockets and of course the record breaking ''Goosebumps''. Watch the campaign and read our flash-interview below, the ''Day to Night'' sneakers come in three different colors and are set to drop next month.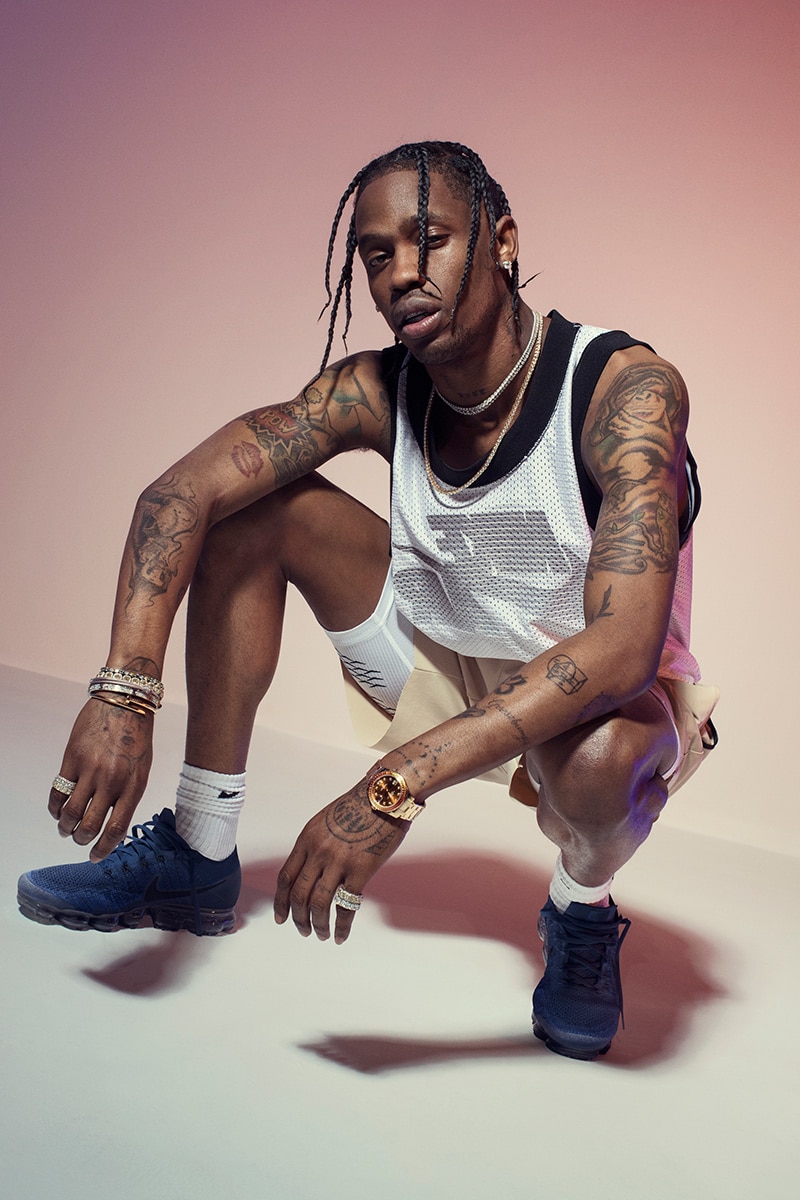 During Air Max Day in New York, you sported a Nine Inch Nails T-Shirt, Vetements Camo Pants, and Nike x Marc Newson Sneakers. You are known as an avid Rockets fan and even teamed up to create a limited edition tee for Game 6 of the Western Conference Semifinals. What are you into right now?
Right now, I'm really into Visvim.
Do you remember your first pair of sneakers?
My first pair of sneakers was the Jordan 4's. I got those and Forces.

Favorite Nike model?
I am really into Forces. They are super nasty and the Flyknits are super ill, them Flyknits are crazy.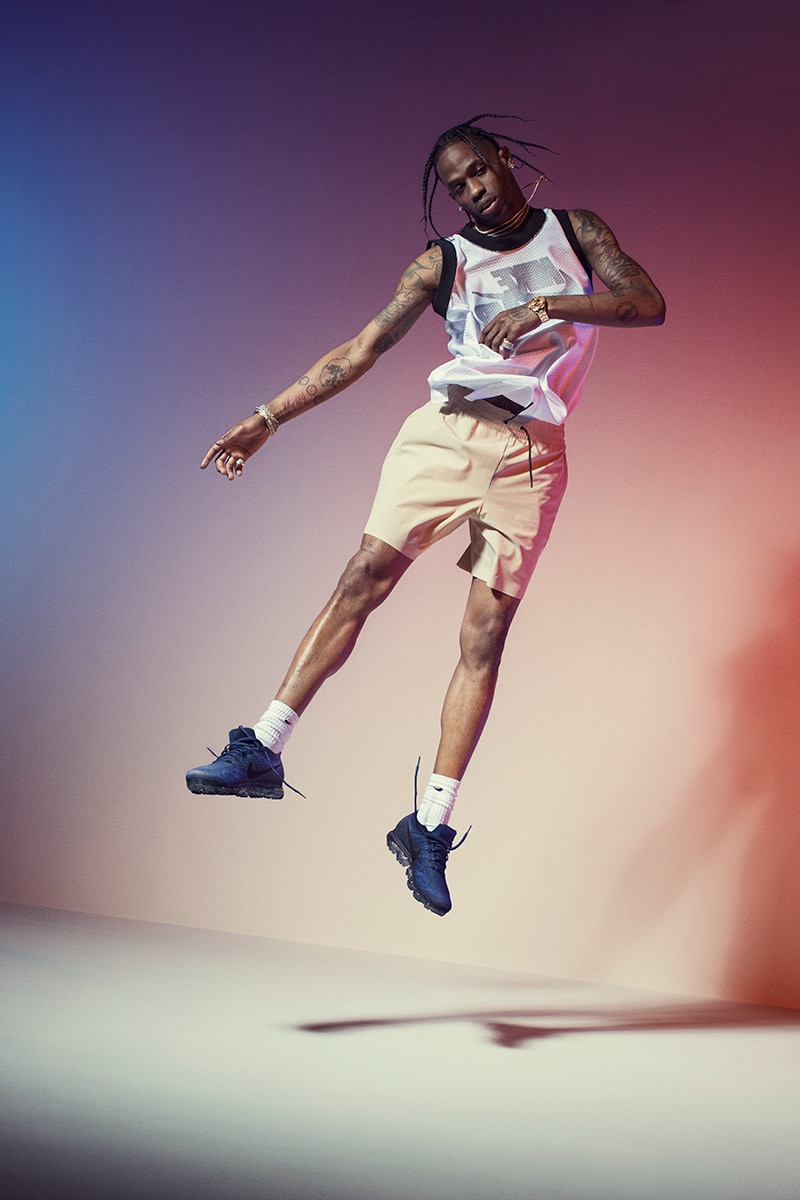 Vapormax is a major game changer, a new generation of the sole. Everyone from Comme des Garçons to sneakerheads is going crazy. What was your first reaction when you saw them?
The first time I saw them, was just before I performed in them back in LA. When I saw the all black ones, I thought "these are crazy". They are comfortable and I was flying when I performed in them.
You broke your own record playing "Goosebumps" 15 times in a row in Cleveland last week along with the record previously held by Jay-Z and Kanye, who topped out at performing "Ni**as in Paris" 13 times. What was the concept behind ''Goosebumps'' video?
It was a long process and a crazy process; I actually shot it twice. It is super dope and super fire. I always had two ideas on it, but I ended up liking the second version of it. I wanted to channel the way my brain was moving at that time.
You are going to be busy next month touring Europe with some great festivals before joining Kendrick Lamar stateside for the rest of the summer. What are you currently working on?
Currently, I am working on my third studio album right now, and a collaborative album.