Sergi, Lucas and Nacho (the latter is sometimes lost) form #TheTripletz, a group of DJs with a twist: they're also Youtubers.
Sergi works as a freelance in communication and digital marketing, has thousands of followers on Instagram. He was also one of the stars in the webseries EL PISO. Lucas does freelance work in audiovisual production within the fields of fashion and PR. He produces videos, such as this, this and this, and becoming a DJ started as a hobby four years ago, but is today considered his second occupation.
For their cheekiness, freshness and passion, we've chosen #TheTripletz to take part in our video with G-Star Raw #TightOrWide.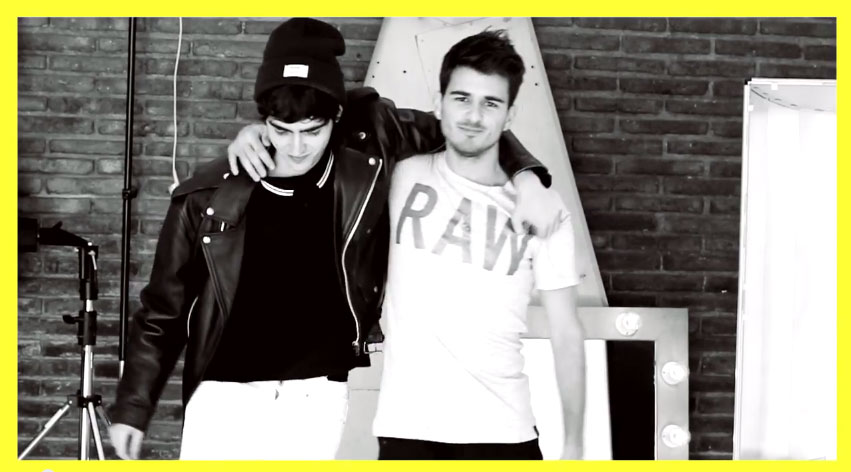 Have you thought about your plans for summer?
Sergi: DJing at the Arenal Sound like last year, and a few days later I'm leaving for Thailand and Malaysia where I'll spend all of August!
Lucas: #TheTripletz are going to repeat an experience and play at the Arenal Sound. Afterwards I'm escaping to the Balearic Islands with my friends, and of course I'll also spend time with my family. Now that I don't live in my hometown, I spend very little time with them.
How do you wear yours? #TightOrWide
Sergi: To be honest I wear them both TIGHT and WIDE. I love to wear wide and comfortable things that are also protective. One thing I always do is have the ankles exposed, until fashion changes and I get sick of that too.
Lucas: Always TIGHT. I'm extremely thin, but I like to enhance that feature. I've inherited the Zaragoza indie style, which is where I was born.
I would have liked to live the life of…
Sergi: Anyone from One Direction, to go on tour with the other two Tripletz, filling out stadiums and being multimillionaires. We'd have a wicked time, I'm sure of it.
Lucas: Justin Bieber, to do justice to being gay.
If I were an animal I would be…
Sergi: An eagle, mainly because they can fly, and because they don't have a lot of enemies to eat them.
Lucas: A chameleon. I'd love to be able to hide and blend in with the space around me. People wouldn't be able to see me and I'd spy on them all.
I take photos because…
Sergi: I love to create and capture beauty.
Lucas: I want likes, why kid oneself!
I would never wear…
Sergi: Crocks.
Lucas: Clam diggers.
I get grumpy…
Sergi: When things don't turn out the way I wanted or anticipated them to.
Lucas: When Sergi contradicts me.
I feel at home when…
Sergi: I can relax properly.
Lucas: I don't have to worry about what time it is.
The city of my dreams is…
Sergi: New York (it could be because I haven't been there yet!)
Lucas: The one where I live, Barcelona.
My favourite fashion book…
Sergi: Heaven to Hell, by LaChapelle (edited by Taschen). If we're going to be purists it's a photography book, but the fashion feel that the images have is undeniable.
Lucas: Two books by HAMILTON that inspired me a lot in adolescence, one from the BILITIS film called "Les Demoiselles d'Hamilton", because that's when I became obsessed by photographing my friends getting it on and things like that haha. Although it isn't strictly fashion, the style was the beginning of a lot of things and it seems to me that it has marked a lot of current trends in fashion photography.
My worst nightmare is…
Sergi: Losing my loved ones; family and my closest friends.
Lucas: What makes me scream at night is finding myself surrounded by a lot of ants, I can't deal with them.
My dream is…
Sergi: To grow professionally in all facets to become someone really important in my fields, making a lot of money and being able to live without being deprived of anything.
Lucas: To end up in history books, for example those about art in the XXI century, and eventually that in SOME subject, on SOME course in the distant future they will have to learn about me.
Or that they scribble my name down on their arm before an exam or whatever they'd do at that time! I know that it's impossible, that's why it's a dream.
A song that defines me is…
Sergi: "Maniac" by Michael Sembello.
Lucas: "Rockstar" by Nickelback.
In ten years time I see myself as…
Sergi: Single and without obligations.
Lucas: Exactly the same as now, but a lot richer.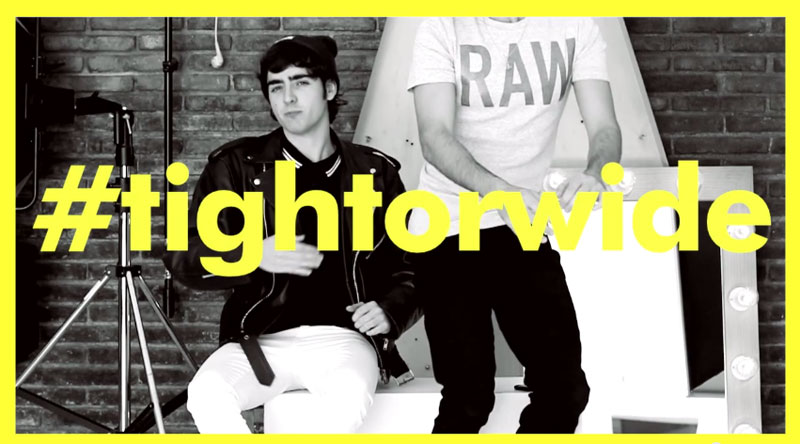 Video by Lucas Lorén for FY! · Music by Mr.K!