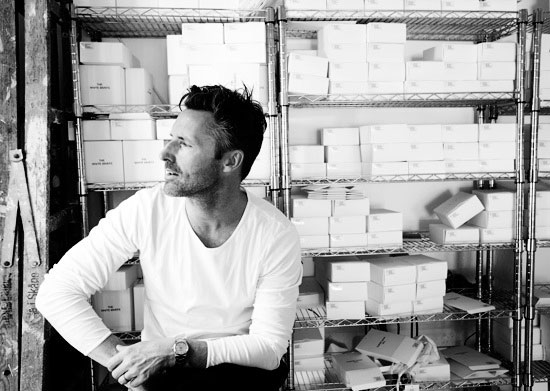 "In a colorful world the element of surprise predominates; in white, instead, only a joyful and premonitory restlessness", this way , in his Strahlungen, Ernst Jünger tries to describe the white: bright, pure, symbol of the brand THE WHITE BRIEFS. Its designer and founder is Peter Simonsson who, in December 2009, decides to embark on an adventure far out of the common… Certainly out of the common because his is a high-quality underwear line with an absolutely unique mood.
All his tailored garments are constructed with exquisite materials whilst precisely observing sartorial details and versatile usability. All his clothes are designed for men, women, children who share his profound interest in quality, ethical codes of conduct and manners and who are carefully involved in their own decisions. Moreover, THE WHITE BRIEFS stands for its love for humanity, environmental e corporate responsibility, lush high quality fabrics and meaningful organic farming… In white, then, the story of a brand. In white, the dream and the desire to create something special. In white, the passion for your own work because – as Peter told us – "one should always do things that one loves"… Always!
Fucking Young! – Hi Peter! How are you? Just an adjective to describe yourself…
Peter Simonsson – Passionate.
FY – When was THE WHITE BRIEFS born?
PS – December 2009.
FY – White is your brand's symbolic colour… Why?
PS – It's the foundation, the canvas to play on. White stands also for a sense of purity and calmness, it sums up perfectly what we set out to do. From the plain canvas, we explore, develop and extend our designs.
FY – Whom is the brand THE WHITE BRIEFS thought for?
PS – Ideally, we aim for all men, women and even kids around the globe! For us, all individuals who share our profound interest in quality, ethical codes of conduct and manners and who are carefully involved in their own decisions, are potential THE WHITE BRIEFS customers.
FY – Why did you decide to found an underwear's brand? What were the difficulties you encountered at the beginning and what the advantages?
PS – Good question, l assume that l wanted to create something l had never done before. Therefore, I decided to start with a foundation, a sound idea of creating a compelling garment for our busy day-to-day.
The advantage of this is to create a base of running underwear garments and add in a doze of seasonal styles
every season to refresh ourselves and to broaden the international distribution.
For THE WHITE BRIEFS, the most challenging thing is to maintain an interesting balance between do and
don't.
FY – Precious materials and tailored clothes… What are the characteristics that make THE WHITE BRIEFS a successful company?
PS – For me it is very important to maintain very high standards when it comes to quality production, with an ethical edge. We are very focused on details, fabrics, and effortlessly elegant new expressions. Next to this, our holistic perspective on ourselves is very important to us, which hopefully is also well perceived by our audience.
FY – Is THE WHITE BRIEFS also synonymous with eco-sustainability? Today, how important is to be attentive to our environment and what role has this aspect in your company?
PS – This is one of our sound promises. THE WHITE BRIEFS is very much involved in production processes that allow for a better environment. These processes are in a constant development, and we ask ourselves questions on this during each season. For us, it is crucial to become better and more sustainable with each collection. GOTS certified production is a given element for the brand.
FY – How does a brand producing a wide set undergarments place itself in the international fashion system?
PS – This is also part of our process, we aim to be visible through our original expression and surprising choices. In the end, to become a profound part of the fashion system… oh…it was rather tricky, but we made our mark by believing in THE WHITE BRIEFS and our mission to distribute our garments to conscious customers around the globe. Personally, I feel one should always do things that one loves, this in turn translates to your environment and allows the people around you to feel your dedication and passion. Next to this, on a marketing note, it is crucial to show the brand in selected trade-shows, showrooms and through collaboration and curated exhibitions which adds onto our philosophy.
FY – THE WHITE BRIEFS also boasts of lots of partnerships… From Gustaf Nordenskiöld to Nick Wooster till the very recent collaboration with Fantastic Man… What about these experiences? In short, what did they represent for you and your brand?
PS – The process of doing collaborations is a great fun and a good way to express our brand in a vast way. THE WHITE BRIEFS is both classic and basic, but on the other side we are also very creative and holistic. As an example, Gustaf developed a beautifully crafted ceramic clothes hook, perfect for your underwear garments and representing our way of not just focusing on garment, but seeing the larger context. With Nick Wooster, we did a special camouflage collection. It was a statement towards all over print and a directional move, showing more of our unexpected and creative side. Lastly, Fantastic Man, was all about the evolution of fabrics and alternatives within white undergarments. This resulted in an airy fresh mesh, translucent and special.
FY – 2013 S/S Collection and 2013-14 F/W one represent "your constantly evolving desire to reach beyond your limits"… Could you tell us about them?
PS – Of course. We are working with innovative fabrics, wool and the utility of wool. In this process we like to investigate how you can take the end product into new user contexts. At the moment, I am exploring new styles with different dimensions of rib and weights. The idea is to create a special relation with wearers, allowing for variety and suggesting an attractive utilitarian addition to your wardrobe.
FY – Instead, how will your 2014 S/S Collection be?
PS – SS14 shall be more expressive on the surface, exploring textures! Also we shall incorporate more fabrics and a bigger collection including more full garments. Henceforth, we do a new collaboration which shall be launched this June at PITTI UOMO, in Florence. Hope you guys can come and see it.
FY – Sure!
…If you should describe THE WHITE BRIEFS with a song, which one would you choose?
PS – Wonderful question…so many good songs have been written, so it is a little hard to choose just one to describe THE WHITE BRIEFS. As an attempt, well right now we are working on the new SS14 collection and l think Dal Mare by Ennio Morricone hits the spot pretty well.
FY – Your favourite garments?
PS – Crafted briefs and well-cut jersey garments.
FY – Your motto…
PS – Better to burn out than fade away! (Neil Young)
FY – Thanks a lot!
PS – You are so welcome!! It was a true pleasure.