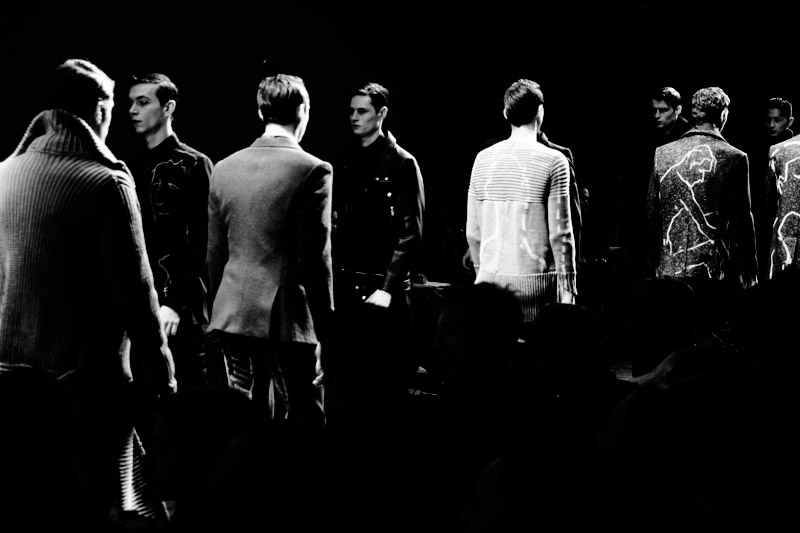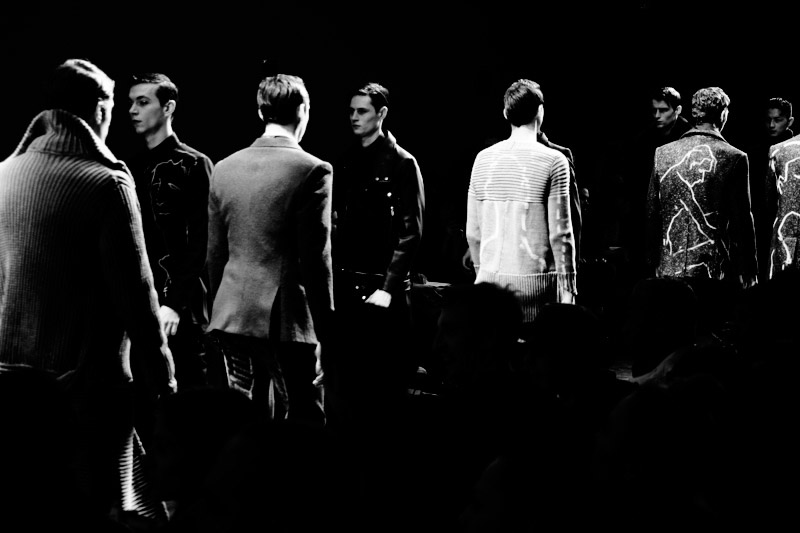 New York menswear scene keeps on getting stronger. Just take a look at the headlines of any relevant fashion publications and you will notice how NYC men's fashion has been under the radar for a while and how this season was the season it was brought under the spotlight. Many industry insiders argue that it is somehow unfair and not good for business that New York doesn't get its own menswear fashion week, a statement that becomes legitimate when one witness the richness and the eclectics of what NYC has to offer to men's fashion (even more so after NY was named the world fashion capital).
The highlights of the week include some of the biggest names in fashion, namely Opening Ceremony, founded by Carol Lim and Humberto Leon also at the creative direction of KENZO, or Rag & Bone who were usually showing their menswear line in Europe and decided for this season to bring the show back to their home country (following in the steps of Burberry's efforts, somehow).
Below are the strongest shows of New York Fashion Week, each being tangible proof of NYC relevance in the menswear business and a plead in favor of a separate Men's fashion Week for the City.
Rag & Bone was shown outside of any schedule in the small slot between the end of European menswear and couture and the beginning of New York's shows. A 'happening' in fashion that was worth the singularity. At Rag & Bone, the dark colors are punctuated by a lively mustard and pristine whites. Tailoring is the key to a very wearable and modern collection. Attention to details is particularly striking on the lapels of the jackets and coats and outerwear gets the 'fur treatment'; the inclusion of fur/shearling collars, a trend that was already in full effect in most of the European shows.  A mix of beautiful fabrics, a tribute to America's 'biker's club' and 60's wardrobe and a masterful interpretation of outerwear as parkas summed up the best of the season's trends.
Michael Kors was next. The newly billionaire designer chose to interpret the men's wardrobe in a laidback and breezy way as every silhouette featured the verily talked about 'socks and sandals' combo. The fabrics looks warm and fuzzy, comfort is obviously at the center of the collection as we witness outfits composed of big knit sweaters, oversized beanies, tailored coats with fur accents and a sport-y feeling to an overall youthful effort.
Orley, the self-proclaimed 'men's knitwear label designed in NYC, made in Italy' offered a light and refreshing collection for Fall/Winter 2014/2015. Clean-cut silhouettes meet a mix of fabrics (suede, leather…) giving the garments an unassuming luxe touch. The men at Orley aren't afraid to wear colors, which explains the large color palette and the variety of prints on shirts, gloves and scarves.
Fashion and arts are like two young lovers, always chasing each other, never completely committed to one another, as they both are free spirits. However, this season in particular, the links that bond fashion and arts have been reinforced by two of the most relevant fashion collaborations to date: Raf Simons and Sterling Ruby and Siki Im with Richard Haines. Siki Im willfully admits that he is no fan of the 70s and that's why he decided to explore the silhouettes that were attached to the decade. A dark collection revolving around layers of black with metallic details on the shoes, wide pants, superposition and fabric mixing (Fur collar meet big knits, leather shoes meet metallics…). Art is used as a counterpoint to the darkness of the collection. It's only minutes before the show that Richard Haines applied his know-how and chalk drawings to the coats and shoes. A white halo lightening the mood of the clothes, bringing some sense of excitement and life to them.
Robert Geller, a designer who no longer needs introduction, chose to play with contrasts this season. Contrasting silhouettes as voluminous round top hats were shown paired with skinny silhouettes (think skinny leggings), contrasting colors since the clothing was mostly black or dark and the sneakers provided a pop of color and contrasting fabrics namely leather superposed with chunky knits creating an interesting surface on each of the outfits. Few prints were found here and there: stripes, tartan and Prince Of Wales.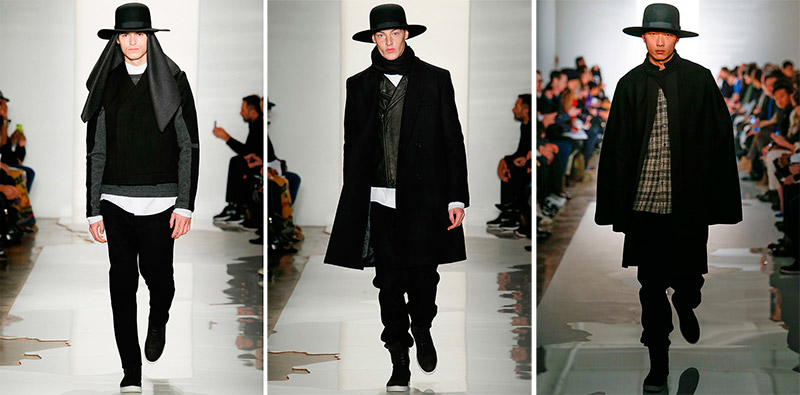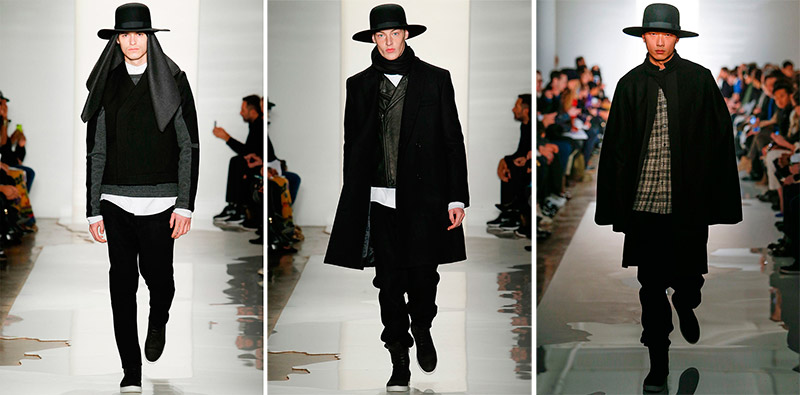 Public School NYC, the CFDA sweethearts, delivered an almost religiously executed collection. Large brimmed hats worn over scarves give a ecumenical feel to a modern collection composed of clean silhouettes, parkas and shorts jackets being de rigueur. Wool suits are livened by the application of lengths and superposition, in an overall dark color palette.
Richard Chai Love, showed smart silhouettes and a cheerful and colorful color palette, which is quite rare for this season among designers in NYC. Short jackets meet updated leather combat boots and a lot of attention is paid to the stylism as pants are tucked in wool socks. Beautiful fabrics all-over on long coats. We also witness some very few prints (namely, stripes).
Duckie Brown, one of NYC most dynamic designer duo, were showing their first womenswear collection at the same time as their signature menswear. The interesting trait of this show is how gender roles are somehow bent throughout clothing; bright colors, bold prints and cuts (the men's long shirts remind of tunics or dresses), color blocking and geometric details which all are, seemingly, women's ceremonials, are integrated in the men's wardrobe along an extravaganza of oxford shoes, lengths and volumes.
Opening Ceremony, one of the most anticipated NY show because of the excitement surround its founders and the usually incredible decorum that goes along with it was a show inspired by Europe and more precisely the crib to the creative class of fashion: Antwerp. The collection is sculptural, revolving around colour blocking and the sacred 3 colour rule. Emerald green, navy blue, pristine white are all part of a color palette which expresses itself on quilted jackets and coats. Geometric elements are in full force through symmetry of the forms and the now famous fingertip print. The silhouettes are modern, mixing voluminous tops with skinny bottoms (an up and coming trend?) but the accent is still put on wearability as each outfits feature zippers shaping the silhouettes in various ways.
Mark McNairy New Amsterdam showed us what a schoolboy becoming a man would wear in his Fall/Winter 2014/2015 collection. The tone is playful as the designer is not afraid to include colors or prints on his ties and bowties. Fur accents are found here and there, shoes are double monk strap or wingtips, worn without socks and the pants are cuffed: the Mark McNairy man isn't afraid to show his ankles even in the cold of winter and that contributed to his smartness. Sports accents (heavily inspired by varsity clothing), tartan, camo, pinstripes and stripes are some of the highlights of the collection.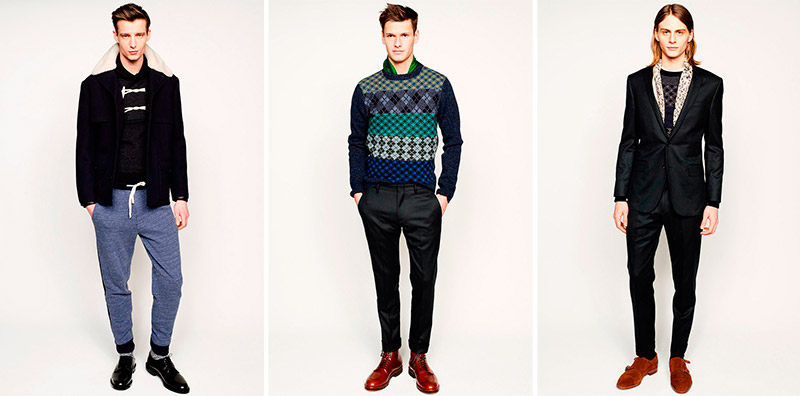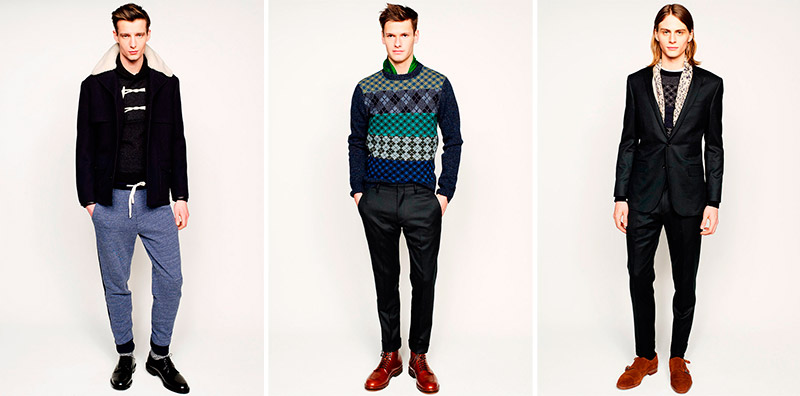 J.Crew shows a smart collection for this season. The J.Crew mans isn't afraid to go for bold and colorful prints and his inspiration seems to be the Pitti Uomo street style (think noticeable oxford with wingtips or interesting heel details, scarves, silk). The sweatpants get the tailoring treatment giving to a dapper collection sport feel.
Billy Reid goes for camel (almost) everything and comfortable fabrics: fur, wool. Monk double strapped oxfords and tailored coats and jackets are not rare throughout the collection in an autumn warm color palette. The cozy knits and buttoned up shirts create beautiful layering in a collection of updated classics and ever changing silhouettes.
Tim Coppens, the freshly designated runner to the LVMH Fashion Prize, knows his way around menswear and that's why he chose to go for a wool takeover collection. The outerwear pieces are strong and one of the statement of this collection is that sneakers definitely are the shoe of the season. Black and white find its way along statement sweaters, bold prints, smart short jackets and knot beanies into the men's wardrobe.
Patrik Ervell decided to go for a beautiful take on outerwear this season and many of the strong pieces/looks of the collection are either coats or jackets. Mr Ervell isn't afraid to show his know how around fabrics as he showcases multi fabric jackets with a focus on shearling. The Patrik Ervell man is practical, he values wearability especially during the coldest of winters, yet he knows how to appreciate the beauty and comfort of luxurious fabrics.