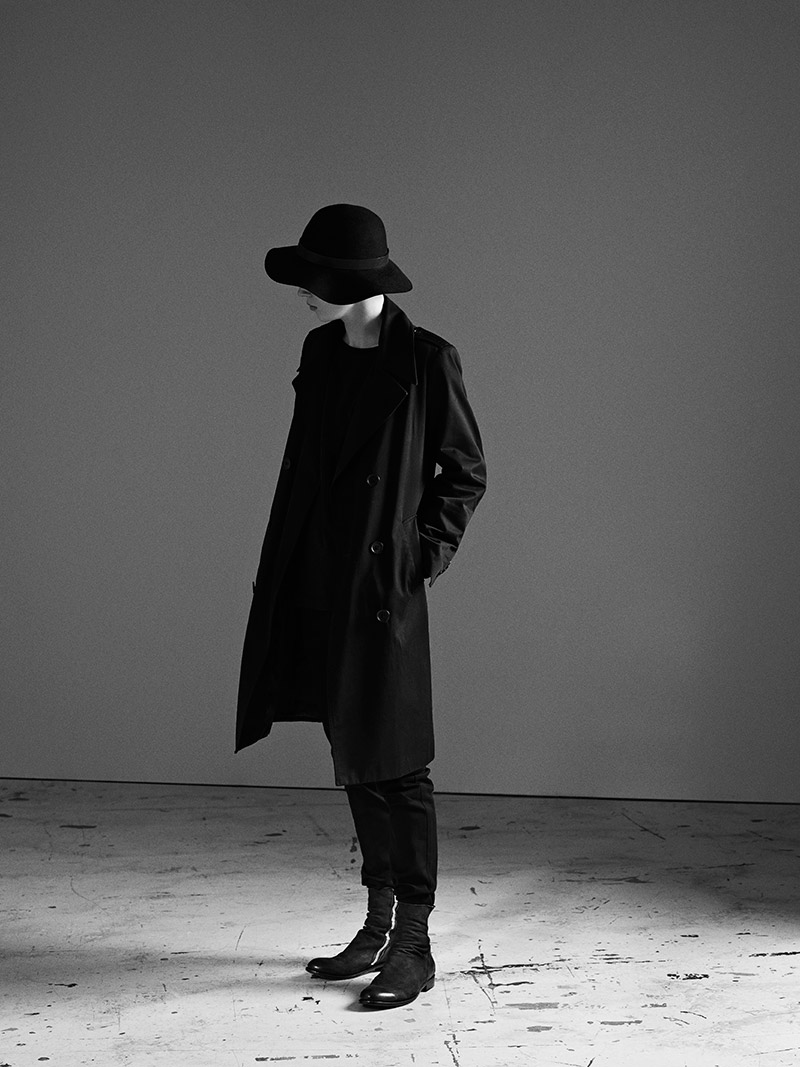 "Bei der Laterne woll'n wir steh'n. Wie einst, Lili Marleen", the eternal Marlene Dietrich sang like that and her guttural voice on melancholy notes suddenly transports us in one of those smoky Berliner dance halls, full of mysterious men who conspire some revolt… THE LAST CONSPIRACY sounds just like the title of a '40s noir set in the occupied Europe. Actually, THE LAST CONSPIRACY is the name of the Scandinavian brand founded in 2010 to transform the leather into comfortable artworks to be put on. Since then, it set out to provide quality artisan footwear, items withstanding any test of time, imbued by the sense of history. Each pair is handmade with profound attention to details, thus imprinted with a personal connection between shoemaker and wearer. This selective process is conducted with patience, willfulness and mindful purpose.
We have had the pleasure to interview the creative director Roald Nore who wanted to tell us about the beginnings and the first approvals, the A/W14 Collection and the imaginative ASGAARD capsule…  Discover with us the secrets of this international intrigue!
Fucking Young! – Hello guys! Undoubtedly intriguing, THE LAST CONSPIRACY is the name of the brand that you have created together… It makes us think about a secret society aimed at revolutionizing the world of fashion… What is then your "last conspiracy"?
Roald Nore – Well, we work in secrecy, striving to always end up with the perfect lasts. The last is the foundation of the perfect shoe. It is our personal and sartorial "conspiracy".
FY! – Where you met. How the idea came. The first item you created.
RN – We have worked with shoes – design and production – since 1999. After so many years in the business, the urge to create a shoe-brand with a proud focus on the craftsmanship, simply arrived. With the experience building up, it simply came natural to us, to make shoes that we were proud of. This became what is now, THE LAST CONSPIRACY.
FY! – The brand focuses on the creation of shoes and leather accessories. As we can read in the website description "it  develops functional and essential footwear, with a proud artistic post-modern legacy. Each collection is built on the premises of experimental progress, allowing for new treatments and construction processes. Authentic shoemakers first and design studio second, we are ambiguous explorers of modern waders". Why have you chosen shoes and accessories rather than clothing in general?
RN – We simply love the process, of combining fantastic hand-treated leathers with 3-dimensional design. The craftsmanship, process and interaction with footwear is very special, in our heart – we are true shoe makers…
FY! – As we have already pointed out, every single piece is completely handmade and combines Portuguese craftsmanship and Nordic minimalism. How important is today maintaining high quality standards to be able to distinguish yourselves and stand out from the "crowd"? How hard is to put it into practice?
RN – We spend most of our time researching and developing lasts, leathers and treatments – so the high quality is an obvious part of our DNA. For us, this is the fun part of making shoes, so it is not very hard to maintain… And when you combine this hunt for high quality with our clean lines you capture our vision best.
FY! – Yours is a young brand which has already received a great feedback from both public and professionals. What do you think your trump card is?
RN – Quite straightforwardly put, we live by the motto: What you see, is what you get! We make shoes, that will look and feel even better by wearing them…it is all about honesty and respect for craftsmanship.
FY! – The leather. It is the element around which your world turns, the soul of the Brand… What synergy between you and this material?
RN – The leather is essential for the right expression. And the treatment and finishing can change this expression completely. We love exploring these processes. The molding of the leather is also very interesting – to see the leather follow the shape of the last and to see the memory during the aging of the leather…it is a most remarkable and versatile material.
FY! – The black. The color symbol of the brand, the fil rouge that links one collection to the other. Why have you chosen it and what does it represent for you and for The Last Conspiracy?
RN – It is not so much about blackness, as shoemakers, We are much more attracted to textures than colours.
FY! – Cesar and Nicholas are the names of two of the shoe-models that you propose to your customers. What is the most representative piece of the Brand? And which one do you prefer?
RN – In the AW14 capsule collection we aptly names ASGAARD there is a shoe called Bork. The last is a tad more agressive – it is a last from an old officers boot from the US military. The leather is "cullata" – a small piece from the hip of the horse, which has a unique texture on the reverse side. This only shoe I wear at the moment.
FY! – Staying on the theme… Who is your target customer?
RN – We beckon to all that wish to join us on our journey. Our shoes are for those who appreciate understated quality.
FY! – Let's speak about your 2014-15 F/W Collection,  an exploration of advanced footwear, dissecting each piece from concept to construction to end product. Do you want to tell us about?
RN – The collection is very special, as we added more sneaker styles as well, plus we reworked some of the womens shoes and added special construction techniques for Mens. It is all about subtle evolvement and reflection in AW14.
FY! – There is a capsule collection too: ASGAARD, a morose palette consisting of three lasts, eight pieces, all morphed and constructed in dark black reversed hand-treated horse leathers… Something to add? 
RN – Except from the sneaker, all shoes are goodyear-welted, with outside metal-shanks and they have double-layered leather soles. It is a full artisan collection. Each piece of leather for these shoes will be personally handpicked by me.
FY! – The garment that must not lack in your wardrobe?
RN – Well, I do not go anywhere without my Boris Bidjan Saberi zip hoodies. These are my shields… (against everyday life and boring people 🙂 )
FY! – According to you, what is really FUCKING YOUNG!?
RN – Our sneaker line for AW14 is very fucking young. Clean and fresh.
Thanks a lot!