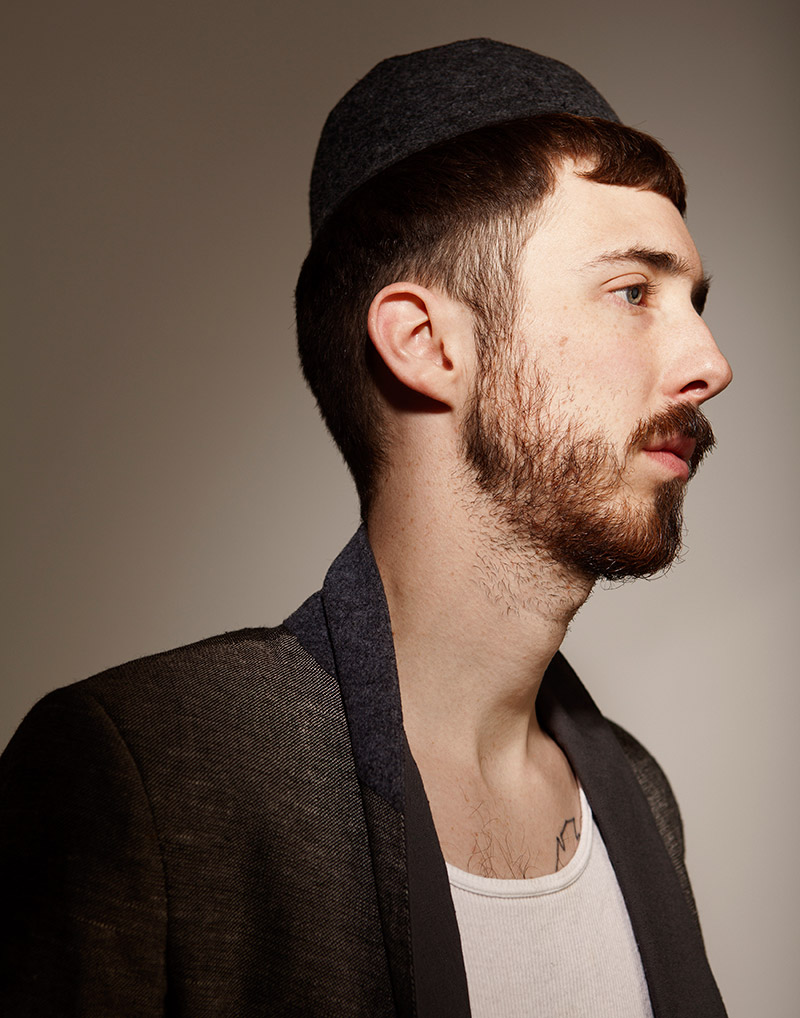 A son of the Nintendo generation. Willing to take risks to reinvent the very concept of elegance… Christian Deslauriers' Enfant Roi is a spoiled brat: capricious, cheeky, modern.
He, Christian, perfectly embodies the spirit of the brand. Young, Danish, passionate about visual arts. His is a design which tries, successfully, to explore new forms. His haute-couture is designed for a luxury globetrotter. In his clothing there is always an element of surprise melted and highlighted by both the classic silhouettes and the clean style.
Christian has decided to play his game this way, by giving rise to a menswear line among the most popular of the moment. And you, instead, what are you waiting for? Turn on the beloved Wii U and "choose" CHRISTIAN L'ENFANT ROI!
FY – Hello Christian! How are you? Just let's break the ice… Who and what does the brand CHRISTIAN L'ENFANT ROI want to represent?
CD – Originally intended as a tongue-in-cheek way of describing my clientele, the name L'Enfant Roi is a certain calling card for men who are informed about fashion, who are willing to take risks in the way they dress without compromising a certain respect for classic shapes and silhouettes. The brand looks to dress the so-called "spoiled brats" of the Nintendo generation. Christian L'Enfant Roi of course explores new shapes and textures and pushes the boundaries of a modern male wardrobe; also channeling simple shapes. There is always an element of surprise. A whimsical boyish quality that I believe represents the ideal "Enfant Roi"
FY – When and how was your passion for fashion born?
CD – I was never one of the designers who was born with a needle and a thread in my hand. Sewing dresses for my sisters' Barbie dolls was the last thing I wanted to do as a child. I believe my interest for fashion stems from a very visual mind, a profound interest in creating three-dimensional objects. This eventually led me to the concept of Visual Arts which in turn rapidly brought me to textiles. I've always had a strong sense of personal style, a feeling of aesthetic clairvoyance as well as a manual need to produce something of my own two hands, so the two worlds eventually collided.
FY – You are young but with a great experience. What is your background?
CD – I have a very strong work ethic and was brought up to always work hard to gain as much knowledge about as many different things as possible. I do have a certain knowledge of the fashion industry and how it works given some internships as well as a three year position as Assistant Designer for a leading Canadian womenswear designer, but to be honest I think most of my experience was gained through other things. Like a true product of my generation, attention spans are short and I explored many different things before fashion. I've touched upon graphic design, visual Arts, video, hairdressing… and every one of these passions and people I met helped to shape my mind and made me the designer I am today.
FY – Just in recent weeks you have opened your new web-site. How important do you think online communication both is in the present and will be in the near future?
CD – Online communication is the epicenter of everything now and from now on. Most of what I have been able to achieve can be credited in some way or another to the enormous power of communication found online. Regardless of where you are physically, you can create a border-less network of collaborations, sales, press just to name a few. I have always tried to have and maintain a strong online presence. I still think that it doesn't matter exactly how many people attended a presentation/fashion show as long as it is well documented. This is a great test to the power of online communication. At the end of the day the most important thing is to get your ideas out in the universe. This of course is a double edged sward. Things can seem much "bigger" and interesting once online. You know when you meet someone you have been "creeping" on Facebook and they seem much less interesting in person, boring even. This is the only downfall to online communications because there is no actual real filter and everything is possible. You always want your work to stand alone without the fireworks, fanfare and glitter online communications provide and for some (let's say it) rely on.
FY – You are one of that Northern European fashion's emerging talents who, with tenacity, is establishing himself at the international level. Which are the differences with respect to the more established markets such as those in Milan and Paris and what is instead the contribution you can make to today's fashion?
CD – Fashion meccas such as Paris and Milan are well established in their way of thinking. These capitals have a rich history and established points of view when it comes to quality, craftsmanship and the inner workings of a the industry. When you are in an emerging market you tend to have the opportunity and the need to think outside the box. Instead of fighting to be part of an already established group of high rollers, you can concentrate on creating the establishment and foundation of our own making. Collaborations with other local emerging talents in every field become ever so important and allow us to explore territory often overlooked by larger budget firms.. I have an enormous respect for my predecessors but in no way I want to mimic the way they work. Pivotal to me is the belief my works speaks for itself, considering I am still a very small brand working with a selected few who share with me idealism and the need to have a one-of-kind take on fashion design.
FY – You've chosen to focus on menswear. Why? Is it perhaps more interesting? What is the difference between men's and women's fashion?
CD – Having worked in womenswear I quickly realised the beauty in simple details found in menswear. There is something very poetic in the subtle subdued eccentricities of a male wardrobe. A simple tweak on an otherwise very well know male silhouette whether by changing the most minute detail such as a collar or a complete overhaul of the shape itself in a classic fabric is what modern menswear is all about. These simple details and the current apparent need for most men to re-explore the way they dress make creating menswear strenuous in the most amazing way. Balance and juxtaposition of the old and the new are what
make any design process exciting. However I believe a certain finesse is required when playing with these elements. Wearability and practicality will always be at the root of menswear and coexisting with stigmas of the terms whilst slightly zigzagging between convention and development.
FY – Torben Rixen Deslauriers was model and muse for your 2012 A/W Collection. Can therefore a model be a real source of inspiration for a designer? Usually, how do you choose those who will wear your clothes and who, in short, will bring them to life?
CD – Torben is of course a muse but mostly embodies an "Enfant Roi". I have an archetype of "boys" I would like to dress and they inspire me throughout the designing process. I think my clothes are wearable for most men regardless of their personal style or look. I have always been fascinated by boys who have a certain raw elegance or cunning peacock effect when in a crowd. Boys who both look and act like a Flemish portrait of a prince yet are still "un p'tit criss" (French Canadian expression meaning a brat, hoodlum, know- it-all…)
FY – From the 2013 S/S Collection's intense cold to the 2013-14 A/W one's African heat. From the delicate dull blues to the warm nuances of brown and orange clay. From the floral to the tribal and rich of contrasts prints. From the Fossegrim's Nordic myth to the captivating Saharan atmospheres of the film Kirikou et la sorcière… They look like two distant worlds linked together by the leitmotiv of the imagination… How was the two collections born and how do they interact with each other?
CD – I always like to draw some form of template or universe for where the collection would stem from. Like if someone opened up a portal from another time or world. The idea of putting the "Enfant Roi" into a specific situation or context. The blueprint or scheme of inspiration for the last few seasons goes as such: SS13 came from an obsession with everything Nordic. The Great North had been explored the previous season and the logical suite in a sometimes scatterbrained inspirational path, was to explore the beauty behind mythical Norse creatures and their Lore. This called for a more ethereal color palette with elements
drawn from water and the myth of this beautiful water creature reported to be alluringly beautiful. When starting research for AW2013 began I fell upon a painting by Henri Rousseau and was instantly drawn to the indirect link to West African folk tales. Like Yves Saint Laurent had never been to Russia when creating his 1976 Russian Collection, Henri Rousseau had never been to Africa and yet could portrait it so vividly. Kirikou et la sorcière made me feel connected to the African villages and their folk tales. Taking inspiration from the colors, textures and over-all "feel" of the movie and works I wanted to create non-literal African collection which drew from elements of West African folklore and landscapes even if one didn't actually have to travel to this location to feel part of it.
FY – Which is the 2013 S/S Collection's most representative garment? And which, instead, the one that represents Christian in an absolute way?
CD – I believe the textures and prints I explored in SS/2013 are the most representative of the theme. I tried to imagine the Fossegrim's different aquatic habitats. Some are more direct, like the hues of blue and custom fish scale print or floral print resembling fallen flowers and leaves in a river or stream. Others, such as the texture of the raw silk tweed, linen herringbone or cotton twill are a more abstract way of identifying water in different forms like the riverbed or the movement of the waves. CLR Jackets or blazers are usually totems for what the brand is about; taking a common male garment and slightly changing details to make what I call "utilitarian loungwear bespoke". This season the cotton-rag-rug sweatshirt is indicative of my work. I always try to incorporate pieces with traditional almost old-fashioned ways of manipulation (weaving, felting, embroidery…) to further play between the lines of accessible wearability and handcrafted, "haute- couture" customs.
FY – How would you define the style of the man wearing CHRISTIAN L'ENFANT ROI?
CD – I would like to think I am not limited to one style, but rather a way of life. Once the collection is broken down, most can find a piece that can easily be introduced in their respective wardrobe. This said; he must be willing to take a few risks and re-think is present wardrobe. He is aware but not solely guided by trends and has a certain cocky approach to fashion. He might be a self-proclaimed spoiled brat, aware of what he wants and how to achieve (in his eyes) aesthetic perfection or one of these boys that simply stumble upon elegance with flair for beauty. One thing is for sure: he will never go unnoticed.
FY – You are always looking for something… New techniques of work, new volumes, innovative ideas… We could call you as a fashion's explorer… So, just tell us… What are you looking for right now?
CD – Presently I am working on SS 2014. At the moment I am fascinated by occultism and mysticism but I'am not so sure on how this will translate. Perhaps I might be even exploring more body-conscious elements for the first time.
FY – What about your future projects?
CD – In the past I have been a more studio/atelier based designer. My clients could visit my studio and have a more tailored experience. Slowly moving away from this I am building my European sales points.
Thanks a lot!
Click here to see the Spring/Summer 2013 Lookbook.
Portrait credit: Richmond Lam