Men's #MFW's wrapped up and we've just come round after the draining tournament of fashion shows and presentations in a buzzing Milan- kind of Mortal Kombat where rich fabrics, high tailoring and luxury accessories stand in for kicks and punches-. Every season it is like running towards a roaring fire of future trends and lust-haves and, if you're the lucky one, you won't end up burnt to a crisp! We put on the heart rate monitor during Milan Men's Fashion Week that recorded our heart activity while exposed to the style pressure of the shows and now, with this Best Of, let's analyse what made our Fucking Heart beat fast. Yeah, we had some serious fashion tachycardia!
GUCCI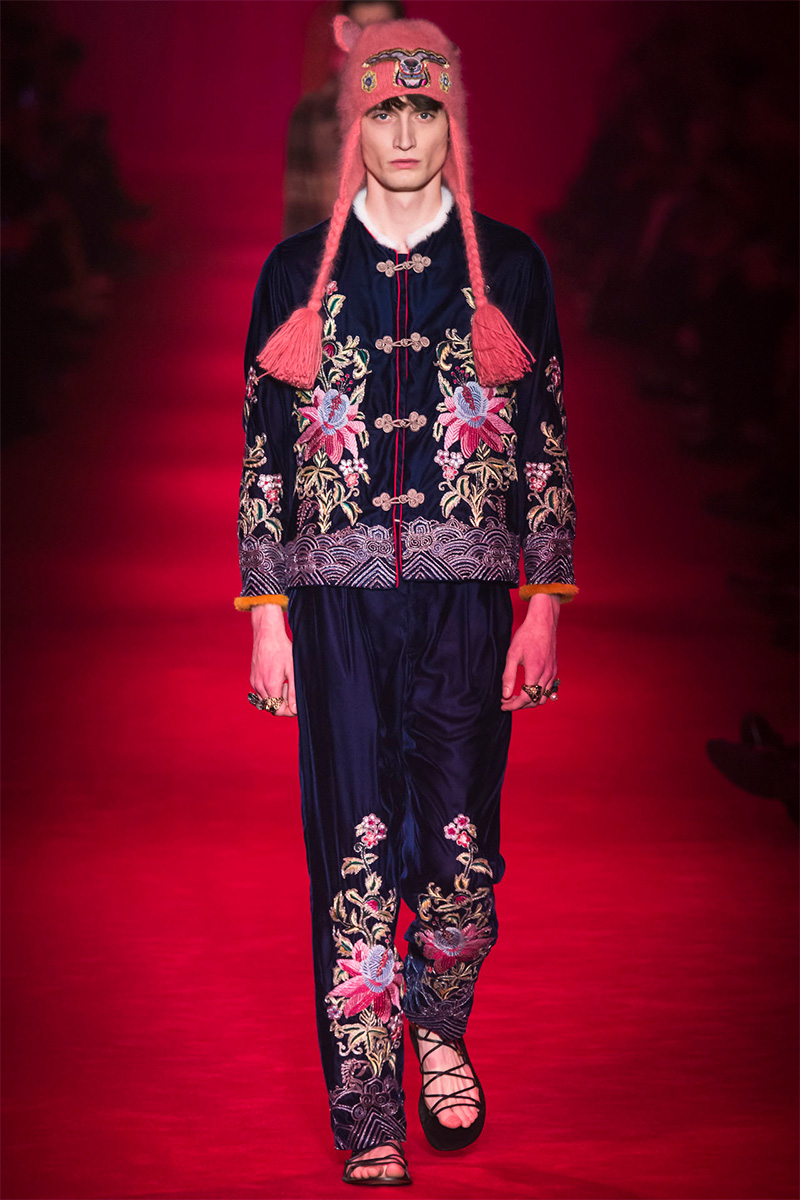 Gucci turned up the heat with its latest from the catwalk. You've probably sniffed at many curios Alessandro tried his hands at for the FW16 menswear – I know that tapestry-plus-knitted socks-plus-granny –ish garms are not easy to digest at once! -. Michele's coup de pee seeped in the old Gucci with a mighty rework while many did expect an innocuous touch up not an overpowering twist. The collection's out-there approach to embellishment and prints- hundreds of different sized and shaped buttons densely sewn on a corduroy jacket or the Chinese dragon on a floral jacquard- stands out as well as oodles of vintage stardust and flamboyant accessories.
PRADA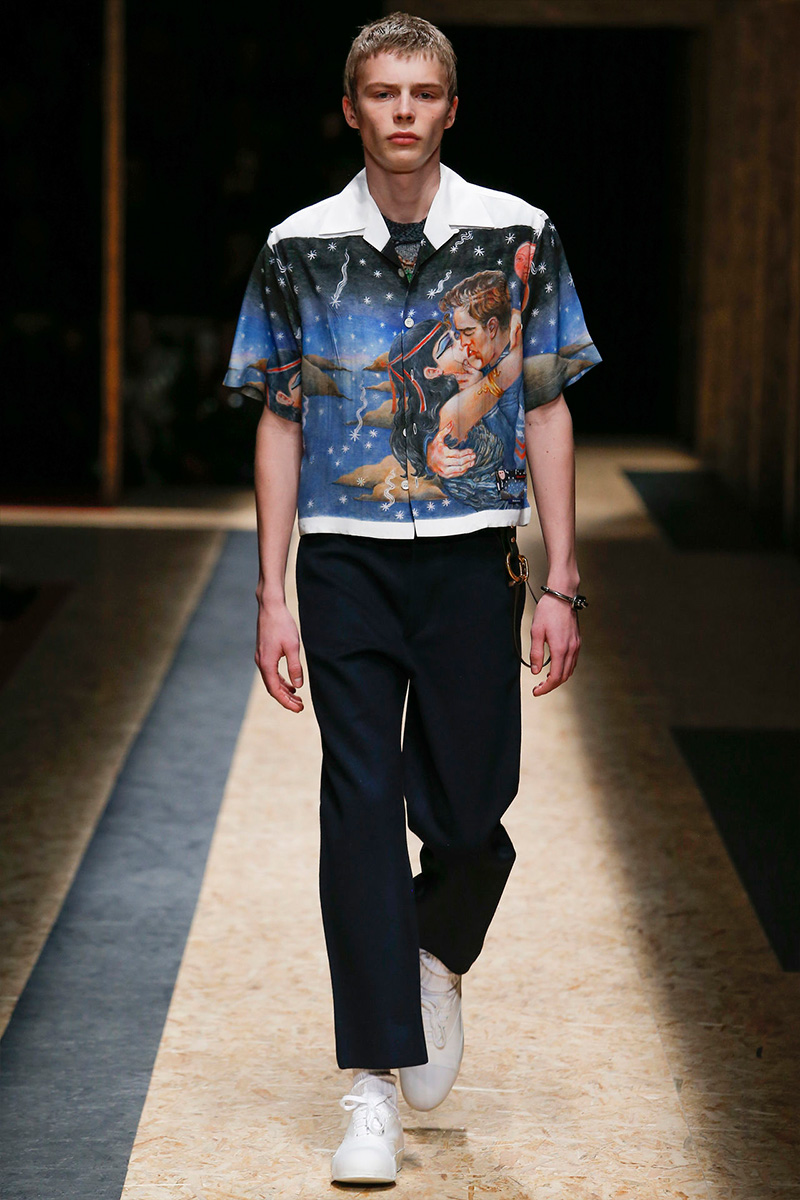 With a collection of shabby clothes worn by pasty boys roaming around a sombre environment, Miuccia reasserts her zero tolerance against the pathological glamour. Heroism and terror, chiaroscuro and utter darkness for Prada's re-edition of the auto da fé. In a moment when our society has broken wings- and we're well earthbound-, Miuccia collects mutual sentiments and turns them into luxury clothing. The inner sense of discipline of a black double-breasted two-way collar overcoat is dramatic, Chemin's original illustrations- Hulk-handed Hercules is lovely- are more cultural than mocking.
FENDI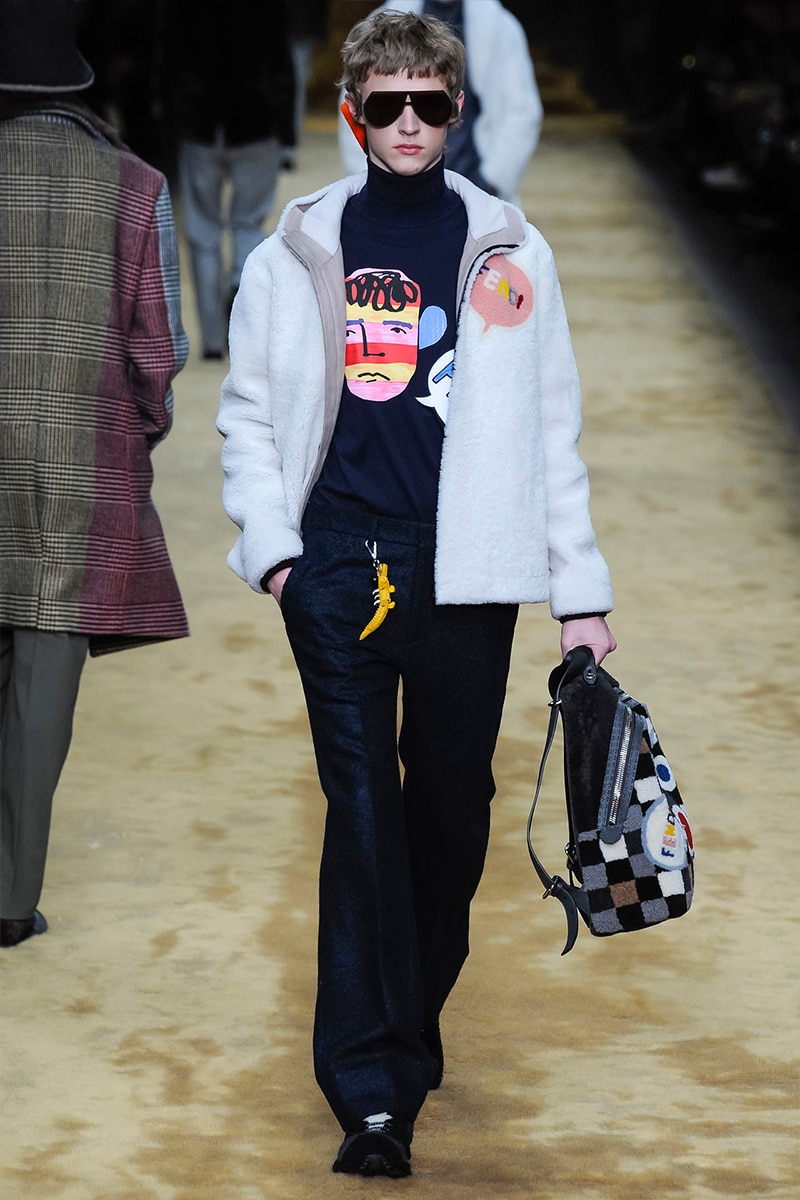 Break a beer open- or a champagne if you're a wee bit toffee-nosed-, slip on a pair of cosy furry slippers and a plaid robe, tune your telly to any channel you like best and you'll be a very good Fendi's darling! Silvia Venturini revalues the stereotype of a male lazybones for the next cold season. Trafficking in more homely silhouettes- relaxed cuts, comfy fleeces and mink coats- Silvia offered up a new sense of ease. We have always enjoyed Fendi's bourgeois lifestyle for its menswear in recent years but, this time, it seems that the Fendi boy is stepping out of his role of a skittish man about town to become the perfect 'king of the couch'.
N° 21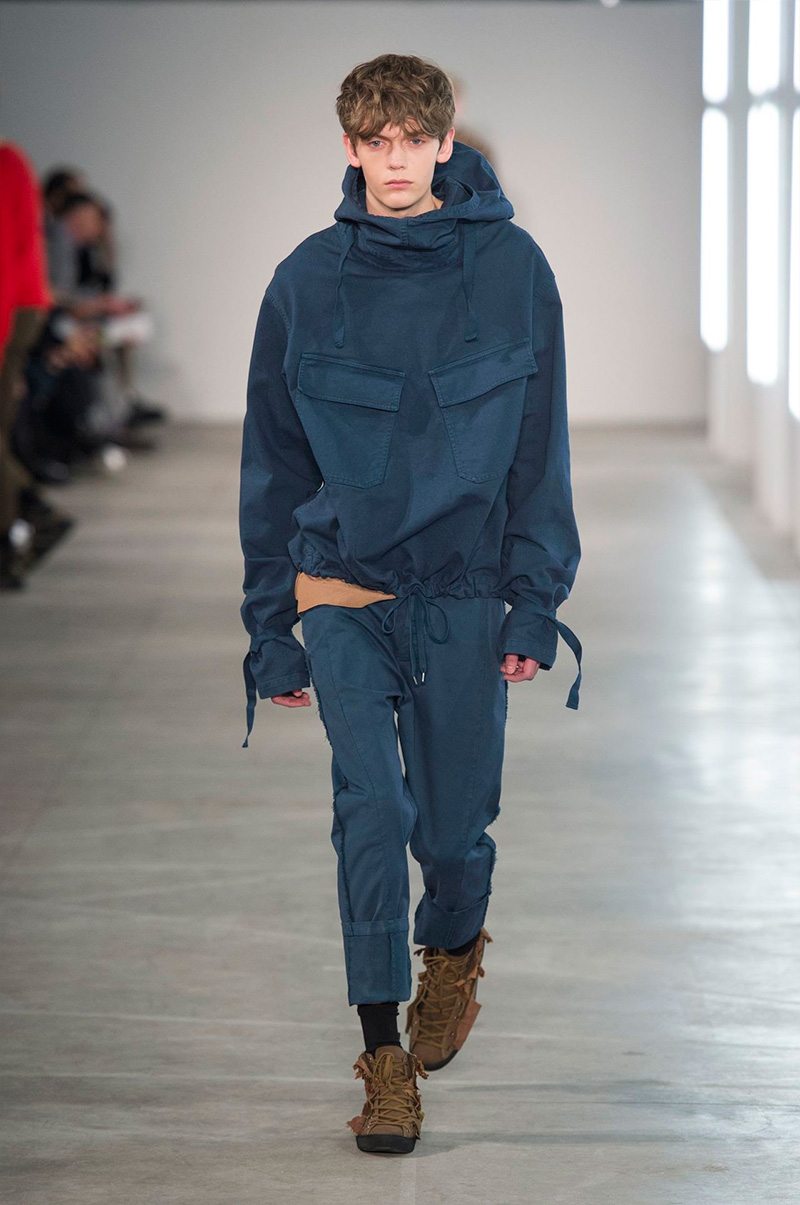 Alessandro Dell'Acqua's bravura is all about jumbling up the naive style of a high school Don Juan and the kittenish fashion of a cool young bitch. The subversive irony of N21 is what perfectly ties in a lace shirt with a military green anorak without being jarring. Young, no doubt, but stylishly geeky- more Dawson's Creek gang than Gossip Girl's-. The collection was a powerful styling exercise, there is always an urgent need for the pieces to be placed not where they should be but, paradoxically, where they shouldn't. That's the irony I was talking about.
DAMIR DOMA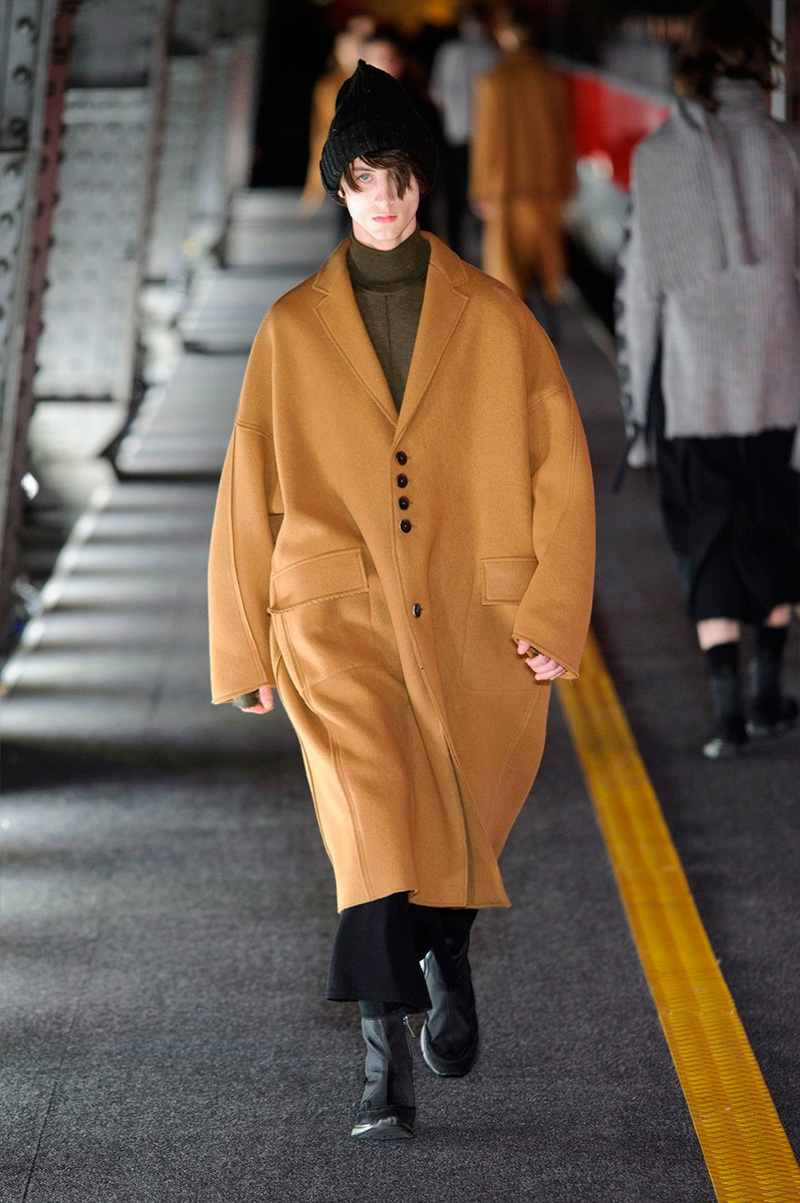 There is a strong sense of the opposites in Damir Doma: past and present, man and woman, east and west, to stay or leave – to stage the FW16 show at Milano Centrale wasn't a coincidence -. The sculptural belted kimonos and the cocoon coats versus the unpretentious wool turtlenecks is an example of Doma's opposition. The boxy structure of many outerwear pieces added enough robustness to a menswear strongly contaminated by feminine elements.
CALVIN KLEIN COLLECTION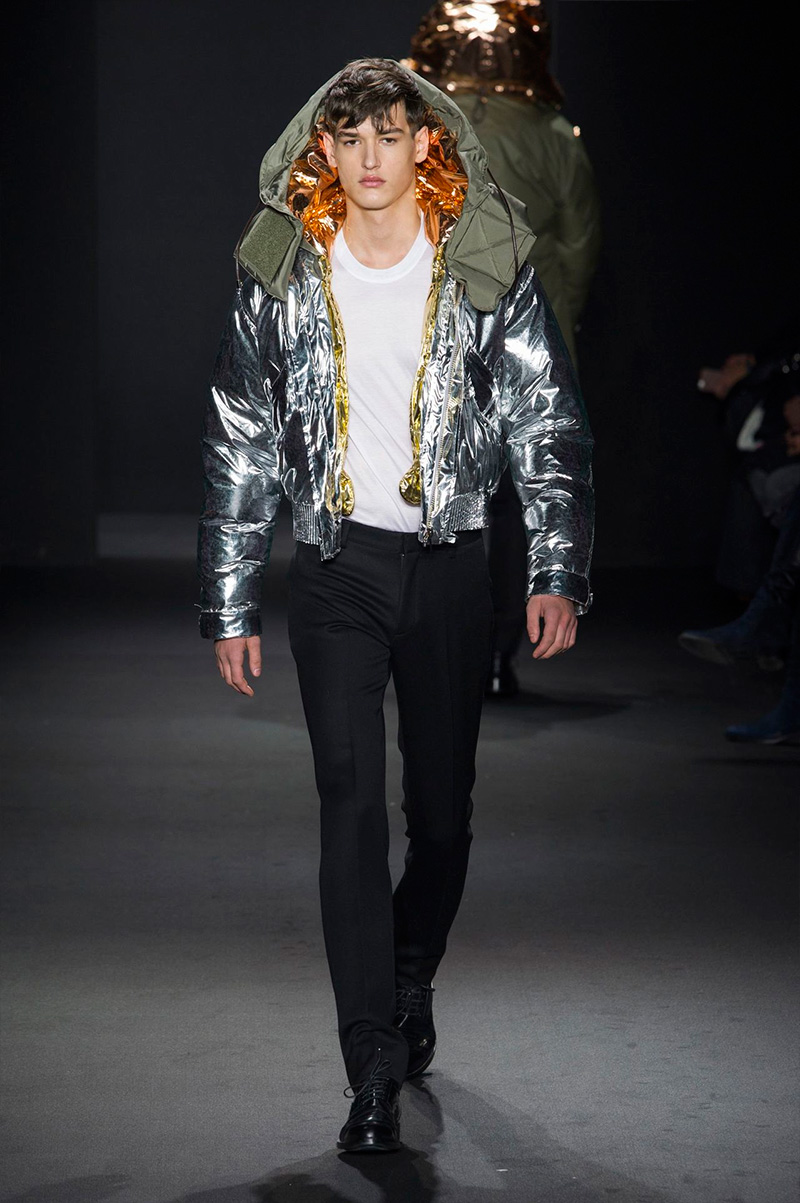 Italo Zucchelli remained very much within Calvin's comfort zone centring the offering on the most powerful obscure tool of seduction: the suit. Zucchelli got experimental with proportions favouring elongated silhouettes and stressing the upper body with double or single-breasted wide-shouldered jackets and trousers kept tapered. The metallic shades of weightless down jackets and the white coated denim with some gold broke mildly the rules of Klein's minimalism.
SUNNEI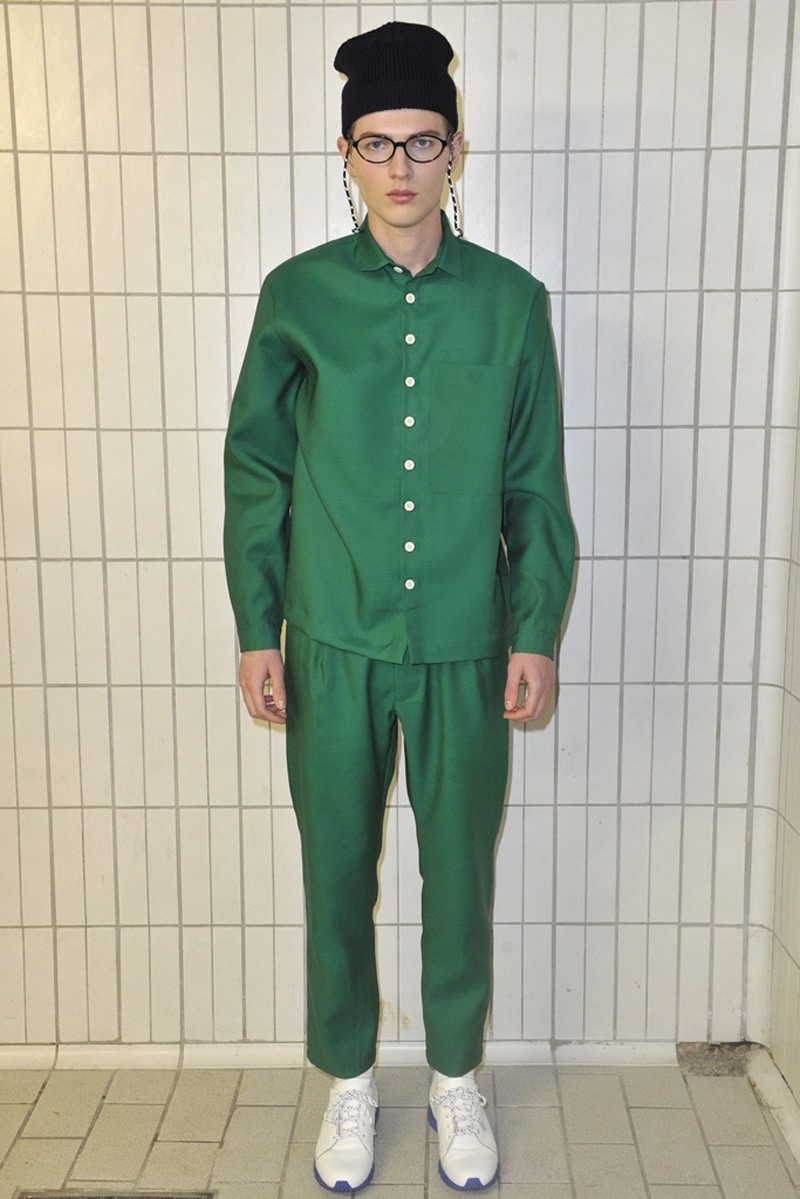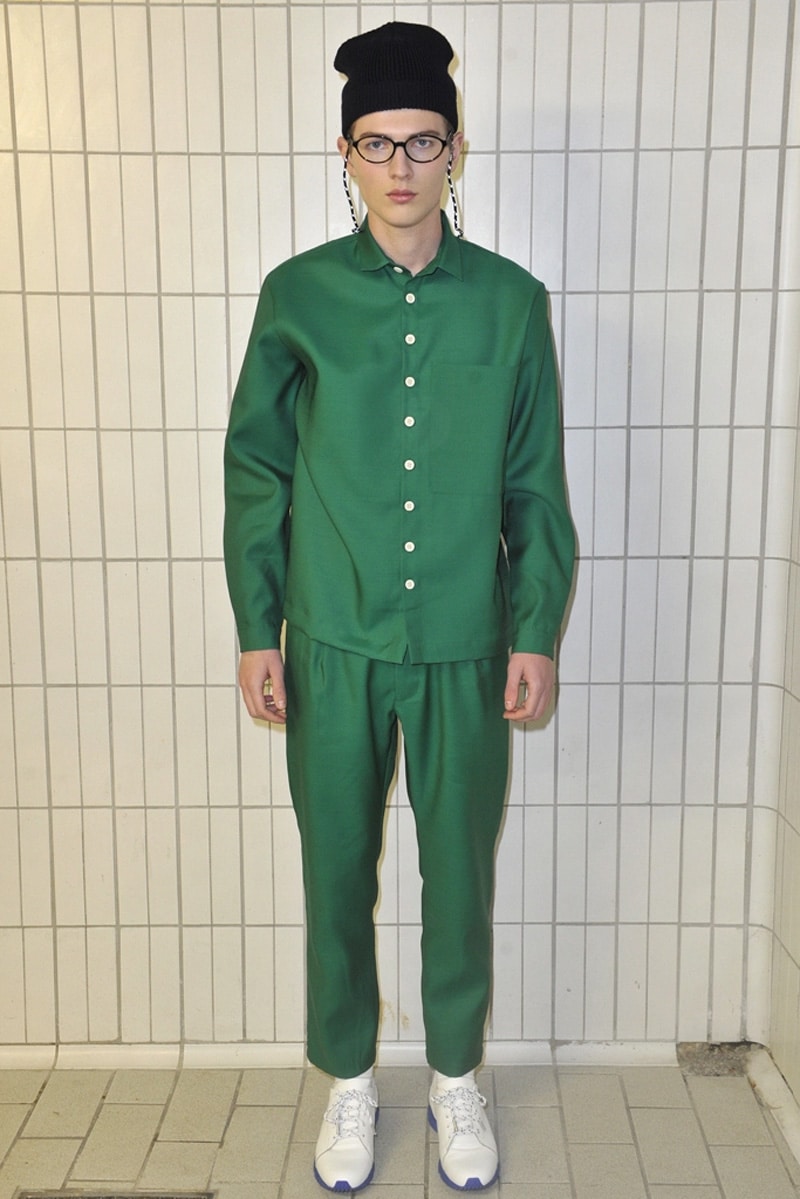 With a revisionist spin Loris Messina and Simone Rizzo reimagined the men's traditional clothing for Sunnei. Evergreen but breezy, neither classy nor showy. There is a yen for creating clothes that keep us in touch with our inner child. Stripes alternate with checks through a collection of woollens, T's, hoodies and chenille tracksuits. Artist Michele Papetti incredibly twisted Sunnei's pure edge with his bold art. A job well done.
SALVATORE FERRAGAMO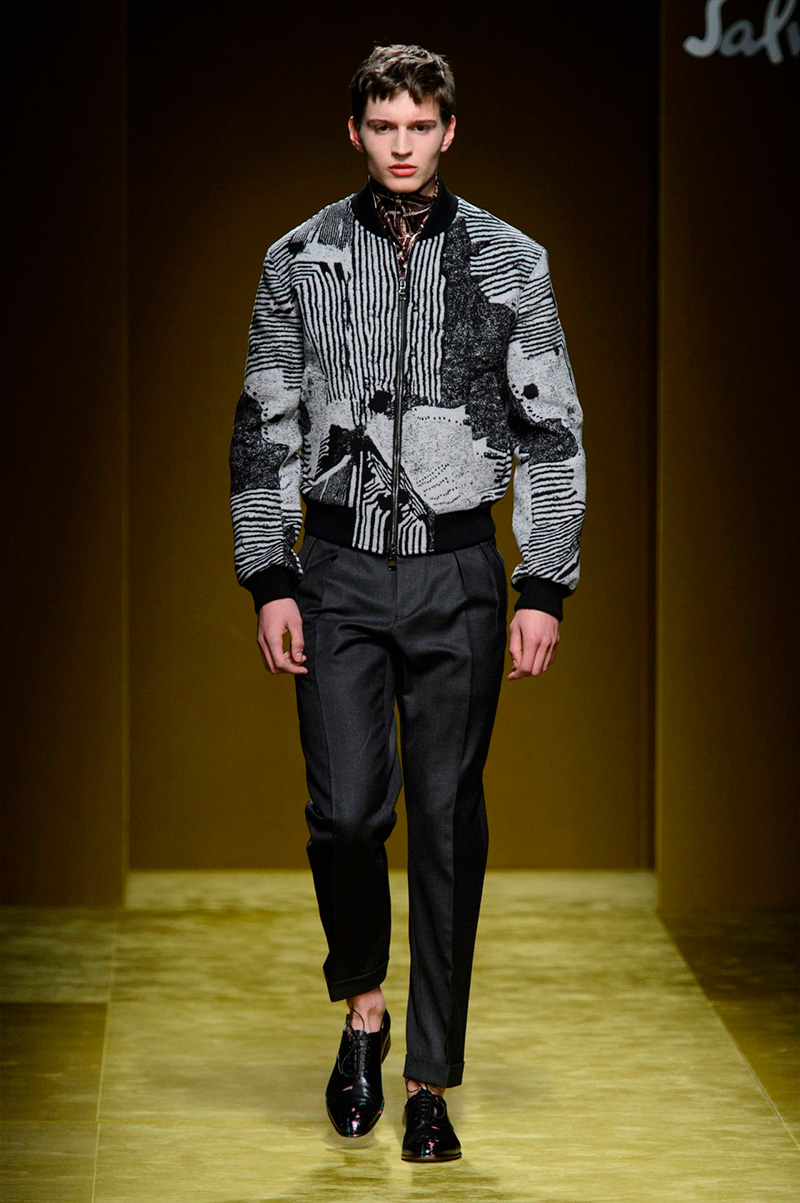 FW16 menswear finds Giornetti digging into textures and contrasts. Ferragamo is still a resource for a suit of impeccable tailoring but, this time, virtuosity is about mis-matches. Massimiliano mixes cleverly the classicism of Ferragamo's heritage with the paradox of modernity and accessories are essential to a new sartorial language grounded on 'design faults'.
COSTUME NATIONAL HOMME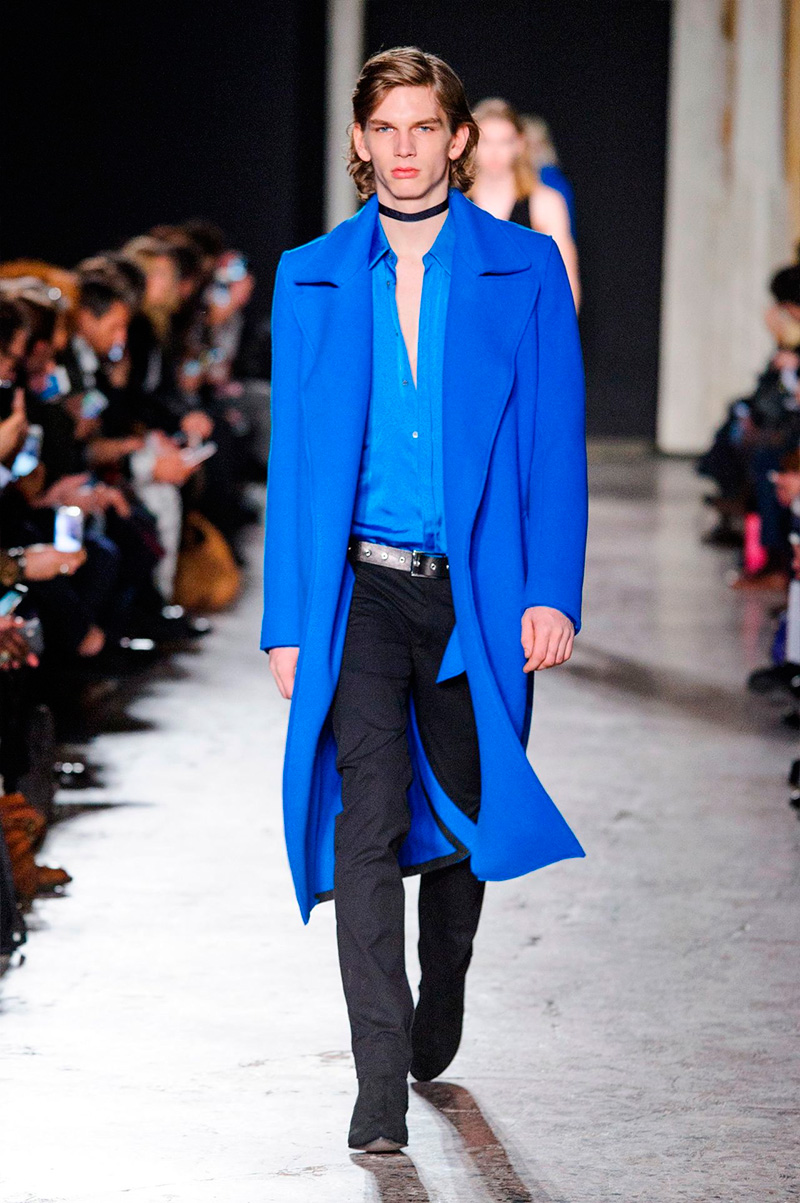 Ennio Capsa can design clothing as Jimmy Page can play guitar. Both rock! Costume's latest offering- I have the hots for those fluid velvet blouses and platinum bicker pants!- really belongs to a genteel rocker- none of those who smashes guitars on the stage during a gig!- A strong connection with music is paramount for Capasa as well as sharp tailoring.
DIESEL BLACK GOLD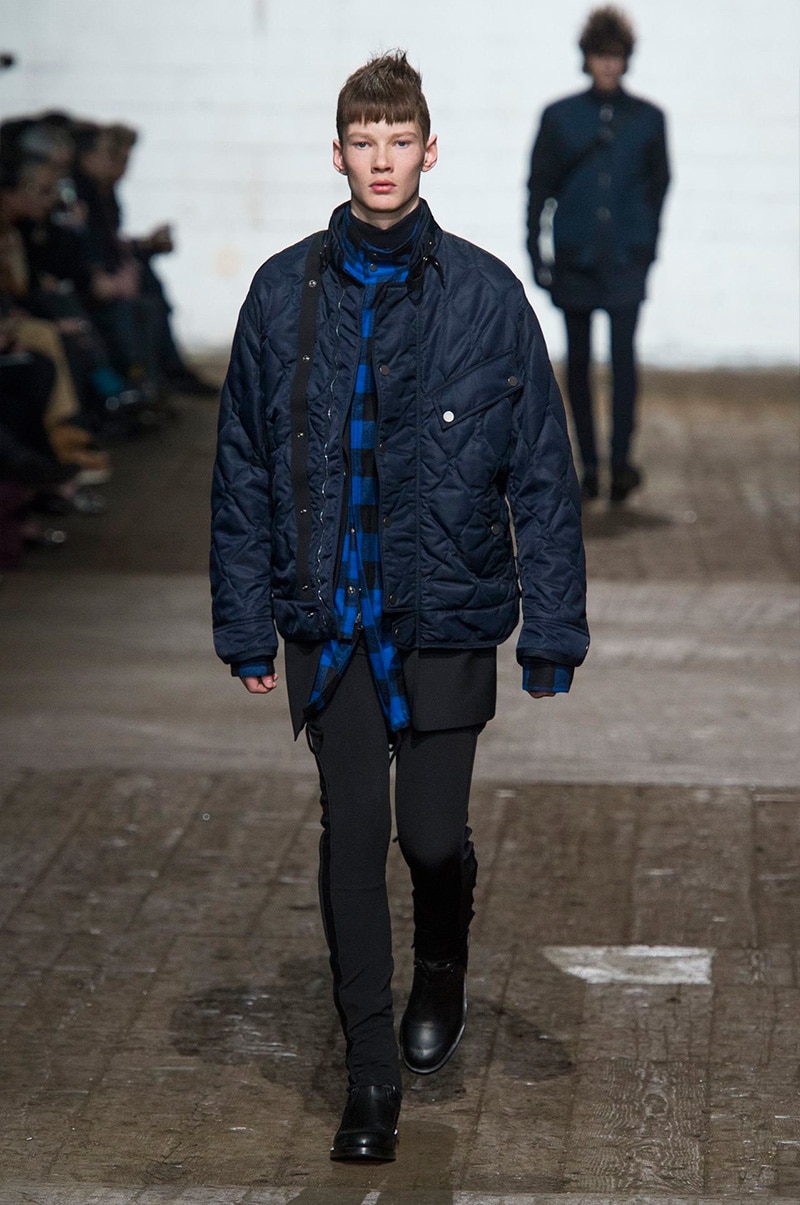 Diesel's Andreas Melbostad fastened on 'activewear deluxe' for Black Gold. Sartorial features and sportswear are balanced to create a dynamic-yet-innovative multifunctional wardrobe for an urban messenger. Waterproof fabrics, nylon and jersey combine with silk, leather and wool. The effect is: a bomber jacket over a jacket over a jumper over a shirt and quilted short pants over long trousers—layering, definitely.