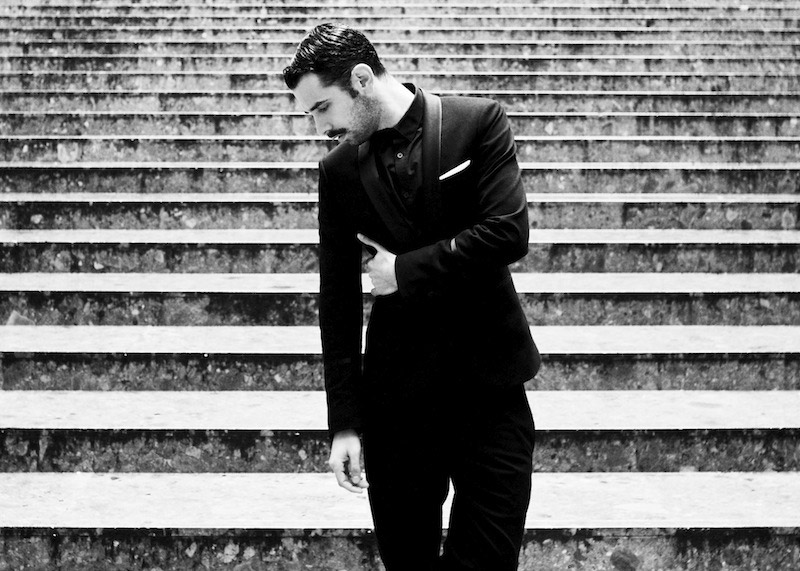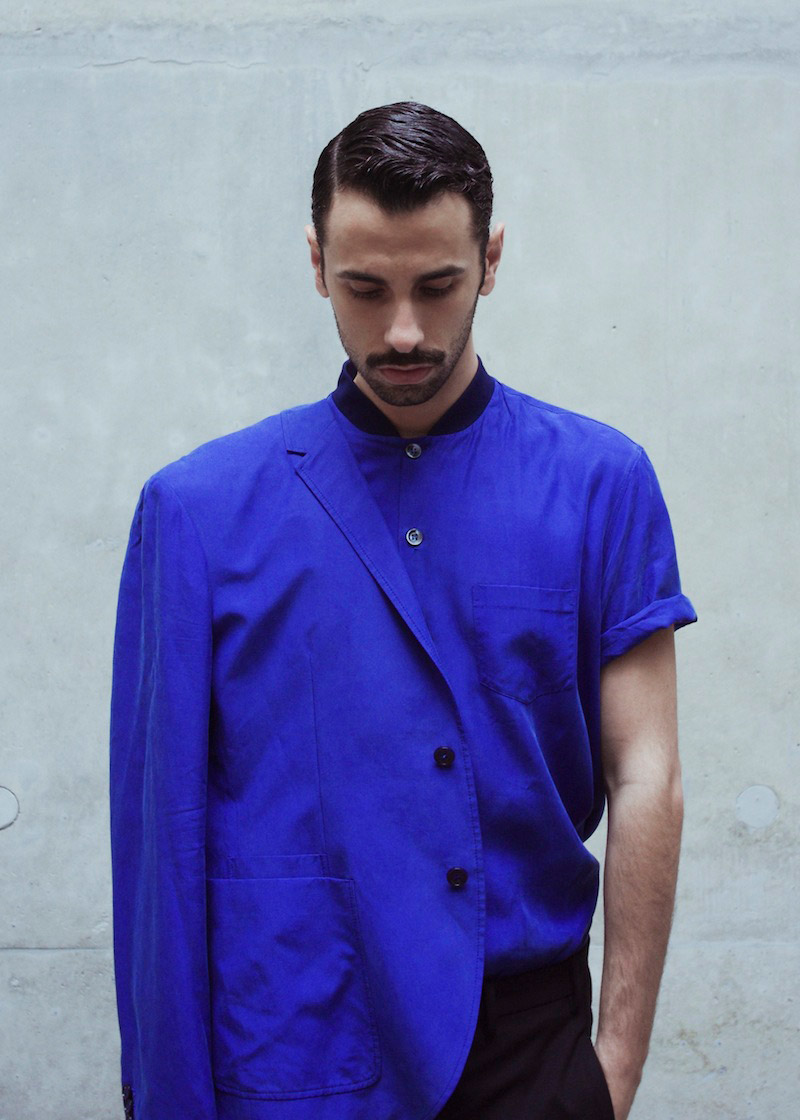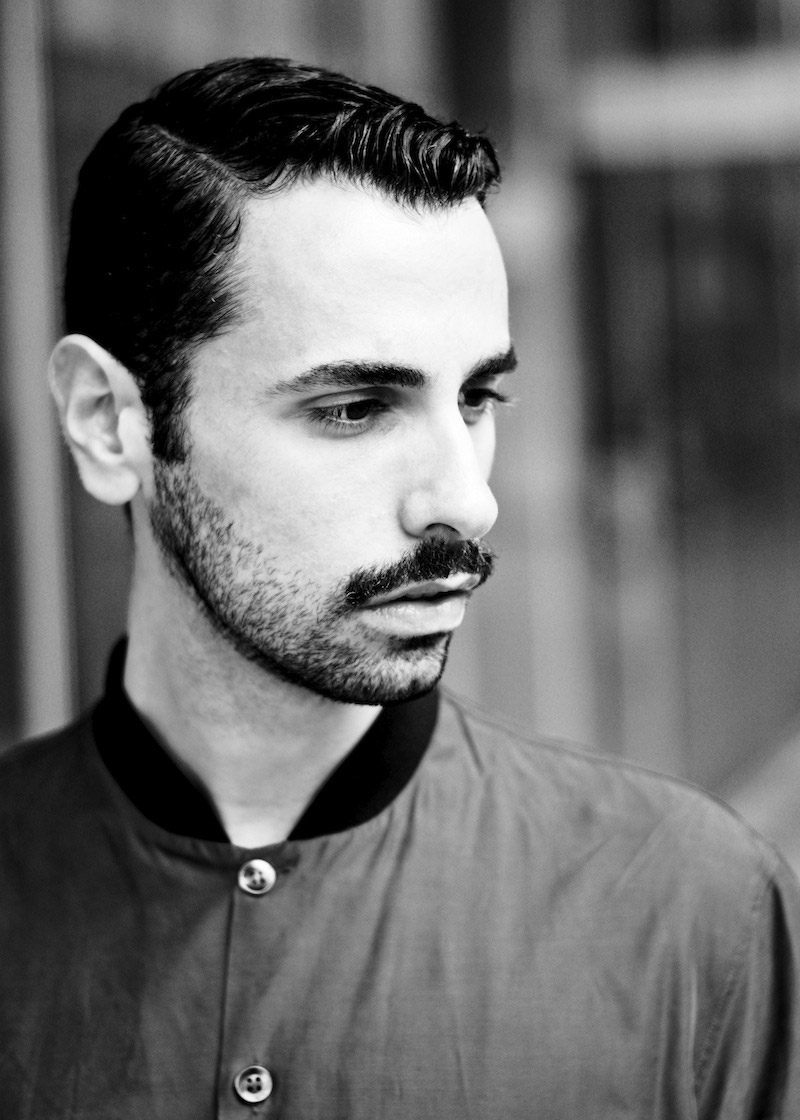 "Mmmbop, ba duba dop. Ba du bop, ba duba dop. Ba du bop, ba duba dop. Ba du… Yeah", the refrain of the Hanson's song MmmBop echoed in our ears all along that 1997's summer… Today it comes back as a smash hit thanks to a video, the one that the incredible Luca Finotti shot to tell about TEETH: the cover-story for FuckingYoung!'s new issue.
It is an editorial paying a tribute to that unforgettable year, to the carefree youth, to the modern obsession for fashion accessories, the fashion accessory, just one: the braces!
His guys are members of a boy band. They are the Take That, the Hanson, the Backstreet Boys. They are the fusion of the past with the present. They are synonymous of joie de vivre.
It's them… Our fucking young boys!
Fucking Young! – Hi Luca! How are you? Tell me about you… How and when did you decide you wanted to "work" with and in fashion?
Luca Finotti – Mine was a random pattern. I was studying economics and as a student I had the good fortune to attend some photographic studios as a hobby. After graduation, I decided to go to New York to study cinema: the classic American dream. Just at that time the first Prada's video came on the internet. I was fascinated and I realized that could be the right tool to combine all my passions. It was my initial training, noticed by a lot of people, and soon it became my job… The way I stay behind the camera has always had a very fashionable touch.
FY – Fashion. Photography. Video. What do you put in the first place?
LF – Videos, absolutely. What it brings to me is just a derivative. The photos, for example, are the result of the story I'm telling and fashion becomes an accessory, quite a character, one of the protagonists of the video that I try to characterize, delineate.
FY – In 2010, you directed  Amanda Lepore for the Hercules Magazine with the photographer Mariano Vivanco and the stylist Nicola Formichetti with whom you would have cooperate also later. Do you think it was the real turning point?
LF – Mariano Vivanco and Nicola Formichetti were my first teachers. My apprenticeship was a 5 stars' one. I started from the very beginning to work with supermodels and super characters because I was lucky enough to start in the American system, which is absolutely meritocratic, in the sense that you can be ninety or twenty, you may be white, yellow or purple but what is really appreciated is your talent. In short, in America you do not need to have a particular kind of curriculum or a special kind of experience, the important thing is that you are good.
As for the turning point, I have experienced a lot of turns in my career. But the true one, I am still waiting for. What I'm doing now is just work. I have the privilege to do it at a high level because of my will to do it but I do not think I am totally fulfilled.
FY – Which is the difference between working in America and working in Italy?
LF – In America they have the ability to sell everything they do in a formidable way. Everything takes on a different meaning because it is surrounded by an aura of modernity, of novelty. On the other hand, in Italy the good fortune is that whatever we do has an historical-iconic weight. You can feel history, you travel outlined paths, you follow guidelines, you have some references. Of course the situation is less transformer but more historical. I am lucky I can compare myself to both realities. In America there is a sort of admiration for what the Italian tradition is while in Italy they consider America as a point of reference with regard to innovation.
FY – Since then you never stopped… Still in 2010, Anna Dello Russo's World Fashion Tour. In 2011 the first i-D video with Lady Gaga. In 2012, the video for Models.com with Simone Nobili, Leebo Freeman, Sebastian Sauve, River Viiperi and many others. In the same year, the short film for Givenchy and two advertising campaigns for Dolce & Gabbana. Now our Cover story. Which one of these professional experiences do you feel closest to?
LF – The more upsetting thing…  No doubt the experience with Lady Gaga In America,. Not so much for Lady Gaga's  phenomenon, already interesting it itself, but rather for the system, the crazy operational machine that really makes you understand what's behind.
In Italy, instead,  the fact to have been called by Dolce & Gabbana was important because it is probably one of the brands I considered as a benchmark when I was younger. I loved their provocative video… For example, the D&G Time's AD campaign directed by Hype Williams became a real obsession for me. I have been called by them to confront myself with a very cinematic theme and this is what I loved more. It was a time when they were speaking a 50s' cinema's "film-language" , in short the neorealism's one. I like, I have always liked it… I prefer to see The Great Gatsby for the umpteenth time rather than the latest blockbuster. Facing such an issue, for one with my job, was formative. They called me not so much for what I did but for what they had understood about me.
FY –  Ten adjectives to describe ten celebs that  you have had the pleasure to know and the chance to work with: Nicola Formichetti, Anna Dello Russo, Sebastian Sauve, Bianca Balti, Simone Nobili, Jeremy Scott, Riccardo Tisci, Stefano Gabbana, Mariano Vivanco, Lady Gaga.
LF –  I reply with an adjective about their work. A personal adjective would be different but the beauty of our job is to keep this completely private…
Nicola Formichetti. In my opinion, he is the first and the best user of the fashion related to 2.0 communication.
Nicola has had the skill to develop online his undeniable and memorable talent in conventional styling.
He understood first of all the power of the internet. I loved his work done for Mugler and I  can't wait to see what he does with Diesel.
Anna Dello Russo. Unique and very courageous style. She has been the only one able to create such a phenomenon. I admire her work since Uomo Vogue Italia but her work for Vogue Japan is already iconic for me.
Sebastian Sauve. Sebastian has always been my first, real "muse". He is a different beauty and for this reason a unique and very special one. He would be good for every story and every job. With his talent he always manages to interpret my characters as best. Sebastian and me will always work together whenever there is the opportunity to do it.
Bianca Balti. Bianca is pure energy. I'm not used to evaluate a model on set for her beauty but rather for her attitude. Bianca is super cool. She has a free soul! I love that.
Simone Nobili. He is a born actor. He has an innate predilection to acting. I am convinced that with the appropriate schools, the righteous teachers and some American experience Simone will be able to move the step to turn from a model into an actor. On my set I have never considered him a model but already a great actor.
Jeremy Scott. He is a visionary. In his world, he is the best. He is creating a different genre, all his. I love who has the ability to look at the world in a different way and tries to show it to us through his works.
Riccardo Tisci. I think Riccardo is sexy, both as a man and for what he does. This is a winning point of his work. For me, his men's and women's creations are and represent a modern idea of ​​ dressy sensuality.
Stefano Gabbana. He is an "avant-gardist", in his fashion and in his communication. I loved all the battles carried out by him and I admire the unique and personal way to put his face always. I grew up with incentive from his brand and like me a whole generation. This means a lot…
Mariano Vivanco. Mariano is my first teacher. He is just as generous and he taught me every trick in the set.
I learned a lot and I knew so much watching him at work. The energy on the set, his ability with the models, guys and girls, the atmosphere on the set… His photography art speaks for itself but as a student I can only mention the great generosity.
Lady Gaga. She is an example of professionalism and determination. She is a phenomenon capable of moving dozens of people for the creation of a single image. The thing that I loved is that she was Gaga first, during,  after the set.
FY – Let's come back to us. The new issue of FuckingYoung! is inspired by 1997's summer… On July 15, Gianni Versace was killed in front of his house in Miami. Can you remember that day?
LF – At the time I was 11. When Gianni Versace died I was being a month at a summer camp for football (Just think!). When the news came I spent the entire afternoon in the hotel to watch programs on TV to learn more. In those days I was waiting for  Donna sotto le stelle which was instead canceled. His death shocked me. At the time, you could hear about Valentino, Armani, Ferrè and undoubtedly Versace. My ideal woman was Versace's one with his necklines, silvers, fluorescent colors, with those shows that were real shows. As a latent homosexual, I also liked Versace's man who had an unmatched beauty. I love visionaries, like McQueen, just to be clear, and Gianni was one of them. His creations are eternal, timeless. Gianni's was a world that never stopped in front of  conventional limits. Another thing I liked about him, and that we would have had in common, was the special love he felt towards his models, both girls and boys,  and the unique interaction between them. The feeling at a Gianni Versace's parade was that everybody was there – from Campbell to  Herzigova – just because they wanted to be there. Everyone loved Gianni not for what he represented but for the person he was.
FY – In your opinion, what did his death represent for the fashion world?
LF – A moment of destabilization, like McQueen's death. Something changes… During the Fashion Week you partake in all the shows but it is clear that there are some events one expects with a bigger trepidation. As I said, Gianni's death rocked the boat of the time. He was one of those irreplaceable people, around whom a whole world revolved, and this particular I liked a lot, it was typical of those years. Gianni was a genuine Art Director, with a capital A. I think that no one has the claim to be the new Versace but it is also true that he is and will be an important datum point. I see him in a million editorials, a million services, a million photos. He's part of the fashion history.
FY – You boned up on this story while working at the shots to his companion Antonio D'Amico, who  released an exclusive interview for this number. What did this experience and Antonio D'Amico give you?
LF – I have found a person with an absolute charm, a really charming look, a sensuality and an elegance above the average. If he is this way still today I can only imagine the appeal this person has always had.
FY – What of Gianni Versace would Luca have found stimulating, intriguing…  such to be photographed and/or filmed?
LF –  I would have liked to be at a Versace's show but mostly I would have wanted to work with him because, as I said before, I've always liked his woman, a prompt woman with an overwhelming sensuality. His Campaigns were never taken for granted, never the same and never already seen. There was a study of the photography composition that was really ahead. Yet another thing… I've always found it fascinating but it's too little spoken about it, I mean Gianni Versace's love for dance. I'm fond of it too. I would have liked to film this not-well-known world, to discover how they interacted. Dance, when she was "dressed" by Gianni, took a totally other connotation, it was clear that by his side there was a particular interest in it.
FY – You have curated our cover and cover story…TEETH. What did you want to tell us? 
LF – What I always do in my work, both in Italy and abroad, is to put myself in it… I've always had a great passion for dental braces but I could never get one because I had almost perfect teeth. In '97, when I was a child, the coolest thing was to wear dental braces. At junior high school, if you didn't have them you were considered a loser, which may seem paradoxical. They were fashionable as today it could be to own the iPad or listen to music with the iPod. There were people who had them in ceramic, with rubber bands, there were the first kisses… As I said, I never managed to have braces and I have always desired them. According to me, the ideal accessory, which I've never lived with tattoos and piercing (although I have one on my tongue), were dental braces… They were really the coolest fashion accessory. I find, among other things, that both a man and a woman with dental braces is incredibly fascinating…  Incredibly sexy! For me, the best thing about a person is smile, a smile can change your day. In latest years I have noticed one more thing, that is the tendency, the desire to increasingly accessorize a man. The growing desire to play with an accessory, with a detail to face the blanks of a man's wardrobe, which basically consists of pants, shorts, shirts, t-shirt, made me think. It is just  the accessory that makes the difference… For example, Prada with glasses and shoes of a certain type, Givenchy with nose-rings… I sank into this mood and, in my opinion, the cover is the pinnacle… It is the perfect combination of the modern morbidity to want to accessorize men and my vision of what could be the fashion accessory in 1997. And just to make a speech about fashion, all of us know that Givenchy's ring I used in some clicks is what everyone wants now. I tried to link that time's and today's world  and that is why I wanted to work with the stylist Zagoreo with whom I often collaborate and who immediately understands my ideas… When I suggested this editorial he got crazy because he already knew what I had in mind.
FY – The colors, the mood, the energy take us back  to that year, revised and corrected, however, in a very current key. How was the idea for this editorial born?
LF – In '97, the world of editorials as I knew it was related to children's magazines, such as Cioè in Italy, Seventeen, Cosmogirl, Teen in America, It's Hot in the UK. What is now represented by models was at the time represented by boy-bands and music magazines. I wanted to create an editorial deliberately recreating the atmosphere of one of that year's photo shoots. My characters could not but be that the members of a boy band. Then when Adriano asked me to create a centerfold similar to one of those detachable posters, I achieved one of my dreams. At my time there were the Take That. Here… I wanted to recreate that mood exactly, also by representing the single members of one of those years' groups. There's the one with long hair, the one with frizzy-hair, the one with the shatush… For all tastes really! In the video I have tried to create the same suggestion by choosing the Hanson's song MmmBop as the background music… In '97 there was not a girl who had not it on her Walkman. Ton, who is the guy who has had the cover, looks like one of the members of that group. It is him who made ​​us think of that song, This song that we all know takes us back to that summer, that time's friendships, that music, that world. Even the choice of the styling has been played on the same grounds.
FY – You were speaking about video…
LF – Sure. Even in this case… What at that time was a kid's stuff is now a reference. The video represents a choice different from my usual standard. It consists of a stop motion of images, finottizzated of course, to both give back to the viewers and make them live what was the atmosphere on the set. The great thing about these pictures is precisely in the way the guys interacted with each other, with the braces, with the bubble gum balls. This was our very goal: to try to make sense and be in line with what is just the name of the magazine, FuckingYoung. The boys went back over the years, kids once again, to do kids' things. I have tried to carry on the video just that fucking young side that still is in each of us. It was the coolest thing to do, the funniest and through this video, they all can be the protagonists.
FY – The cover is at the same time able to represent the inspiration of the new issue and give a small preview of what is the story it wants to tell. How and why did you choose that shot?
LF – Your choice can be your choice. The cover instead jumps out by itself, it's it that calls you. I thought so, the stylist thought so, Adriano thought so. We had started with a different idea, but what you think is often different from what it really is. The one that has been chosen is a cover perfect for both 1997 and 2013.
FY – In the Editorial there are also Sebastian Sauve (our ex cover-boy), Misa Patinszki, Mikkel Jensen, Leebo Freeman, Miles McMillan. Tell us about this cast… Why did you choose them?
LF – As I said, I wanted to create a boy band, a completely heterogeneous group, with all the references of those years, one for each category of taste. The common denominator was that I liked all them and that they could be really liked by everyone. Playing with look was important. There is the dark-haired, the curly-haired, the one from eastern Europe. With the haircut we have tried to give a strong connotation able to turn us back to those years. All different and all of great impact. For this I have to say thanks to the hair-stylist Gabriele Trezzi and the make-up artist Luca Cianciolo.
FY – And what about the Brands? How were they chosen?
LF – I often collaborate with Paolo. In this case, the thing I liked most was that he had chosen all items from current Collections that, however, were not the most obvious choice. They are items that you may not immediately notice on the runway but which were perfect for our purpose. From here the search to get the mood I wanted.
FY – Could you tell us a funny anecdote happened during the shooting … In other words, a nosiness?
LF – Certainly the models' faces when they have arrived on the set and have found me together with  the dentist, Fabio Mannazza, who told them to wear braces. Usually, the first thing the guys do when they get to my shooting is to say, «Oh my God,  what will he make us to do today?». I love the transformation world and they know they may come out with purple hair maybe. Hence, it is just this the image imprinted in my mind… The guys who for the first time looked in the mirror, with this 90s' look. Guys of twenty who at that time was no more than 3 or 4. Beautiful boys who, I believe, have never needed braces… They saw themselves this way, a little bit ugly, and it was funny watching them.
Another really nice anecdote is instead linked to Ton's inability to make balls with bubble gum. I remember it was the last shot , only Ton and Miles on the set who should have done these photos with balloons. We were there for about two hours with the poor Miles trying to teach Ton how to do…
FY – New work in progress? Will we work together again?
LF – We will work together again for sure when there is an idea. In the work I face, there must always be both an idea and an interaction between the one who  proposes a space and the one who is committed to take this space. Usually, this is the difficulty of my work… I propose things that not everyone has the courage to accept. For example, the editorial TEETH could seem like a big, risky deal, and instead it proved to be a victory for both because we both wanted to fully believe in a particular idea. We broke old patterns and whenever there are patterns to break I'm there… To stand out from the crowd? I'm there! Wherever I see land to nurture, I nurture it… Already the initial issue was tempting. A theme like 1997 doesn't end up every day… It was really interesting… Then we anted up and it became even more exciting…
Future projects? What to say… I'm trying not to conform. The fashion videos' world  is being created just now. Of course there are no plans, specific references, restrictions. It's a free world. We need not to stop… We must continue to discover, invent, play, experiment… Always!
Thanks a lot!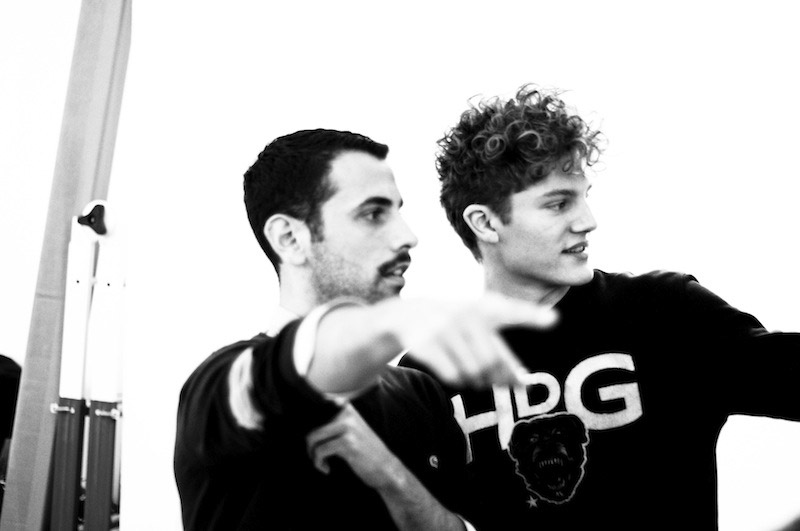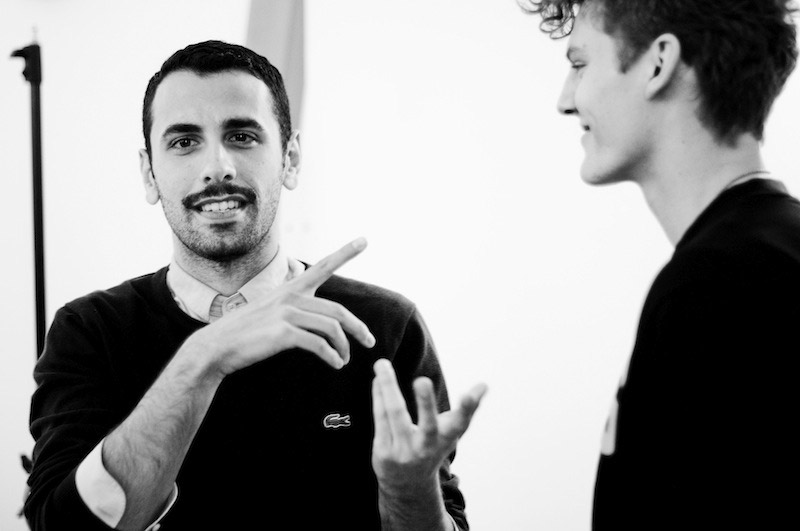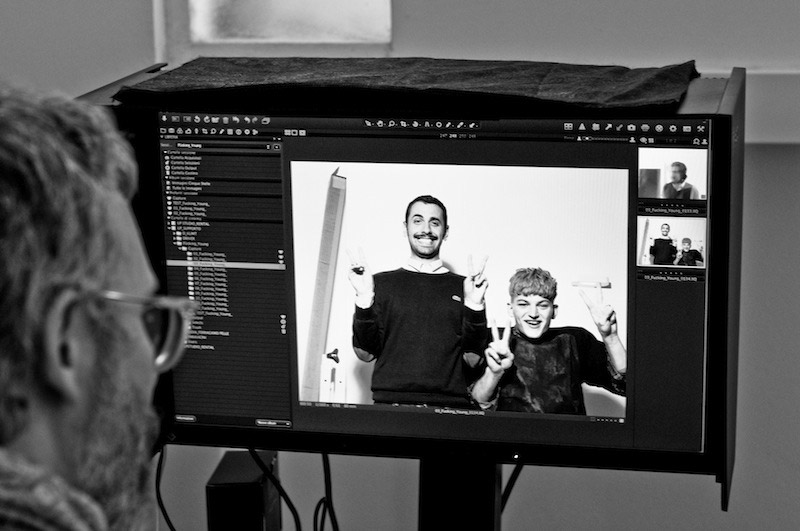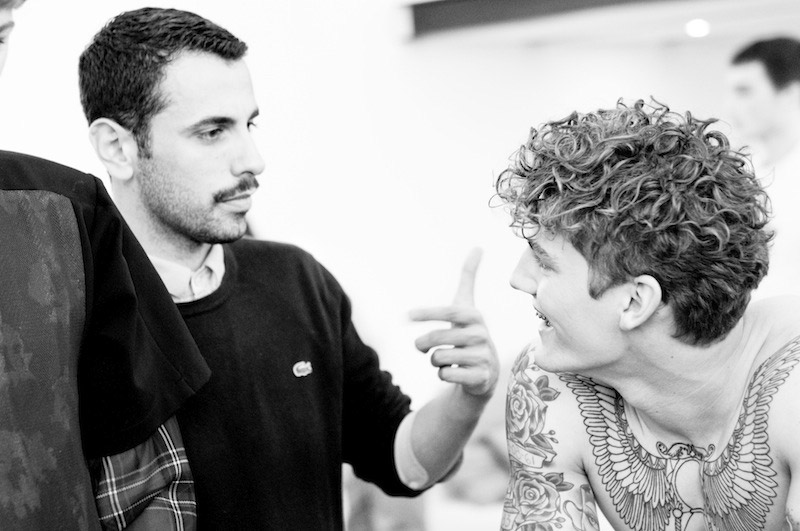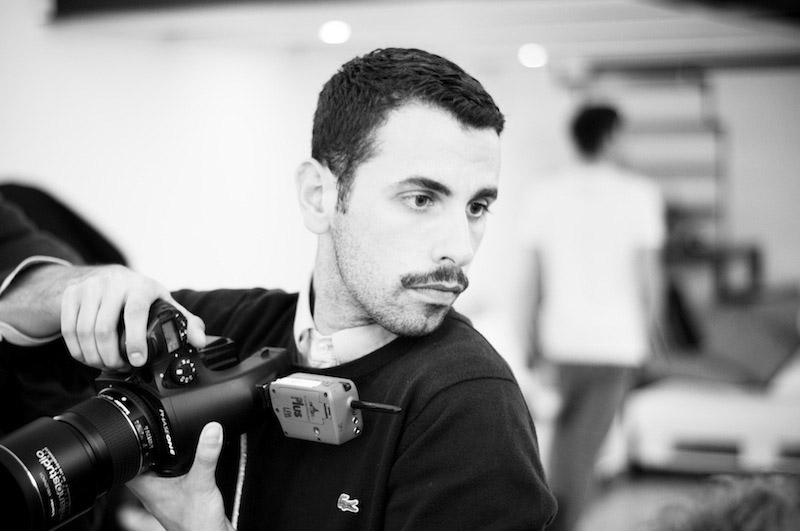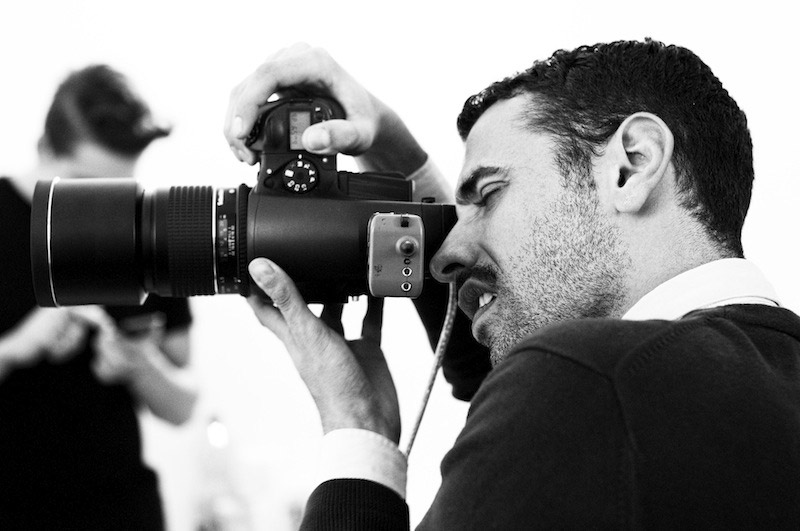 CREDITS
In the portraits, Luca wears Neil Barrett's 2013 S/S Collection, www.neilbarrett.com
Backstage pictures and portraits by Filippo Abrami, www.filippoabrami.com  
For the complete TEETH backstage album go to www.facebook.com/Luca.Finotti.Official and www.lucafinotti.tumblr.com
To get your copy of Fucking Young! "1997" Issue go to
www.fuckingyoung.es/store