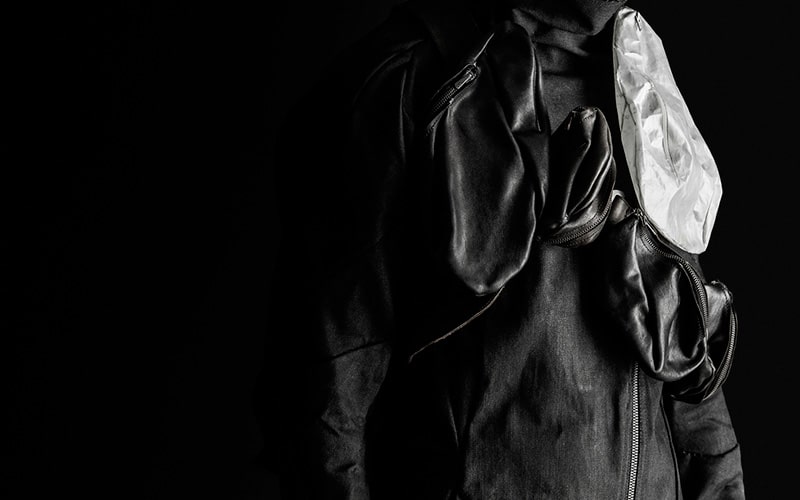 Forget what you heard, break the chains of society, attack the block and smear it with the screams of rampant change. It's armageddon time! And it has never tasted better. Any takers to lead this revolution? Indeed, we found some. First up to bat, is a true minister of sincere innovation, Mr. LEON EMANUEL BLANCK. A man so lit, he doesn't need an anthem. Leon simply has the Midas touch. He does it all for the love of the craft. Do not tell him what to do, Leon already knows. So instead we asked him to show us. And boy, did he oblige…
It was last year, when we first met this Heidelberg, Germany native, that insists on only doing things his own way. After a raging first conversation, that lasted over 2,5 hours, we could not have felt more inspired. Leon is fucking young and he can feel it too. His universe is one of deconstruction, de-composition, re-assembly, and constant meticulous adjustment, all happening in his mind, executed to perfection by his own two self-taught hands. Leon is here to clash. Leon is here to educate. Leon is here to battle. Forget the status quo, instead stick with this fleekest of renegades.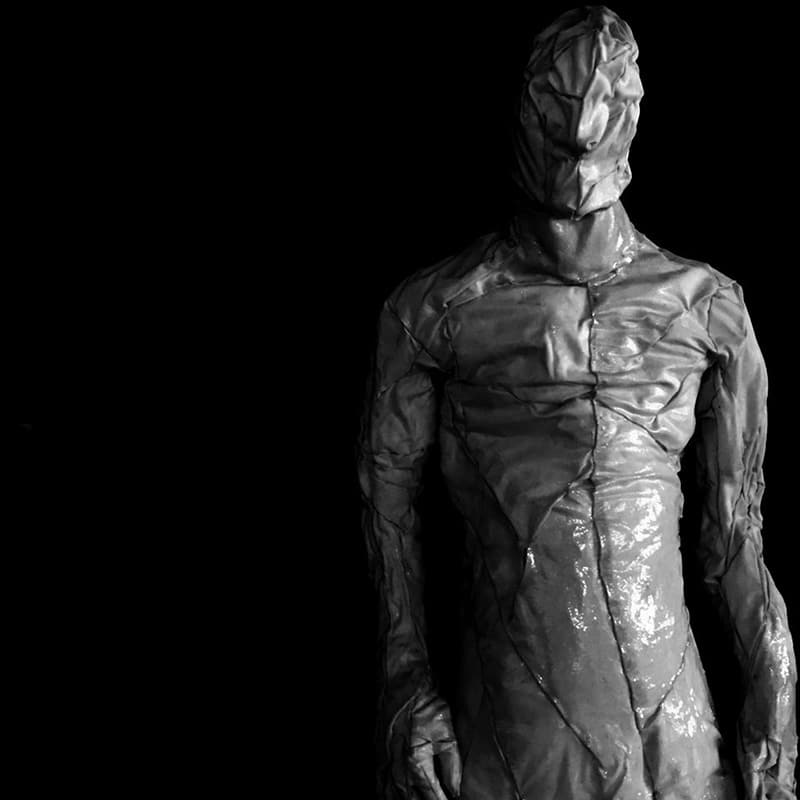 In this special conversation, we speak about never looking back, clicking away anything La-La Land, pure organic pattern making, the importance of our gut-feelings and why it takes the time to do things right. The man has issued his own sartorial decree: all hail Leon!
Passport. Leon, we all have been f##cking young. You too?
To be honest, I never really think about my youth too much – I am more of a forward looking person. To be quite honest with you, when people tell me stories of what I did years ago or whatever, I hardly even remember and sometimes even feel like they are talking about a different person. I like the idea of now or future things, what happened, happened – might have happened for a reason or not, it is not changeable, nothing to worry about. In that sense, to pick up the words you used, I feel fucking young at this very moment – although constantly living in a state of departure can be exhausting at times.
Gaffer. I can totally relate to this. However, to remain f##cking young is a truly remarkable thing. It is about true spirit. We feel that you have what it takes. How do you approach the world around you.?
Whenever I approach my surroundings, may it be people or things, I just go with my gut feeling. Over thinking situations or people is not my strength – for the good or the bad. Often, I am told I have no filter of my own actions, coming to think about it, this is true spirit. So I go about things from the heart!
Disney. Speaking of the heart. From La-La Land to torrential waves of athletic sportswear and Facebook news feeds, perhaps we find ourselves in rather superficial times. How do you see this?
Well, I am not really worried about society at all – the ancient greeks have already complained about their youth being fucked up. Well then let them be fucked up – perhaps it will lead somewhere, perhaps it will not. I like to think of society like a huge pendulum, sometimes in swings in one direction, then in the other. Facebook news is an oxymoron: It creates severe retardation to get one's news through Facebook. I recently had a long discussion with a dear friend of mine who happens to be a journalist. We spoke about 'facebook idiots' that are creating their own bubble of 'news' – literally making a human centipede of thoughts and opinions, rather than facts. Whilst I like the idea of creating one's own reality, on facebook you can just click the things away that you do not like, as well as promote the things you like, being a perfect greenhouse for one dimensional idiots that believe 'alternative facts'. 99% of everything is shit – maybe it's so bad, that it's good again, who can tell. And before I forget it: fuck La-La Land and fuck athletic sportswear. I am clicking that away.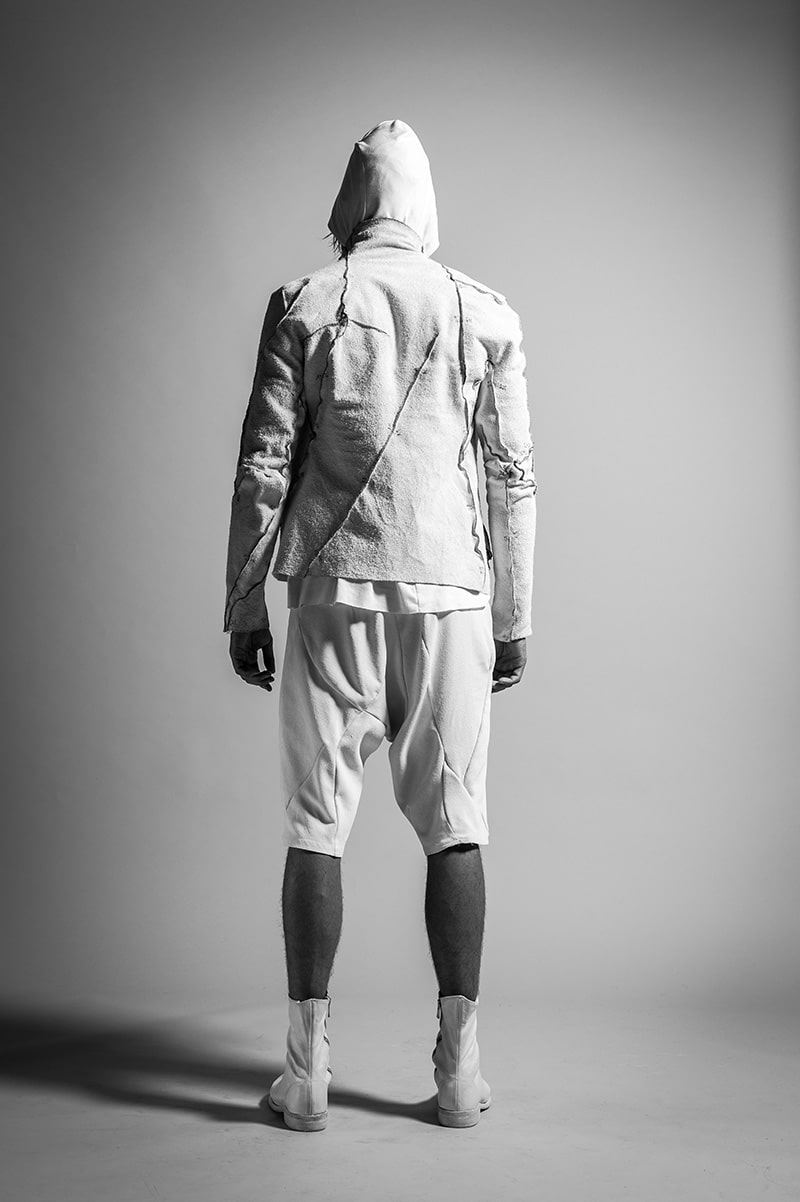 Abyss. I know you told us you do not like to look back, but could you tell our readers about the first object you ever made?
Although I am always talking about not thinking back too much and how I can hardly remember things of the past, this I do remember: I must have been like 5 years old and back then my uncle was an engineer at European air and spacecraft company. It was christmas and at the time it was quite normal for kids to craft things for their parents, relevant gifts, artsy things etc.
To cut a long story short, I went through whatever my grandparents had laying around, and ended up building a miniature spacecraft for him. The frame/body was made from toothpicks, glued together with superglue. Later on, I added carefully cut pieces of aluminum foil to cover the body and wings as I had seen it done on real aircrafts. It was a specific aluminum foil, not the flat kind – they had a special kind of foil that had a ''bees-warp'' structure to it. I do not know if my uncle still has it. In my mind it looked great – I am probably creating my own reality as I am writing this.
Culprit. In its raw essence, what does it mean to design?
For me this is clearly defined. It is the idea of putting one's mind into something and following one's gut and intentions without compromising ideas and direction. One designs in order to make things appealing to anyone but oneself. After something is finally done, whatever it may be, a feeling of utmost content and satisfaction begins to disperse. It is a very rewarding process.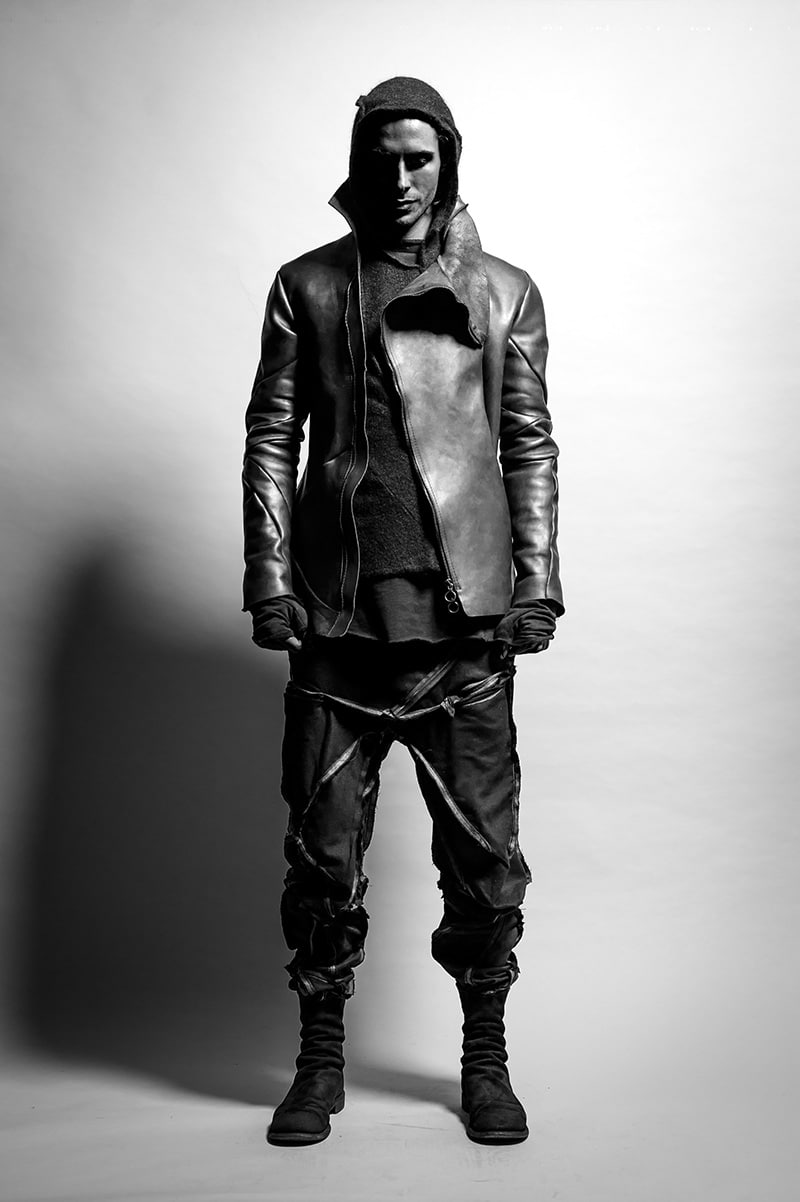 Technician. Let us turn our eyes to your work, which looks like a dialogue between anatomy, patterning, shape and construction. In short how do you work?
The most crucial elements of my creations are form and shape. These shapes are passively created through a technique I call ANFRACTUOUS DISTORTION. It is a way of creating items by 3d imaging on a visual-emotional level. This being said, my way of creation is diametrically opposed to the actual design. By this I mean that things are created in a wind-canal, just in my case, the wind is my mind and the toile and the body are the shape giving parts. Overall, it all comes together rather nicely,
Autopsy. So movement forms a big part of what you do, as you work directly with our anatomy. Isn't there an important link with tailoring here?
Yes and no. For me, the ability to move and articulate when wearing my clothes are the most crucial elements which define the shape and the sutures within one piece. Furthermore, the articulation of the body during the forming process, defines the proper fit and ability of movement, meaning that garments and bodies are sequential and therefore ultimately connected.
So when creating a garment, I begin by choosing a form that I want to use, then I start molding around a moving body using a large piece of fabric. During the interactions of the bodies motion and my forming technique, seams, widths and shape are created subconsciously, yielding a body-cast that is either used to create a prototype pattern for a piece of clothing / item or kept in prototype state and transferred into a sculpture using numerous kinds of resins.
Another important part of ANFRACTUOUS DISTORTION is that I do not consider bodies to be perfectly symmetrical, meaning whenever I form a piece of clothing the whole body is used as a shape, creating a complete form, rather than a one sided form that is later mirrored in order to make a pattern. Due to the nature of my motion forming process, the clothes are very body fitted, but easy to move in.
Often my patterns consist of more than 20 pieces which are all perfectly notched from A1 to X9 in order to be able to put them together – you can think of it like a large puzzle.
Of course, I am the last to admit that this technique is extremely time consuming but is the ultimate way when conducting anatomical pattern making.
Compound. To only work with supreme materials, technical resins and most notably high end leather, is a profound choice you made. What intrigues you in the latter, as leather is such a rich source?
Leather is definitely one of the most interesting materials to work with. By simply changing tanning methods and/or ingredients, the smell, feel and structure can be severely altered. There are countless options and ways to work with the leather. Oiling, waxing, applying resins, hand dying, distressing and washing… Leather can be molded, it can be diversified in numerous ways. In combination with its high resistance to decomposition – makes it extremely special. I like the idea of a future archaeologist digging up one of my leather jackets.
Other than that, I have been intensely experimenting with Aramid, Fiberglass as well as carbon fiber for some time now. These high-tech materials have very unusual characteristics. Working with them gives me a feeling of constructing components of a dystopian space suit.
Hoi-Polloi. Open as you are, you must feel drawn to specific artists or musical instigators, could you tell us about some of these?
Well, there are my classics that always speak to me like Leonard Cohen, Timbre Timber or H.R. Giger and Colani – but I've recently been really enjoying a totally different type of artist. For one there is LIFE ON EARTH, an international artist collective based in Berlin.
At the moment I am a big fan of one of their Austrian musicians called Yung Hurn. I like his approach, you can really tell he is having fun. Not over thinking things but by just going with his gut feeling. I am pretty sure he takes no longer than 6 minutes and 23 seconds to write the lyrics to a song – very much is put on. Something that I can really relate to.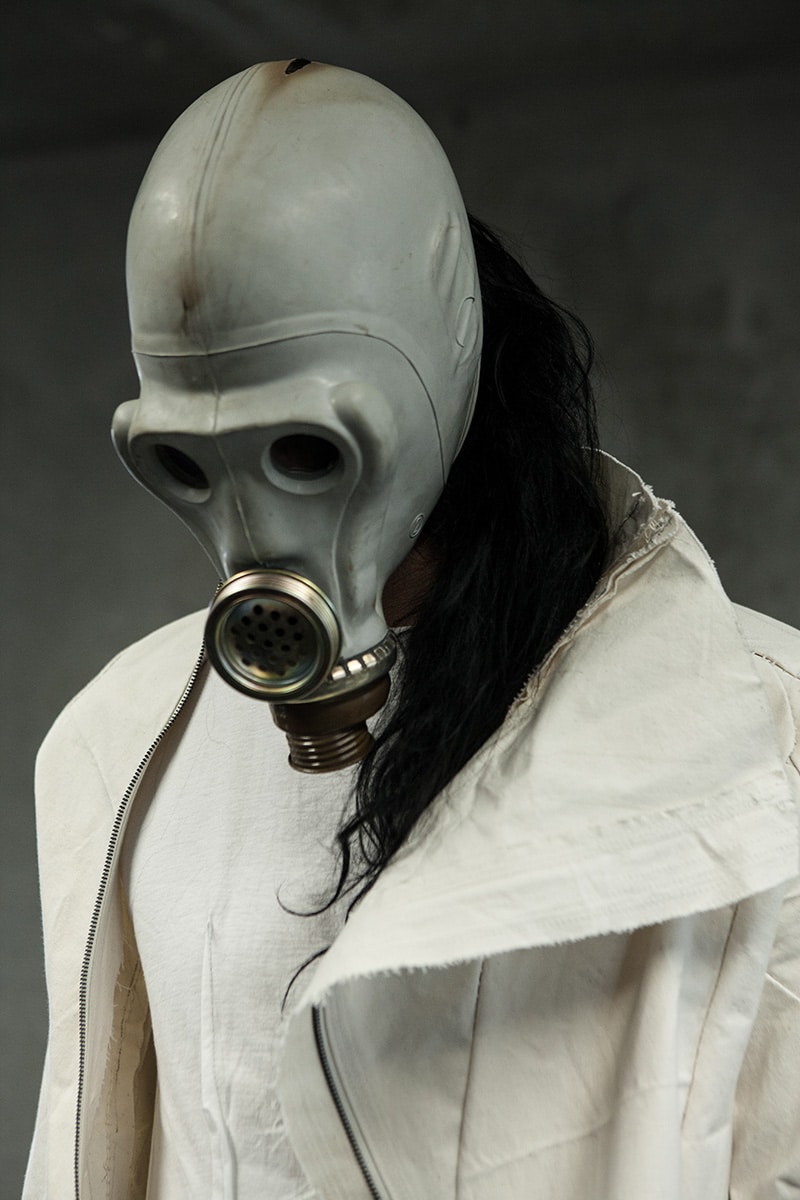 Ponderous. When you wear your own work, what associations does thing bring forth?
This is an important question to me. As it connect very much to what I do. I clearly remember precisely how it felt, after finishing and then finally putting on my first leather jacket, made from vegetable tanned 1.6mm horsehide. I felt like I was a warrior, ready for battle. I still have that very same jacket, wearing it on a daily basis. Whenever I wear something else I do not feel as comfortable and content – the jacket persists, the feeling endures.
Elysium. Most of us like seek to progress as individuals, making something out of our lives. What is the next chapter for you?
To be fair, I like to keep things focussed on the work here, as I am always living my personal journey. A big thing I am working on now is a footwear project, that I started together with DIMISSIANOS&MILLER over year ago, the reaction to it was overwhelming. This season I will for the first time present a full womenswear line that I am really excited about. Other than these, numerous sculptural and furniture projects are in the pipeline, further deepening the universe I am creating at this point. Everything is possible with ANFRACTUOUS DISTORTION. The technique enables me to create any item one could possibly dream of.
Pistol Pete. Let us end with a classic banger. Could you offer some sage words of advice to youthful creatives, that would like to make some noise too?
Of course. Please find your own distinctive way of developing things – something that reflects or goes well with your character, making your creations easier and non-fake. There is nothing worse than people trying to mimic something they are not. People don't change – once you found this, stick with it.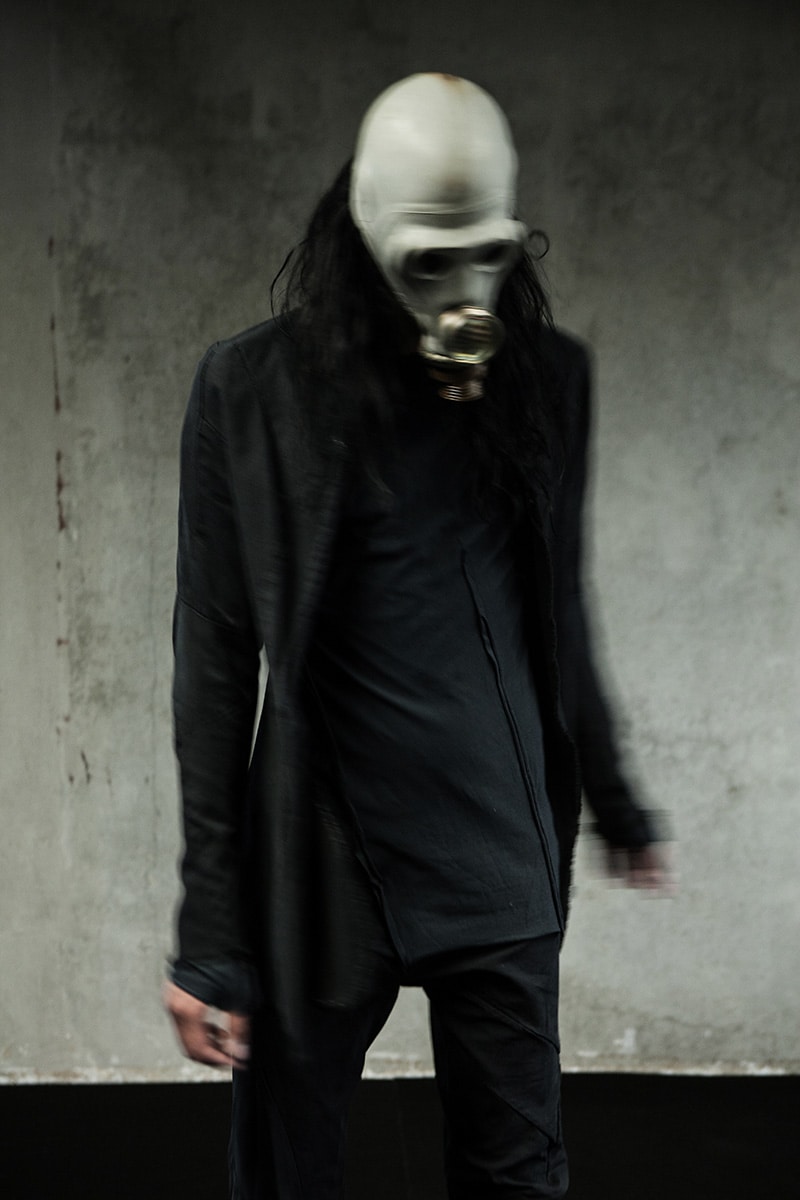 All images courtesy LEON EMANUEL BLANCK ARCHIVE