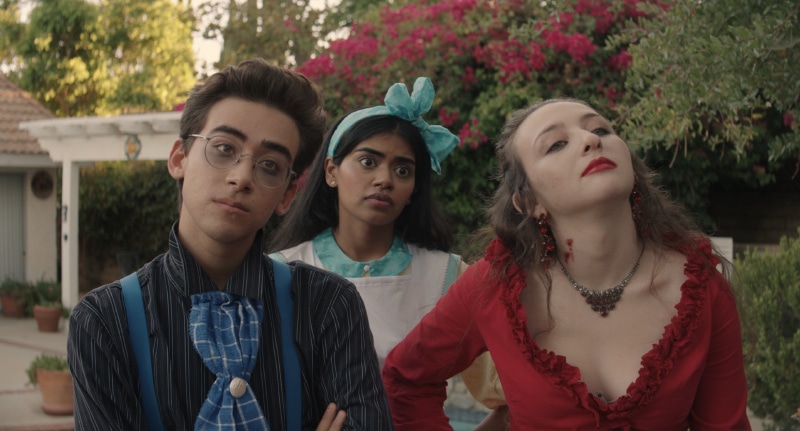 Molodist 50th Kyiv Film International Festival just kicked off with an official ceremony on May 29 at the open-air cinema under the People's Friendship Arch and just in time for Pride month we are looking at the Sunny Bunny competition. This year sees French actor Félix Maritaud sitting on the jury alongside Argentinian film director, screenwriter, film producer and editor Marco Berger, and Anna Dovhopol who sits as the Gender Democracy Program Coordinator at the Ukrainian Office of Heinrich Boell Foundation in Kyiv.
'Sunny Bunny' program was established in 2001 and is now the biggest and most prominent LGBT-themed cultural event in the country. This edition sees 10 international films competing.
 TWO
2021, Israel
A female couple dreams of having a baby. Bar, a chef, is treated with antidepressants so her partner, Omer a dancer, is the one to get pregnant. They meet Omer's ex-lover, Yoni. Bar suggests that he becomes their sperm donor. Yoni agrees but many emotional conflicts emerge.
POPPY FIELD
2020, Romania
A young gendarme from Bucharest keeping his sexuality a secret must intervene at a homophobic protest which takes place at a movie theatre.
MADALENA
2021, Brazil
A broken body in a white dress, lying lifeless in a swaying soya field. Who killed the trans woman Madalena, how and why is never revealed. Yet the image of this motionless body lends an extra charge to everything that follows.
THE GIRL AND THE SPIDER
2021, Switzerland
Lisa is moving out. Mara is left behind. As boxes are shifted, walls painted and cupboards built, abysses begin to open up, yearnings fill the room and an emotional rollercoaster is set in motion. A poetic ballad about change and transience.
SAINT NARCISSE
2020, Canada
22 year-old Dominic has a fetish… for himself. Nothing turns him on more than his own reflection. When his loving grandmother dies, he discovers a deep family secret: he has a twin brother who was raised by a depraved priest in a remote monastery.
VALENTINA
2020, Brazil
A trans girl and her mother move to a new town in order to start fresh, but quickly face dilemmas when the local high school needs a second parental signature for enrollment.
BLISS
2021, Germany
Two sexworkers meet in a Berlin brothel. In a place where the female body is a commodity they experience moments of happiness. A love story about attraction, fears and self- determination.
BOY MEETS BOY
2021, Germany
It's Harry's final day in Berlin, and he has been partying for the last 48 hours. On the sweaty euphoria of the dancefloor he shares a kiss with Johannes. Striking up a conversation, Johannes offers to help Harry print his boarding pass, leading them to spend the rest of the day together.
DRAMARAMA
2020, USA
California, 1994. Gene is preparing for his high school drama friends' final murder mystery slumber party. The theatrical hostess, Rose, will fly off to start college the next morning, followed by earnest Claire, magnetic Oscar, and sarcastic Ally.
AVIVA
2020, USA, France
Aviva is a young Parisian who develops a romance with Eden. They fall in love, move in and their lives are not without struggle — for inside both young lovers exist warring factions of masculine and feminine energies battling for primacy inside and out of their bodies.
The 50th anniversary Molodist Kyiv Film International Festival takes place from May 29 to June 6 with the support of the Ministry of Culture and Information Policy of Ukraine, the Ukrainian State Film Agency and the Kyiv City State Administration. At the 50th Molodist, viewers will be able to watch about 200 films from 21 programs — among them full-length, short and student sections of the International Competition, National Competition, the first Documentary Competition in the history of the festival, LGBTQI+ Sunny Bunny films, and the Teen Screen children's film competition.