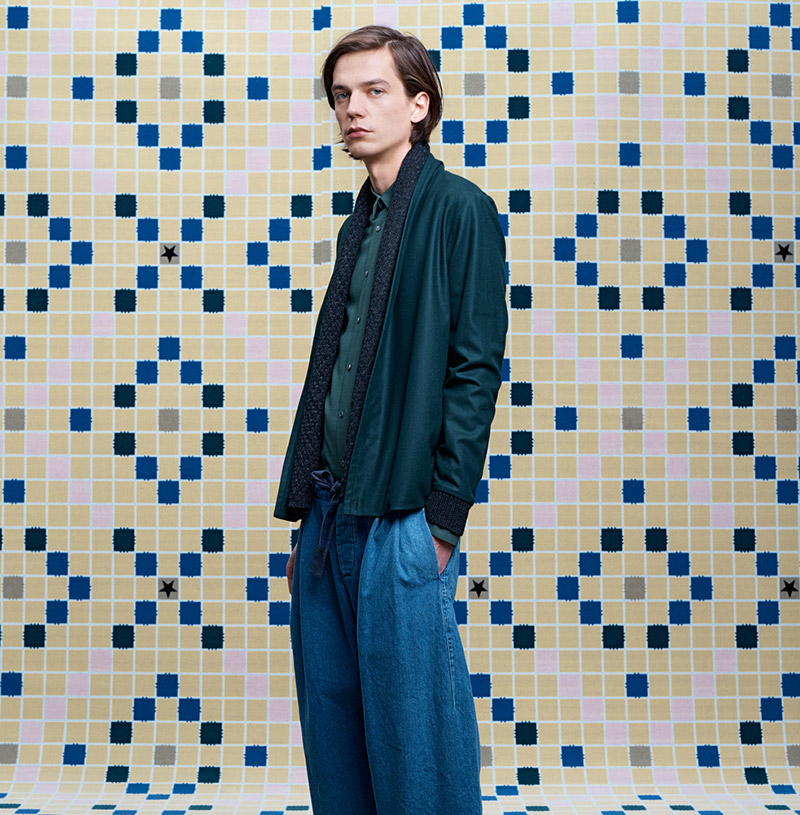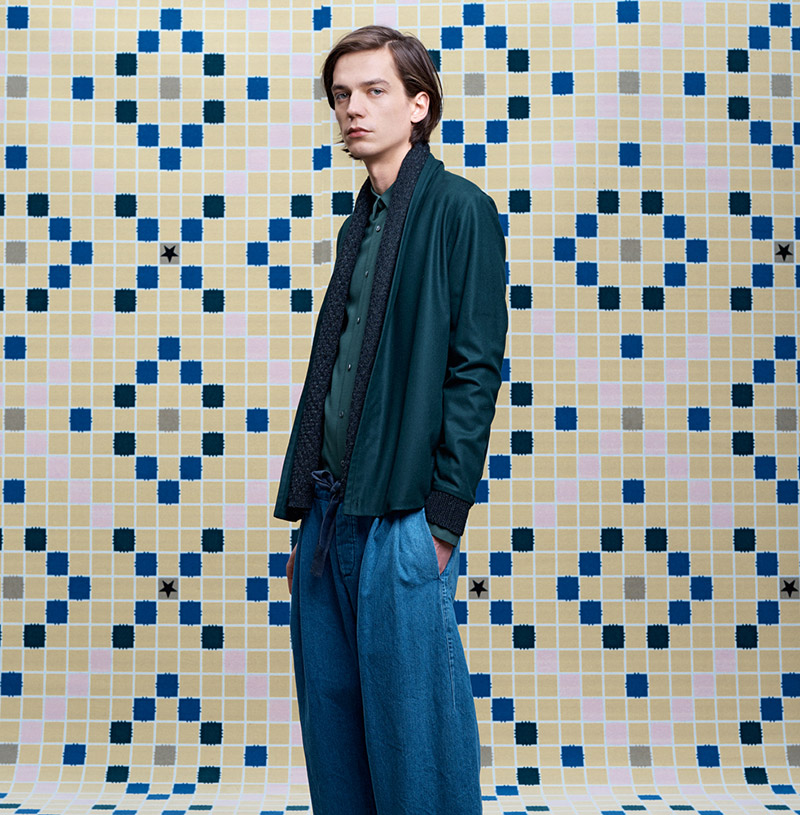 Stephan Schneider is a kind soul. Someone, who is aware of his surroundings by approaching the world as a calm observer. When he choses to engage himself, he does so fully and without restraint. However, he also remains a dreamer, a sartorial wanderer, carefully carving his own path. What is most striking, is that he has done this ever since his graduate collection over 20 years ago. Stephan stayed true to his inner senses, by following his intuition, always creating garments with sincere intent.
It is a pleasure to observe his take on an increasingly volatile industry. The clear words he utters, resonate and stay with us, softly bouncing of the walls of his immaculate universe. I, for one, am siding with him.
Origins. Stephan, lets start by the foundation. Could you tell me about your upbringing and what eventually led you to becoming a designer?
I was brought up in a wonderful family, in Duisburg, an industrial town in Germany. My education was scientific and traditional (my father was a pharmacist & chemist). The only artistic part of my childhood was my mum with her eccentric and individual style. Denim was and is a ''No-Go'' for her. Even today (she is above 80 now) she hardly wears anything but my collection pieces. When I was 16, I went to an English Grammar school and became fascinated by the London designers of the eighties. In that period, I discovered shops in London like ''The House of Beauty & Culture'' and bought my first ever jacket from John Flett. It was there, that I became aware that an alternative view on fashion existed which had nothing to do with luxury or glamour, but more with a reaction towards reality, a new youth culture. From this moment on, I wanted to become a fashion designer.
Wanderer. You finally settled in Antwerp, a city you have called home for many years. What does this town mean to you and how did you shape your atelier here?
Well, as I had done no artistic studies beforehand, my initial studies at the Royal Academy fully shaped my artistic roots. I am privileged to have taken part in the Antwerp fashion phenomenon of the nineties when year after year a handful of graduates presented their own collection successfully in Paris. It was a highly stimulating period for Antwerp, a quiet but highly authentic city in the Flemish part of Belgium.
When it comes to beginnings, I immediately sold my graduation collection 'Regeneration' to a Japanese customer who remains my customer today. Season by season the collection grew in a organic and natural way, mens & ladies co-existing calmly together, right from the beginning. As I wanted my collection to be worn on the street,  two years later I opened my own store on Reyndersstraat right in the historic center of Antwerp. My atelier was just above the store so the feedback from the actual customer influenced my work tremendously. A couple of years later, when the production got bigger and bigger the atelier moved to a location in a courtyard just around the corner. The store has not changed a single bit in al those years and I still enjoy its original interior. The closeness to the actual product is very important to me. I couldn't create the collection in an ivory tower.
Manhood. What is important to you when it comes to masculinity in tailoring?
When it comes to design, I never think about emphasizing masculinity in my shapes. The most charming appearance of every man to me is when you can still see the boy in him.
So during the process of tailoring I always take care to leave enough space for the natural personality of the wearer.
Research. As I just viewed your latest collection in Paris, I once again noticed your profound love for textile, weaving and craftsmanship. Can you tell me about this precise process?
To be honest with you, I really do not enjoy designing textiles. It is such a mathematical and technical process to create the pattern for the warp and the weft for the weaving machines. When I visit the fabric fairs and have a look at thousands and thousands of swatches there is hardly a single one that inspires me. Therefore, I simply have to design the patters, structures, colors and prints of the fabric story by myself. Luckily, I have a long-lasting profound relationship with my suppliers.  So they are willing to invest their time to realize my complicated designs.
When it comes to techniques, I always start with the color story. Then I chose the yarns for warp and weft and create the repeat of the pattern. Most of my designs have a huge repeat of more than two meters long, which makes the pattern look unique on the finished garment. By doing this, I am able to keep a very personal and intimate design language. As I want the garments to look as simple and effortless as possible but at the same time highly sophisticated I need to work with materials full of soul. This allows me to capture the  emotion of the garment, and prevents it from getting lost in the industrial manufacturing process.
Sourcing. Local mills and profound connections to your partner factories, how important are these to your process?
Loyalty is a key word in my work. Some of my suppliers I have worked together with since the very first collection. I want to invest on a long-term base, allowing them to translate my design knowledge to their technical skills. It is tempting to choose different partners each season, to start with a blank piece of paper. However, I rather want to build a strong relationship, by getting to know their strengths and pushing the technical possibilities to new heights.
Team-play. You often prefer to mention your company over the brand. How did you establish your team and how do you work in the store/atelier?
I see myself always as a creator, not as Stephan Schneider as a brand. I design, produce and distribute my collection fully independently from any financial backers. The garments sell by themselves on the rack without calculated marketing strategies or P.R. Remember, when during the mid nineties, multibillion dollar corporations started to turn designer houses into brands? This is something I cannot identify with. Personally, I have a strong dislike for the term ''brand''. The goal of a brand is to make as much money as possible to please the shareholders and not to create beautiful handcrafted pieces. Therefore, I try to keep my team as small and concentrated as possible. I do not work with interns as I want to maintain the intimate atmosphere of our atelier. My pattern maker has worked for me over 11 Years, my shop manager for 13 years… which is rather unusual in the ever changing fashion world.
Future. As a fellow teacher, I find it important to connect to new generations. How do you look at graduates, who try to make their mark?
It did surprise me that it is no longer the dream of graduates to start their own collection. The process to design a visual image became so much more attractive to them than the actual construction of the real product. I would like to stimulate students once again to start their own house as there is a demand for creators with a vision next to all the interchangeable brands from the luxury industry.
Ideology. In fashion the business part is often overlooked, with PR overshadowing quality. How do you observe this rather ''superficial'' phenomenon?
When I started my collection, I thought I had to follow the golden fashion rules: Have a catwalk show in Paris, take a PR agency and through your image you will sell your clothes and become a big player one day. It so did not play out for me this way.
During the years, I felt that it is rather a strength to stay concentrated, efficient, to produce in the country you live in,  so you are able to deliver and value exactly the product you design.The catwalk and PR machine can easily communicate a strong and aggressive design language based on power, glamour and sex. Human and personal aspects in fashion have completely disappeared. The moment I stopped presenting on the catwalk and started to communicate only through my products,  my now elegant business, began to grow steadily.
Connect. You strike me as a grounded dreamer. Of what do you dream these days?
You have to dream when you are a designer and the next collection is a new chance to come closer to your dreams.