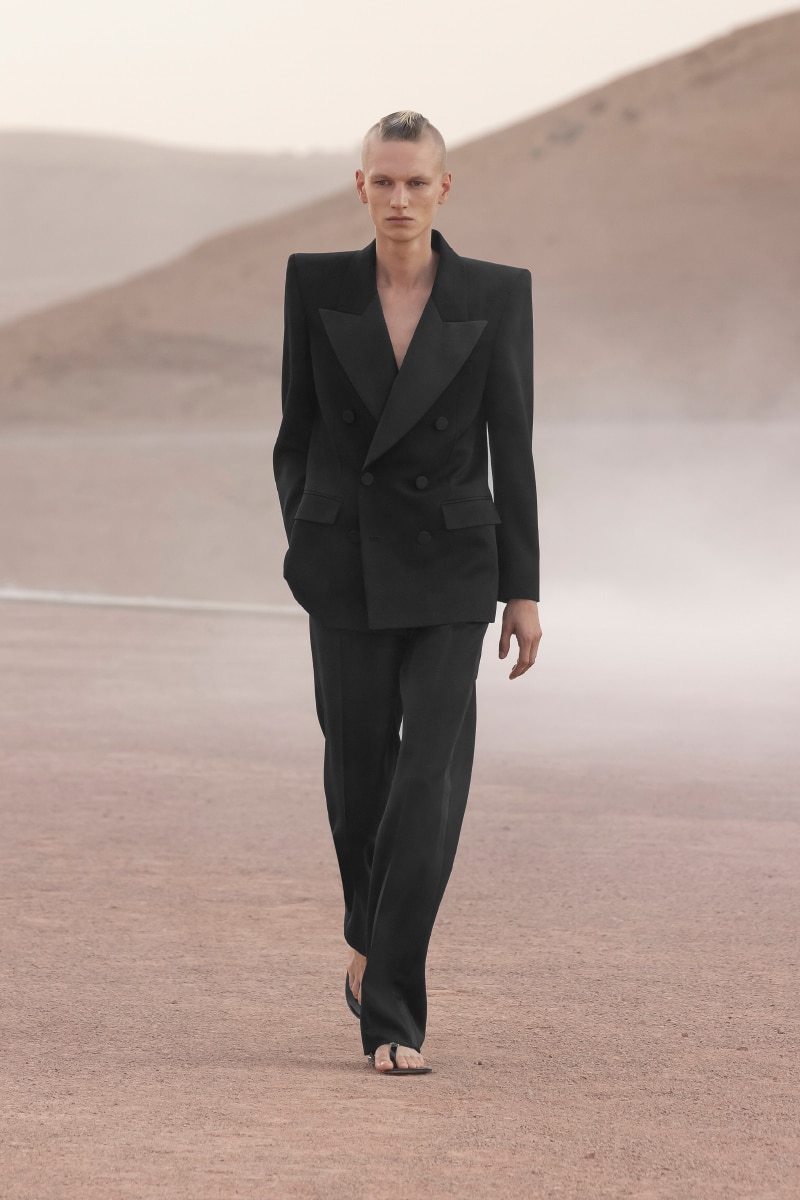 Anthony Vaccarello, creative director of Saint Laurent, has once again managed to turn his latest fashion show into a global event. Held this time in Morocco, a special country for the fashion house and its founder Yves Saint Laurent, and taking the Agafay desert (located one hour from Marrakech) as the main stage, the designer unveiled his Spring/Summer 23 men's proposal there, defying the high temperatures.
Black together with white and earth tones became, as well as tailoring, the main axis of the collection, full of magic and lust, where Paul Bowles' 1949 novel "The Sheltering Sky" had a lot to do with the inspiration.
Tailoring for the upcoming SS23 was mainly characterized by military-tinged shoulders, large lapels, low necklines, and flowing silhouettes. Le smoking, a type of evening suit conceived and patented by Monsieur Y.S.L., was once again reimagined and the most repeated element of the line; which by the way is no longer worn with dress shoes but with patent leather ankle boots and even flat sandals.
The flatness of some pieces of footwear helped the models to glide through Vaccarello's most personal proposal. This trait was noticeable at first glance, in addition to the sensitivity, fragility, and delicacy that was reflected in the blouses with neckties and transparencies that left little to the imagination, combined with fitted trousers (some high-waisted), as well as the coats that successfully burst into the midst of the light installation designed by the artist and set designer Devlin; the earth-colored fur coat and the fluid, flexible and soft to the touch leather trench coats in black and brown were particularly noteworthy.
Although Saint Laurent's Spring/Summer 23 collection is dark, we see a very bright future for it, making it Anthony Vaccarello's best men's collection (to date) for the brand.