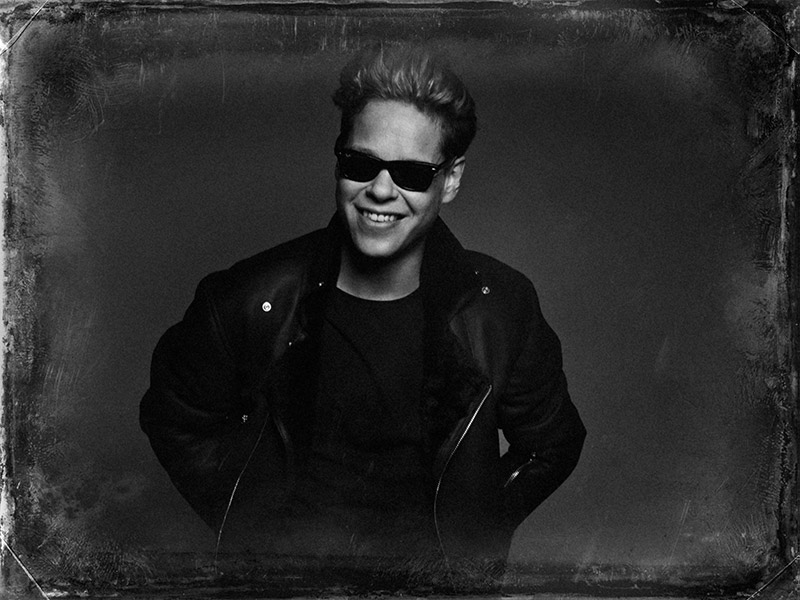 His style is irreverent. His fashion makes people talk. His point of view is visionary. Asger Juel Larsen leads us into MADHOUSE where "rock and roll meets rainbows, girls meets boys, boys meet girls, drugs meets orange juice, and old school horror has a cute revival. You can be a countryside outlaw, a well dressed lapdancer, a thunder and lightning magnet, or a heavy metal addict"… not an experience for the faint-of-heart!
Surely we could compare the eclectic Asger to the controversial Sister Jude of the highly imaginative American Horror Story… But he knows how to be even more amazing!
In his "insane asylum" there are rebels with whom our bold protagonist experiments his dark jungle of ideas. His collections are a mixture of sportswear and tailoring, an ongoing search for new materials and textures as well as digital print. His menswear tests individuals and society, encourages confidence and conspiracy, questions the difference between strength and vulnerability.
Exactly two years ago after the launch of the brand that bears his name, Asger Juel Larsen is already an international phenomenon… Authentic, sophisticated psychotic-fashion!
Fucking Young! – Asger Juel Larsen lives in a state of romance, warfare and gothic utopia… You think and act out of the box. Yours is a clear refusal of boring cliché… But, in practice, what is fashion for you and what is the message that your brand intends to launch?
Asger Juel Larsen – To be yourself regardless of what society ponders on you.
FY! – After graduating from the London College of Fashion and doing work placements at brands such asJohn Richmond and Burberry Prorsum, you founded ASGER JUEL LARSEN in 2011. What do you treasure and how much have those experiences helped you to become the designer you are today?
AJL – For me, these were two completely opposite experiences. The most relevant was the experience of how larger fashion brands take important decisions around the clock. It teaches you to know when to say YES or NO.
FY! – Your collections are an adrenaline rush, a real shake for the international markets… In less than a year after the launch of the first line you successfully exported to Japan, Korea, Hong Kong, China, United States, Canada, Germany, Spain, Italy, Denmark…. When did you realise you were on the right way for success and which do you believe your strengths are and will be?
AJL – I initially did not have a master plan or something like that. For me it is important to always remain true to myself. This also entails my constant strive to make the right decisions on the way, which somehow have brought me to where I am now. One thing, I want to point out especially, is the importance of having the right people around you, always working closely together towards bigger goals. Never underestimate the importance of the right forward thinking business setup.
FY! – "Asger Juel Larsen is known for his beautifully sinister collections, with a military exploration that erases the no-mans-land between dystopias all the way through to the dirtiest of raves. But this diffusion line puts two fingers up to the seasons and style conventions, laid-back encouraging anarchy where you can wear something however the hell you like!", the words we read on your web-site are able to tell the brand ASGER JUEL LARSEN but, Asger, how would you define your style with an adjective?
AJL – Irreverent.
FY! – Instead, what is the garment that represents you most?
AJL – It changes every season, I prefer to observe the full scale of each collections. To me, the total universe together, characterises me each time, without dissecting individual pieces.
FY! – If I tell you MADHOUSE?
AJL – Everything goes.
FY! – CCTV ON FIRE is the collection conceived and designed for the A/W 2013-14, an intoxicating medley of the past and future, taking inspiration from historical events and fusing it into a futuristic sci-fi sphere. Do you want to talk about it? 
AJL – It encompasses the rebellion within, a rebellion tangible with a society in turmoil.
FY! – As a powerful whiskey without ice knocked off in one breath TRIPLE DISTILLED A DREAM (presented during the Copenhagen Fashion Week for the upcoming S/S 2014) is a collection that leaves you breathless… What or which were your inspirations and what is the link with the winter collection?
AJL – Each collection is connected and interlocked with the previous and the next. One could say that the AW13 guys got locked up in mental hospital and consequently escaped for SS14.
FY! – What is innovative and what has passed today?
AJL – In fashion everything loops one way or the other. Technical or innovative fabrics used in a different context together and the usage of digital print can be a way of pushing your idea out there. To me,  innovative is often a mistaken word too often used randomly.
FY! – White or black?
AJL – Both, together.
FY! – Who is your ideal customer?
AJL – Anything from youngsters in the A.J.L Madhouse line to my dad wearing a tailored peacoat.
FY! – London and Copenhagen… What do they mean to you and how much of both are in your collections?
AJL – They both mean so much to me and I love both places contrarily. My own youth comes to show in each collection so that would be Copenhagen. Since I got my education and work placements in London the tailoring parts and building a collection range as well as the east London vibe, I grab from that side of the pond.
FY! – Your favourite book, song and movie…
AJL – At the moment it's The Shift by Dr. Wayne Dyer. I can only recommend it.  For me, it is impossible to pick only one song or movie. I have so many I refer to.
FY! – Your motto…
AJL – I don't have one.
Thanks a lot!
Below the Asger Juel Larsen's latest campaign.