The force of nature, an extinguished civilization, a dystopian world where a group of youngsters is running away to never look back, to face their destinies, and to understand the ultimate power of time. "Pressure. The countless faces of chaos" is a short fashion film directed by Ernest Desumbila and produced by Barcelona based production house Sauvage.TV with looks by Paris clothing brand Pressure Clothes that explores beauty and horror, life and death, technology and nature, and showcases a very interesting mix of references and images, as Medusa is turning people into stone while the suburbs are full of urban expressions and an inevitable choice must be made: to stay ephemeral or to become eternal. As most sci-fi, interpretations are quite free and the images powerful, and we talk about it with Ernest Desumbila to go a bit further in his universe and understand why, or what, or at least discuss how a dystopian perspective could fit in nowadays situations and also Sauvage.TV and their very creative work with VFX and animation. It is now time: we jump into their universe.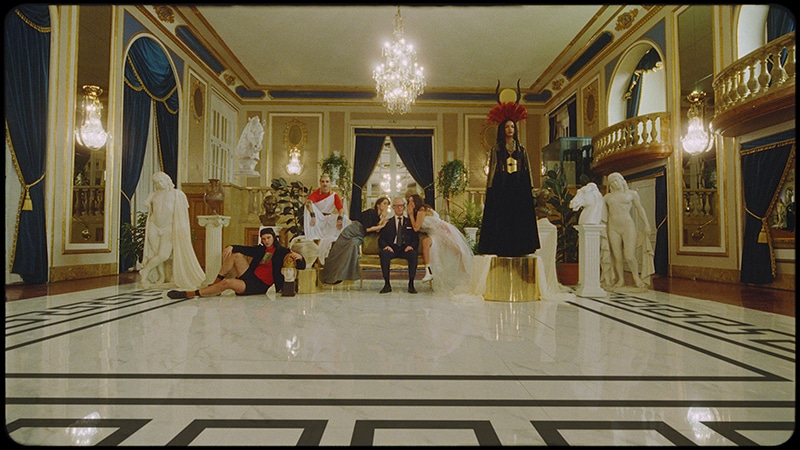 "Pressure. The Countless Faces of Chaos" is focused on isolation in the technology era, the greedy elite and the human need for transcending. Why are those topics relevant? Could they have some connection between them?
There is a scene in the film where we see the members of a neo cult adoring cibergodesses. We keep becoming more and more absorbed by technology every time and it is not that insane to think that they are an invention by the elites, who would not like us to be outside fighting to change things. Luckily there are people who are still trying it. In the movie, you can see a guy running with a torch attempting to go through a tsunami. I don't think he survives, but the mere fact of trying, of fighting, will make a legend of him, he will be eternal.
The project is described as a dystopia, but is really this dystopia so different from the concerns that are agitating us humans nowadays in the real world?
We shot this last year, but it is curious to see how this dystopia has gained more symbolism in these very hard times. It is something like seeing ourselves mirrored in the future if we keep doing things the way we do. There is no better way to learn but through stories and legends, no matter how futuristic they are.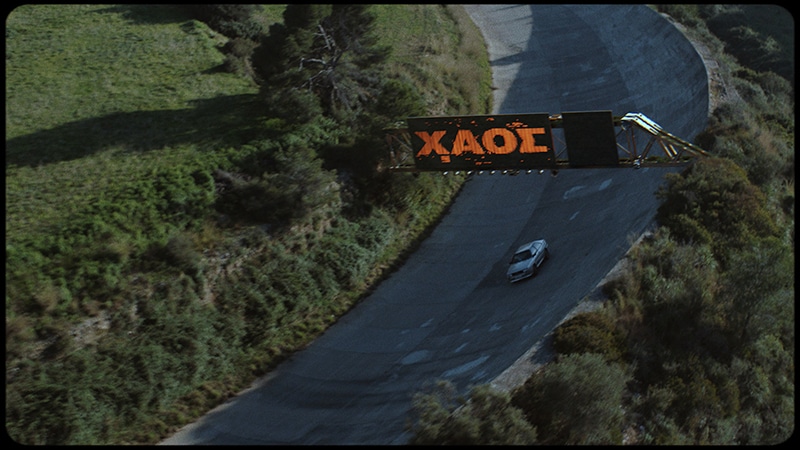 Where does the idea of "The Countless Faces of Chaos" come from?
I usually travel to direct TV commercials all around the world, I have a lot of free time during those trips, it is there where I come up with most things. I try to look for ways to mix such different worlds. In this case, I wanted Greek mythology to meet a group of youngsters from the suburbs. I surrounded it in a narrative, but I didn't want it to stop being a sort of a visual poem, an experiment in which every viewer's interpretation should be the one closing the circle.
The film has a strong vibe from the 80s and 90s sci-fi movies, such as Blade Runner, Matrix or The Fifth Element.
I was born surrounded by those VHS, is that a bit obvious? When rewatching them again, it is funny noticing how they still keep that sparkle. The lack of CGI had them manually creating the visual effects, and that helps those artworks keeping a magic aura never to be expired.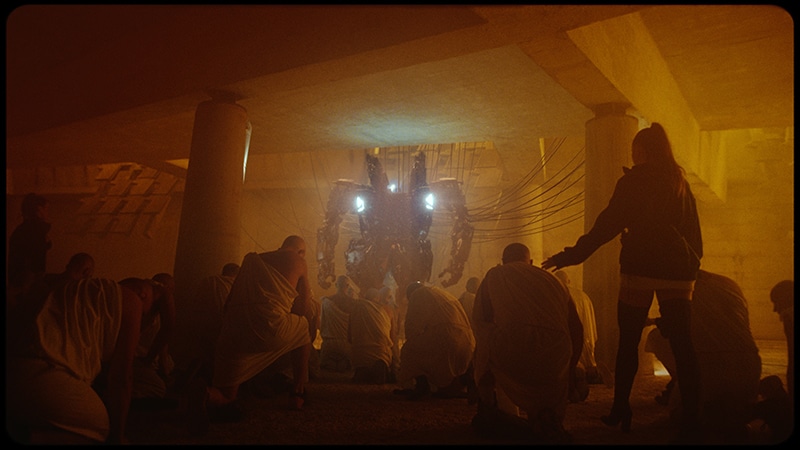 In the film, the characters must choose between being ephemeral or becoming eternal. Eternity is represented by stone-made serenity. The ephemeral, the mortality, seems to confirm life and at the same time, it concerns us right from the moment we start thinking. "We made peace with the inevitable erosion of time". Is all that symbolism a way to come to terms with the ending, with the fact that everything must end?
In the film, the curse is picking on everyone. The girl accepts her ending and decides to stay beautiful. She chooses to leave a beautiful legacy, as that sculpture will remain on that cliff for centuries. On the other hand, her friend tries to fight against his fate and he is cruelly immortalized.
The clothing line Pressure Clothes has collaborated in the film.
At least once a year, us in Sauvage.tv we try to create self-funded personal projects to be able to have total creative freedom. During this process of creation, I ran into Pressure. When I found them on Instagram I couldn't believe we had so many common references. I showed them the project and we soon started collaborating. Their contribution to the styling department was a key part of the story to have the aesthetics it needed.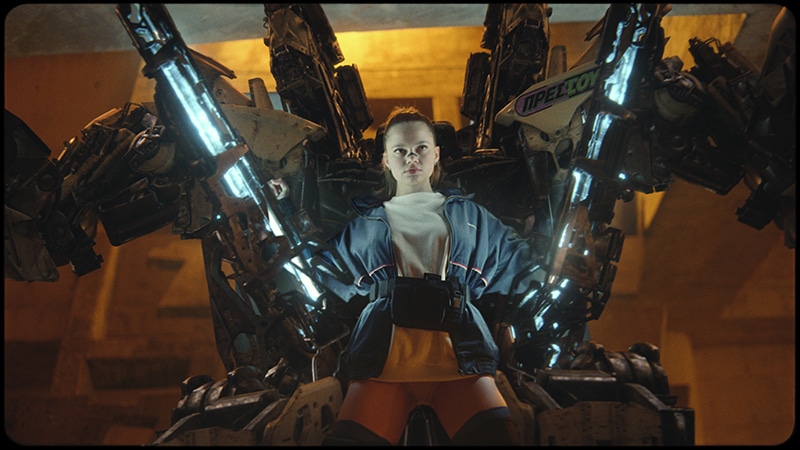 In the production, there are mythological influences such as Medusa, apart from some hints of fighting videogames, rituals, tech deities and the strong power of nature. Some of these elements are common on your other works, alongside steampunkness or anthropomorphic animals.
Yes totally, I feel really attracted to all that. When you are creating a piece with the elements you adore you get into a symbiotic state with all of it. My approach is trying to mix it all in a completely new and fresh way.
What inspires you?
I am really inspired by seeing other artists' creative processes: interviews, behind the scenes, documentaries on directors, painters, sculptors, rockstars… All that material fills me up with a desire for creating new things and dare myself into unexplored territories.
Is there any particular scene on "Pressure. The countless faces of chaos" that you really like?
I tried to have more than one, but there's one that was very special during the shooting: the girl kissing the guy with the torch. We were running out of film, the Sun was fading, there was only a chance for it to work out… And it did so fantastically and right on the first take. Maybe it was the pressure. They say it is the pressure that produces diamonds.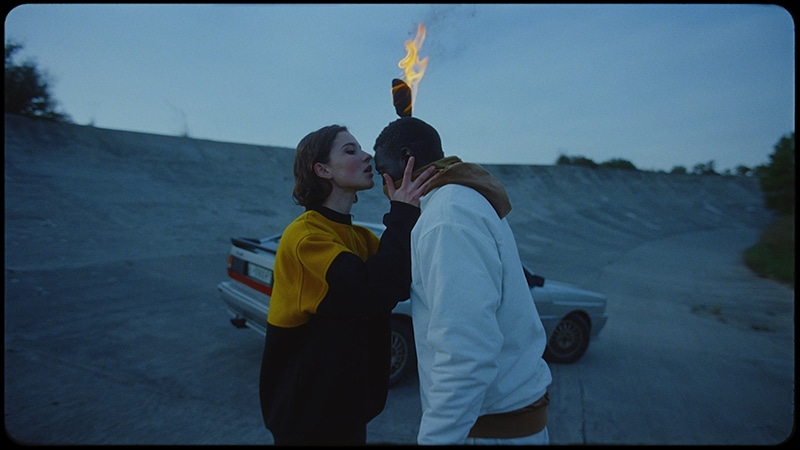 The film has some complexity when it comes to production departments. Was it a complex process?
To be honest, the first half of the shooting was absolute chaos: a camera car got split in two (something almost impossible), drones that were supposed to fly were not flying, the torch up didn't show up when he had to… There was a key moment when I had to re-do some scenes and draw new shots right on the set, with the elements that were left. That leaded us to stronger scenes than the ones I had visualized at first, then again pressure helped us out there. Angst can turn into a great occasion.
What and who are your main influences?
I am very influenced by the directors who I consider the most creative: David Lynch, Edgar Wright, Quentin Tarantino, Paul Verhoeven… Their movies are a gun shooting 1000 ideas per sec. Some things must happen, if not you are out.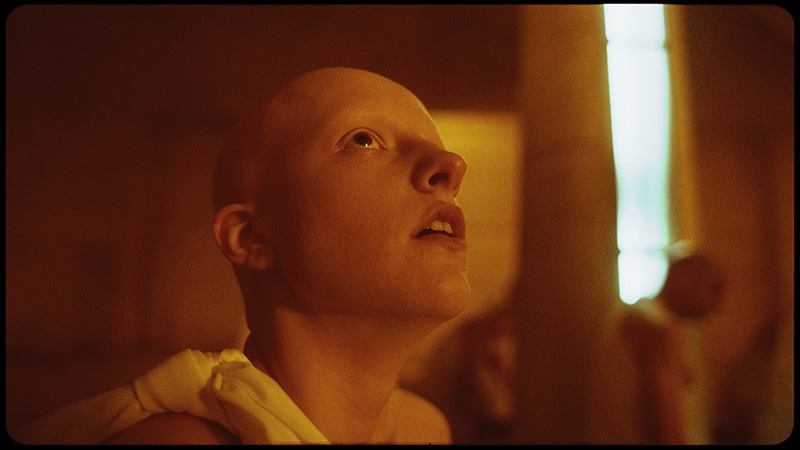 SAUVAGE TV, the production house you created alongside Eva Laffitte, defines itself as ultra-creative, focused on the storytelling, VFX and animation. You have worked for Adidas, Jägermeister and producing music videos such as "Thunderclouds" for LSD. Most of your projects hold those characteristics.
Exactly, even though we like to shoot high-end commercials, it is our desire to create our own pieces where we can express what we feel at the moment that has taken us there. We want to keep that creative freedom every now at then, mostly to experiment, to make mistakes, to try out new things… It is the only way to keep your work always fresh and not living out of an old success. My partner and wife Eva is my best ally when it comes to take risks, even those of which I feel afraid. Having someone like that by your side really gives you wings.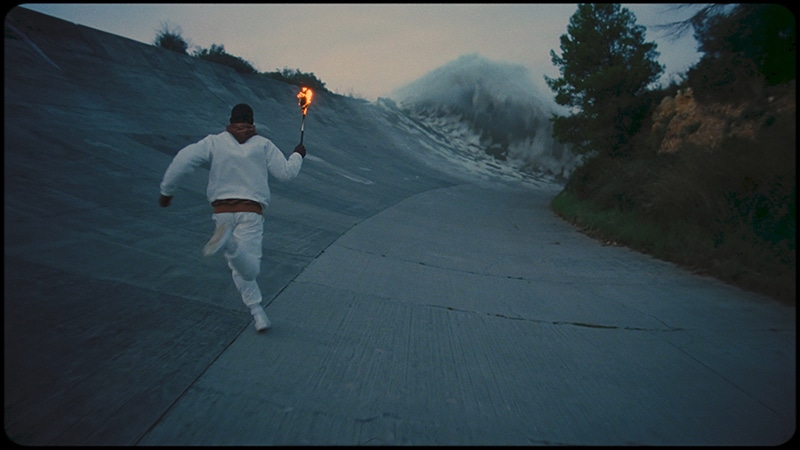 What are the criteria you follow when it comes to working with some photographers or directors in SAUVAGE TV?
They must be passionate about what they do. Passion is the main weapon to be better every day and to raise projects that might seem unrealistic. You have to work hard every day, talent is something valuable but it is not everything.
Based on the questions exposed upon your work, could technology achieve a healthy understanding with nature?
It has to be. If humankind is unable to save nature, maybe technology will find the way.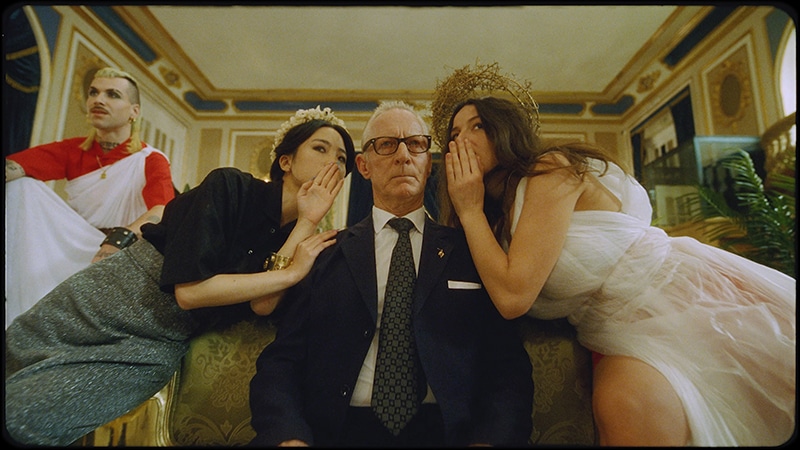 Can you recommend a sci-fi film and a book?
Nausicaä of the valley of the wind, by Miyazaki. Wonderful music, wonderful colors, the outfits… On books, I would recommend Do androids dream of electric sheep? By Philip K. Dick, where you can imagine your own version of Blade Runner.
Last question. If you were to find yourself in an idyllic place or universe right now, how would that be? What shape, situation or colours would it have?
The more experiences the human being lives, the most interesting it becomes, I think. Living in an idyllic place for a long time doesn't feel the best four of our minds. Crisis, like the one we are living right now, does get the best out of us. It is in the fight for survival and the eagerness to rise that we are the most creative. But, now answering your question, I would like to walk around a valley where the ground would be a gigantic trampoline and there would be a lot of pistachio ice cream. Even just for a while.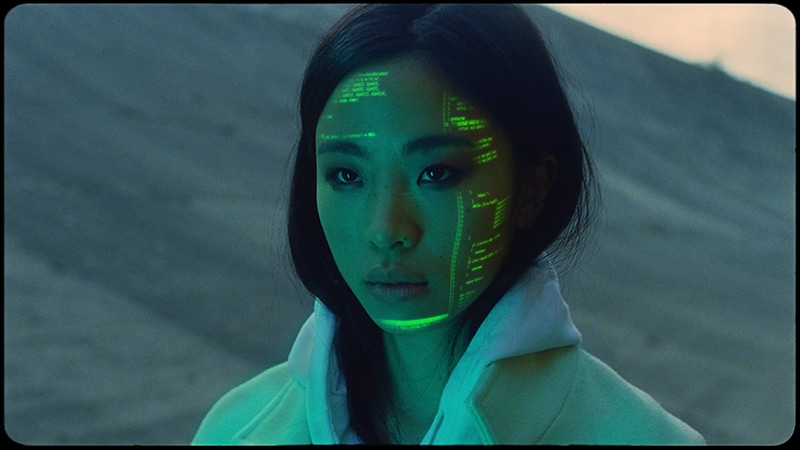 Credits:
Directed by Ernest Desumbila
Produced & Post-Produced by Sauvage.TV
Executive Producers: Eva Laffitte, Ernest Desumbila
DoP: Jan David Gunther
Poem by Stefan Storm recited by Susie Cobbs
Art Director: Antoni Castells
Cast: Camelia Bourbon · Lea De Tullio · Maria Yurko · Joan Pedrola · Xavier Bekefi · Bella Michlo · Songa Park · Sharon Elongue · Salem Amar · Joss Jaycoff · Mahamadou Samanjari · Mike Payne · Daniel Berenguer
Inspired by the world of Pressure Clothes by Théodoros Gennitsakis
Music "Concerto pour une voix" by Saint-Preux / Copyright & Production NETMUSIC S.A.
With the participation of Iconoclast.TV
Thanks to Gregg Dallesandro and Artistry