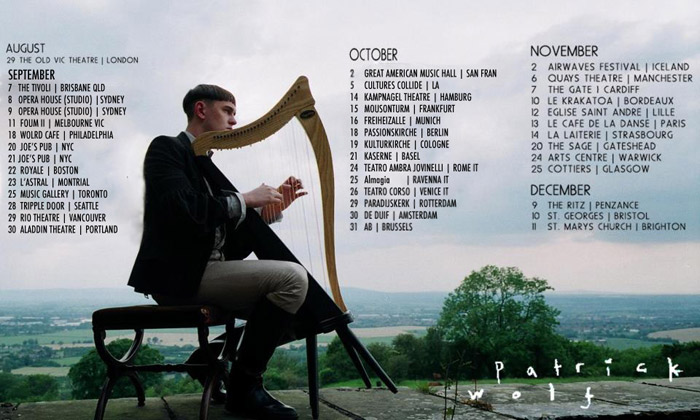 Celebrating 10 years as a recording artist, Patrick Wolf announced today the upcoming release of Sudark & Riverlight, a double LP featuring acoustic re-recordings of select songs throughout his career. On why he decided to go completely acoustic, Wolf stated "I missed that raw communication so much and the spontaneous energy of that live situation. When I went to the studio I thought I was going to record a one-man solo album, but I started to dream, and heard bassoons and bodhrans. This is my first totally acoustic album."
The front cover of his album, meantime (photo at left), sees Wolf holding an instrument called a "Gusli," which was given to him by his Russian fans on his last Moscow show in 2011 – a day that mass protests were breaking out in the city against the government, moments before the anti-LGBT bill was passed in St Petersburg. Wolf holds the Gusli in tribute, with love and hope to his Russian audience.
The album comes out October 16th and Wolk is supporting the release with a string of dates across North America next month.
Sundark
Wind In The Wires
Oblivion
The Libertine
Vulture
Hard Times
Bitten
Overture
Paris
Riverlight
Together
The Magic Position
Bermondsey Street
Bluebells
Teignmouth
London
House
Wolf Song