"to recycle your clothes!"
H&M released an inspiring film emphasizing that there is only one rule in fashion – to recycle your clothes!
Since 2013, H&M customers worldwide CAN bring unwanted or worn out clothes from any brand to any of its stores as part of its Garment Collecting Initiative. So far, over 18,000 tonnes of textiles have been collected globally. H&M wants to create a closed loop for its textiles, in which the fabrics from unwanted clothes can be recycled into new ones. A closed loop on textile fibers will reduce the need for virgin resources as well as other impacts fashion has on our planet.
The "Close the Loop College Cup" competition, running September 3rd through October 1st, has invited fifty colleges from around United States to compete to collect the most clothing to recycle at local H&M stores through H&M's Garment Collecting initiative. Ambassadors from each school will lead their teams and classmates by collecting and recycling unwanted clothing around their campuses to be eligible to win a $2,000 scholarship, new laptops, and other compelling prizes for their teams and school.
We talked with Pardeep Singh Bahra, one of the icons starring in this video with Iggy Pop, Loza Maleombho or Daniel Lismore.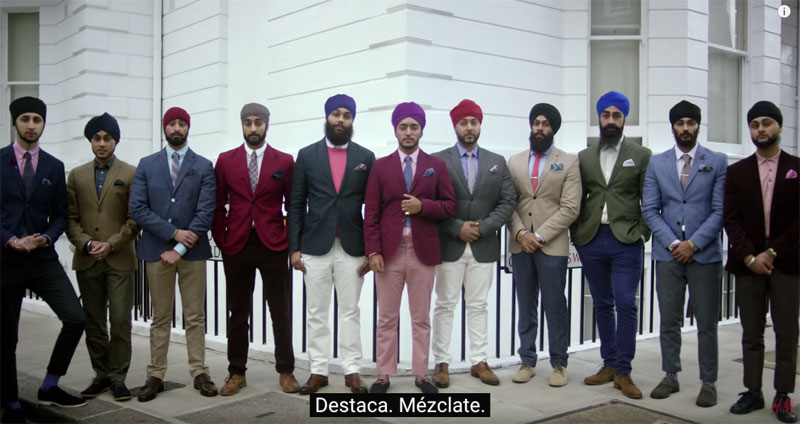 You have appeared in The Guardian and other major media and in other advertising campaigns … but this one with H&M will be the most global, with most international exposure. Does it mean for you?
It's humbling, it's incredible. For me it represents the idea that anything is possible. Just 2 years ago I had just got into fashion and to know my face is at Times Square in NYC, in Orlando, in Oxford Street…it's humbling.
Imagine for a moment that H&M creates a collection of turbans … and becomes a revolution across Europe. What part about religious symbol and what about a piece of fashion would the turban have for you?
For me my turban has never been a fashion accessory. It's always been my crown. This is all through my religious and spiritual perspective. Of course in other cultures they have turbans for fashion and that's cool, but for me , as a Sikh, my turban is my crown, I just happen to like to match the colours with my outfit.
Can you tell us an anecdote about the shooting with H&M?
So we gave in our measurements so they can pull out some clothes for us to model. And I had gained quite a lot of weight unknowingly. So on the day of the shoot, my trousers didn't fit! So they had to rip the back so I could fit into them!
What are your favorite clothes/designers for this season?
I haven't been paying attention to designers for a while now. Iv just been focuses on my own clothing and my own work.
What has to have someone to take part in your streetstyleblog?
A Sikh man with a turban with a true sense of style.
Just 24 years old and you are in this adventure since 2012. What do you want to do in the future?
Keep expanding and continue to do what I love!