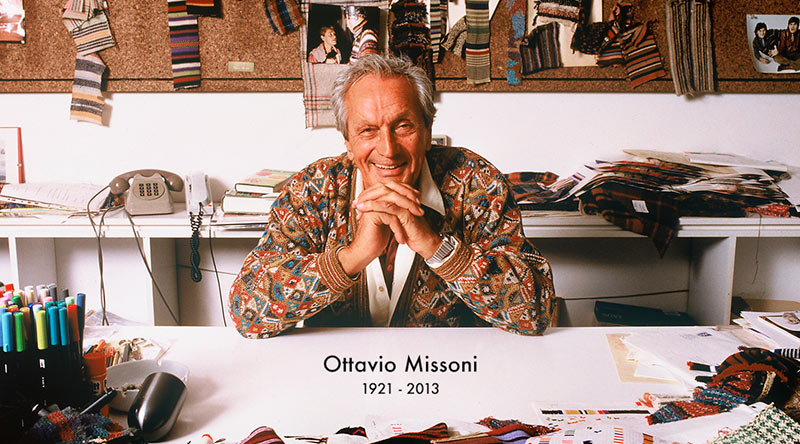 "To dress badly you do not need to follow fashion, but it helps"… And indeed he, Ottavio Missoni, didn't follow fashion, he launched it. He's gone so, a morning in May, at his home in Sumirago. He was 92.
We imagine him still there with his discreet manners, his determined attitude and those deep, kind, immensely sad eyes…
An important part of the fashion history has gone, a symbol of the most authentic Made in Italy, a man who, it is appropriate to say, wonderfully spent his life in the balance on colored woolen strand…
Ottavio, Tai Missoni was born in Ragusa, in the then Kingdom of Yugoslavia, in 1921. He has a great passion: sport. In 1948 he participates at the Olympic Games in London, finishing sixth in the 400 meters specialty, but the future in fashion is waiting him around the corner…
In 1953 he marries Rosita Jelmini and founds with her the Missoni brand. The following years are difficult. Strenuous years, years of constant effort, years without any rest. Weaving, sewing, spinning… Shawls, clothes, jackets… With them, Rachel: unique, irreplaceable partner… A friend, rather than a sewing machine.
Finally in 1958 the first collection is presented in Milan: Milan-Simpathy. With the support of Anna Piaggi – then editor for the magazine Arianna – the small knitwear workshop breaks down national boundaries and begins to assert itself internationally.
Innovative use of materials, original choice of colors and patterns, handmade. These are the characteristics that make Missoni a successful brand and Ottavio the winner of the prestigious Neiman Marcus Fashion Award in 1973.
A solid couple, theirs. A couple of friends, partners, colleagues. A couple of love: towards themselves, towards work, towards family… When in 1993 the Italian Republic attributes to Ottavio the honor of Cavaliere del Lavoro  he can't nothing but exclaim: "They should give the award to Rosita because she had the great merit of making me work". And Rosita has remained beside him until the end. With her, the sons, the grandchildren and, we can imagine, the thought of Vittorio, who disappeared in Los Roques…
Ottavio has colored our lives for longer than fifty years… He did it so with clever, ironic mastery… He did it with his zig zag, his geometries, his abstract flowers.
We can't do anything but pay homage to him this way, as he would have liked… simply, with a greeting… Ciao Ottavio!