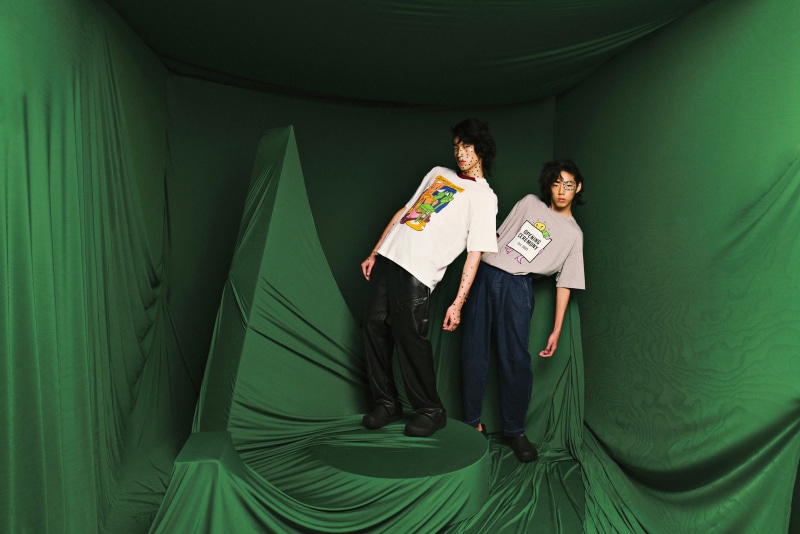 For the Fall/Winter 2021 collection, co-creative directors Carol Lim and Humberto Leon envisioned a wardrobe inspired by materials found at home and immediate surroundings—an especially important haven as we continue to navigate through the pandemic.
"With every collection Carol and I design, we try to capture the moment and milieu in which we are living, so that we can always refer to what was significant to us at that time. This season, we challenged ourselves to design within our arm's reach: taking inspiration from our home and our immediate surroundings. For example, we embrace the loose elastic from fitted bedsheets to create an interesting drape and silhouette. I was also inspired by the leather fabric from my Mario Bellini "Camaleonda" sofa at home. When I was designing the interiors of Chifa, my family restaurant in Los Angeles, I partnered with an amazing wallpaper company, Calico, to produce this beautiful covering. My design for that covering became the Heartwood print in this collection." – said Humberto Leon
The collection also includes comic-style graphic artworks by NY-based designer and illustrator Bráulio Amado that depict a dreamy fantasy of furniture coming to life. Logos are redesigned to resemble ones that are often seen on mattress covers and other furniture, as if Opening Ceremony is expanding into homeware.
Take a look at the collection below: