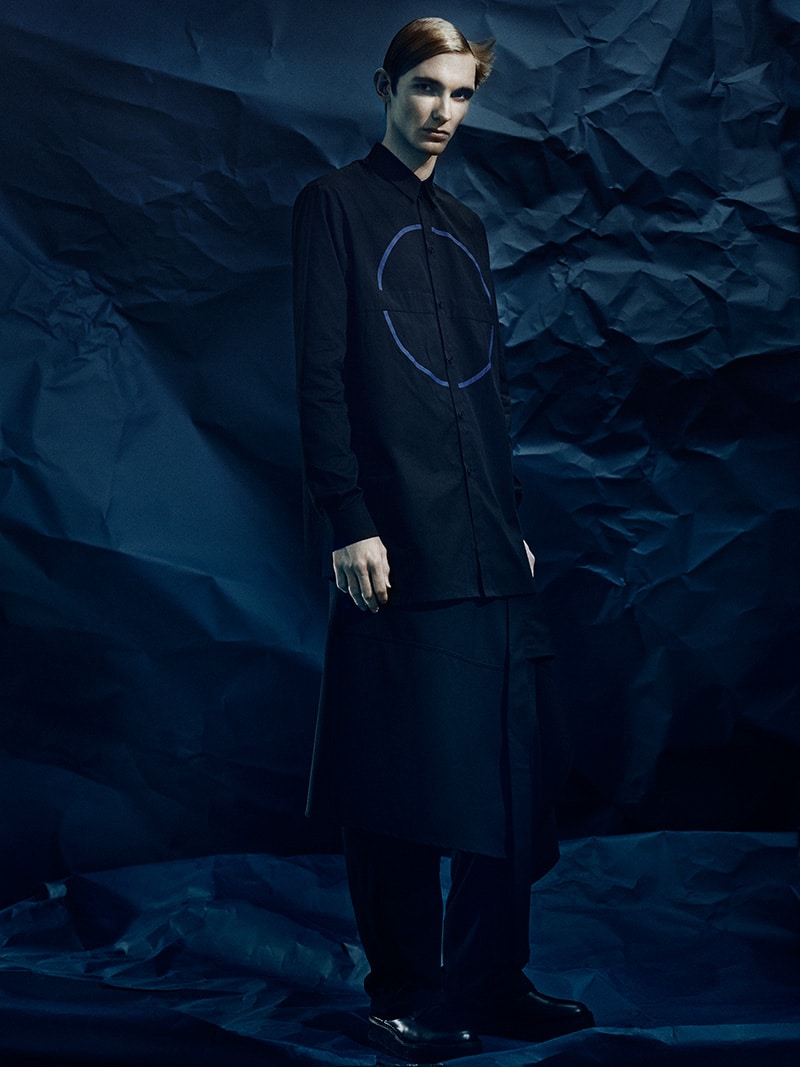 UNISEX, a most popular adjective of late. What does it really mean, and is it worthwhile to explore this further from a male perspective?  Several major fashion players, have now fully embraced the democratic notion found within design, thus leaving choices up to their clients. As according to them; it should not really matter who wears what. Something the purists certainly do not abide by. So is there really a need for garments that make both Mr. and Mrs. shine?
For, ODEUR STUDIOS a.k.a. Petter Hollström and Gorjan Lausager, the answer definitely has to be a fully fledged YES!. These gents, have been steadily building their universe over the past decade. Yep, that is right, almost 10 years as gender-neutral understatement designers, purveying the masses with their effortlessly chic Nordic garments. This marks a perfect moment for us to look back and touch base with these lovingly stubborn Stockholm based creators.
So guys please step up to the plate ….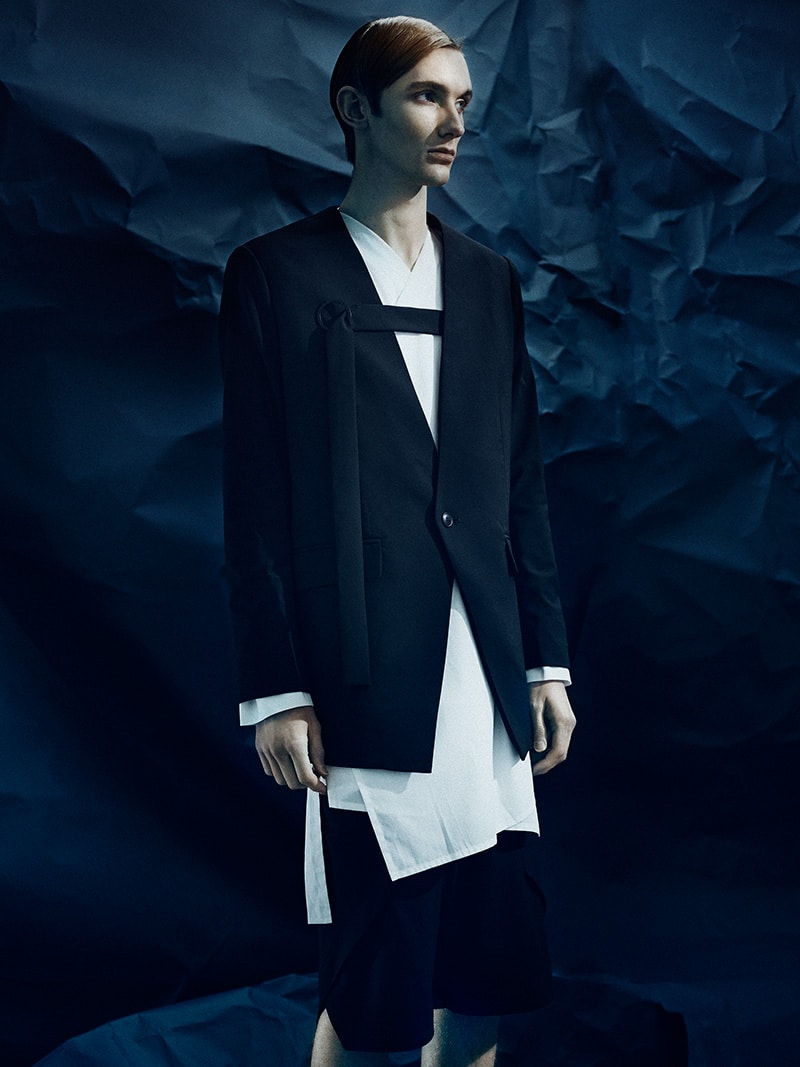 STRIKE ONE.
Intro. Gorjan and Petter, if you look back at yourselves as youngsters, what were you both like?
Petter Holström: To be honest, I was an annoyingly tidy child. When it came to my active interests, I was very much into sports. I remember playing on teams in football, floorball, ice hockey, handball and also spent some time playing tennis. I was not someone who broke rules, I actually toed the line. That being said, I was intrigued by rebellious political movements but was never active myself.
Gorjan Lausager: I was pretty much the same person as I am today. Open, calm and polite. Perhaps a little more carefree. As caring comes with age, which mostly is a positive development. Reflection is important to me!
Macho. According to you from a sartorial perspective, what does it mean to be a man?
PH: This is a good one. A man? Well, being a man is very much similar to being a human. Or a person if you want. It is about finding what you like. What you identify yourself with. Next to this, a man should have a sense of personal awareness from both a micro and macro perspective. To contribute positively, you must find your own way. Over time you find out what really defines you. Finally, a real gentleman is never afraid of challenging any of the common notions that depict how a man should dress.
Retro. Odeur would not be Odeur Studios, if it was not for……?
GL: The simplistic unisex approach that we have built into our collections. We try not to complicate things. Odeur would not be Odeur if we were somehow forced to put anything else than what we want to design into the collections. We never think about what would sell or not. We always do what we feel like, when it comes to designing the collections. Their really is no compromise in our creative process.
Outro. To travel, in a way, perhaps is to conquer the world. What destinations will you never forget and why?
PH: Well, if we may, to travel is to conquer your mind even more, we would say. Some destinations surely wander the mind longer than others. However, it is not the destination itself that intrigues us. Instead, we rather observe the cultural senses of each new place, geography comes second. As for us, the local people, their ideas or opinions in any destination, truly gives it life!
Portugal is a place that is truly beautiful. The way of life, the people, the food and the culture. All of it. Also New York packs a powerful punch as do several places in Asia. If we had to pick, Tokyo definitely stands out, for its quirky greatness, the non-stop mentality combined with unexpected serenity, there truly is inspiration in every corner. Lastly, let us mention Argentina, for its amazing dining scene, people and ambience. (ed.Gorjan adds): AND Berlin for its music and art scene and its unique energy, people are so alive!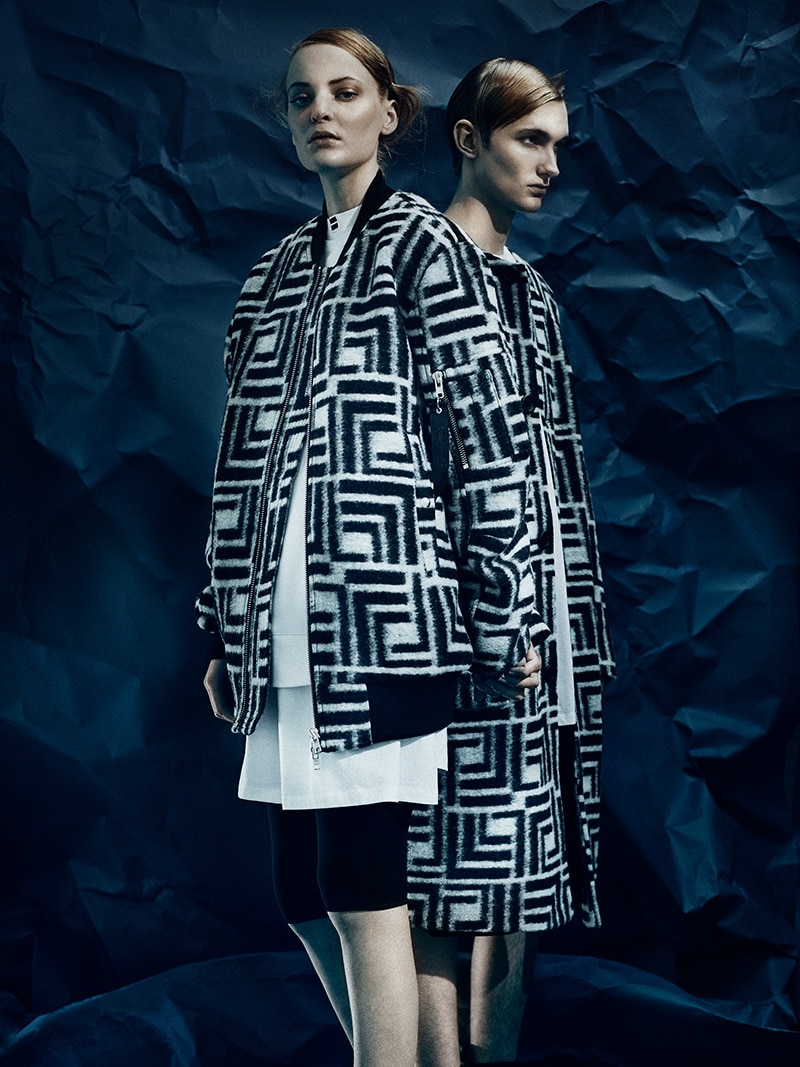 STRIKE TWO.
Werk. How would you typify the thematics of this winter collection?
GL: It is strong. Clear. And perhaps also a little pensive. The cuts are super graphic and the A-line silhouette has not been as clearly defined as in any Odeur collection to date. The name 'Silent/Shout' somehow describes the hopeless feeling you can have when things around you in the world seem mad and you want to change them. Then on the other hand, you know that true change is not often achieved by shouting, but rather through silent whispers.
Unisex 1.0. Why is this such a big part of what you do?
GL: This is all about the way we perceive the world. We appreciate both sexes. But we do not feel the need to separate them in our designs. In a sense, it all comes down to 'equal-ism'. We rather believe in similarities than differences, not only when it comes to gender, but rather when it comes to everything in life. It is so simple to divide. We feel it is much more interesting and intriguing to do precisely the opposite.
Unisex 2.0. So how did this concept evolve for you over the past years?
PH: Probably, it has become more of a theme in the later collections. However, the concept itself always evolves for us. From a silhouette perspective, it means that we have to choose which kind of male or female features we want to underline, explore or neutralise. Therefore, each collection is different in its approach of the 'unisex' concept.
Fabric. For AW16, the shells of the garments are most striking. What research did you do and how did you end up with these outer-layers and graphic effects?
PH: We always visit our suppliers and learn about new techniques + fabrics before each season. Our collections usually start by choosing the fabrics that feel relevant and inspire us to create something new. Early on in this season, we could see that we wanted to combine different textures to create something that added a new dimension to the collection. To work with the exterior shell, meant we had to strike a balance between highly tactile and functional fabrics. A true challenge, but we feel it turned out nicely.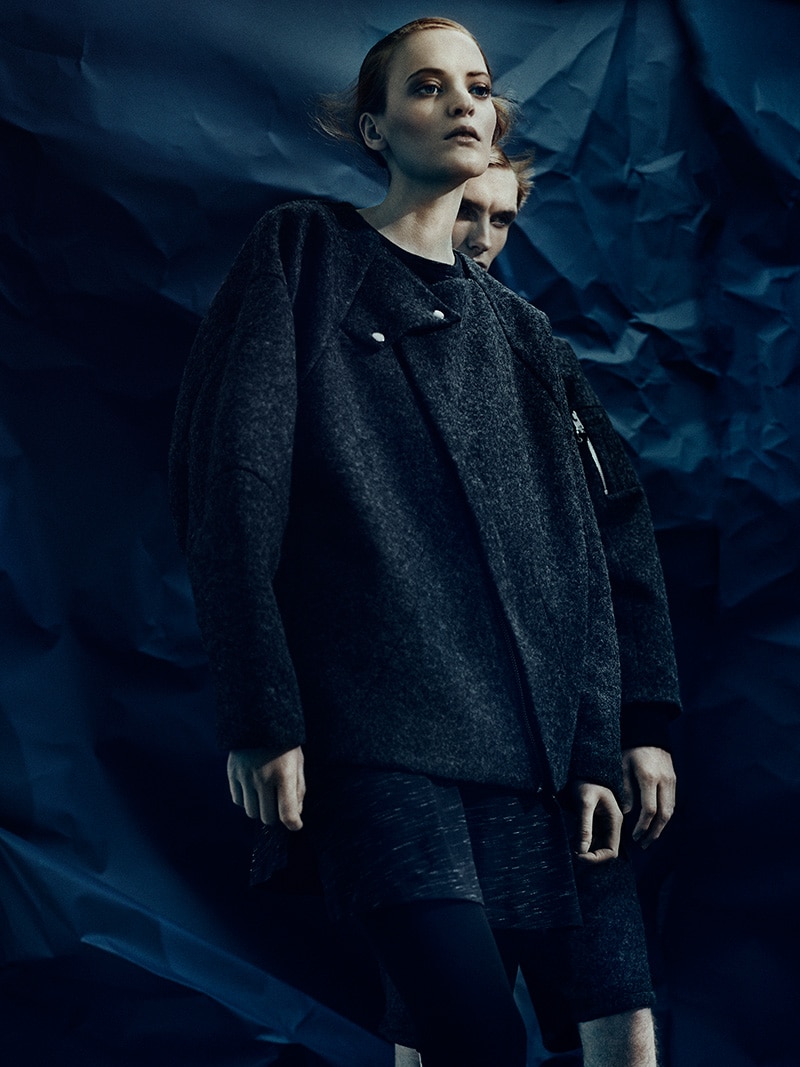 STRIKE THREE.
Teamplay. Could you tell us a little about the dynamics when you work together as a team?
GL: We are very intertwined in our process. We are both involved in other creative projects and usually draw inspiration from slightly different sources. In our collection development we usually merge these through long discussions and 'moodboarding' processes. Such conversations can carry on for days, as we might have a completely different idea on how to proceed. However, usually in the end, our initial points of view do merge in a nice and sometimes rather unexpected way. Often we try ideas out with each other. Sometimes the other knows that there is something there, even a little tickle if you will. The positive thing about being two in this process is that we have to explain each move to each other all the time. There is a constant dialogue, which also means everything is highly deliberated. As in the end, we have to find some kind of purpose and compromise within each individual piece.
Gorjan, what is so unique about Petter?
GL: Definitely, this has to Petter his attention to details. I have never met another person that creates all the small little details first before he puts them into place. Petter truly has a unique eye.
Petter, is there anything specific that you learned from Gorjan?
PH: To be fair, loads of things. I think one of the most significant ones, is that he inspired me to always keep my mind open to new ideas. Gorjan is great at pushing our process forward and this in turn constantly ensures that Odeur also moves forward.
Conclave. What do you agree on most and in what things do you differ?
PH: We agree on most things to be honest. This is what led us to work with each other in the first place. That being said, there are enough differences, already in our direct cultural backgrounds and everyday lives (Gorjan now actually lives in Dublin whereas Petter remained here in Stockholm) that keep things interesting. To be two individuals that design together, means two opinions, no matter how close we got over the years. This is what makes Odeur feel so alive.
HOME-RUN
Mirror. There is so much waste in society, too many garments are produced and too much is just PR-driven. How do you see this?
PH + GL: We fully agree. It is relevant to have this as a perspective and incentive for why we do what we do. Some simple points that people should ask themselves is what they are wearing and what it costs. Also, people need to think more about how the clothing they buys is produced. By this we mean, the entire chain of events. How many places were involved and how many people did it take to make this?. Then think about the price of the garments. Could this really be this cheap? Is someone suffering along the line?
This is an important question for us. And a focal point. We are working extremely hard to have the best producers, making the garments from Odeur something that you can wear for a long time. Next to this, we try to work with 'substantial growth' in which our retailers are fundamental in bringing the label further. Next to this, they form an important sparring partner, when we discuss these issues. Openness is key here as is team-play. In the end, we very much like to contribute to a more conscious world!
Contribute. A last one: How do you wish for ODEUR to be perceived?
GL: We hope that we are perceived as a label that goes its own way. We would like for that people to feel that Odeur is aware of the things that are going on in the world today. And that what we set out in the world, is very much a by-product and comment on current affairs. So most and foremost, we like for Odeur to be perceived as something real. We are in this for the joy of creativity. We thrive when people wear our designs. So Odeur hopefully is something that people can truly relate to.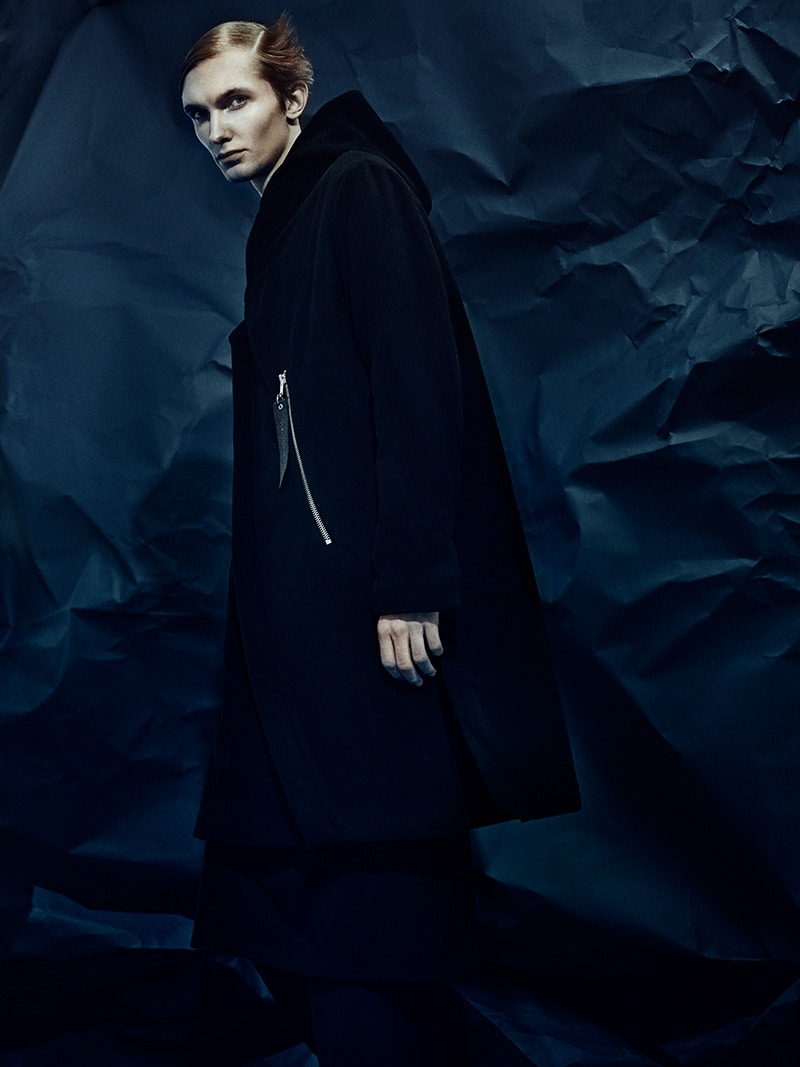 Campaign Credits
Photo: Simon Larsson
Hair & Make-up: Martin Sundqvist
Models: Herman S at Nisch Management & Cosette at Le Management