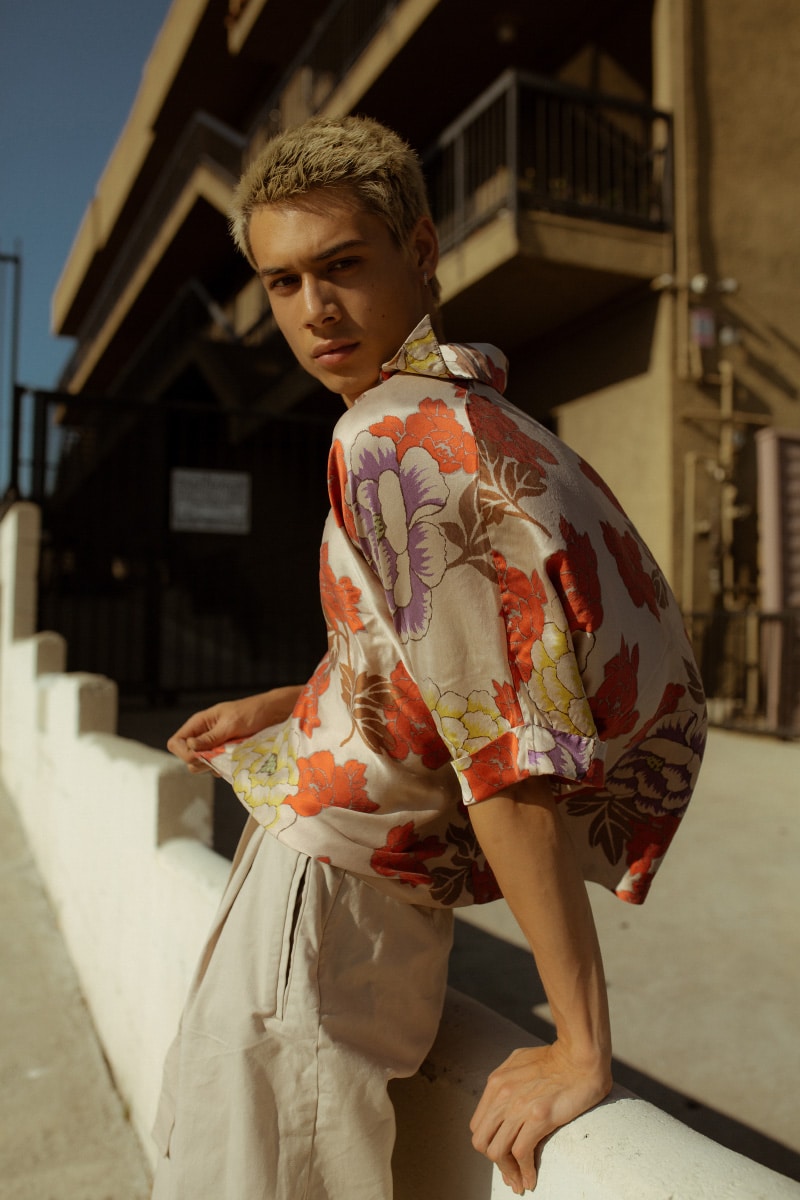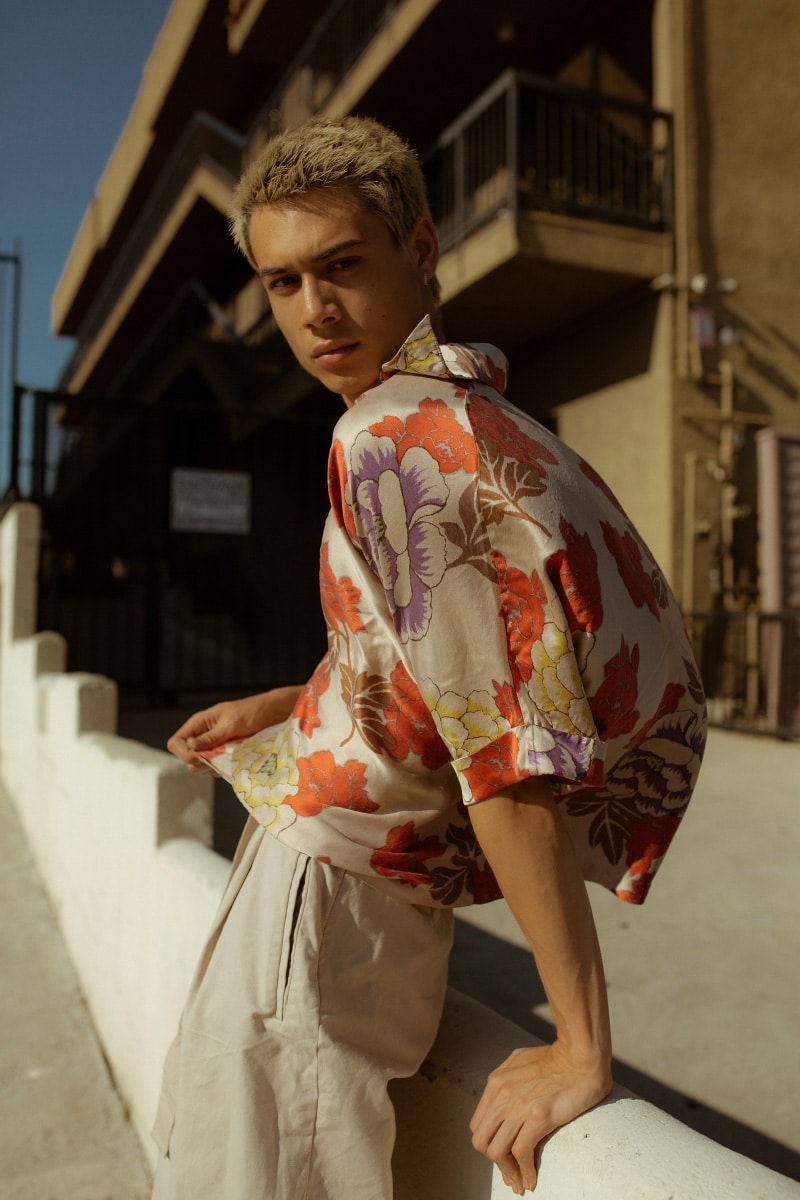 Dropping an infectious and sugar-sweet attitude is Nikolaos Madouras, who likes to go by "Niko," a California-hailed talent determined to inspire change. Indeed, once you get to know the feel-good, time-worthy thoughts from his powerful vision you'll not be doubtful why the bloke is primed for greatness. Against a backdrop of challenges and experiences that led to unrelenting growth, his introspective mindset merged with a delicate personality continue to navigate his journey through art, fashion, and creativity. After working in social media management alongside a brief run in the entertainment field, it's no surprise then the creative is pegged to be one of our 2020's to-watch, a sort of modern-day DIYer whose life gave – and thought – him an awful lot. Showing no means of stopping and willing to 'take action' on his promising future, we grabbed five with the newcomer and spoke all about keeping it moving, education, and fashion's ultimate fizz.
Before we get deep-down on this, let's begin it with the basics. Could you introduce yourself to us?
My name is Nikolaos Madouras, but I go by Niko. I am 21 and am half Greek, half Filipino. I was born and raised in Studio City, CA. I have been working as a model for Next Model Management and Stone Management for a little over a year now. I am currently enrolled in college, and in the process of obtaining my bachelor's degree in product development, marketing, and business management, all while working as a manager for a celebrity/influencer social media management agency.
Three words that describe your best self are…
Caring, confident, and proactive
How did you venture into the fashion industry?
From a young age, I have always been interested in fashion and the arts. By the time I turned 16 and was legally able to get a job, I applied and got my first internship at a modeling agency working as a scout, assistant booker, and test shoot editor. Since then, I have been working in multiple fields of fashion and entertainment in front and behind the camera.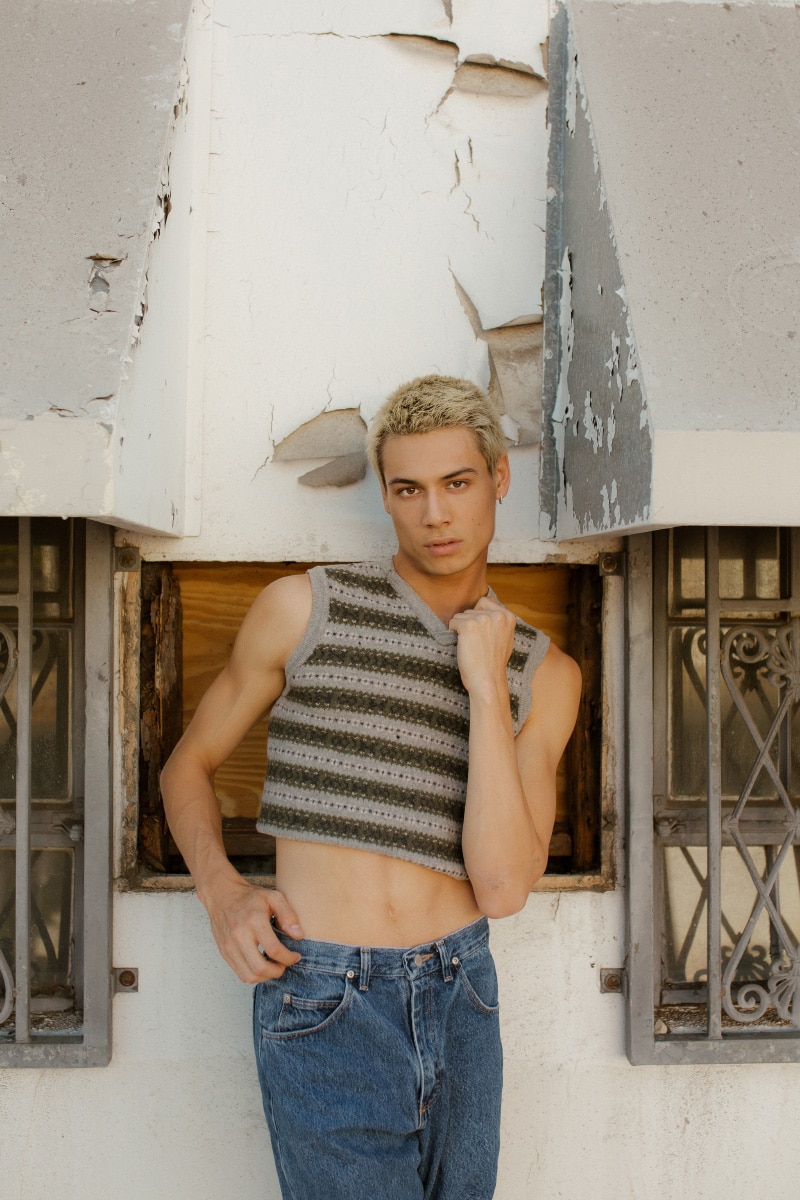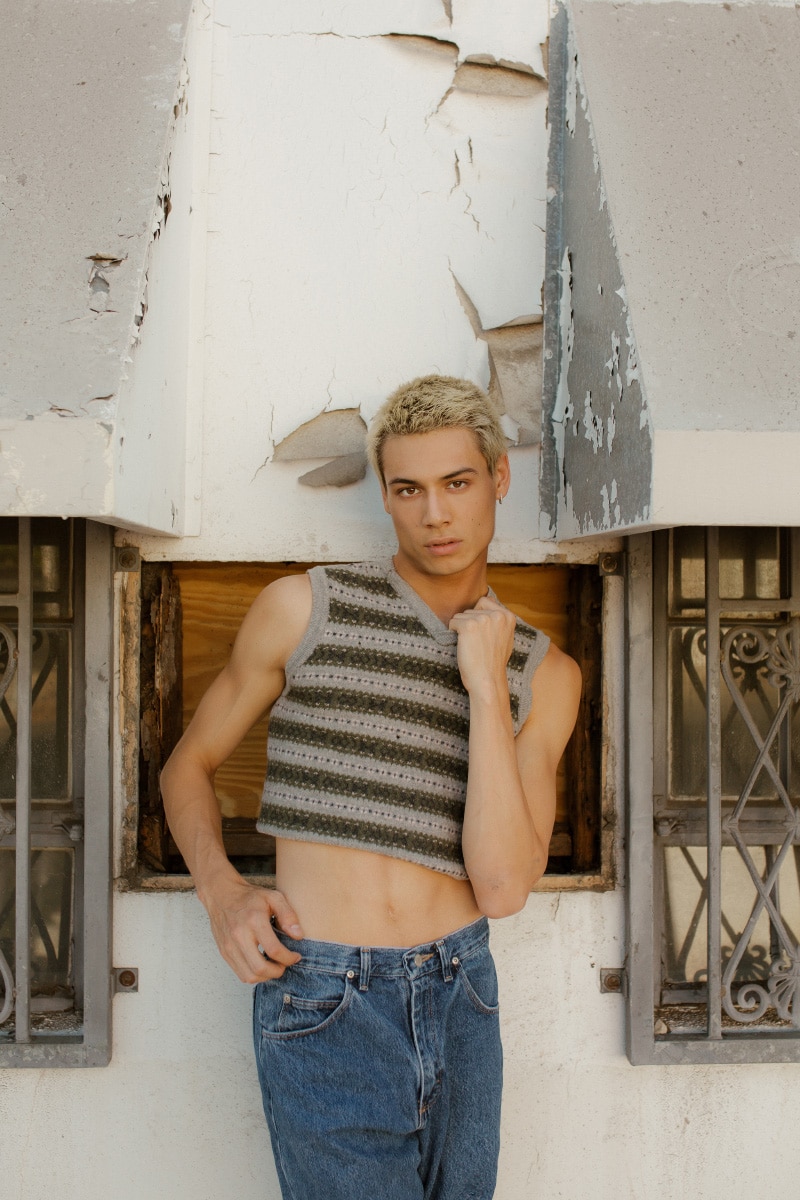 Who's been the dream client to work with?
When it comes to fashion, I think my dream client to work with – aside from the obvious (Prada, Gucci, Louis Vuitton) – would be either Thierry Mugler, Iris Van Herpen, Demna Gvasalia, or Peter Do.
Favourite experience thus far?
I can't say I have one favorite experience thus far. With every opportunity comes something new, whether it be people, places, techniques, or ideas. I always try to look for something new in every experience therefore making it hard to choose just one.
Has education been an imperative cornerstone in your practice?
I say yes because education is key. One is never staying the same, every day is an opportunity to get better or to get worse, so why not fill the time you have with teaching yourself new ways on how the world works. I will say, with education comes time and with less time comes less opportunity. There have been multiple occasions where I have had to pass up big opportunities for my education. In the end, it comes down to opportunity cost and what you consider to be your priorities.
How's it been for you since the start of your journey? Did you encounter any major hindrances when you first started out in fashion?
I would say my journey has been a little rocky since signing and "branding" myself as a model. I found there is a stigma between modeling and having some sort of artistic, academic, and/or practical talent. As a model, your job is to be a vessel that completes the vision of a designer. As someone who was not initially trying to become a model, I do find there tends to be a subtle disrespect when it comes to being knowledgeable.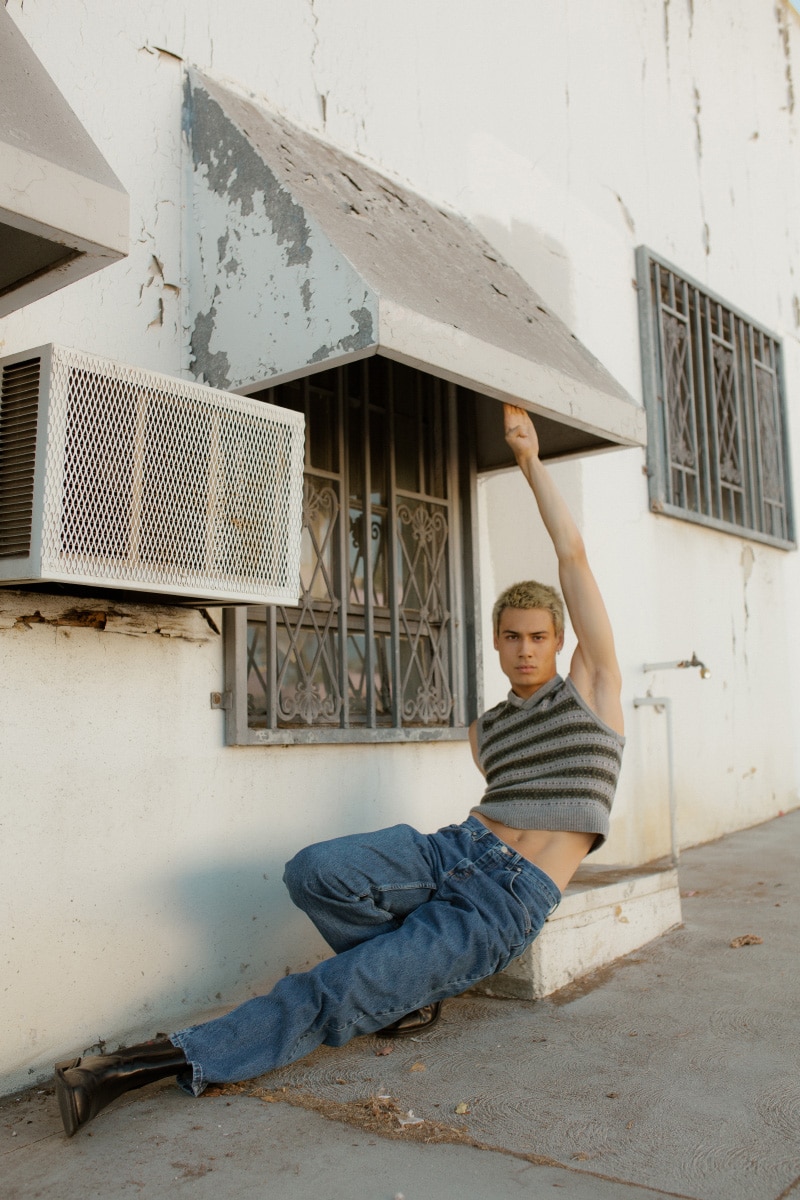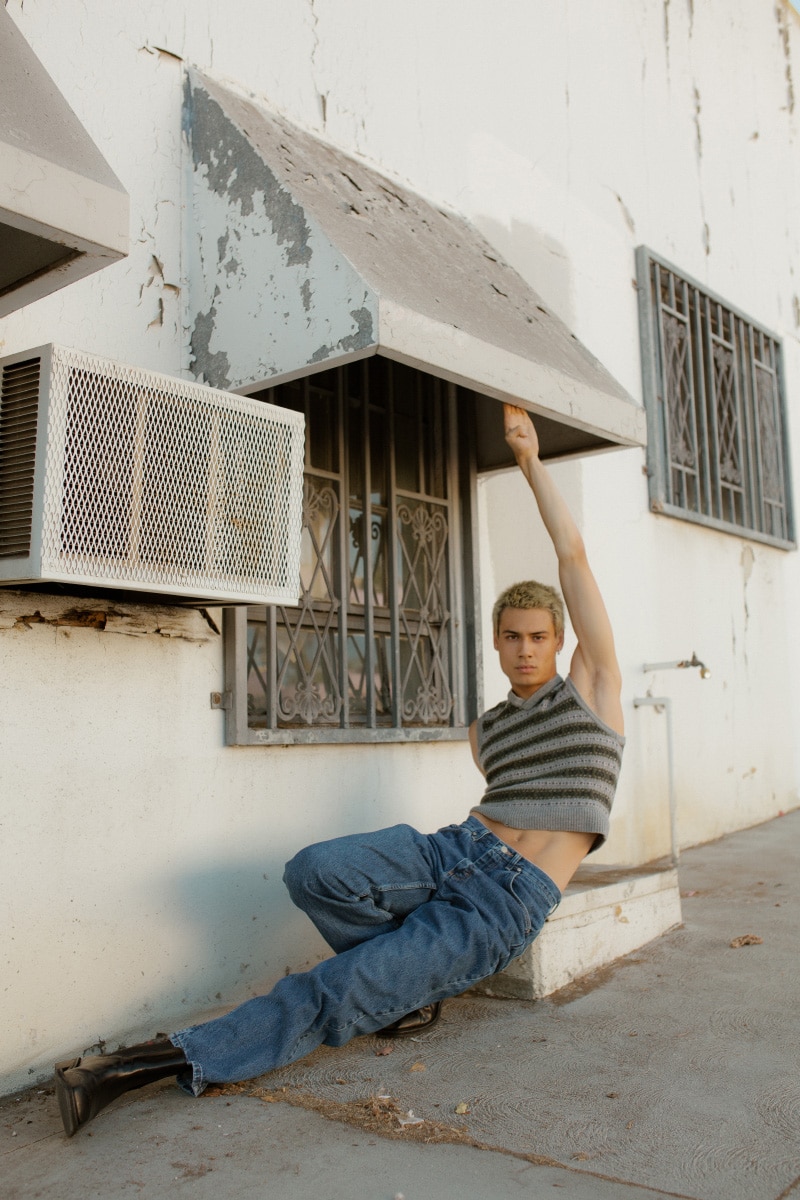 Prior to becoming a model, what did your previous job entailed?
When I was growing up, all the way till my freshman year of college my plan was to become a nurse/doctor. At 17 I traveled to The Philippines where I volunteered/worked in a hospital in the Neo-natal Intensive Care Unit for a month. After that, I was set on becoming a doctor. When I graduated high-school and left for college, where I was duel enrolled at Tulane University and Loyola University New Orleans, I continued to do the arts while studying and found my passion towards my artistic abilities began to outgrow my love for the medical field.
Could you kindly elaborate on the trajectory that brought you to dive into this field?
After transferring schools, from New Orleans to Los Angeles, I started to think more about how I was going to brand myself and my art. Through that, I was able to book a couple of small features, one in an ad campaign for JW Anderson, and another for Ludovic De Saint Sernin's Instagram page which led to me being signed by my current mother agency and Next Model Management. I continued looking for work outside of modeling while still being able to go to school and make castings. Since my start on this journey, I have been able to work for companies such as Netflix, Paper Magazine, The Collected Group, and Savage X Fenty.
How do you react to trolling and online criticism?
I don't react to trolling. When putting yourself on display for others on a social platform you are making an unwritten agreement to be put up for ridicule. It can be very draining to react to every critique or bad comment, so why not put that energy into something you really care about or the people that really care about you?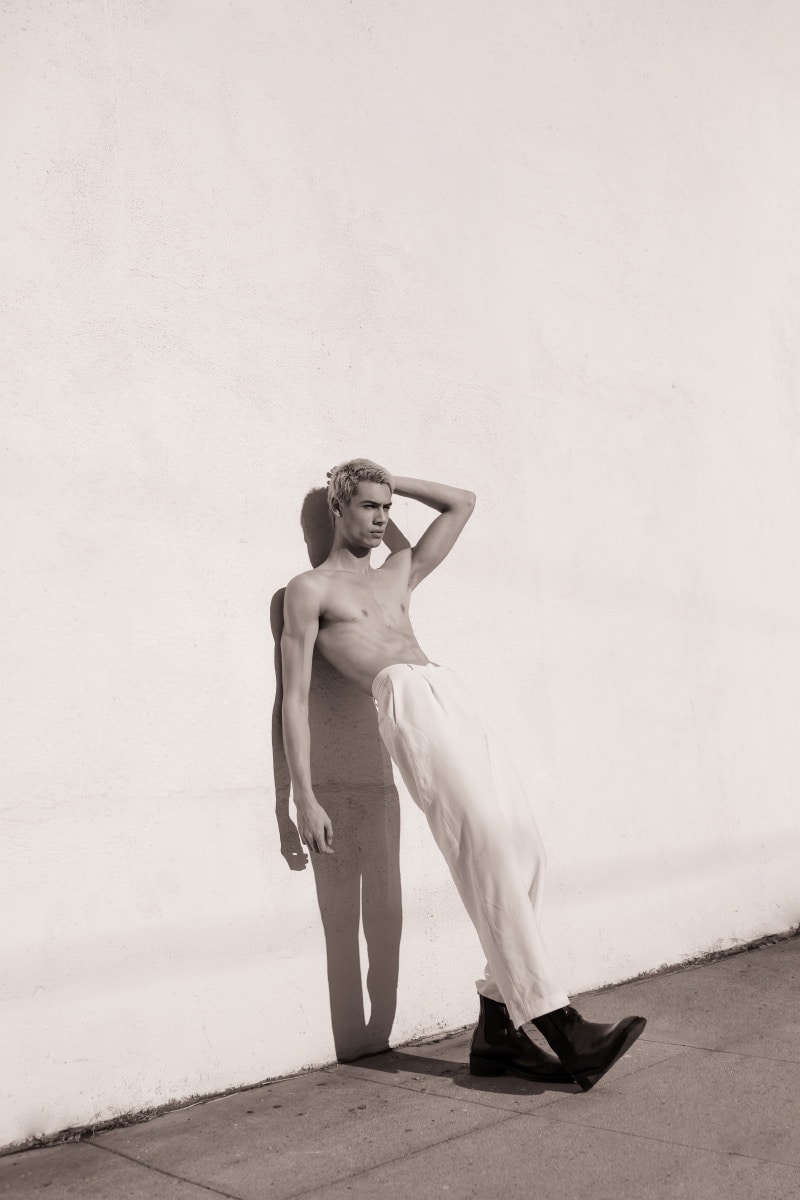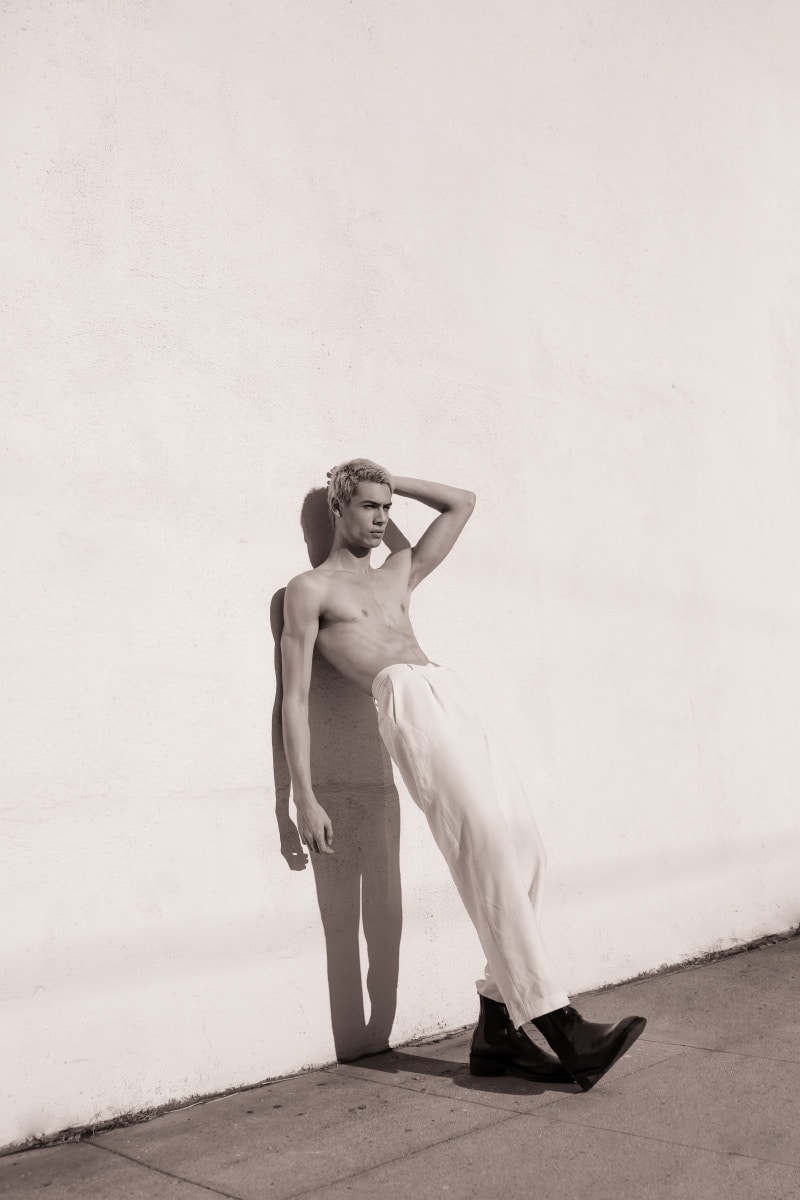 In an era raged by the ruthless desire of digitalization and social media appearance, being constantly exposed to the public's eye must result quite daunting, particularly with the level of saturation present in such a field. In a nutshell, what are your key thoughts in regard to the whole Instagram thing?
I have a weird relationship with Instagram. I think it can be super detrimental to one's mental health, but in my case, I do find job opportunities through my social media.
Do social media propel your identity? Or do they destabilize it in a way?
I like to use social media and post somewhat often, but my captions and comments are very vague to the point where I don't think many people actually know about who I am as a person based solely on my social media. I will say, my life on social media is a lot more picturesque than my actual life can be.
Could you say that spending plenty of time on social media does affect your self-esteem?
I think the worst thing about spending a lot of time on social media is the time being wasted on not trying to create your own art rather than admiring others. On occasion, I find myself spending hours on social media looking at other people wishing I could be able to do the things they are doing. About a year ago I started pushing myself to be the one that was doing the things other people could appreciate and found myself becoming a lot more satisfied with life as well as becoming more knowledgeable in my field.
Do you feel somewhat empowered through your social media channels? If so/not, how come?
I feel empowered in the sense that I am able to freely express myself and the things I do, but not in the sense that my Instagram boosts my self-worth.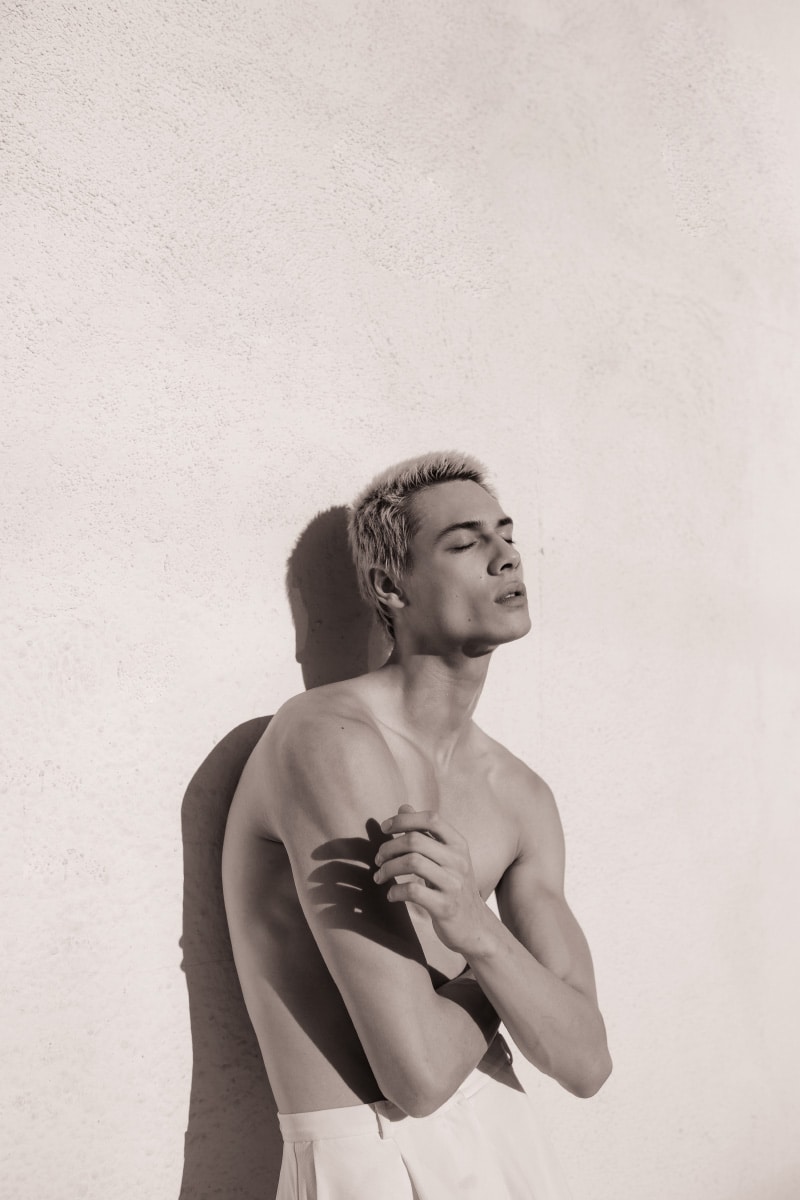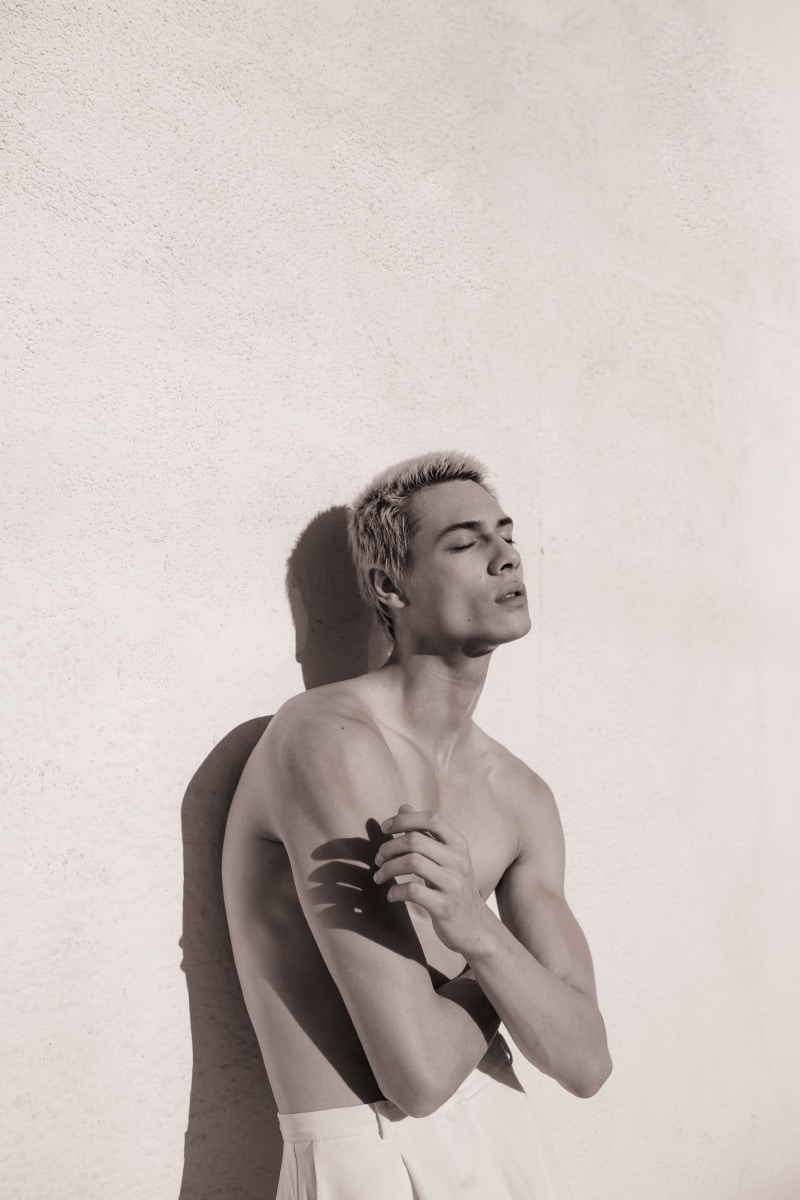 I imagine that due to your kind of occupation, you tend to travel a lot. What's your favorite city and why?
I only recently began working on the modeling side of things, and due to COVID traveling was put on somewhat of a stand still. Pre-COVID and pre-modeling I have had the pleasure to travel to Europe, Asia, and all over North America. I think my favorite place to visit is Greece, I do not necessarily have a favorite city there though. Being half Greek and having a lot of families out there, growing up, Greece was like my summer home. My father's parents and sister live out there and we would try to go visit them every other, if not every summer.
If you could pause time and go back to a specific era. What would it be? And why?
I would probably go back to the 50s-60s, not because of what was going on at the time but because of the fashion and music. I am a huge fan of jazz music to the point I named my dog Coltrane after John Coltrane. Not only was the music superb but so was fashion, specifically women's fashion. The craftsmanship and silhouettes of the time are definitely ones to appreciate.
What's been the most gratifying aspect of your career thus far?
I would say I get the most satisfaction out of my career from being able to express myself artistically while meeting sine if the most incredible people.
What do you wish you could have done differently throughout your journey?
I wish I spent more time working on my passions rather than figuring out what they were. I also wish I opted out of some of the shoots I have done over time. Overall, I wouldn't have done things differently.
Any major inspirations?
The people around me are truly inspirational. I get my inspiration from the things I see and experience. I see a lot of people close to me doing big things and nothing feels better than knowing the ones you care about are doing well. They inspire a hardworking and motivated lifestyle, that is unapologetically them. That is something I try and implement in my everyday life, to do things with purpose, with heart, and with passion behind my work.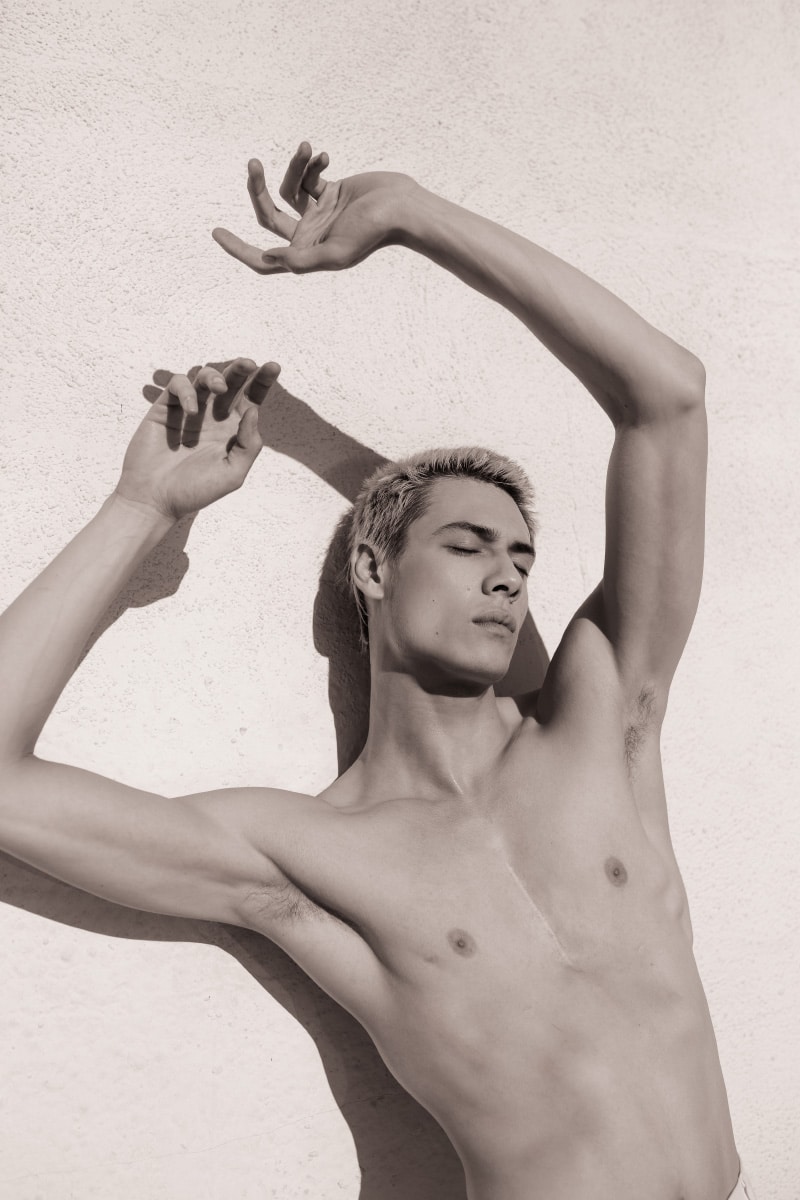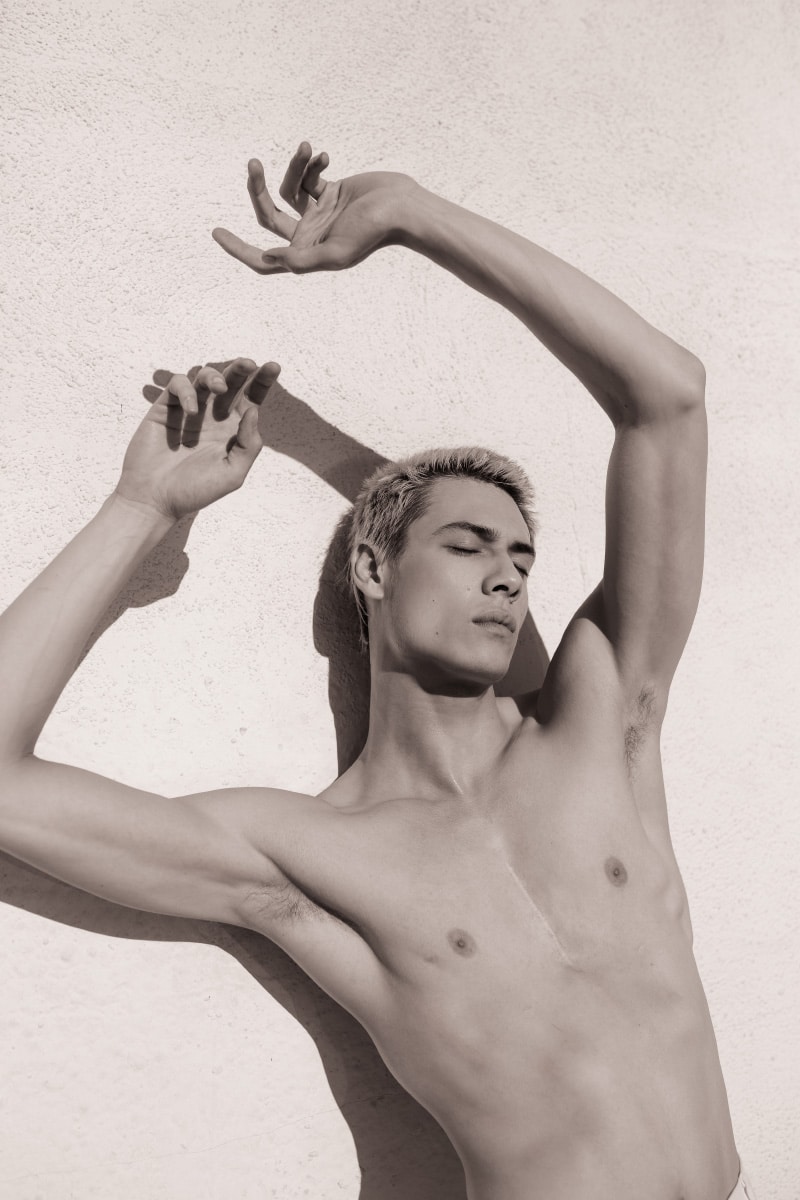 What are the biggest obstacles you've had to deal with?
Life throws a lot of obstacles your way, I like to think of them as learning opportunities. Being young I think my biggest obstacle outside of material items and personal relationships, is myself. Disregarding the hardships my life has thrown at me, whether it be my chest surgery to dealing with the realities of the human life cycle, I am the only one who can tell myself to stop and fall behind. Motivation has been my biggest obstacle and I still work at it every day.
Who would you like to be remembered for?
I would like to be remembered for my character and my personality. I would love recognition for my art and the things I do but, on a level more than artistic, I want to be known as the person someone could trust and the person that inspires action.
How do you feel like your legacy will be left in the world?
In my case, I think it's too soon to tell. I have a lot to learn and a lot to explore and I am open to all the possibilities that come.
Biggest remorse?
My biggest remorse is not being more vocal and upfront about the things I wanted to do and the skill I have.
What's the wisest lesson you've learned being in the industry?
Take every opportunity to grow that comes your way. Life is full of missed opportunities, why make that list longer?
Any advice to give the young wave of aspiring people, wanting to venture into your world?
Don't get down on yourself for not booking. Fashion and art are based on preference and you can't always be everyone's preference. Don't spend time on the jobs you didn't get rather than jobs you will/did get.
Final words?
I just want to say thank you to everyone who has and continues to support me in my decisions and ventures.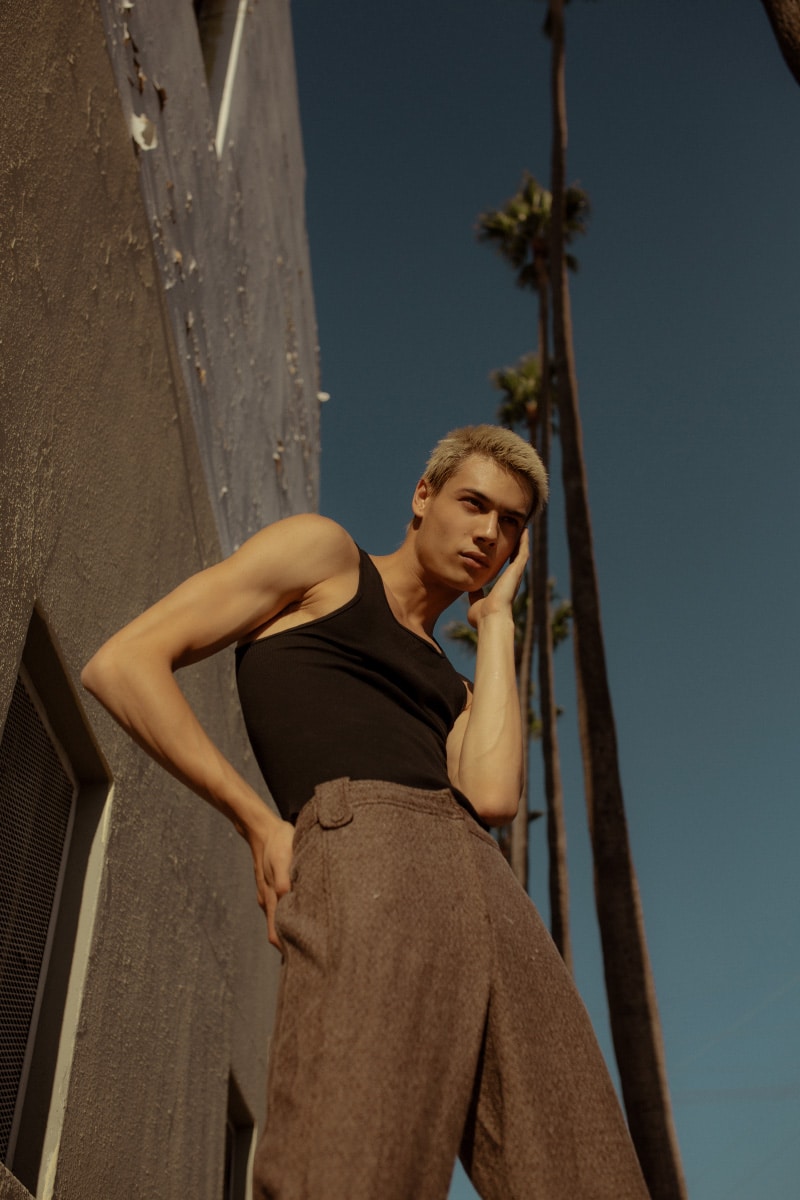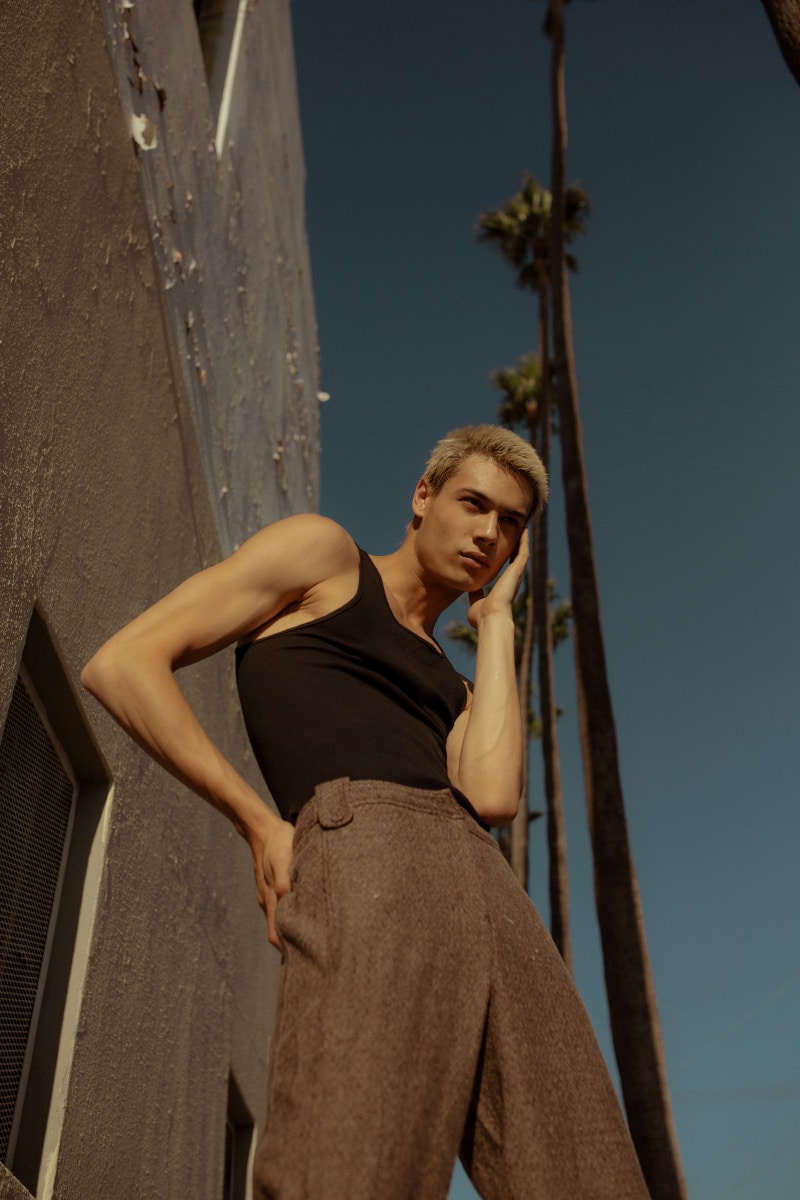 Talent: Nikolaos Madouras @mad_niko at Next Management @nextmodels
Photography and Creative Direction: Jon Wong @iamjonwong
Editor: Chidozie Obasi @chido.obasi