The New Nike Tech Pack and his numeral code aesthetic details, was the canvas and inspiration for a customized piece that the two designers have created for Marco Asensio, a modern ninja protecting his football field. The Nike Tech Pack -launching later this summer- is a data informed and innovation Ied collection based on the everyday movement. A new aesthetic language of mobility debuting new materials that are hybrids of knits and woven.

Nike, Maria Ke Fisherman and Marco Asensio may not need any introduction whatsoever. The first one is dressing our sport side since the 70s, always pioneers in introducing innovation. Designers María Lemus and Victor Alonso –from Maria Ke Fisherman- have a strong and eccentric style, and important celebrities all over the world have worn their clothes. Real Madrid player Marco Asensio is considered one of the best footballers ever, at the age of 22. The customization is inspired on a book called 'The Samurai´s Journey', which describes that ninja philosophy and extrapolates and translates its background to Asensio´s life. He is then seen as a warrior, as someone fast, skilled, strong; and clothing was therefore meant to empower him even more. The result is a bespoke piece from the Nike Tech Pack collection -new innovative materials that are hybrids of knits and woven- debuting later in Summer. "We wanted to make something that interprets what Marco Asensio is to Maria K Fisherman and Nike", say the designers, and they chose screen-printing as the channel to represent all of that, creating a numeric code with texts from the book. "I like what they did but I like even more all the story behind. That's beautiful and truly represents me", Asensio says.
We talk to the football player and the designers to have a more in depth perspective about the creative process, favourite garments and technical aspects of this customization project.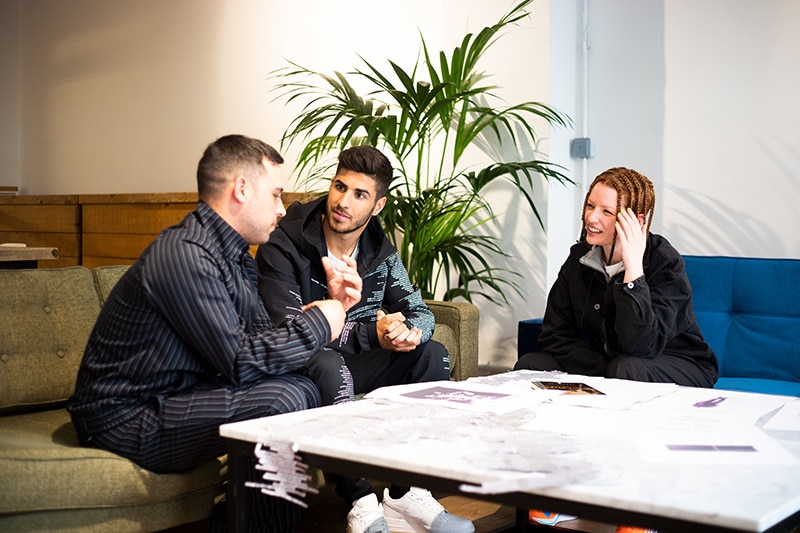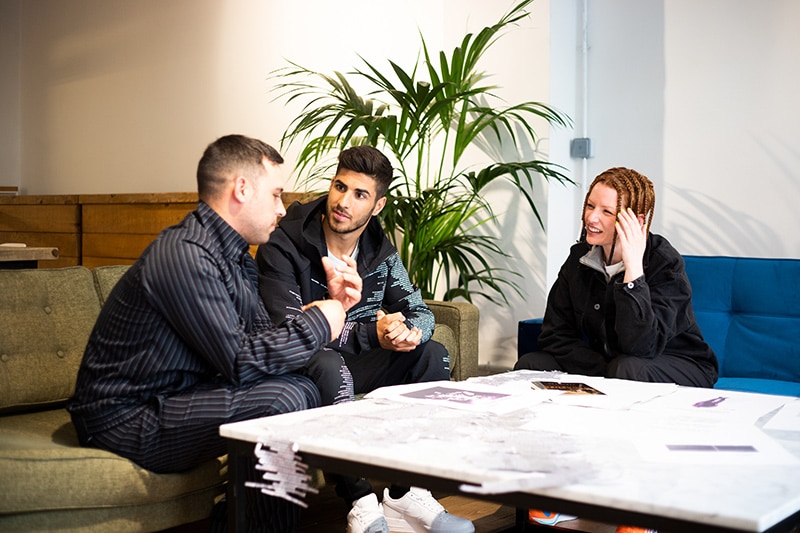 Marco Asensio wears Nike Tech Pack by Maria K Fisherman
María Ke Fisherman
How do you feel about this Nike customization? Was it a challenge?
Nike calling to collaborate with you seems a bit big because you´re doing things for you, and all over sudden you need to work for a giant brand which reaches a lot of people. It´s a great commitment. We´re used to talk only to our clients, and now with this customization project we addressed ourselves to much more people. But we have a lot of things in common with Nike. Our philosophy is very similar and there´re other strong points that we share, so the experience was easy on one side and difficult on the other.
What are the Maria Ke Fisherman features that can be found on this customization over the Nike Tech Pack collection?
We looked back and we realised there were a few constants in all our collections. Before doing that, our collections seemed very different and we couldn´t find our identity features, but when we revised our past work we identified some characteristics in all of them: 70s B series movies, 80s anime, 90s digital culture. All this three features were in all our collections. We use elements that transmit movement, graphics, the shine of anime, the philosophy of all 70s B series movies and then that language of Tech Pack served us to give it a 90s digital vibe.
The most difficult part was to find a way to tell all of that logically and sharing Nike values. When we design something is easy because our clients are similar to us, but now we needed to make something for Marco Asensio, someone who´s not intrinsically related to us, and it was more difficult. We didn't want to fail, we wanted to take into consideration his personality and create something that was comfortable for him.
What would you take from this customization?
I love the trousers; I'm obsessed with them, they´re just so cool. The sweater is also very nice, its cut and graphic, but trousers are simpler and therefore the design stands out.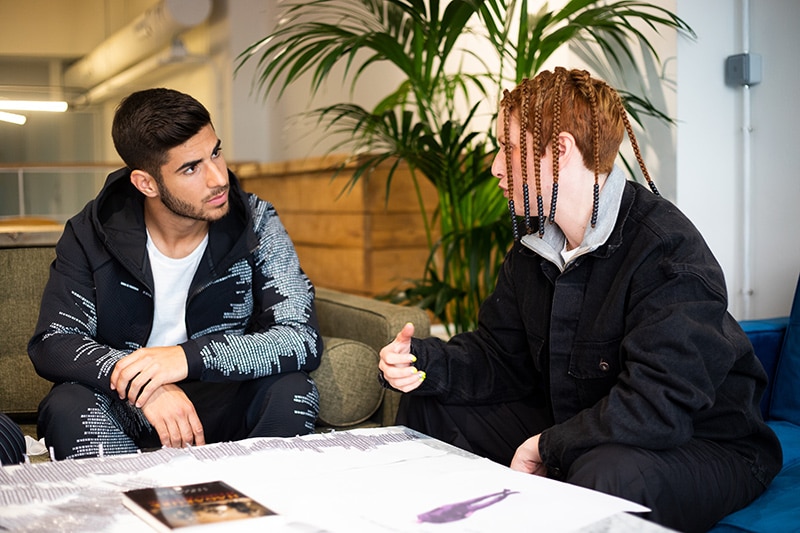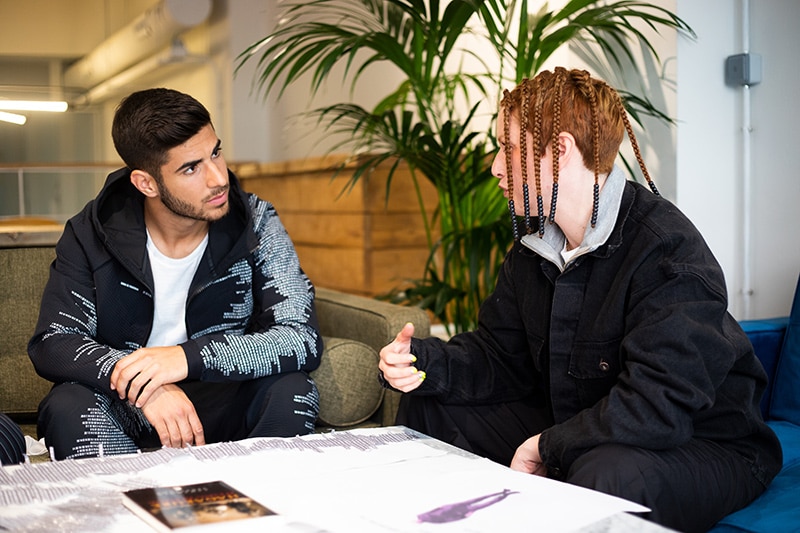 Regarding technical aspects, what can you tell?
It was a complicated process… The customization is inspired on the book 'The Samurai's Journey'. It is based on another book from the XVlII century, which talks about samurai philosophy. We wanted to compare Asensio with a ninja, a fighter, a wall. We converted the text from the book into a numeric code. Each number corresponds to a book page. This visual language is inspired as well an aesthetic details of the New TEch Pack, a numerical code that adorns some pieces of the collection.
Technically, it is screen-printed. An inverse screen-printing over an acetate paper covered with adhesive and then applied to the tracksuit. We had to work on an garment which was already done, and we didn´t want to destroy it or redo it because the design was already perfect. On the other hand, we didn't want to make it seem as if it was possible for anybody to make it at home…The process was complicated, but the result was exactly what we expected. Everything was very handcrafted but it looks like an industrial design.
How was working with Tech Pack fabric?
For us is a material difficult to achieve. It´s a very technical fabric, simple in appearance, like a triple pleat, but you just don´t know how it is made; it´s very innovative. At the beginning we just tested to see how well we got along with each other, but it ended up being a good fabric and it worked quite well.
What is it that make it unique for Marco Asensio?
Asensio is a football player who transmits energy, strength, power, speed, dribbling capacity, so we thought him as a ninja who is protecting the soccer field, the goal; a fighter samurai whose strength is protective. We used graphic language, but he is the centre of the design.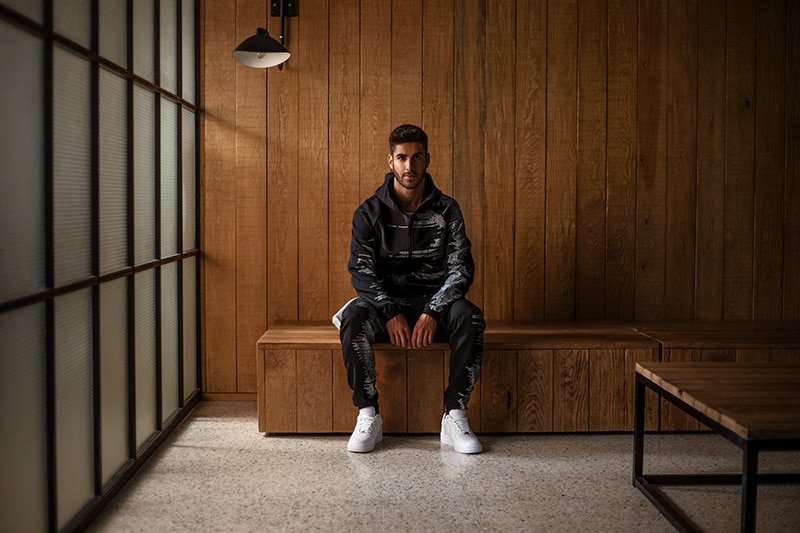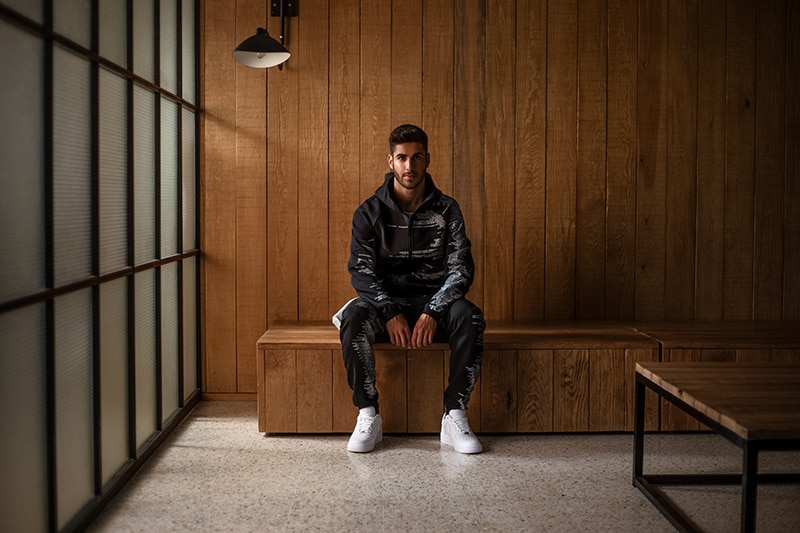 Marco Asensio wears Nike Tech Pack by Maria K Fisherman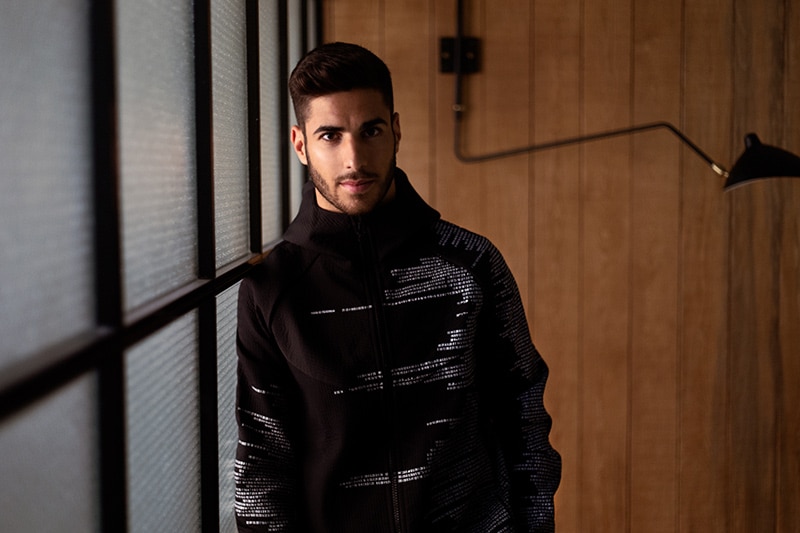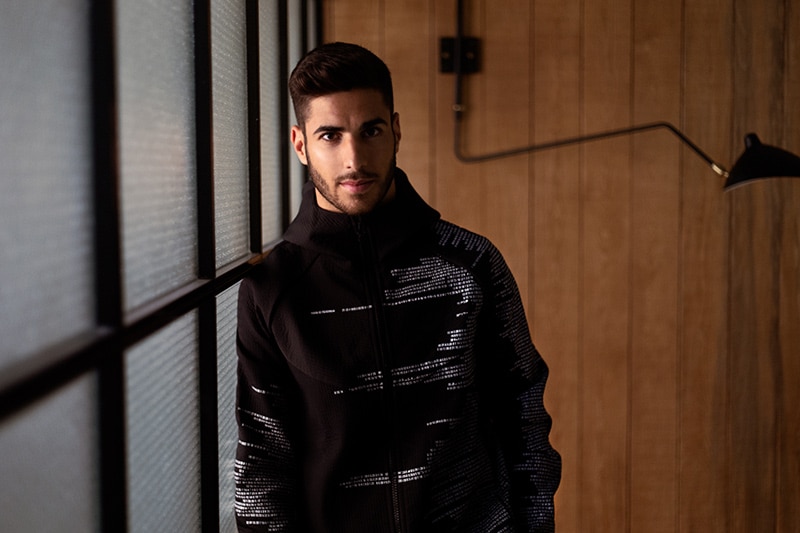 Marco Asensio
How do you feel about this customization of Nike and Maria Ke Fisherman inspired by you?
I am so happy with the idea. There is a story behind the clothes that really represents me. The core-concept of the customization is my own effort story on and off the pitch. I feel like a modern ninja protecting my football field and this has been the key factor for the inspiration of the design.

What is your favourite piece of this customization?
I love the trousers and the jacket. All the numbers that they have, stand for the figure of the Samurai that identifies my inner power.

What are the details that represent you of this customization?
All the clothes are so personal. Maria Ke Fisherman has created a bespoke pieces from the Nike Tech Pack collection – new innovative materials that are hybrids of knits and woven- that really capture my personality and makes me feel myself. The reference of the samurai truly shows who i am.

What is what you most like about the Tech Pack?
What I like the most about the new Tech Pack is the new materials and fit. It makes it look more sleek and sophisticated. It works very well in the way I want to feel every day.


How would you define your dressing personal style?
My style represents my way of life. I used to mix together what I like the most: sport/casual items with more formal ones. Of course, I know what to wear for each moment: I adopt a more sophisticated look for the great occasion.

It is important for you that sports clothing evolves to more stylish?
Sport is part of all of the aspects of my life. I need comfortable clothes for the everyday movement, so it's extremely important to me to feel sophisticated and identified with what I am wearing.

What will be the perfect day to wear a total look of this customization?
All the clothes fit in my daily life. I can imagine myself wearing each of these garments any day of training break, enjoying my free time and feeling comfortable and proud of what I wear. No matter the moment, I am sure that I will use a lot every piece.

Can you explain us what you know about the numbers?
The numbers represent the letters of the samurai: the legend, the road, the strength and how to become a great warrior. I live the life as a fighter. I face my goals with passion and trying to do my best. I feel like a samurai on and off the playing field.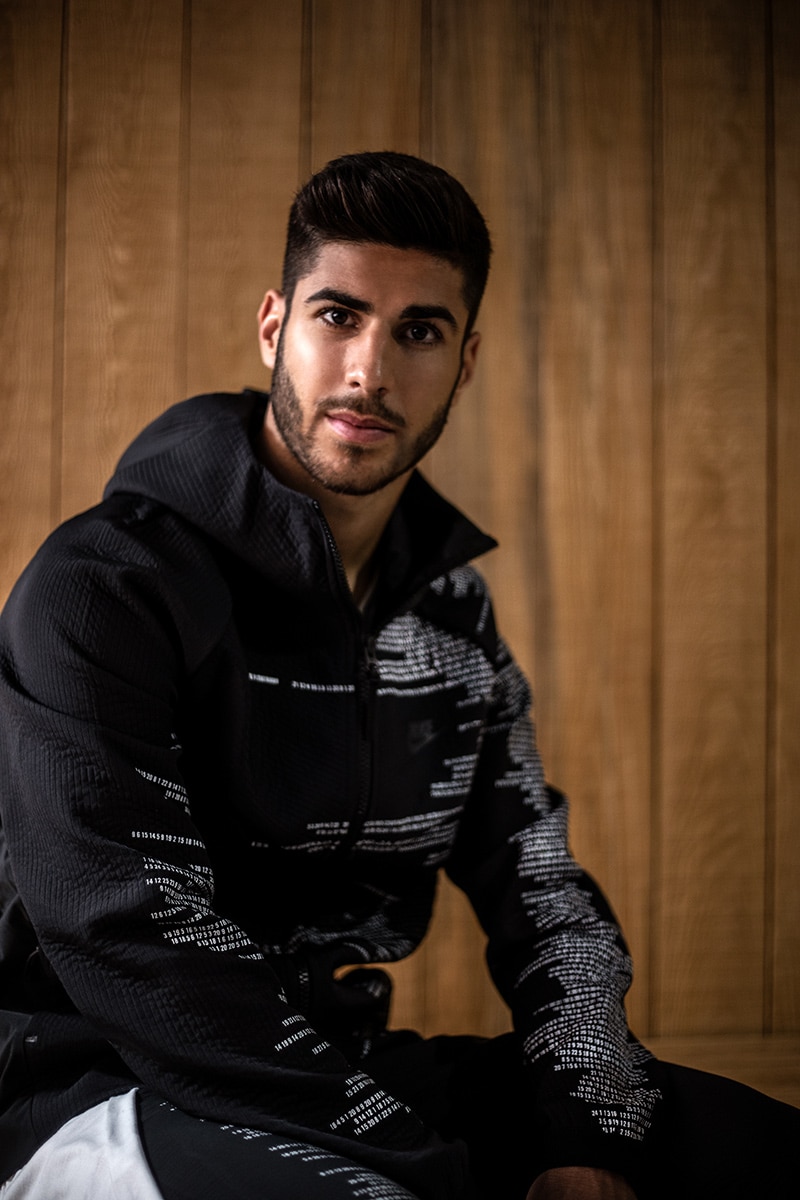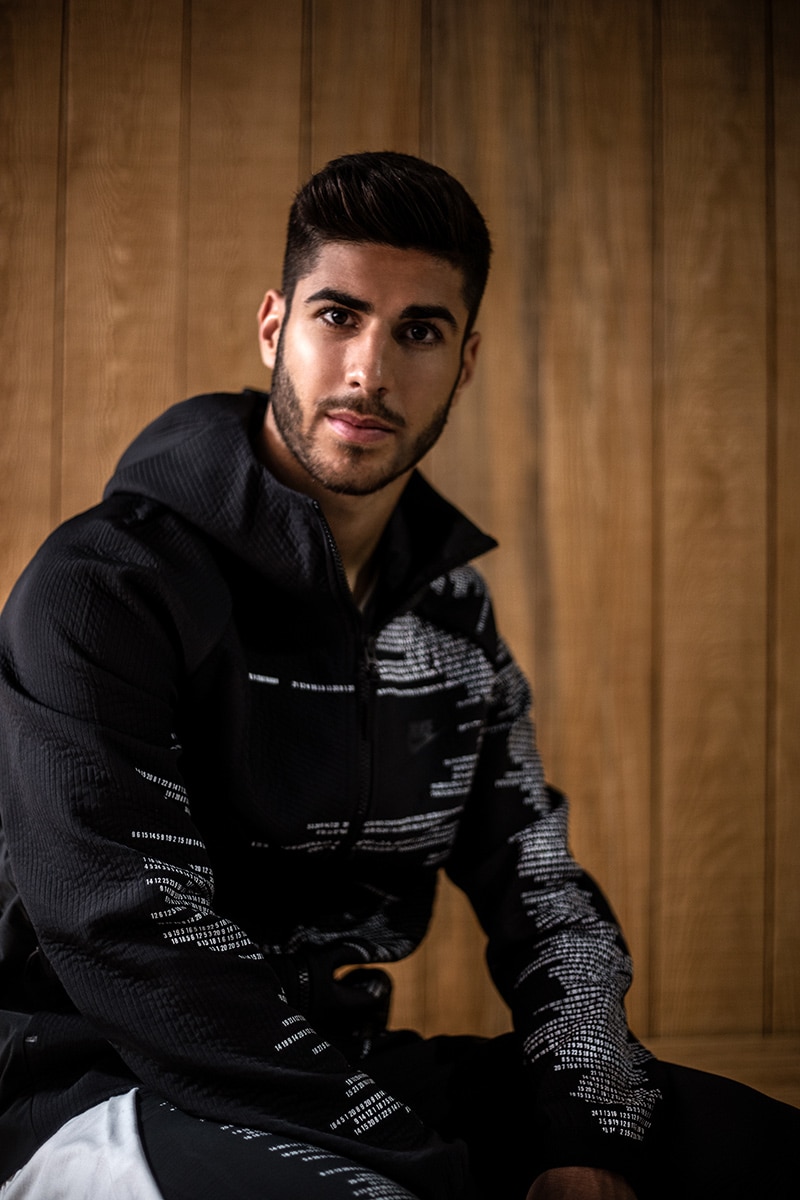 Marco Asensio wears Nike Tech Pack by Maria K Fisherman
Credits:
Photography by Carlos de Lucas
Video by Saúl Quintanilla