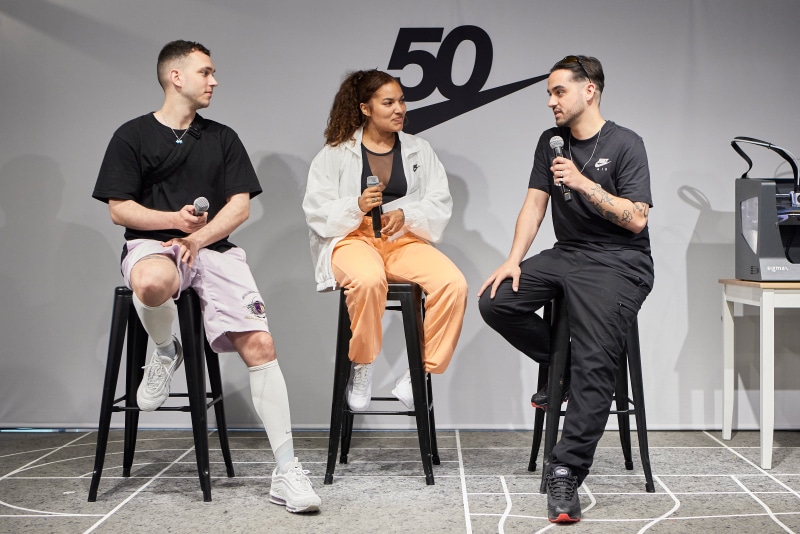 Nike is anything but a boring brand. Over the years, whenever I have been invited to a brand event where they presented a new sneaker model, a capsule collection, a sporting event, or, in this case, a workshop, all I can say is that I had lots of fun.
This year is a special year as Nike celebrates its 50th anniversary. In a series of events that will surely take over several European cities, in the case of Barcelona we have been invited to participate in a workshop led by Andrei Warren and ByLeguard. This is something Nike is always great at. When it comes to organizing these type of things, they always invite young talents who are rocking it.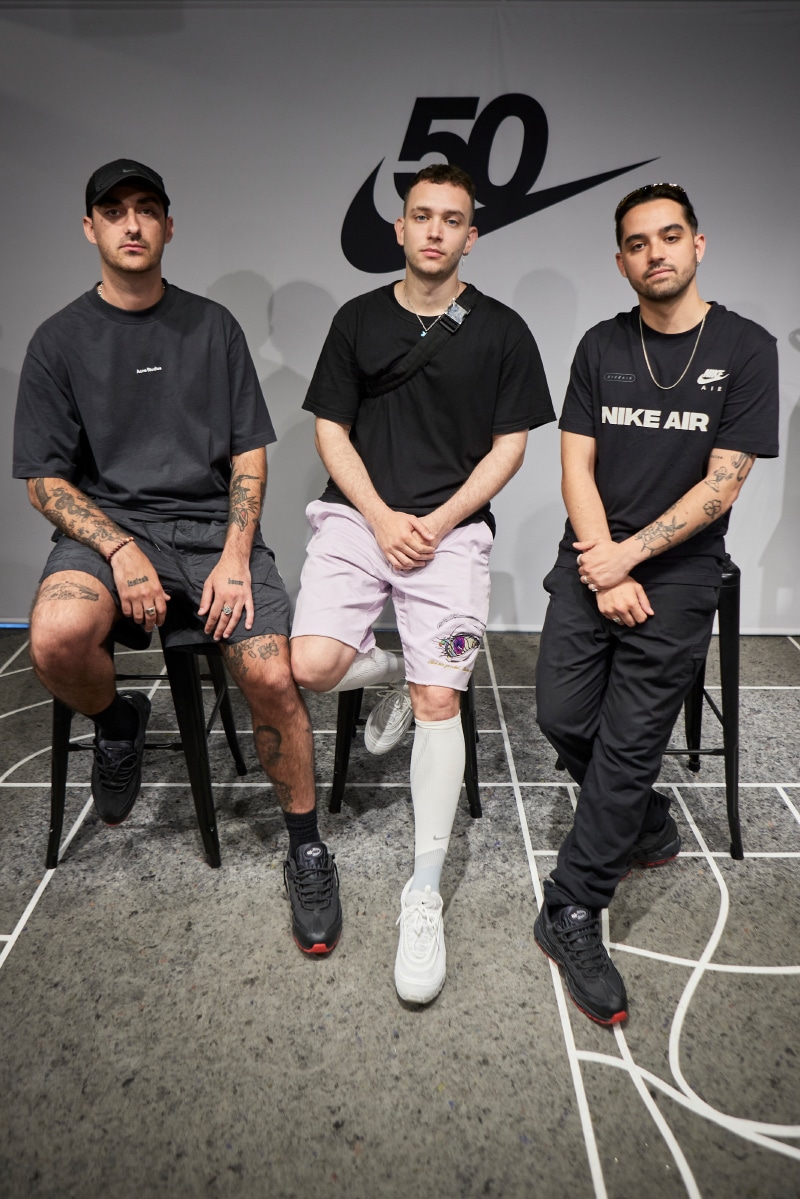 We have spent an afternoon at the Nike store in Paseo de Gracia (Barcelona) customizing a cap, a backpack and even a 3D printed Airmax shoe. For that, we have had patches made by Andrei Warren and ByLeguard, a lot of paint, beers and sandwiches, and most importantly, surrounded by friends. It wasn't about creating the best piece of art, but just making sure we had fun doing it. In addition to this, Andrei and ByLeguard also created their own models of the Air Max 95 & Air Max 97, available to buy at the Nike Online store.
Before the event we had a chance to speak with the two artists and here's what they told us:
How did this collaboration come about?
ByLeguard: Nike took notice of us because of what we stand for and the close connections we have. They contacted us and we thought it was a super interesting idea for Nike's 50th anniversary. It is a brand that we have always worn and has always been present in our lives, especially here in Barcelona.
Andrei Warren: We have always had a close relationship with Nike, for 8 years now. After the pandemic, they wanted to innovate, bring out new things and here we are.
What is it that separates you and unites you, and how have you found a point of union for this workshop?
ByLeguard: It clearly separates us that Nike is a multinational, it makes very large productions and we, on the contrary, are a very small brand with which we want to make productions on a smaller scale. The point of union has been that Nike supports small brands that are growing. They have given us the opportunity for this workshop to make a design on the Air Max 95, they are the sneakers that we have always used.
Andrei Warren: What separates us is that, after all, Nike is a very large structure, all things have to go through more filters, but somehow, being more abstract and more liberal in the sense of giving in depending on what things, I think that between we have both found a point in common.
Both of you have quite contemporary works and even focused on the future. Nike celebrates its 50th anniversary. If you could travel back in time, what would Byleguard and Andrei Warren be like and what would they do in 1972?
ByLeguard: Clearly we would create the air chambers and patent them, they would be from Byleguard.
Andrei Warren: I think he would be somewhere in New York with the whole thing starting with Keith Haring.
Are you inspired by the past when creating?
ByLeguard: Yes, the past is our inspiration since the creation processes were much more traditional and not so focused on the masses. This is precisely our vision, we want to make each creation object more personal and exclusive. In this way, we make fashion more cyclical or circular, that does not expire.
Andrei Warren: Yes, always, especially when we try to learn from mistakes. The past is often a reminder of what not to do, just like in history. If you study, you inquire about old references and artists, like Goya, for example, you find shortcuts to get to what you want.
Can you tell us more about the collaboration with the Air Max 95 and Air Max 97 sneakers?
ByLeguard: The 95 is our quintessential sneaker model within the Air Max family. We have always used this model because we think it's like the 4×4, plus, we always opt for full black when we dress and leather seems like a very nice material.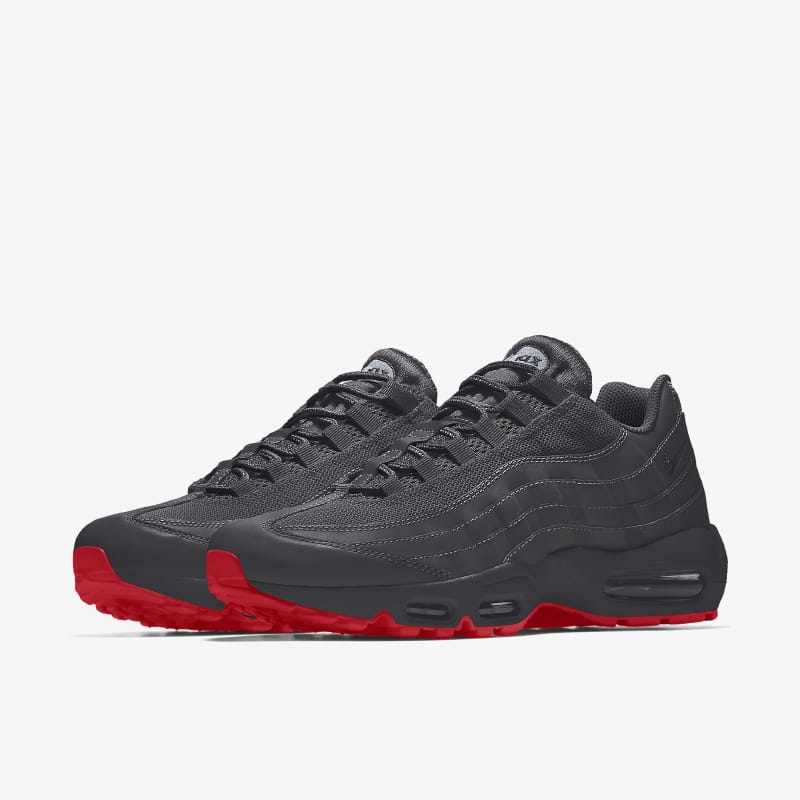 Andrei Warren: The collaboration with the 97 is simplistic at the color level, it is all white suede and the camera is a lunar-like lilac color. I wanted it to be like a white canvas so that when you see it, it just leaves a small lilac trace like this futuristic beam.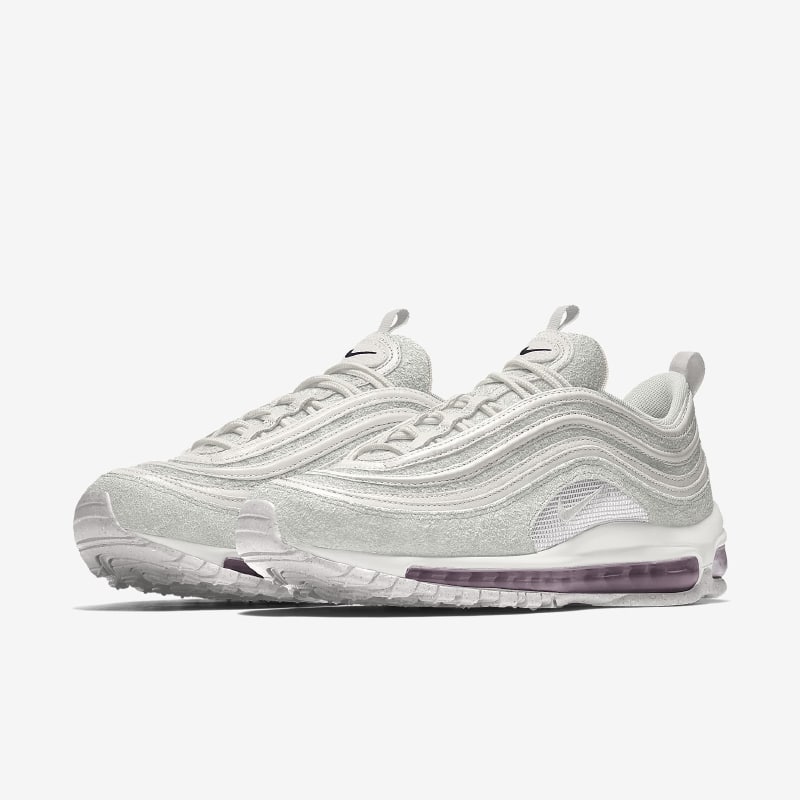 What have you been inspired to create the patches that you have used to customize the backpacks, caps and 3D shoes in this workshop?
ByLeguard: Basically by the time of Ronaldinho. We have been inspired by the best era of Nike, especially in the city of Barcelona, ​​in Ronaldinho, in Thierry Henry, the "joga bonito" and the "total 90". I wish those times would come back.
Andrei Warren: We have been inspired by different versions of the future. We always talk about the future, but there are thirty thousand versions and everyone can imagine the one they want. We have tried to cover 3 versions that would be the typical robotic futuristic, another avatar type and another more whimsical such as fairies and elves.