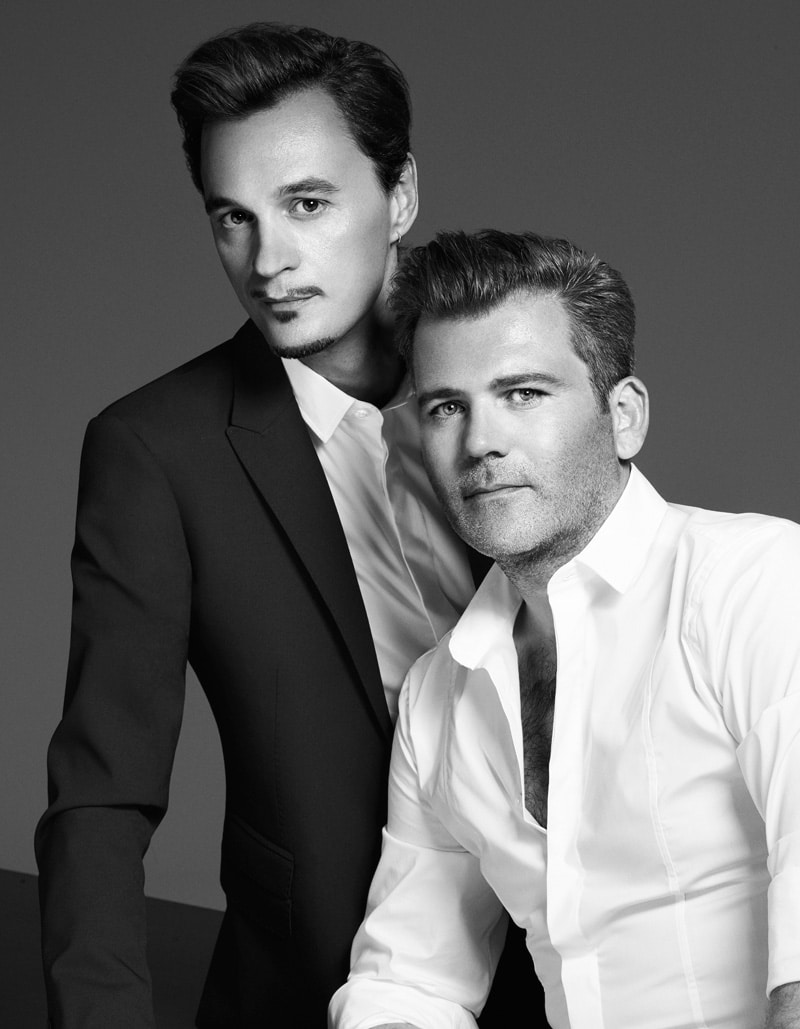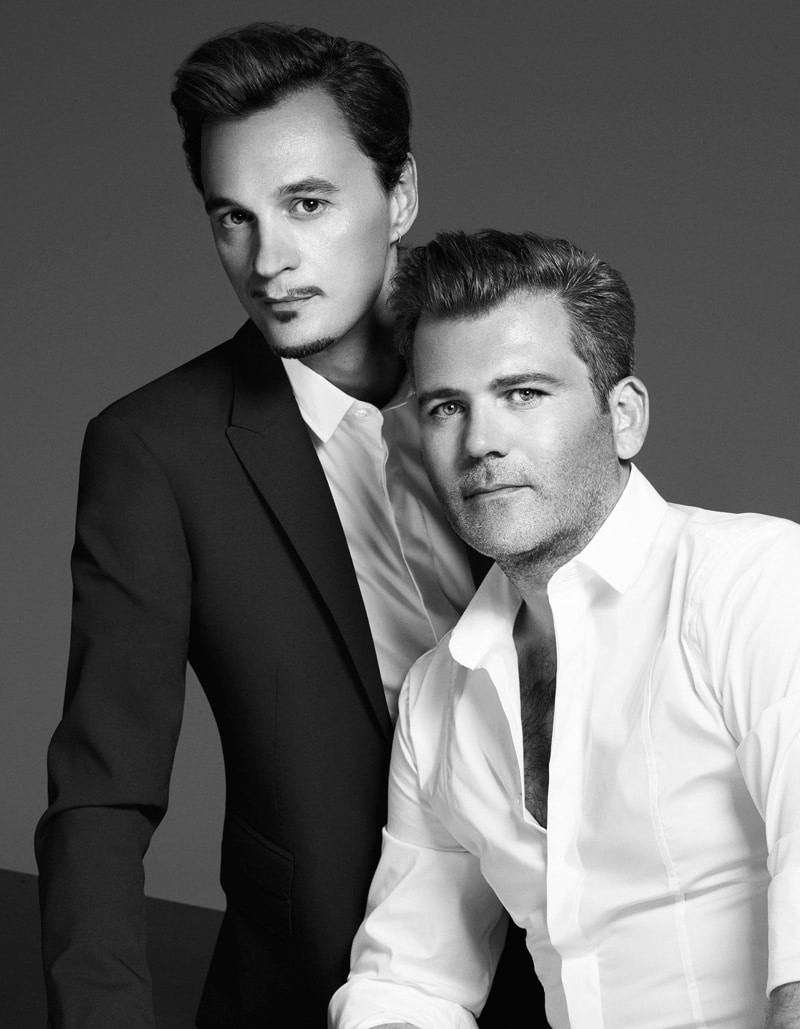 "Black is always black!", Tom Notte exclaimed when we asked him why he and his partner Bart Vandebosch mostly uses this color for Les Hommes. And it is true, black is black, after all.
We met the designers in their showroom in via Savona in Milan before the SS17 fashion show: the excitement was palpable. We talked about their life, the varying identity of the fashion system, their brand, the latest collections. The one presented on the runway only a few days after our chat is a strong collection, a cheeky homage to the South American Conquistadores. It is a collection that gradually, look by look, leads the label and the audience into a new dimension, obviously true to the previous ones but constructively different… It is the place in the future that the Antwerp "boys" have conquered.
Fucking Young! – When was the idea to create Les Hommes born?
Tom Notte – Very early. In the second year of the academy, when we were studying at the Royal Academy in Antwerp. We met there in the first year and we became a couple in the second year, in the third year we went to live together in a shared studio in central Antwerp and after working six months together we were like…ok this is working, we started dreaming about the collection, doing something together…very early stage and I think in the fourth year, no at the end of the third year of the Academy we already had the name Les Hommes, it was already clear for us, we tested it with some friends…we asked them "what do you think of the name?" etc. I was so eager to start. I even considered not to do my fourth year but I said ok let's be smart, let's get some experience and so I graduated and six months after we started, I had only worked one year and a half for a local company in Belgium to get some experience of what is production, just to understand what is behind a fashion company. This is something that in the Academy they don't teach you. That's how it is born, very very early actually – and we're still doing it!
FY! – What is Les Hommes today?
TN – Les Hommes today stands for contemporary elegance, it is really the unification of the opposites, of opposite worlds and we are also opposite because Bart's character is softer and more romantic, he has a total different approach to fashion than me, because I'm more squared, architectural, more contemporary, more urban while Bart is more elegant, more undertailoring. We bring all this together and this is Les Hommes, that's why we call it contemporary elegance.
FY! – You always use a lot of black in your collections, why?
TN – Because we like black, it is always nicer when it is full black, it is something romantic, something dark, but it is also super refined, super masculine, super elegant and it is also young, I mean black is a lot of things.
FY! – And the geometric lines and graphic tweeds, why?
TN – This is something that we have always done actually, if you look at the collections that we used to make when we were studying at the Academy they have always been very graphic, last year's collection was pure black and white stripes, all stripes. We have always been attracted to all this kind of graphics in architecture, in art and all this kind of things and it is something that inspires us and has become part of Les Hommes' world, Les Hommes' dna. Also the art that we like, from the optical art, very graphic and artists like Peter Halley really inspire us.
FY! – Do you have an ideal customer or an ideal star?
TN – This is difficult to say, I think our guy would be somebody who is a traveller, he absorbs cultures, he is open-minded because we also have a lot of ethnic graphics in our clothing, we like to explore and to be exposed to graphics. Last season the theme was a group of friends jumping on a motorcycles, going to Africa, going from village to village and really absorbing the culture and we translated that in how would that look. So our costumer is a real, masculine guy. He is very open minded, a traveller, he is a sophisticated man but he is still a guy. I think this is how we can describe the profile of who we have in mind when we create.
FY! – The fashion system is in a particular moment, a lot of fashion shows are unified in the next season. What do you think about that? Yours is just for men, right?
TN – Yes just men, we have a women project for the future. I always liked that idea, we had some discussions about that, because Prada was already doing it three or four years ago, putting a lot of women's silhouettes in men's shows. This is good for everything from the business point of view because you unify the costs, you unify production … it is good for many things. I don't dislike it. If I would do womenwear I would do that.
I think if you are a big retailer you can really do it, but if you are like us (we have two stores and we are opening a third one), being a wholesaler, that system is very complicated and the risk is very high, I would be a bit scared because it is different if you control your own stores because you control the whole chain. I've been giving it a lot of thoughts because I've been following with a big interest what is happening. It's good for the fashion system, why not? Why should we follow the rules? We are independent creative minds, we can choose what we want.
Bart Vandebosch – Something like that, for me, could only work with limited production, if you produce 100 or 200 garments and when it's finished, it's finished.
TN (reprise) – But that's a risk because if people like your collection you can't cut your growth, or if something happens and you don't sell enough, you have a huge stock and you have to open to outlet stores, I mean it's a lot of risks on both sides.
BV – Last week I also read on social media that Dolce and Gabbana are not going to do that even though they would be able to do that in a perfect way because they have more or less 200 stores.
TN – Dolce & Gabbana says that they have enough, their pre-collection is 80% of their buy and Zara doesn't see that, because we don't show that. The shows are haute couture shows, even the men's, so who wants to copy that? I totally agree, unifying is good for costs and especially for start-ups and it is a good logical decision but also totally agree with you about the risk.
FY! – As we already explained, today is a strange moment. What do you have to be a brand of success?
TN – I think you need to be consistent, you need to be innovative enough, you need to be balanced. Balanced and innovative in your consistency. I think that's what you need to do as a designer to be successful, especially in menswear because in menswear customers like changes but not too much. You need to create a brand loyalty and it takes time. With women you can go a lot faster but the customer is less loyal, they go from Zara to Dior, from Dior to Dolce and if they don't like it they don't buy, it's more complicated, but can be faster. A man is slower to pick his brand and once he is there he likes to continue, so a designer can't do completely different things. You need to be consistent.
FY! – You created a second line, Urban. Why?
TN – A contemporary line. It was a retail necessity, we have a very successful store in Antwerp, our hometown, where we lived for 17 years, we went to school there so people know where we started so the brand awareness is very high. The store has been there for 5 years. Obviously Les Hommes is a first line and the price is the price but we had so many requests from young people that wanted to wear Les Hommes like t-shirts with prints, urban style, and could not afford the main collection. I don't like to call URBAN a second line because it's a really a different brand for us, it's not we do not take something and make it cheaper, we create every piece different with a target from 18 to 25. It's young, it's cool, it's affordable and it's very successful.
FY! – And what is the difference between Urban and Les Hommes?
TN – Urban as I said is very focused on t-shirts, sweatshirts, sweatpants, it's linked to music, to clubbing, to Ibiza…It's for a cool guy who wants to hangs out with his friends and to party. It's a line with a cool street city touch, that's what it is. The first line as I told you before is more for a traveller guy, an educated guy, even though the main line has become in the last two seasons more contemporary, less formal, because that's what the fashion demands, it goes in that direction.
FY! – Today fashion is more business or more creativity and art?
LH – It's both, creativity cannot exist without business because it is an investment every season, you need to sell, you need to deliver so it's business. It's a commercial form of art, that's the way it is.
FY! – I like the concept, a commercial form of art! Now we can speak about the winter collection, tell me about it.
TN – The initial concept was a group of friends jumping on motorbikes, going to Africa, and going from the desert to the jungle and driving through all the villages and tribes absorbing all the elements of the ethnic culture. We transformed that into very elaborated motorcycle details in jumpsuits, vests, blazers and we unified two opposite worlds, bikers with tailoring, putting them together and for all the printing and styling we looked at the tribal element, at all the totems, so we created all the totem t-shirts with leather applications so it is very graphic but the guy became a bit tougher and that gave a very good drive to the show.
FY! – What is the most representative item of the collection?
LH – I think it's the bomber, very nice piece!
FY! – Could you talk about the new SS17 collection too?
TN – We listened to the story of the Conquistadores going to South America and having the Maya experience and we were questioning about how today a modern Conquistador would look like. How would he be? And then we created protection clothing, modern battle clothing also looking at the melting of the Maya with the clash of the cultures.
FY! – Is this the link with the Winter Collection?
TN – Yes, that's the idea. It's a very inspired collection, it will be nice.
FY! – How your two personalities match with each other?
Tom Notte & Bart Vandebosch – They just do, there are differences but it just works. I think this is the strength of Les Hommes probably because we are also a couple, we have been together for 17 years so something must be working! But I think the opposite approach that we have is the strong point of the brand because we really bring two different approaches that crash and create the collections. If I do that on my own, it would look different and vice versa, so together we can find that kind of energy that makes it work.
FY! – Why did you chose the name Les Hommes?
TN & BV – It is something that happened by coincidence because the former director, Head of the department of the Fashion Academy in Antwerp, Linda Loppa, was our teacher and when we met on the streets of Antwerp she used to say "Ah, the boys!", so she always called us "the boys" and that's where we started thinking about the name. We wanted something short, easy to pronounce, but also that reflects us, so Les Hommes, the two guys, which is also an easy name.
FY! – What is for you FUCKING YOUNG!?
TN & BV – It is young, contemporary, cool. That's why we like it, it's a cool attitude, it's not too institutional, it's not pretentious as a magazine. It grasps the times. And we love the name! It is very strong.