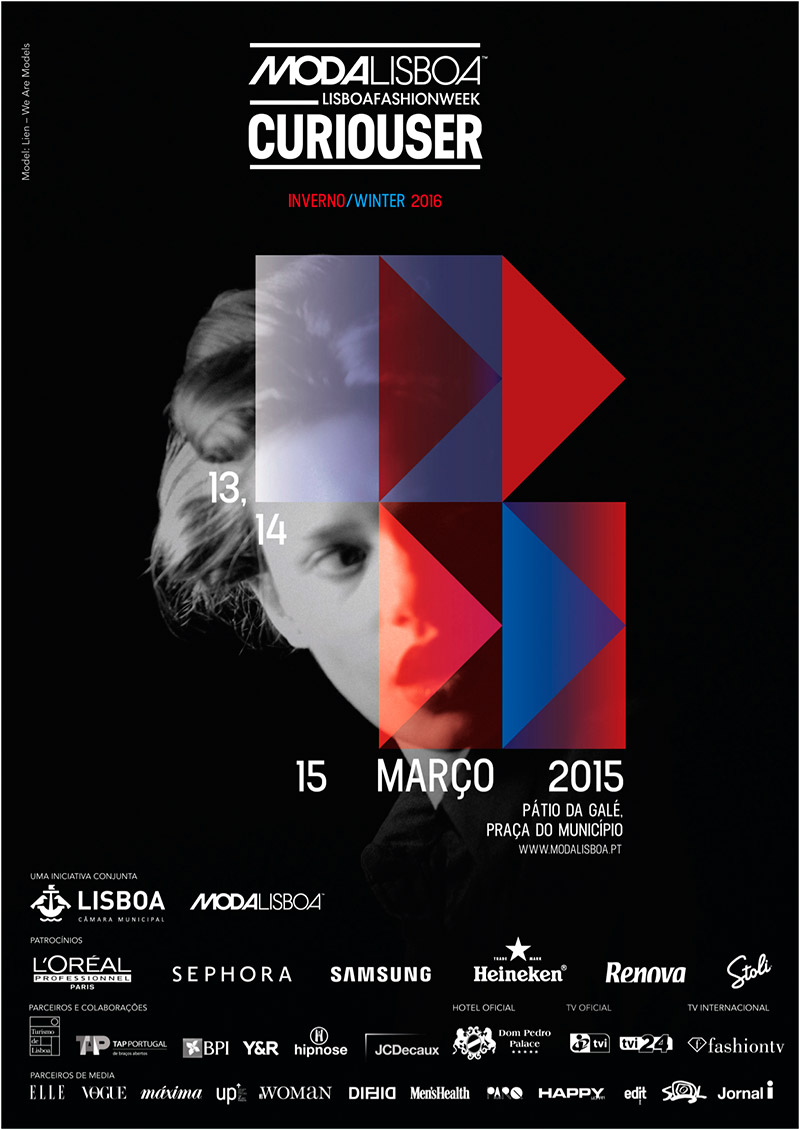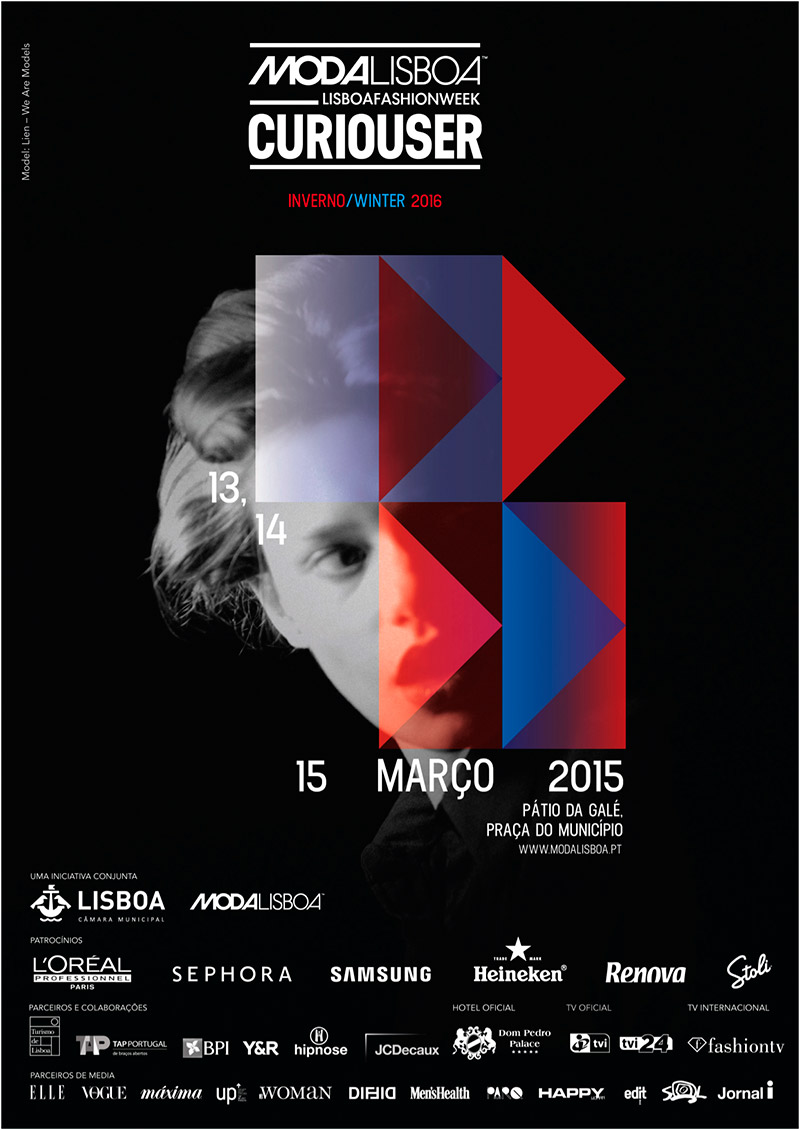 On the March 13th, 14th and 15th will be presented the Fall/Winter 2015-16 collections of the most important portuguese fashion designers. For three days, Lisbon will be focused on the fashion industry and will be showing Portugal and the rest of the World its main designers, by presenting 21 runways in three different venues: Pátio da Galé, Casa da Balança(Marinha Portuguesa) and Salão Nobre(Paços do Concelho).
ModaLisboa Curiouser opens Friday the 13th of March, by 18H00, with collections by the 12 young designers that were selected for the Sangue Novo: Banda platform (Tiago Loureiro and Aloísio Rodrigues), Cristina Real, David Catalán, Duarte, Inês Duvale, M HKA (Felícia Macedo and Alexandre Pereira), Patrick de Pádua, Patrícia da Costa, Rúben Damásio and Tânia Fonseca.
Still on the first day of Curiouser, ModaLisboa will present 3 runways on the LAB platform: Ricardo Andrez, Olga Noronha and Catarina Oliveira. To close off the first day of ModaLisboa, the collection of Dino Alves, in an absolutely original act, with the collaboration of every guest.
On Saturday the 14th, by 14H30, Valentim Quaresma opens Casa da Balança's catwalk. Next onto Pátio da Galé, with runways by the Polish guest designer Dawid Tomaszewski, Luís Carvalho (LAB Platform), Ricardo Preto, Alexandra Moura, Miguel Vieira, Aleksandar Protic and Carlos Gil.
On Sunday the 15th, the shows return to Casa da Balança, with more news on the platform of upcoming brands, LAB: Awaytomars and Nair Xavier. On the biggest catwalk of national fashion, in Pátio da Galé, the designers Filipe Faísca, Kolovrat, Saymyname, Nuno Gama and Pedro Pedro will present their collections. We highlight the premier, in ModaLisboa, of Angolan designer Nadir Tati.
FRIDAY | MARCH 13TH
18H00 – SANGUE NOVO *
19H30 – RICARDO ANDREZ | LAB *
20H30 – OLGA NORONHA + CATARINA OLIVEIRA | LAB **
22H00 –  DINO ALVES *
SATURDAY | MARCH 14TH
14H30 – VALENTIM QUARESMA ***
15H30 – DAWID TOMASZEWSKI *
16H30 – LUÍS CARVALHO | LAB *
17H30 – RICARDO PRETO *
18H30 – ALEXANDRA MOURA *
20H00 – MIGUEL VIEIRA *
21H30 – WHAT'S NEXT, ALEKSANDAR PROTIC?*
22H30 – CARLOS GIL *
SUNDAY | MARCH 15TH
15H00 – AWAYTOMARS + NAIR XAVIER | LAB ***
16H00 – FILIPE FAÍSCA *
17H00 – NADIR TATI *
18H00 – KOLOVRAT *
19H00 – SAYMYNAME *
20H30 – NUNO GAMA *
21H30 – PEDRO PEDRO *
* Location 1 – Pátio da Galé, Praça do Município
** Location 2 – Paços do Concelho, Praça do Município
*** Location 3 – Casa da Balança, Marinha Portuguesa