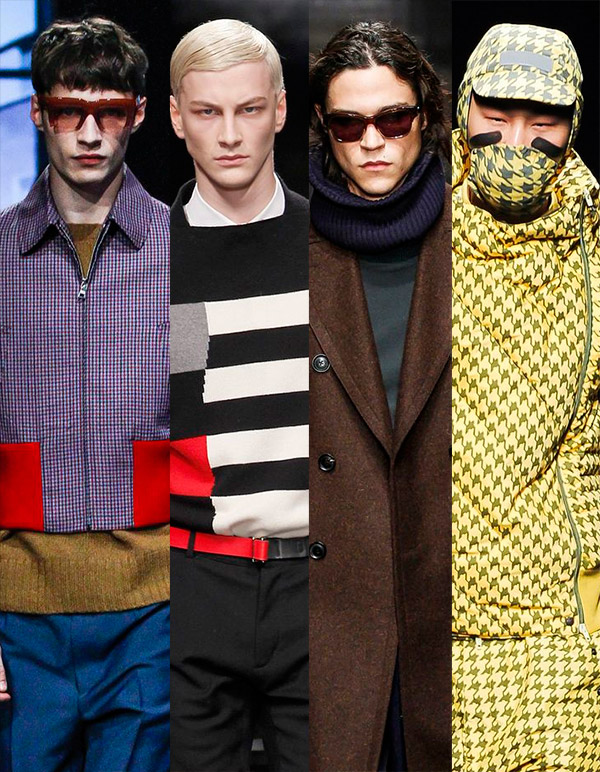 MMFW: the second day… Author interior… Classical music and soft lighting… Welcome to Miuccia Prada's loft! The guests wear classic-flavor cloths… Clean lines and geometric cuts for jackets and trousers… Jack for cashmere coats and rouge for cotton shirts… At the foot the inevitable brushed calfskin laced shoes, naturally with extra-strong rubber sole!
As for the paintings, instead, Iceberg has thought about them by plastering the walls with its futuristic Alexander Calder's… Red, electric blue, black, yellow… Optical effects and oversized volumes for coats and sweaters… Skinny lines for pants… Natural fabrics – silk, wool, cashmere – expertly combined with neoprene and technical materials… What can I say? An artist's touch!
There on the couch, next to the master, the Trussardi's greyhound… The man who caresses him certainly is a lover of luxury… In his closet, cordury outfits with magnificient tailored coats… He combines unusual materials – velcro and leather – and loves the warm colors of autumn: greens, browns, burgundies, mustards… Umit Benan captures and enhances the essence of the brand…
Poetic!
At the evening event people wear either Martini slippers or Bow Tie loafers by Alberto Moretti… In black or dark blue and with jewel-embroidery the ones. With bow tie in silk or velvet the others…
Let's party!
And which party would be without the unexpected guest? This time it's just her, Vivienne Westwood and her Climate Revolution… Her men come from all over the world… From Eastern lands to African deserts… From the European cities to the Siberian steppes… Provocatively exaggerated, they are the mouthpiece of a post-apocalyptic message… God save the Queen!