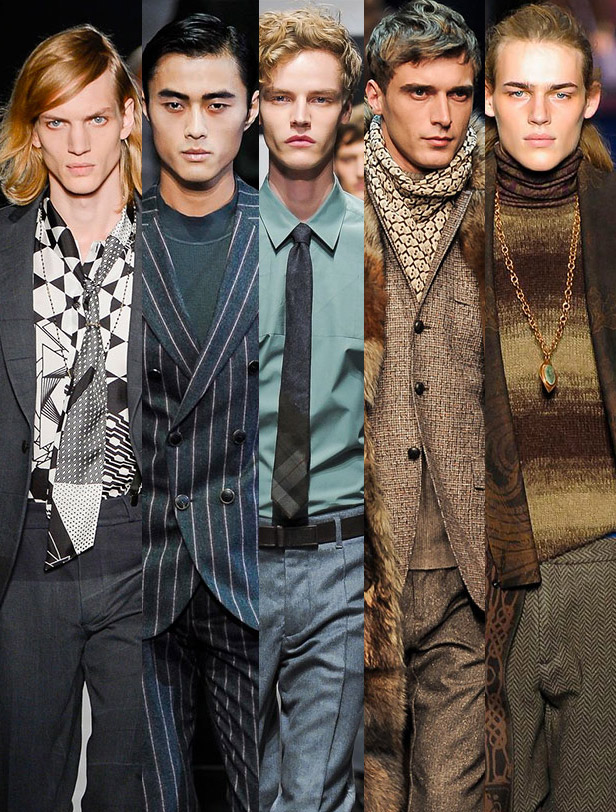 MMFW: third and fourth day. For next F/W the man stands at attention and proudly flaunts his military-style…
Philipp Plein's Army's marine is evocatively 40s but with a post-modern guerrilla air. He fights but only for LOVE of the style! He wears parka-duffel coats, bomber jackets, P-coat… The mood is metropolitan, irreverent, vaguely punk… he's attentive to details… even the most glamorous ones…
At the foot the inevitable Rollerboy by Louboutin!
It's a high-ranking military man instead the one thought by Frida Giannini for Gucci… An English lord who rediscovers the pleasures of comfort after the long months spent in battle… As she herself explains, "expresses his free and independent spirit with bold and secure nonchalance. He returns to traditional tailoring and lives it in a new way, combining formal and informal of his choice. E 'a contemporary gentleman with a romantic soul".
The use of camouflage is wise, measured… Day-time he prefers colors, pastel ones… In the evening, he does not give up the smoking but in either micro-pinstripe tweed or silk jacquard… Unique! On the other hand, it's an unusual executioner of the night that one introduced by Andreas Melbostad for Diesel Black Gold. It's a militant flower child… It's a rock band's soloist… He prefers dark colors and graphic prints. Retro' volumes and sharp cuts for outerwear… Genuine black gold!
The war of Dsquared2 is that one consumed to the sound of saxophone and dance moves at La Nouvelle Noir… The '40s come back… Abundant pants that stop above the ankles. Double-breasted jackets with tailored cuts. Poplin shirts worn out of pants… In the evening cloths and tuxedo are reminiscent of the charming gangster era. Relaxed wearability and soft lines… The real luxury? The comfort! Feel the music and keep the beat: it's time for the new swing… The Dean and Dan's one.
And if the trend is military, the watchword's just one: furs! The most used? No doubt, Astrakhan and beaver…
Luxurious but extremely i-tech for Fendi. Silvia Venturini's young scientist is a pioneer of new technologies with a passion for fashion… Even in an imaginary Siberian Silicon Valley he does not give up style… Foe him, the fur is undoubtedly for a total look… It's the oversize coat lined with herringbone and waterproofed wool. It's the hand-warmer bag. They are the hyper-trendy boots.
Avantgardist for Dirk Bikkembergs. The future is in his sports-addicted's hands… Experimentation and tradition together. Volumes that draw shapes far apart. Strong colors. He's a gritty and impeccable man who nonchalantly wears the leather coat that combines large zip, heat and technical membranes with beaver: must-have of the season!
Of romance for Class by Roberto Cavalli. The man who wears them is the Dr. Jekyll and Mr. Hyde's of the new millennium. He combines two different natures… Day-time he is'chic and chooses fine beavers, embellished with fur collars, for coats, warm tricot quilted jackets, dyed thread extra-fine wool cloths… At night he's rock and prefers waisted jackets made ​of fancy fabric, slim pants, bow ties and shirts with pearly jacquard… Mysterious and fascinating!
Four days have passed… The curtain on the MMFW is dropped… I would almost cry out: "Release the troops!"… See you in June!