From Ermenegildo Zegna Couture's Ars Technica and Donatella's Code of Sexiness to Prada's quest of subversion, Francesco Risso's vintage sport-luxe for Marni and more.
In Milan, designers didn't cast a wide net whilst searching for some new trend to fob us off with for the SS19 – unless you consider street wear, sportswear and athletic wear an absolute novelty! But, even though we are fed up to the teeth with all that, many collections achieved greatness.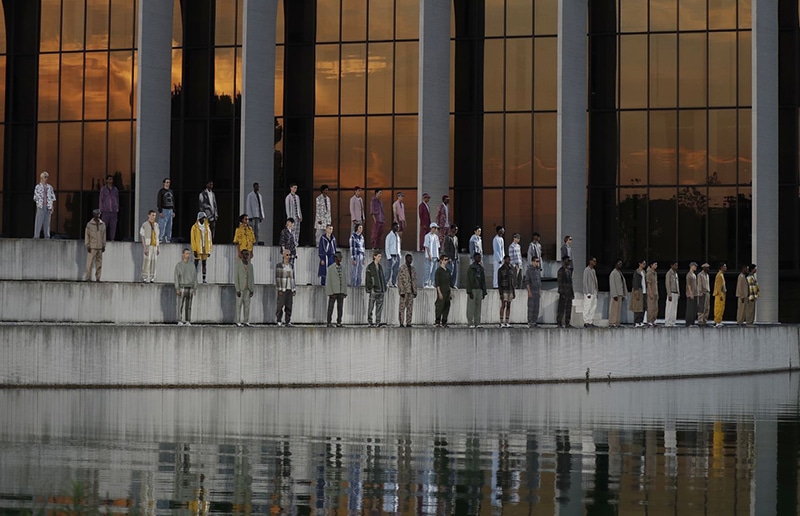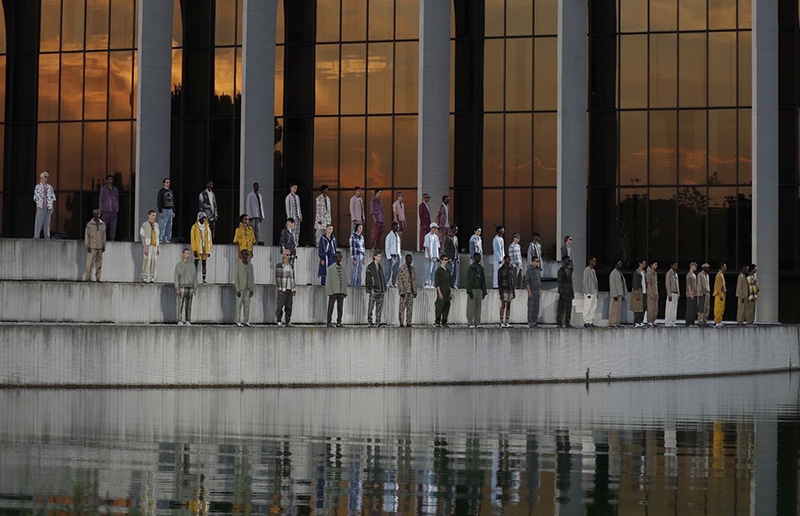 Skilfully nonchalant, cleverly naive. Alessandro Sartori's new order of beauty for Ermenegildo Zegna Couture showed all the sensibilities of a committed designer who's keeping things going to cover all the bases for the #DWP (Dress-With-Purpose) contemporary men. Sartori delivered a high-performance collection where the #ArsTechnica of the Italian company was lavishly stressed. By balancing today's street wear craze and honouring the flawless craftsmanship that has been crediting Zegna with the leadership of the luxury men's wear market, the designer seems to be experiencing combined aesthetic memories of youth's innocent taste dissolving into adulthood's improved style consciousness. #Adultlescence and #StreetCouture, to help you get my drift!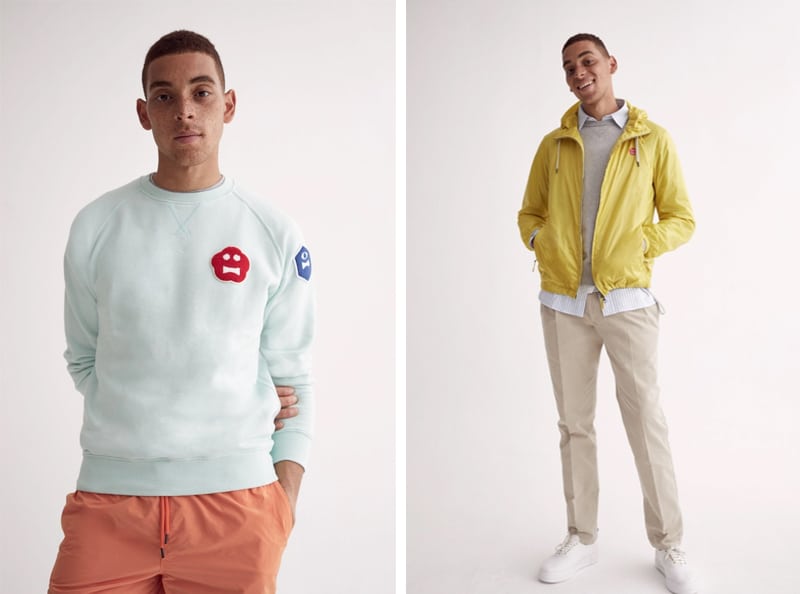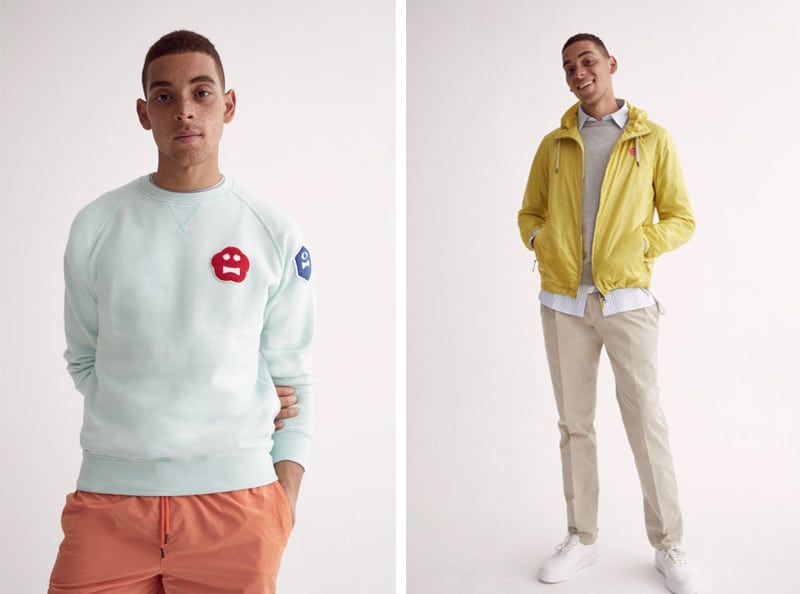 Aspesi found a bold way to reread its identity and to capture the spirit of its long-standing #Expertise in creating clothes of adaptable design and exceptional construction techniques. With the SS19, the brand breaks new ground by reshaping its #SmoothElegance to gear the offering to a wider audience. Practical and outdoor, the collection draws upon different fabric types– weightless, mostly– oversize volumes and relaxed fit. The landmark four-pocket M-65 jackets in Japanese cotton, a variety of shirts, casual slim trousers and track pants with drawstring waist are the staples of the offer.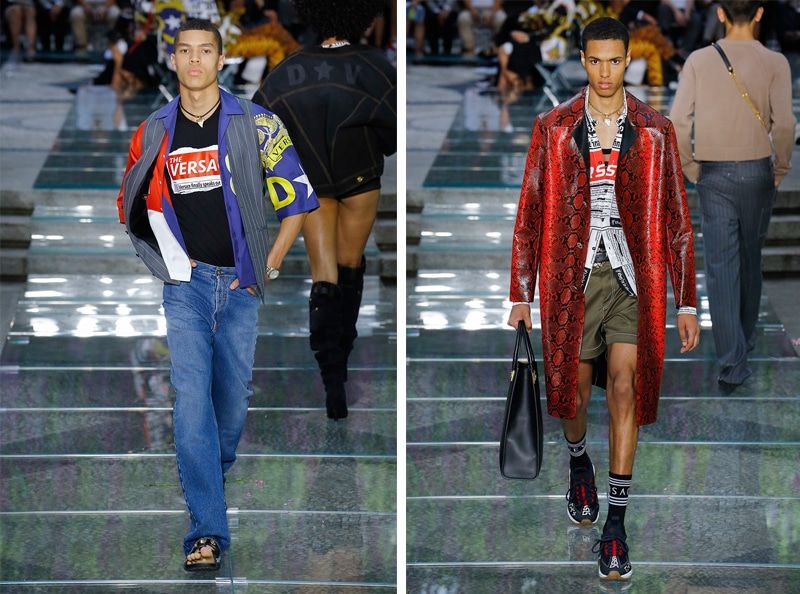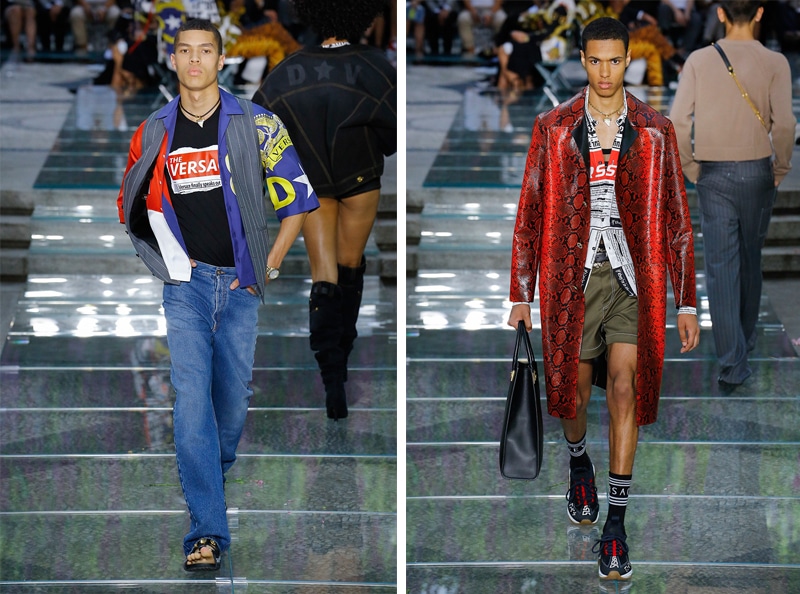 At Versace – note for the English speakers: it's /vɛrˈsɑːtʃɛ/ not /vɛrˈsɑːtʃiː/ with a closing cheeee sound! An all-over catchphrase has been created to say no to that brutal mispronunciation –, Donatella speaks to the men who take a stand and are #Confident in who they are and what they wear. But, if the idea of male #Sexiness is often brought up for discussion these days and confronts itself with some conservative definitions of masculinity, the designer provided some good options to give voice to her own emotions on the theme. From the day-glow suits, printed shirts, baggy jeans and outerwear pieces reminiscent of the glorious 90s of the Fresh Prince of Bel Air to oversized jackets, ruched shirts and faux snakeskin looks, Donatella made one hell of a statement with this collection.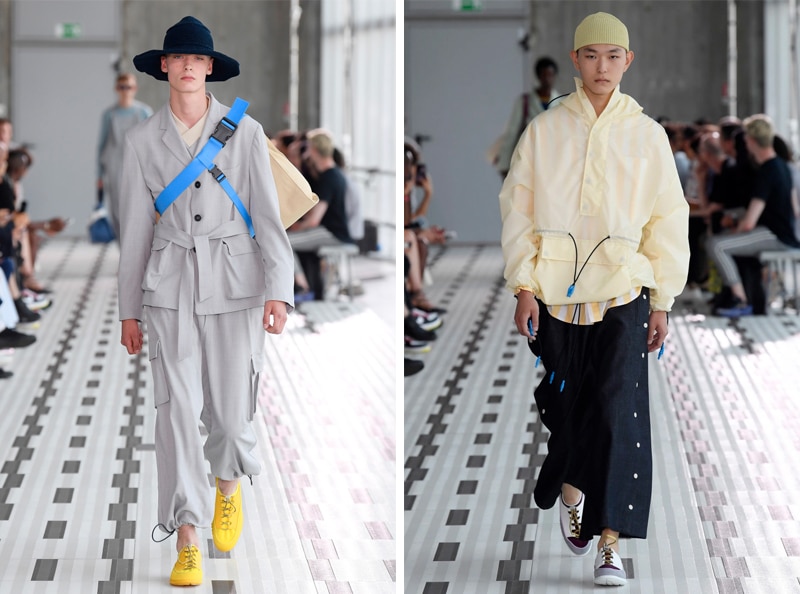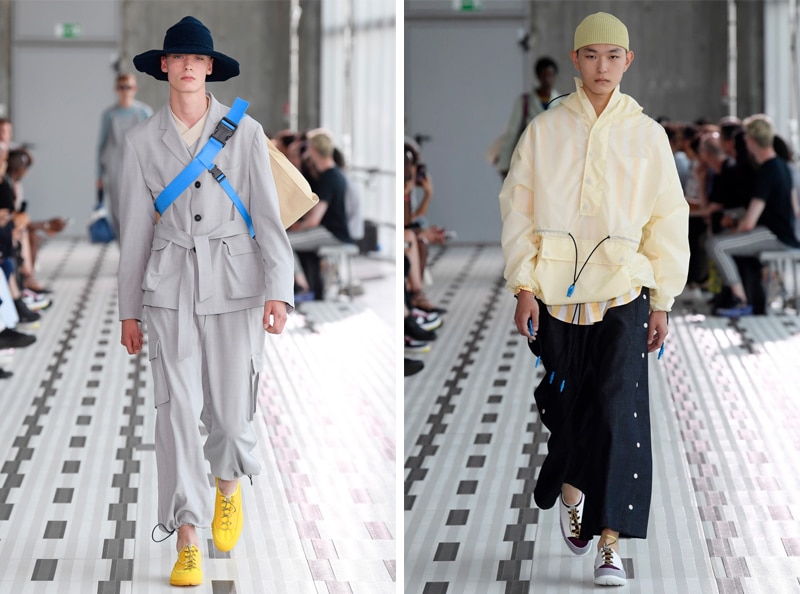 #Posh giovanotti (lads) and signorine (lasses) walked the venue at the Grattacielo Pirelli's 31st floor with determined stride– as befits the true city dwellers– at Sunnei. For their first co-ed show– this is the brand's very first women's wear­ collection–, Loris Messina and Simone Rizzo grappled with references from #VisualArts, pop culture and the Milanese approach to fashion that is…yes, posh! The silhouette was elongated and reached a proper thickness with graphics, colour combinations and an assortment of accessories like floppy hats and large bags.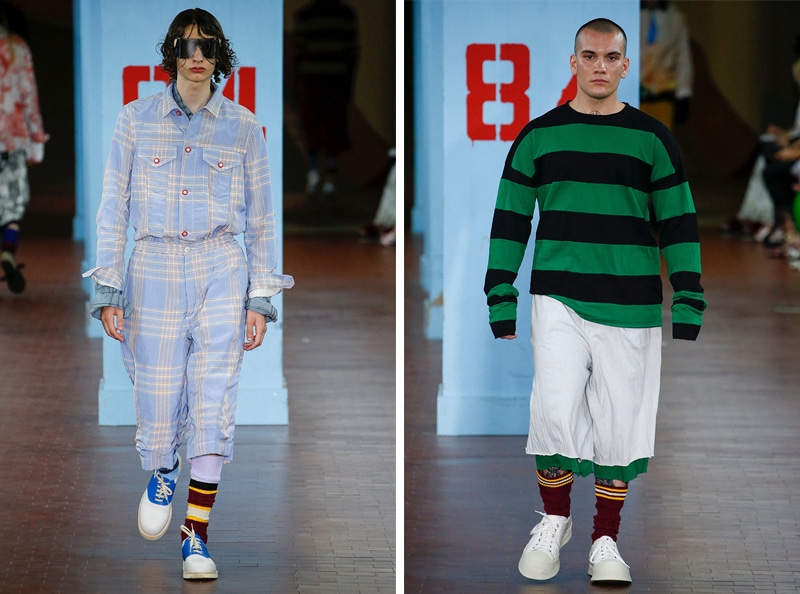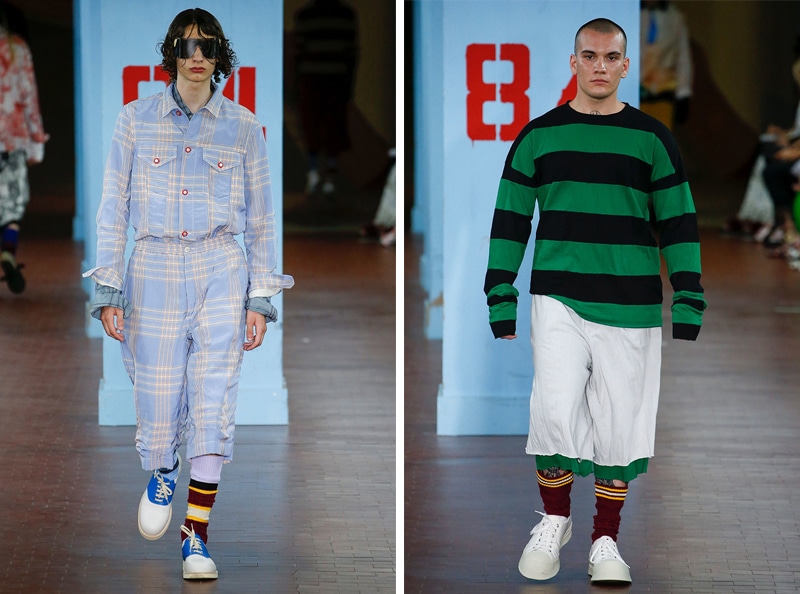 The Doctrine of Marni according to Francesco Risso is constantly taking shape season after season. Risso's SS19 Marni was all about #Vintage-inspired sport-luxe. The collection went heavy on #AbstractedPrints and was made up of #Voluminous bomber jackets, Bermuda shorts, XL shirts and matted mohair looks. The result was outstanding.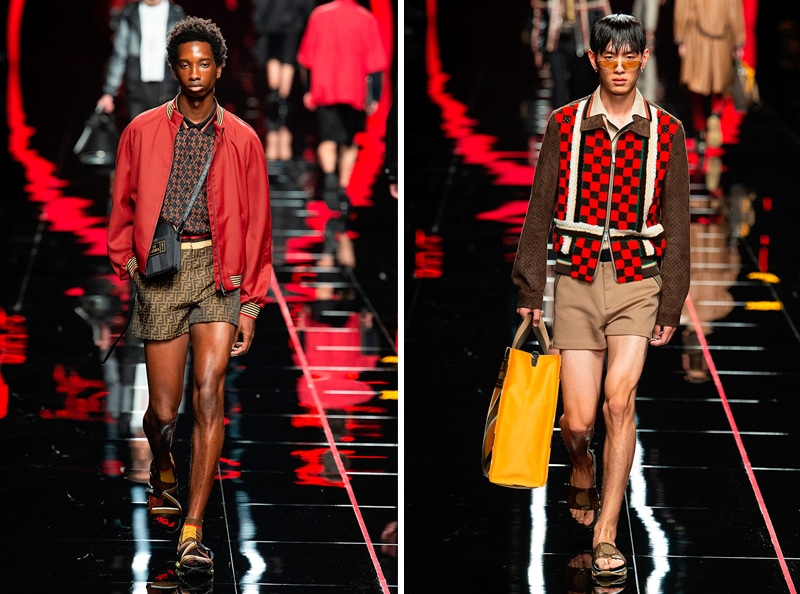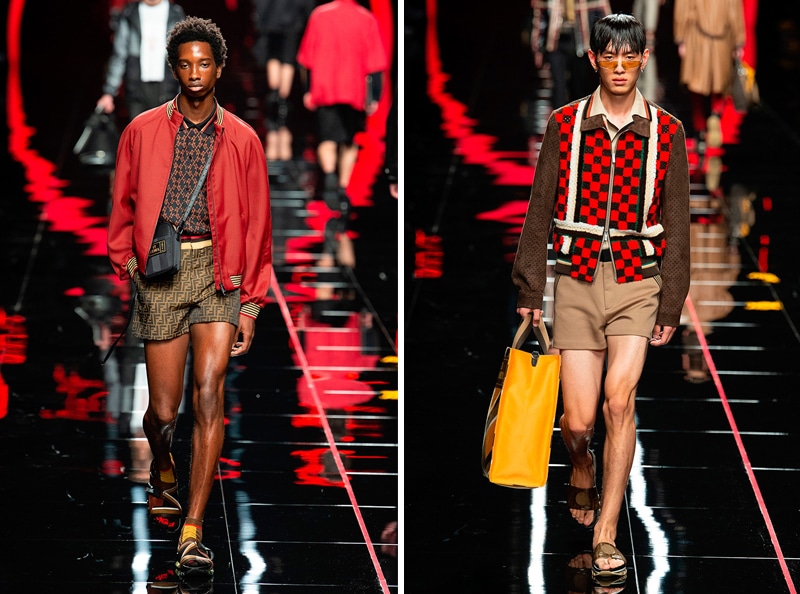 An easy wardrobe with massive influences from the street at Fendi. Silvia Venturini put everything (everything and more!) in direct #Opposition. "I was thinking about contrasts, and differences, good and bad" said the designer, and those contrasts manifested in textiles– paper was Venturini's choice for foldable anoraks!–, colours and shapes. #NicoVascellari is the guest artist who created #Anagrams of FENDI/FIEND and ROMA/AMOR and the odd creatures infesting the collection like horned demons, FF-tongued snakes and clawed frogs.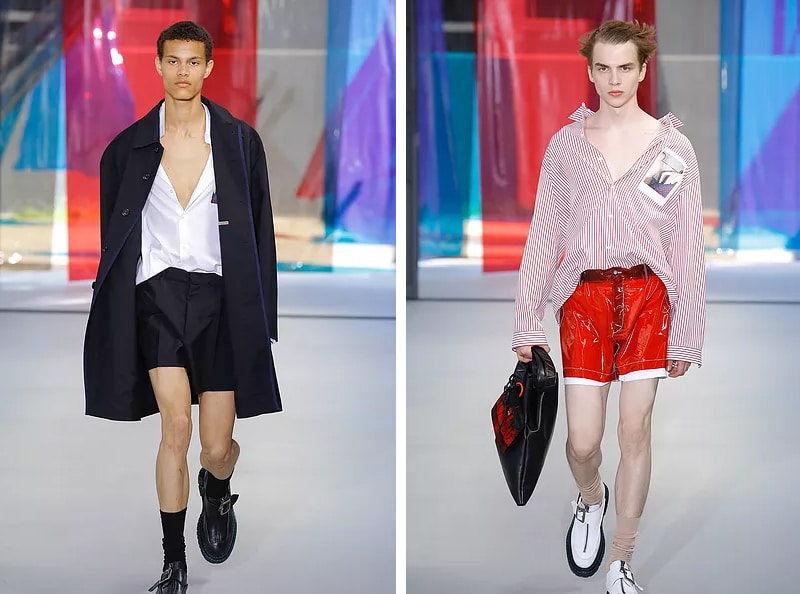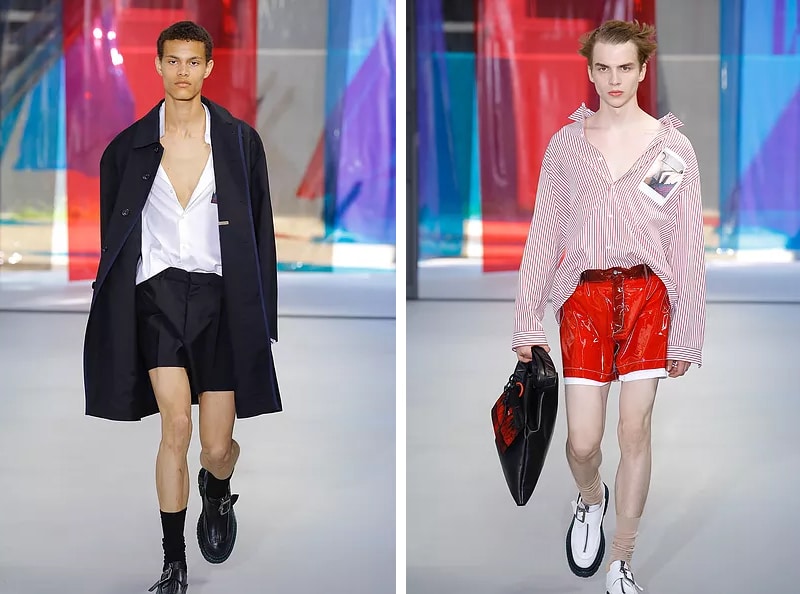 The confirmed youngster Alessandro Dell'Acqua put forth his forever-young vision for N21. The Cuban sundown becomes a print along with pineapples and cocktails, precious stones form necklaces, the #PVC is for trench coats and shorts, and open shirts fall backward. Dell'Acqua pursues a more intimate, #Timid sensuality to strikingly #Contrast the aggressiveness of contemporary fashion.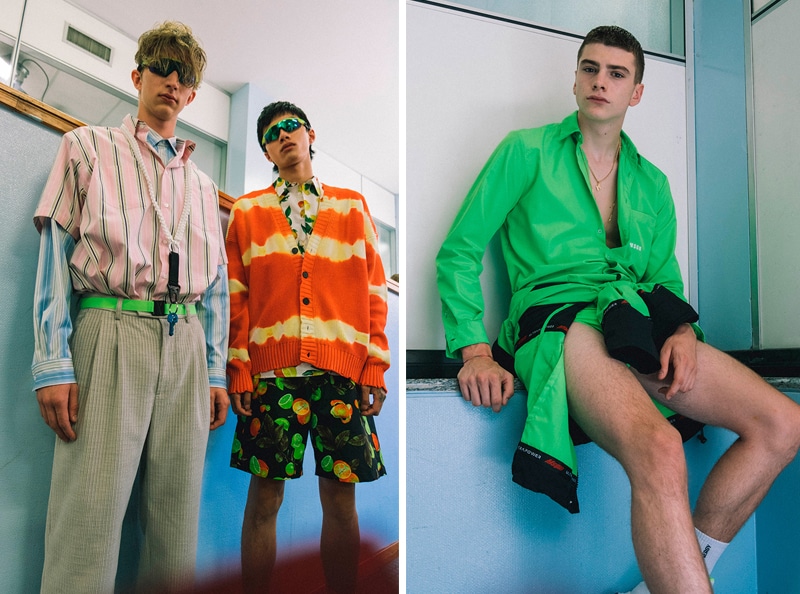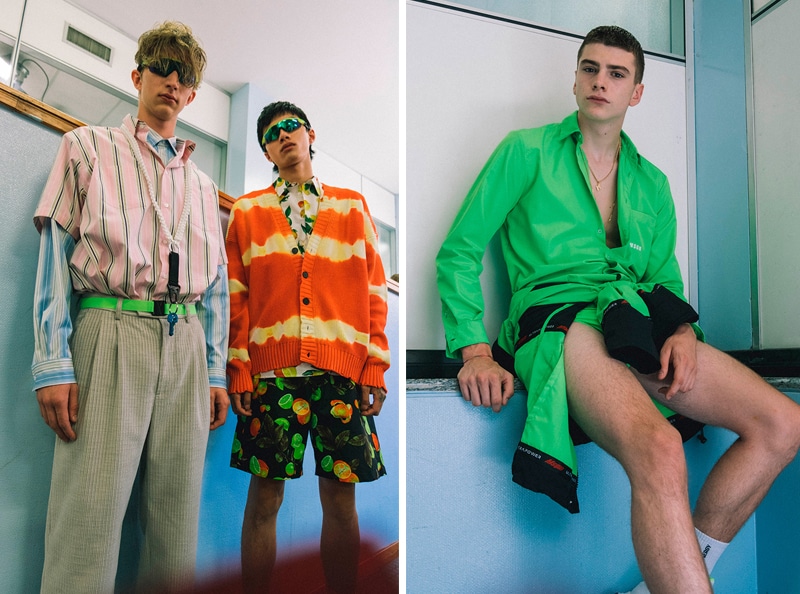 Massimo Giorgetti was the referee who presided over the MSGM volleyball match Milan VS Rimini where antagonistic lifestyles are combined in a collection of #StrongStyling and #Colour exploration. The beach bum of the Riviera Romagnola meets the stylish city slicker. However, there was a sort of declaration of intent not to have a winner and a loser, I guess, because the whole was well conceived and executed. The collection's kill– that in the volleyball terminology means 'an attack that results directly in a point'– was the Attacker You!'s characters printed on t's and hoodies. What a great spiking!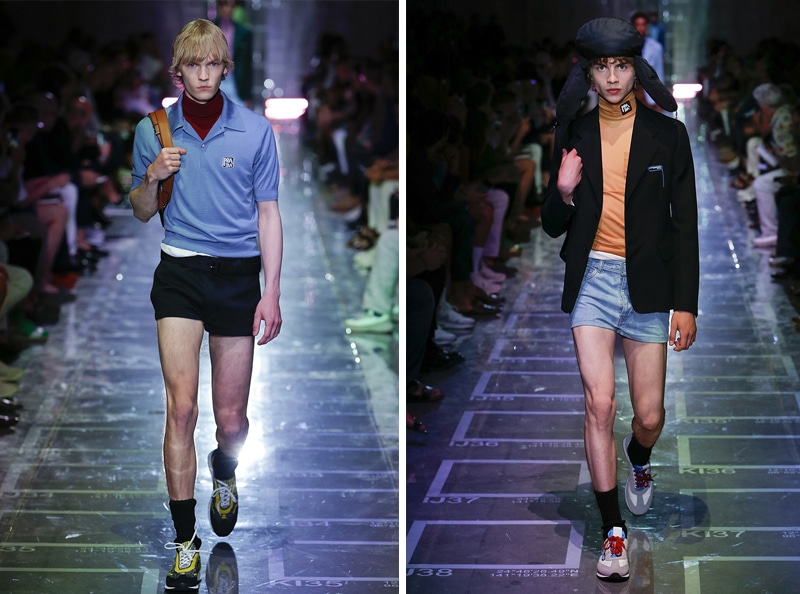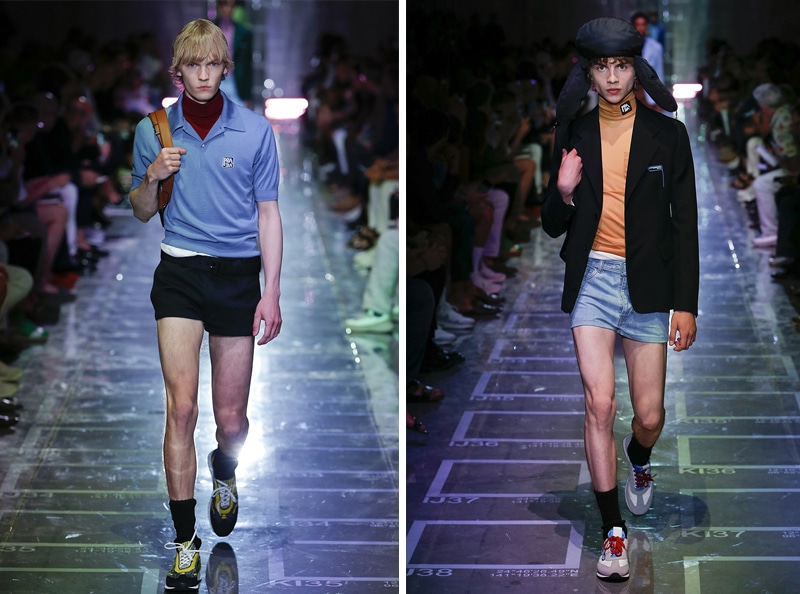 As a continuation of the cruise collection shown in New York City last May– the baseline is unambiguous–, with her men's wear line-up Miuccia persists in practising a "masturbatory art" for Prada, a narcissistic action that would be largely considered presumptuous if done by others. Each and every piece of the collection, from the printed jersey turtlenecks, the suede outerwear and #Shorts-an'-jorts to the small bags, loafers and sneakers, was a stance against the chaotic and unmethodical current fads. To return to #Simplicity, to clearness. That's the real subversion.