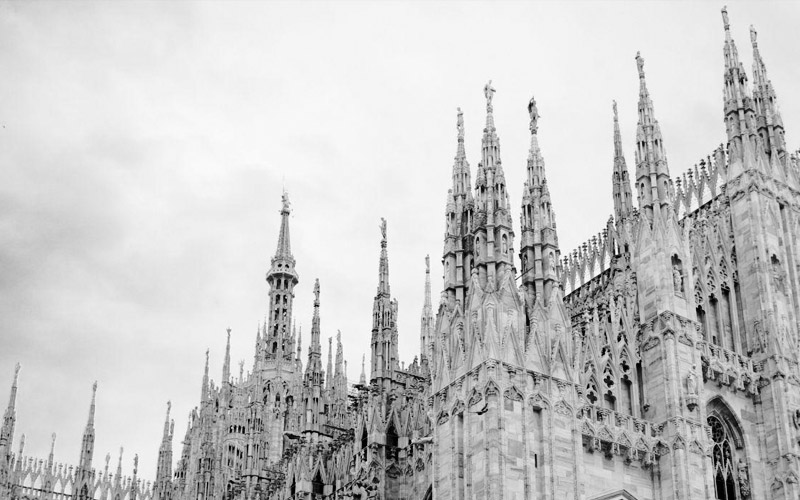 Milan has got its quietness back, the one who's still woozy, it's me! Though I'm afraid of the still, today I need it. On my way back R(h)ome- where quietness is a total unknown comfort to us living in the Poltergeist city- where it's easier to run away than to keep the pace-, I'm washing my mind before the last dive into the epilogue of the fashion ring-a-ring o' roses: Paris Fashion Week.
It was not a very interesting Milan, get real! It was kind of a torture but I'm a survivor. There were few things I've seen that really deserve a rewind. The fashion system is outraged, there was a chain reaction, cause and effect.
On a cloudy Sunday- the 3rd day of #MFW- at 12 Via Passione, the Educandato Emanuela Setti Carraro dalla Chiesa- a former boarding school for young girls established by Napoleon- accommodated Boglioli's first-ever show scheduled during Milan Fashion Week. Davide Marello, appointed as creative director last October, got lost in oodles of remembrances of a peaceful men's wardrobe and re-elaborated the functional essentials with a contemporary take without collapsing into a thought-out appearance. Richmond keeps following the safe tracks that do not lead him to venture into any new fascination and, even though some outfits had potentiality, the whole collection did not thrill much as befits a brand that is aging without having grown up. Salvatore Ferragamo's bent was about youth- but not as fucking as we like it! Slouchy suits, modern tailoring and casual clothing in a pretty neutral palette and abstract art-inspired prints do not make us miss the departing Giornetti.
Simone Rizzo and Loris Messina- aka Sunnei- did not conceive the impeccable collection you would have expected from a debuting brand that was there to leave the mark. The casual classics may easily amount to disappointment, well, this was not an extreme case but, everything was ordinary enough. Dame Westwood staged 'uni-sexing' again for SS17. That was not a fashion show, we took part in a global event to celebrate freedom and in another Vivienne's agitprop. It's enough to say that models wore tunics, knit dresses, crop-tops and skirts. I know that someone may find it indigestible but, for an expert eye, it takes little to recognize the genius.
Angela instilled the Central America hot vibe in Missoni- arriba arriba! The weather was not the best while models were walking under the porch of the state university's patio but the Gypsy Kings' soundtrack warmed up the bones. The offering mixed the Guatemalan folkloristic panache with the brand's contemporary ethos.
From Missoni's Central America to Daks' India on a Camera Moda-shuttle trip!
Filippo Scuffi recreated an Indian mirage inside the Salone dei tessuti. It was a relaxed and informal collection and Daks has created an exclusive Madras fabric made up of two tones of gray and a bordeaux. Extra score for the moving opening song La costruzione di un amore- Italian for The construction of love- by singer-songwriter Ivano Fossati. Outstanding.
Prada entered stealthily into this edition with a back-to-basic collection. Miuccia's boy is the god of utility stuff- tell me what's more utilitarian than a nylon backpack!- he does not get dressed, he covers himself as if dressing were an ascetic manoeuvre. Thom Browne's Moncler Gamme Bleu was platitudinous and it could be of your interest if you're going to scout Jellystone Park with Yogi Bear, Boo-Boo and Ranger Smith next summer- 'let's go get us a pic-a-nic basket!' while Damir Doma capitalized on pieces that, even if not on the cutting edge of trends- they're actually on the already-seen list-, will be a must-have for those who still prefer pricey shabbiness. Marcelo Burlon went heavy on symbolism in a collection that showed a strong cultural sensitivity and a weak execution at the same time.
You can realize my day is coming to an end when I remorselessly abandon my ipad, phone, notebook and pens and plunge into the couch with munchies and beer- I'm not a swanky Champagne Charlie-, and watch something cathartic on TV- ranging from Masha and the Bear to Ellen DeGeneres. But Fucking Young! x The Match party at Club Plastic got my lazy ass going and have some fun!
After a night of revelry, Monday's morning mood was not- as you can image!- 'Full speed ahead, boys!', it was more like 'Please carry me piggyback to Diesel Black Gold show!' Andreas Melbostad maintained the rock an' urban allure of Diesel but softened it with fluid lines and slightly-pumped volumes. King Giorgio spoke loudly of identity and authenticity at Emporio Armani with sporty and essential clothes made out of noble fabrics. Minimalism and childlike innocence are Malaysian Moto Guo's style foundations. His 'Picnic In The Society' was a quite disturbing show full of ol' gingham spreads turned jackets, dresses and pants- if you carefully look at them you can even spot spoons and forks- and writings on tops like time to eat y'all and let's eat children- I must confess that I was so shocked that I struggled to eat something for the next hours!…and that's very strange!
Alessandro Michele was totally the MVP- most valuable player- during this fashion week. Gucci journeyed bravely into an artificial world produced by a mind that wants to escape without attempting to cross the street. Once again Michele unifies clashing perceptions to carry out a bold vision. Quite the contrary attitude at MSGM, where a single subject was carried out- and did not work out so well! Designer Massimiliano Giorgetti re-interpreted the trite young hero who sports layered t-
shirts, bleached denims, short pants and colorful prints to emphasize even more strongly his propensity to fashion obviousness.
Real men- who did personally pick what to wear during the show- walked the runway at Etro. There were lightweight tops and tapered trousers in the distinguished Kean-style and, of course, signature patterns. Chinese-born Jun Li, influenced by the installations of Anselm Kiefer, presented a collection of minimalistic and sleek looks with focus on the construction of the garments and layering. Australian Peter Strateas and Mario Luca Carlucci for their Strateas Carlucci investigate the concepts of control and power via exaggerated and oversize silhouettes vs slim and cropped ones. Not far from the BASE, at Fendi headquarter, Silvia Venturini Fendi got inspired by Picasso and Einstein's holiday snaps to develop a laid back collection where textures range from quilted silks to soft terrycloth. In a certain way, she continues to offer a lazy life to Fendi's devotees- exactly what she started with the FW16. Dirk Bikkembergs closed the 4th day with a great show-event at the recently restored Piscina Caimi, a Milan's jewel of the 1930's. Everything was greatly indefectible: textures, cuts, colors, lines, geometries…and yes, models' quadriceps!
Giorgio Armani is that show everyone was eager to see for two reasons: 1) because it's Armani, 2) because it's the last on schedule! This season along with his soft-shoulder tailoring Giorgio's traveling spirt gave the clothes a very 'international' feel.
That's all for this Fucking Men's Milan Fashion Week!
See you next season!