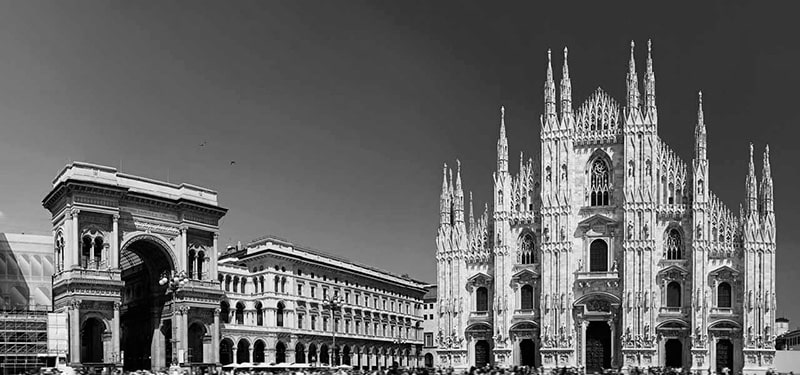 A journalist's awakening during the fashion week's razzmatazz is not like 'the prince kisses sleeping beauty' et voilà…wide awake! As soon as you wake up in the morning, you already have the lactic acid up in muscles just thinking that you'll trot back home late after a day of stampede here and there around the city.
This #MFW started on Friday night with Milan Vukmirovic's Ports 1961 that will be hardly account as one of the most interesting Milan's show- Milan is both for the man and the city!- the boy in uniform has always a certain swag but, that was not exactly what we expected from a man, Milan, that is able to impeccably portray beauty and simplicity, not this time as it emerged! Shortly after the Dsquared's recipe for a disaster took the stage at Via Ceresio, just in front of the Monumentale cemetery. I have personally commended the show for its social content- gay liberation and respect toward differences- but visually and commercially speaking I couldn't help but forcefully dispraise it.
Saturday there was a heavy agenda and things have gone pretty well. Christian Pellizzari at 9:30 was kind of a trauma- not the collection but the schedule. The juxtaposition of two namesake cities, Italian Venice and Californian Venice Beach, produced a captivating outcome. A stone's throw from Bergognone 34, at the Armani/Teatro, Miaoran staged his Ichthyophobia made up of minimal clothes with a particular attention to textures. Canali's offering was an ode to a classic yet innovative Italian tailoring, fresh but deeply rooted in traditions. Rodolfo Paglialunga orchestrated a honest-Jil collection for Jil Sander: pure, discreet but striking.
A short break to bolt down a gigantic pizza- I'm not that kind of carbophobic sickie!- and I got back on track to Marni where Consuelo Castiglioni revealed- I can say it straight away!- one of the best fashion moment of the (next) season. It seems that Marni's boy is increasingly pursuing a very fucking young sophistication. Thundering Donatella broke the rules at Versace and plans a revamp. Lightweight parachute-parkas, the VeryVersace silk shirt changed into a bomber jacket and a surprising farewell to opulence sound good as a new opener. Downtown, the neoclassic Palazzo Serbelloni was the setting of Notte.Vandebosch's Les Hommes show, a well-wrought offering of oversize and loose-fitting silhouettes.
Neil Barret did not work his ass off to elaborate the SS17 array. The English designer presented ensembles that are, no holds barred, a spinoff of his AW16 line but with colours fitting for summer! Pal Zileri's Mauro Ravizza Krieger imagined a man more sensitive to the style swings but avoiding any artificial excess. Helen Anthony was a pretentious and pointless welter of Dolce, Vivienne, Nuovo Gucci, un peu McQueen and Mary Katrantzou for prints. Is it enough? There was nothing especially clever about Philipp Plein's basketball deluxe that closed the second day of Milan Fashion Week. It was a very Plain collection! Oh, sorry for the misspelling, it's Plein but, on second thoughts, it was Plain and Plein.