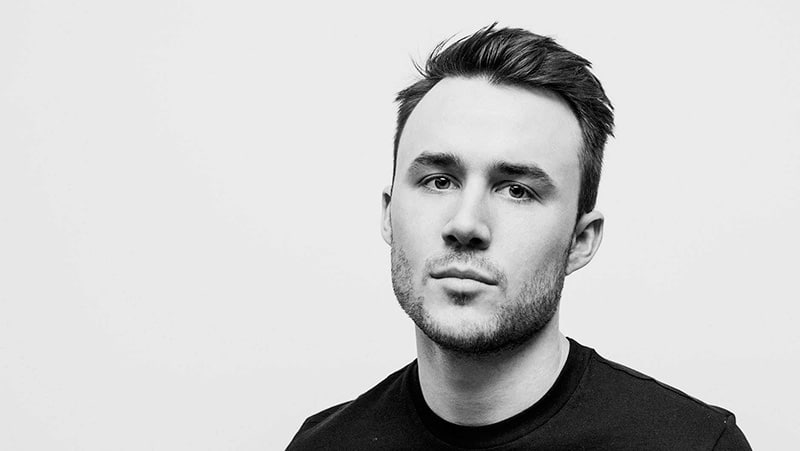 For those new to the drum 'n' bass genre, Metrik is probably an incognito, but the Hospital Records signed producer is probably one of the most eclectic and exciting producers withing the genre. Owner of a curious and inquisitive mind, Metrik's music drinks influences from synth and dance music from 80's and 90's, along with more peculiar movements such as Shibuya-Kei jazz/pop strongly present on his latest album LIFE/THRILLS.
Tom, for those who never heard your music, how would you describe it?
I make drum & bass music which by its nature is very high-energy and futuristic. My music fuses elements of 80's synth music and 90's dance music with cinematic atmosphere and emotive melodies. My tracks range from vocal led and euphoric to straight up futuristic and dancefloor orientated. I like to create music, which is sonically exciting, and to tell a story taking the listener on a journey. My most recent album LIFE/THRILLS was mostly inspired by the Shibuya-Kei jazz/pop movement coming out of Japan. There's also flavors of house and techno, backed up an ethic of rock/metal. There are running threads in my music. I'm deeply inspired by artists like The Chemical Brothers, Prodigy, Underworld, Eric Prydz, Bjork, Fluke and Brian Eno.
Going back to your origins, how did you discover drum and bass? What/who was the trigger?
In my early teens I ran an Internet radio station from my bedroom. I was fascinated with computers and technology and discovered electronic music at a very young age. I was instantly captivated by it and set about learning to become a DJ, frequenting my local record shops and buying vinyl every week. At the time I was mixing house, trance and techno until one of our regulars in the chatroom sent me a CD full of drum & bass. I had this sort of religious epiphany. The music sounded like it was made 200 years in the future. I was exposed to the sounds of Bad Company, Dom & Roland, Teebee and LTJ Bukem. I'd discovered a form of music that combined my love of sci-fi and technology. Another key moment in my discovery was hearing Pendulum, DJ Fresh and Sub Focus for the first time. They reinvented the genre and took it to the next level. They were the gateway for me to start weaving some of my outside influences into the music; fusing rock, house, techno, vocals, and euphoric melodies with stadium-sized energy in a way that had never been done before. That was a real turning point for me. I later discovered the Hospital sound with artists like London Elektricity and High Contrast taking the genre to different heights in terms of musicality. I'd say they were pretty instrumental in my development too.
On your last album, you collaborated with ragga jungle pioneers Ragga Twins on the track Worldwide, crafting a quite strong, jungle-influenced track! How strong was ragga jungle's impact on you when the genre emerged in the early 90s?
I started going to raves in the UK at a very young age. I went to my first raves around the age of 16. The Ragga Twins were smashing it back then as legends of the scene and I always had a huge admiration for them. For whatever reason I wasn't exposed to the ragga jungle sound as much as the tech step and liquid sound. But seeing those guys perform on stage at some of the big raves I went to was an electric experience. It was awesome to go full circle and get the opportunity to work with them many years down the line. They performed alongside me at Hospitality In The Dock earlier this year and they lit the place on fire. It was brilliant. 'Worldwide' was a very fun track to work on. The track evolved from a basic sketch I started on tour in LA. I wanted to write something with a Protoge-style reggae intro that then switched up into a nasty dancefloor bomb. The Ragga Twins were the perfect choice. The track is very fun and hooky and gets one of the best reactions when I play it in my DJ sets.
Could you remember a particularly memorable moment from one of your earliest drum and bass days?
It was one of my first raves in Fabric years ago. I was surrounded by my best friends. We stayed until the lights came on. Andy C dropped his last track and I shook his hand before we left. It was a great honor to play in that same DJ booth ten years later on Fabric's re-opening night.
Besides Ragga Twins you've worked with other singers such as Elisabeth Troy and Rothwell, what is your approach when it comes to choosing your vocal collaborations?
I'm very selective with my choice of vocalists. Elisabeth Troy has been responsible for some of the most iconic UK garage tracks, working with MJ Cole and other greats. She's amazing. The chemistry instantly clicked in the studio and we will no doubt continue to write together in the future. Rothwell is an up and coming singer with an extraordinary voice and mature songwriting ability. She brought an amazing vocal to the table with 'We Got It'. Reija Lee is also someone who I've collaborated with over the years and she blends so seamlessly with my sound with tracks like 'Freefall' and 'Cadence'. Romeo Testa was another new artist I worked with on my album on our track 'How Far' – again, incredible, rich and soulful voice. My collab with Gunship came about really well too. The end result was the perfect fusion of synthwave and drum & bass. Sometimes I hear a voice and am absolutely captivated. That's when I know they are right for my project.
You will be playing Hospitality in the Park later in September, can we expect some new tunes? What are your plans for 2017?
I'm very busy working on new music. I have a couple of exciting collaborations on the go. I'm also working very hard developing my sound. I want my third album to be the definitive Metrik album. I feel like I've progressed my sound with each album and learned so much about my own creativity and identity. I feel like the third album will make even more sense. A pure statement of my sound. I have a very busy year of touring planned for 2017 with festival appearances at EDC Las Vegas, Glastonbury, Reading, Leeds, Let It Roll and Hospitality In The Park. In between shows I will be locked away in the studio drinking lots of tea and writing lots of new music 🙂
Watch "We Got It (feat.Rothwell)" below: