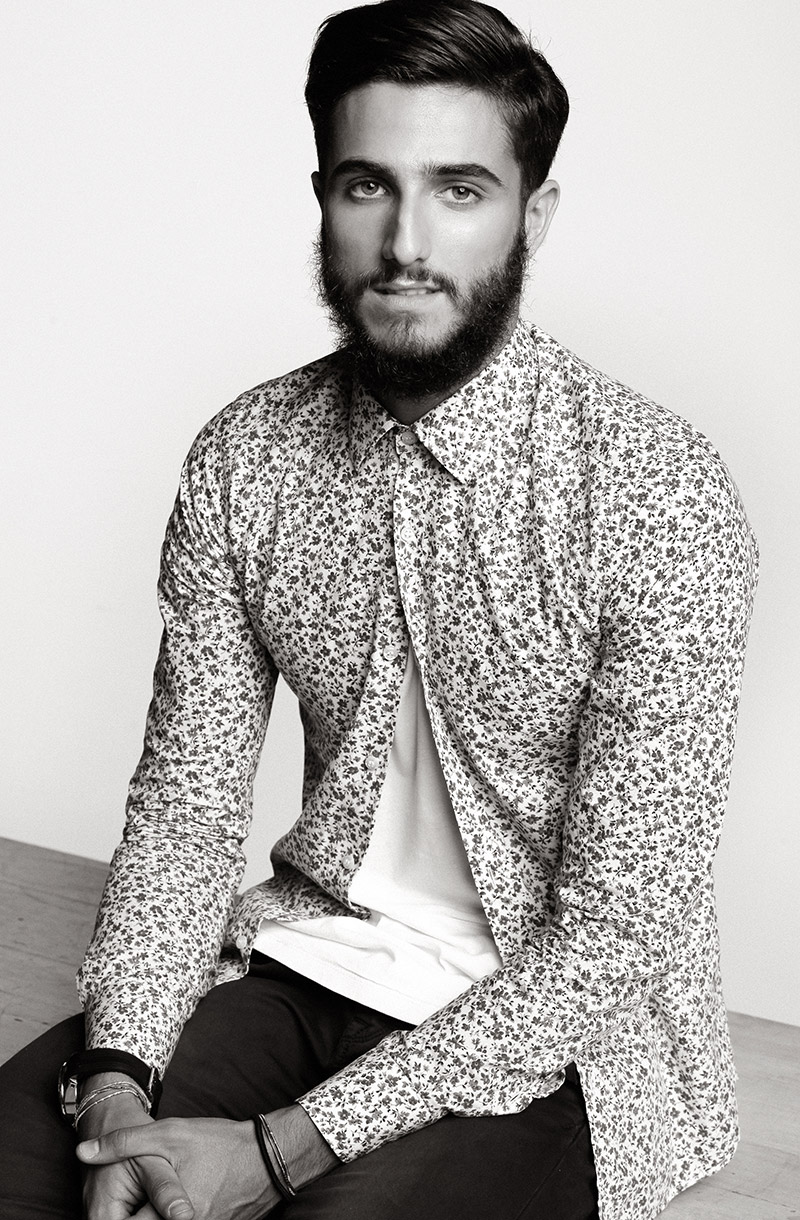 "We declare that the splendor of the world has been enriched by a new beauty: the beauty of speed".
It sounds like that the Article 4 of the Futurist Manifesto published in the front page of the Figaro on February, 20 1909. Free from rhetoric, Filippo Tommaso Marinetti's words challenge the bourgeois beliefs to give art a new breath. It's just what does in his personal way the young Alberto Premi, star of our interview. With Futurism he shares a passion for the dynamic and clear lines, the perfect geometries, the strong colours.
Twenty-two years, born in Brescia, a sports lover. Alberto is exuberant and creative but also determined and obstinate. In 2013, he graduates at ITS Machina Lonati. Only a year later, he wins – in the Accessories category – the competition Who is on next?. His shoes are innovative, without basis for comparison. In him, the research of new becomes obsessive, a spinning whirl of images. Deconstructing. Taking the past, crushing it and creating by its ash with its ash.
  Next Thursday he will present his F/W15-16 during the eighty-seventh edition of Pitti Immagine Uomo. The core-theme is the metamorphosis, applied to the field of light. Alberto promises a unique experience and we are sure we won't be disappointed because the guy has a lot of ideas, all very clear, and ideas can change the world… it's he himself to tell us.
Fucking Young! –  Hi Alberto! We hope you're fine. You were born with an innate passion for shoes. Your curiosity make you follow in your father's footsteps: a shoes designer with more than thirty years of experience. Which is the difference between your world and his? Which the link between tradition and innovation, between past, present and future?
Alberto Premi – As you have just mentioned, my passion is innate. I have been following  my father in his factory since I was very young. The main difference between his world and mine is about technology. All that we take for granted now – from the media to the surfing on the internet – was once science fiction and the research was inevitably more difficult. What favors us as young people is the immediacy in information: staying up to date about the fields we are interested in. As for work, there are no real differences instead. I'm learning as much as possible from him who has over thirty years of experience. My brand was born only two years ago, at the end of my training. Slowly I am trying to figure out all the facets of this job, especially from a technical perspective. My father began working at eighteen and since the very beginning he has had to face such difficulties that not everyone has to face at that age, he is an example for me. Ours is a very special relationship. We are very similar and united to each other. We can understand at a glance. Ideologically, I represent the brain, the creative side, while he is the arm, the one that implements the ideas and makes them real. The transition from the phase A to the B one is concrete, tangible.
FY! – In 2013 you graduate in technological stylistic at the ITS Machina Lonati in Brescia and decide to found the brand bearing your name. As we can read in your website, "the hidden shadow behind the father became light, and the light idea". As the  shadow then, what is the most important teaching you received? As the light instead, how do you manage to put into practice what you learn by turning it into something unique and original?
AP – I have a very strong character and have always been competing against my father, despite the collaboration. Each of us tries to make his own. He works for major brands and I have always seen his diligence as a personal challenge for myself, a way to improve, a key to progress. No doubt, the most important teaching I received is humility. You must never think you have accomplished, especially in a world where a newly marketed product is already considered old and you are forced to renew, invent. You must stay humble and down-to-earth to go ahead and get the desired success. Today, I am trying to reach a balance between irrationality and rationality. There are too many jury-rigged designers. You cannot think of waking up in the morning and saying, "I want to do this!". A lot of the things in your mind are unfortunately not feasible. The balance between creativity and rationality is what can make you achieve a successful product.
FY! – At the beginning the brand symbol was the diamond: clear, bright and cut, it stands for quality, refinement, durability. Just recently you have decided to change it. Why? And how will Alberto Premi be identified henceforth?
AP – The diamond was created at the university, it was not a symbol which I felt really connected to. I liked it, it was a joke. When you enter the world of fashion – and in general that of business – you are not playing anymore and you need to follow certain rules. So, there was a comparison with the show-room first and the press office after. Because of the experience and knowledge of the market, I ask for advice. Obviously, the final choices are always mine cause I like to take charge of my responsibilities but at this stage it is still necessary to listen and to take advice to heart. Doing some market researches, we realized that now the logo is to identify with the brand itself. All the big brands are trying to eliminate the original logo by focusing exclusively on the name: from Giorgio Armani to Chanel. Having entered and wanting to remain in what is the highest market segment I both wanted and had to identify a recognizable and impactful symbol. What's better than your own name? What characterizes Alberto Premi is certainly about the clear lines, and this will be visible in the new logo as well. It is something clean and simple, easy to read but at the same time with a strong character, the same in my items.
FY! – Alberto Premi might be described in different ways. As a visionary, creative, lively, unconventional. Usually, we do not like to narrow down  things and people in an adjective but which is for you the one that could better tell the story of you and your brand?
AP – I cannot say. I think, and I repeat, I could define myself as a humble person. Humble but also lucky because I am twenty-two and I have the opportunity to do what I really like. I always try to go beyond the superficial aspect of things. I never judge other people or things but I try to learn as much as possible before making judgments (I don't like the term judgment itself).
FY! – You're a sportsman, a sports fanatic. Sneakers are in fact your strength. How do you manage to turn such an item, by nature simple and functional, into something glamorous and desirable while maintaining its primary characteristics?
AP – Yes, sport is a passion for me. I am a sporty, dynamic and lively man. What I do with my sneakers is just deconstructing what we consider the classical shapes and carrying them in my world, the activewear. I try to use particular materials, unusual for this type of product. As you see in the next collection, the lines will still be the protagonists. All the shoes are made by hand, without the computers support. In Haute Couture this is an essential value that characterizes our work and makes Italy a world leader from this point of view, especially in the footwear industry.
FY! – Sport, of course, but also art which  expresses itself in the references to Eugène Delacroix, Gian Lorenzo Bernini and especially Umberto Boccioni and Filippo Tommaso Marinetti's Futurist movement. Yours is a genuine obsession with physical perfection and the study of new, geometric, to some extent dynamic, shapes. For Alberto, what is the connection between art and fashion? How does it become an instrument to create?
AP – I can get inspired by anything: from the most ordinary to the most complex. Art and fashion go hand in hand. In my opinion, fashion itself is art. And art is the most widely used source of inspiration in fashion along with cinema and literature. We can see it in the patterns, in the silhouette, or even in what is called fashion painting. Just like sculptures, paintings seduce me because they force you to go deeper, to look beyond the surface. It is a bit like in poetry. You need to go beyond the mere meaning of the words you read to interpret and understand the author's thinking, feeling. It's just what I would like to recreate in my products. I try to combine the visual and the communicative aspect to build a dream, the desire for that particular thing. Art itself has fascinated me since I was studying its history at school. Contemporary art and design characterize my work. In the Futurism, for example, I can find my dimension, my shoes' style: dynamic, impactful shapes and high colors. However, I do not dislike the XVI and XVII centuries. I am very curious from this point of view.
FY! – Last June you was the winner for the Accessories category in Who is on next?, the prestigious competition sponsored by Vogue Italy and Fondazione Pitti. How do you feel today about that experience and what has it represented?
AP – That experience was the result of a further challenge between my father and me. At that time I was collaborating with my university professor. He incited me into trying. I told my father and he threw down the gauntlet by saying he would have given me the opportunity to participate only if I had been able to create something new. The "request" was for me an extra input, a way to create something truly innovative.
I planned everything: from the soles (four different types) to the materials, to the concrete creation of the footwear. The final product is totally made in Italy. There have been difficulties, the idea was certainly ambitious but I eventually achieved my goal. Going back to the previous question, the inspiration precisely comes from the world of art and sport. In the Collection there is all about my character: concrete, strong, decisive. This is especially noticeable in the lines: precise, straight, linear, able to make the shoes clean and basic. I have tried to think of new materials cause as an emerging designer I am convinced my duty is to create something innovative for today's market. I like to take risks and taking risks is crucial in this business. Copying is not needed and does not help the industry.
FY!  – For a young emerging designer like you, how important is that the Italian institutions recognize and push both the talents and the events supporting them (especially if, as in your case, we speak of authentic Madein Italy)?
AP – It is important because shows as WION? are able to offer a visibility otherwise acquirable only with time. To win a contest like that – I am speaking about my personal experience – gives a lot of visibility, especially at a media level. We all know this is essential in the fashion world where the 80% of the work revolves around the image. The easier to have access to who you are and the product you realize, the more you create a sense of confidence in the final customer. I lived WION? like a dream and I am keeping on dreaming. In six months I was catapulted into an unknown world, and now they all tell me that a new and different phase will open after this week presentation. I'm used to living life according to the goals I set for myself. The goal was to be among the final eight: I was happy to win. I live all this experience as a way to learn from those who are more experienced than me, I cannot do but this.
FY! – Let's come to us now. Florence and Pitti Immagine Uomo will see you again as the protagonist of an event in the PITTI ITALICS circuit where you introduce the F/W 15-16 Collection. What will we see? Any little preview?
AP – It will be a unique event, never seen before in the history of Pitti. It will be an alternative presentation of the F/W15-16 Collection. Even if only for a few minutes, I want to try to make the people there live in my world. It will be an experience of life to be lived.
FY! – The collection got inspired by the theme of the Metamorphosis applied to the field of light. You have also tested some luminescent materials as we can notice in the still life. Would you like to talk about?

AP – My research focused on metamorphosis. I identified and examined in depth the fields in which it is studied: literature, art, science, physics, etc. What fascinated me most is undoubtedly the concept of metamorphosis in the light, the transition and transformation of an object from the state of light to that of darkness.
My sign is always easily distinguishable: strong and clear lines together with absolutely "out of minds" materials, all created ad hoc. In this season I do not want to be compared to anyone but myself. I have always hated masses and tried to do something different, unique (I hope not to appear presumptuous).
FY! – The luminescence effect is really extraordinary…
AP – Thanks. I can say the luminescence was there even previously, but only in the soles due to the addition of chemical compounds. In this case the shoes light up completely and with different colors: nothing like that before. I hope they should obtain a positive outcome. I said 2014 would have been my year and if it wasn't, just for a little. In this 2015 we hope we will do even better.
FY! – Which would you define as the most representative item? 
AP – The sneakers you can see in the pictures. They are the right compromise and they place themselves in the right market segment by attracting the very people I want to attract.
FY! – What could you never give up in your life? 
AP – The shoes. I am a sportsman, I have for years had a great passion for tennis but never comparable to the one I have for shoes. As a child I used to match the shoes to the people I saw. Fortunately, I discovered my passion soon and I can still give it vent and space.
FY! – As usual, our last question. For you, what is really FUCKING YOUNG !? 
AP – FUCKING YOUNG! is a bit like me. Against the tide.
Enjoy below an exclusive preview of Alberto Premi's new collection: