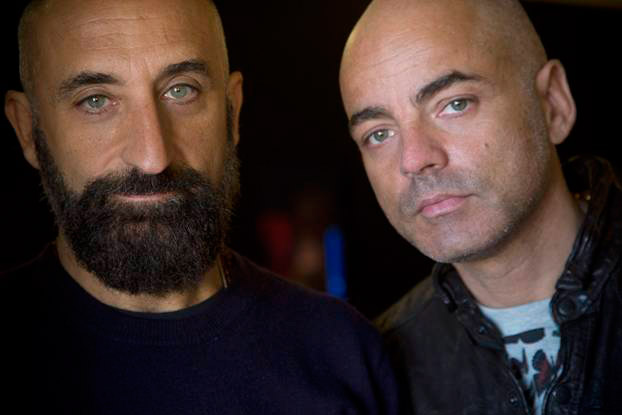 "The suit is conceived as 'art' to be worn"… Few, simple words to tell the world, philosophy, mood of a brand that in less than fifteen years has been able to assert its overflowing personality at an international level: Frankie Morello.
Behind an Italian-American name there are Maurizio Modica's and Pierfrancesco Gigliotti's face. Their Frankie Morello was born in 1999 to offer young consumers the opportunity to explore a new world, to move away from the rigid outlines of the classic men's wardrobe… A different point of view able to revolutionize the same men's fashion concept. A style that enhances the flaw by turning it in a value and in the central element of the collections. A tool to combine art and fashion in an absolutely  innovative and unconventional manner.
They're unpredictable, Pierfrancesco and Maurizio… always… they were, they are, they will be!
For 2013-14 A/W they have been inspired by architecture. The red brick buildings in New York are the ideal backdrop for unusual morning suits. The Florentine floors'inlaid marble turns into grisaille patterns for sweatshirts and blazers. The precious wood becomes a decoration for backpacks and accessories.
It is a game, a provocation, a challenge that we are ready to welcome and relaunch… What will we see in the future?
Fucking Young! – Welcome, dear Maurizio and Pierfrancesco… I would start from the beginning… How and when did you meet?
Frankie Morello – We met at the end of the 90s in  New York, guests at some of our friends in common's dinner party.
FY – In 1999 you found your brand. Why and for whom was Frankie Morello born?
FM – Initially we thought of a man's line which could reach a consumer like us.
The target was a young 18/40 years old boy, interested in both fashion and art in general and who was a citizen of the world, a cosmopolitan.
Then, over the years it has become a whole world (women's collection, accessories', children's), a real lifestyle.
FY – An adjective to describe Frankie Morello' s mood…
FM – We always try to be at the forefront, by combining art and fashion.
FY – Frankie Morello… A young, bold, vaguely U-S-A name… I was wondering… What is its origin?
FM – We've always had a weakness for the America of the 50s, we liked the imagination of a young Italian-American arrived in the USA in search of a little success…
FY – Today, who could claim to be the man who more than anyone else embodies the spirit of your brand?
FM – James Franco.
FY – Personally, I  have loved Frankie Morello since that first 1999 S/S Menswear Collection. In my closet, I still kept some clothes of the period… Among my favorite, the sleeveless t-shirt with chain and arm band… Unforgettable!
You have revolutionized the street-wear and young fashion concept by elevating it to a higher level but is there an item, among all the ones created in the course of these 14 years, that you think is the most representative of your style?
FM – All the garments representing that ironic concept of the flaw as a value rather than as a weakness.
FY – You are two persons with two different backgrounds: the one more artistic and the other more academic. How did you manage to convey your different qualities, your different professional experiences in a single and winning brand? Which was your personal contribution?
FM – We strongly believe in team work. Being two different persons with two different backgrounds helps us and makes us complete. We respect the other's point of view and so we try to see things from different perspectives.
FY – The biggest asset and fault of each.
Piero – Maurizio's merit is surely his  sincerity, his shortcoming the lack of diplomacy.
Maurizio – Piero's value is surely is creativity, his fault is the fact is too much instinctive.
FY – Your favourite film. Your favourite book. Your favourite song.
Piero – My favourity film is The Hours. My favourite song Because the night by Patti Smith. My favourite book A home at the end of the world.
Maurizio – My favourite book is When I Was a Work of Art by Eric Emmanuel Schmitt. My favourite film The tree of life. My favourite song Good day today by David Lynch.
FY – Your creations, innovative and always characterized by a strong personality, are every time able to arouse the curiosity of both the press and the insiders… Where, how, when do you draw inspiration?
FM – We always draw inspiration from movies, books, characters, either contemporary or past subjects that thrill us most. We do not just create clothes but we try to interpret some worlds and inspirations.
FY –  In recent years some deep changes have, let's say, shaken the fashion system's foundations. The way of communicating is changed. The purchase's modalities are changed. The number of countries producing "fashion" has increased. How do you stand on the current scenario? Which are the positives and the negative aspects of this new reality?
FM – Changes always bring with them the possibility of getting into the game again, of  trying to improve yourself. This historical moment's downside is the lack of culture and passion in general and  for fashion in particular.
FY – A recipe to be successful despite the economic crisis and the so-called fast-wear's increasing assault…
FM – Believe in what you do, do it as best you can and consistently.
FY – Let's come to your 2013-14 F/W Collection presented in January in Milan… A provocative and impact one, it's inspired by the architecture: the underground's and especially the body's one… Do you want to tell us about?
FM – The starting point is our all along passion, the love for architecture, that is a cloth as architecture of the body. The new yorker red brick houses become tapestry prints, the Florentine floors' inlaid marble turns into grisaille patterns. The bent wood becomes the decoration for both backpacks and accessories.
FY – Which were the materials and colors you preferred?
FM – Blue and woolen rag.
FY – A symbol and a face is the designer Fabio Novembre that we've seen on the catwalk. The link to the Collection is explicit… Fashion and design fused together in the name of creativity… Is just this the message you wanted to convey?
FM – The message was certainly that, we love his being balanced between fashion design and architecture, his never-filtered-by-the-system artistic flair. He  is a friend and a great artist who best expresses the concepts of fashion we have brought to the catwalk.
FY – Some nosiness about your 2014 S/S Collection? A break or a continuity with the winter's one?
FM – We always try to give continuity to the work we do, we believe we have taken the good path with the right positioning and we are continuing to go in this direction.
FY – Which is the must-have item around which the entire collection will turn?
FM – The bomber jacket.
FY – The garment that cannot lack in Maurizio's and Pierfrancesco's wardrobe?
Piero – The blazer.
Maurizio – Blu cachemire sweater.
FY – Your childhood dream?
Piero – To be a rock star.
Maurizio – To be a famous actor.
FY – Your philosophy…
Piero – Live and let live.
Maurizio – Be tolerant.
Thank you a lot!