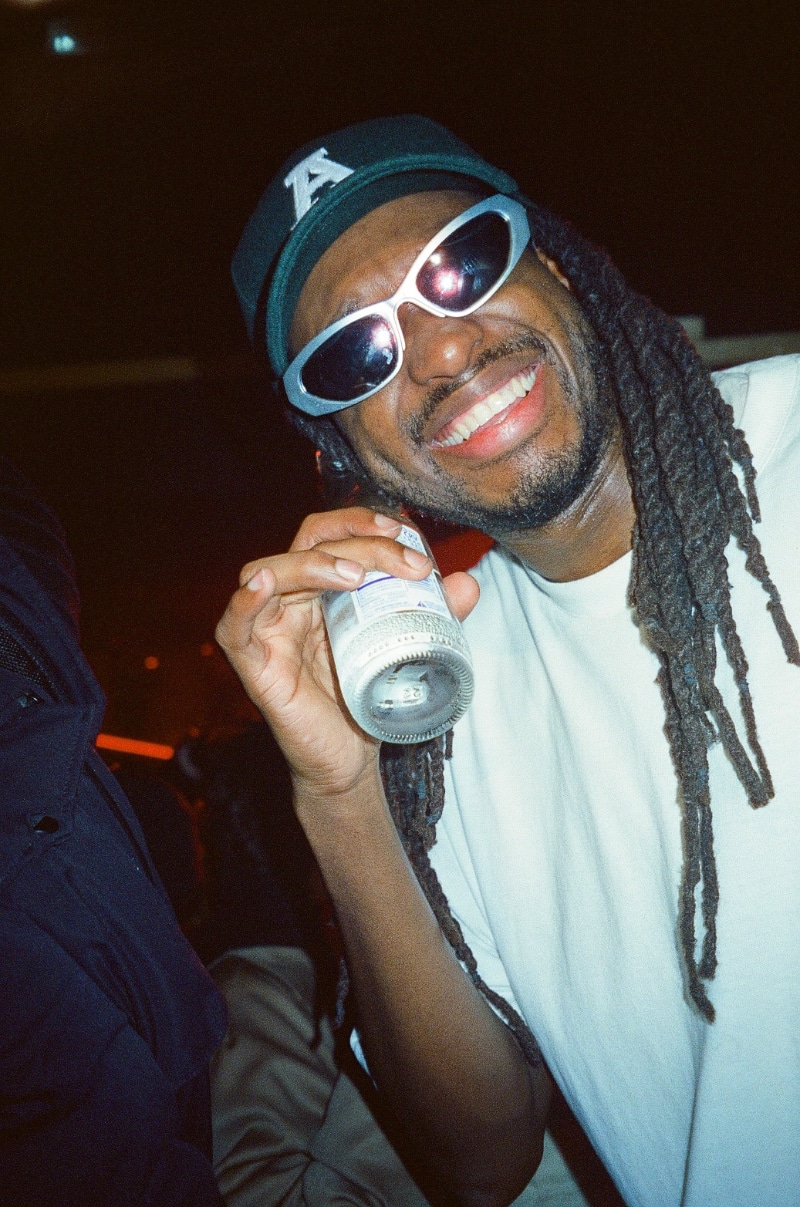 Hi Tony! I've been wanting to pick your brain for a while because you have been involved with so many cool projects over the years. You explore fashion, graphic design, and are heavily involved in nightlife. What would you say is your job title?
Well, I do have a "job" title which, to me, doesn't really mean much. I'm making this statement because I feel like I'm doing so many different things and so much more than this position required. My Job title should be "event-driven/creative director/production & logistic manager/project master" (haha). In this field, I've learned to multitask and be creatively efficient in all aspects. In other words on paper, I'm a Special Projects Specialist for the Swedish brand Axel Arigato, handling the French Market and contributing to the UK market.
Not everyone takes a traditional path, myself included. Tell us a bit about your journey and how did you find yourself in fashion?
My journey? Wow, where to start… Long story short, before getting myself into the music thing, came back to Paris after interning at a radio station and working for an Event agency in Miami for two years, graduated from college with a Master's degree in International Affairs, ended up losing myself working jobs that weren't meant for me, quit, ended up being totally broke and unhappy; then figured music was always a part of my life, nightlife was always a fascination, so why not trying Djing!?
Fast forward after mastering my craft, a couple of lil parties later, after a fashion show (Andrea Crews), I crossed paths with Charaf Tajer, now the founder/creative director of the brand Casablanca. He gave me my real shot and gave me the keys to the legendary club LE POMPON, where I played as a resident, booking DJs and organising parties, meeting all the industry leaders and key figures of the culture.
When Charaf decided to terminate his nightlife endeavours to pursue his fashion dreams, I had no choice but to fly my wings on my own. After years of Djing, and traveling the world, I played a couple of events for Axel Arigato during fashion weeks in Paris and Copenhagen, the-then only event coordinator for the whole brand, told me she was leaving the company and they were having for ambition to open a new store in Paris, in order to conquer this new market looking for someone to handle the latter; she thought I'd be the best person for the job. A year and a half later, here I am, in the fashion world with no true experiences, doing incredible things with incredible people. I'm so proud of my journey, every time I look back I just smile because in my mind I'm not supposed to be here… Will always be grateful to Charaf, for believing in my potential.
Ver esta publicación en Instagram
You are known for DJing, how do you approach creating the right set for a certain crowd and or brand?
Sometimes the experience speaks for itself, sometimes it's all about the gut feeling. Even though you can come totally prepared knowing what type of crowd you'll be facing, it doesn't mean it'll happen the way you envision it in your mind. Knowing the brand, feeling the people, the energy, then taking it from there. The audience guides you, then you lead the audience, then let's get the party started.
What projects are you working on at the moment?
Working in the fashion industry with a brand where music is a big part of the DNA, joggling multiple things is a must. I'm working on so many promising projects simultaneously.
My biggest project this year to date, is this original concept where we're going all around Europe with our Music Truck Tour, across 5 countries within 7 stops. Kicking things off at Fête de la Musique in Paris like last year, which was a major success. I poured my heart & soul into this, putting together the best line-up possible for every city until mid-July, it's indeed going to be epic!
Like every year, I'm contributing to my Canadian friends Zach Macklovitch & Nate Gannage's Saint Woods PFW party, for their APT200 takeover, during Men's. Look out for another big splash. Lastly, I'm on the verge to do my first/own FW party in Copenhagen (CPHFW, in August), stay tuned for more & let's see how it goes. Everything else is upcoming projects/events/collaborations due in September, stay tuned!
Ver esta publicación en Instagram
You have worked with several key people in the industry, can you tell us about some of them and what you learned?
Again, the bright human being is Charaf Tajer. He thought me how to never let go of your dreams… You can dream BIG and it's totally allowed/fine !!! I was able to work with one of my heroes not too long ago, during our André launch collaboration with Axel Arigato, I name MR Pedro Winter aka Busy P. I was very surprised to see how humble he was, treating everyone with the utmost respect and taking things with so much humility. He doesn't know this, but a couple of hours of being around/exchanging with someone can make you see different perspectives on many levels.
I'm really not a fan of the name-dropping, but to name a few, Alex Sossah, Stephane Ashpool, Virgil Abloh, Matthew Williams, Skepta, Laquan Smith, Carlos Nazario, Guillaume Berg who gave me the best djing advice for my journey, Papa Ghana & Moriba Koné from Daily Paper, Tiffany Calver, Manaré from Rinse France, Antoine Laurent from Yard, Amine El Haouate from LV, all these people are real father/mother figures to me in this game, who thought me and inspiring me a whole lot, that I look up to.
Ver esta publicación en Instagram
What role does inclusion play in your work?
A huge part. I believe, being a person of color, has a role to play, especially within the space I am in, with my company who is for example predominantly the opposite. I take very seriously the opportunities that I've, the power and freedom my position is allowing me, to shed light on the matter, include collaborators that look like me, and come from where I come from. One of my first events with the brand, was a panel talk in London during Black History Month, where the subject of conversation was about 2nd generation community gatekeepers, to understand the complexities of such a person's identification. As an ambassador for Axel Arigato, I want to be the face of diversity.
Fashion brands and media speak a lot about luxury, something which is very difficult for many people to obtain especially for young people who are hit hard by inflation. We speak a lot about intersectionality, what advice would you give regarding inclusion in class and body positivity?
Engage in conversations about the topic of intersectionality, privilege, and oppression, and use high representatives as models/examples. For instance, well-known models such as Ashley Graham, Paloma, endorsed by luxury brands doing body positivity campaigns, which is a great thing in a way for acknowledgment. It is also a great tool to showcase the importance of increasing self-esteem, and helping improve mental health as well, but is it really realistic and genuine? Isn't it a way to use these to their advantage for commercial purposes only, when we know the young demographic touched by these issues can't afford these products? That's the real question, let's discuss.
Ver esta publicación en Instagram
What change would you like to see in the industry now?
For all those corporations, brands, media outlets, entities, etc. preaching diversity, inclusion, and equality for all, to value and promote diversity and inclusion in every aspect of their businesses. To continue to provide equal access, opportunities, and resources to these targeted communities who're being excluded or marginalised. Create more tools to connect with diverse communities, and more positive platforms for expression, education and understanding.
I'm going to ask you some questions that I am often asked by people visiting Paris for the first or second time, and every time I feel a bit stumped as it depends on who you are asking. So first of all, what do you wear going out? Especially this time of year when it can easily reach 30.
For those who know me, they'll smile at this. Always with a hat mostly backward at the moment, snap, fitted, vintage, depending on the mood. Cool printed shirt or baseball/football (Us) jersey, light windbreaker jackets at night, I know it's hot but baggy pants, jeans or dickies, or Japanese loose, and with the most comfortable shoes in the world, vans era classic slip black & white. This is a typical Tony Goodguy look in the summer! S/o to all my skaters' communities.
If you made a playlist for visiting Paris, what would be on it?
That's my people by NTM, La lettre by Lunatic, Les poèmes de Michelle by Teri Moïse (rip angel), Shame on You by Ophélie Winter, Sound of the Police by KRS One, Le soleil donne by Laurent Voulzy, La vie en rose by Grace Jones, Summertime In Paris by Jaden & Willow Smith, Tilted by Christine & The Queen, High Life by Daft Punk, If I ever feel better by Phoenix, Music Takes You Back by Modjo, Genesis by Justice, I am somebody by DJ Mehdi, Pour ceux by 113, Booba Mon Son, Tu me plais by K-Reen & Def Bond, Ancrée à ton port by Fanny J, J'suis PNL by PNL, Gasolina by Tiakola, L'olivier by Wallen, La madrague by Brigitte Bardot, Les temps changent by MC Solaar, Lovestory by Meryl, Feux by Poupie.
Alright enough, otherwise I'll never stop…
Finally, what are you most optimistic about?
The next level, elevate, evolve, just moving forward basically, in all aspects of Music and Fashion.
I love this phrase: "The future is bright!". This is my motto, I'm so excited about all these projects after the summer coming up in September in Paris, and I'm looking forward to this huge collaboration/partnership in October, that will make many, I'm sure very happy.