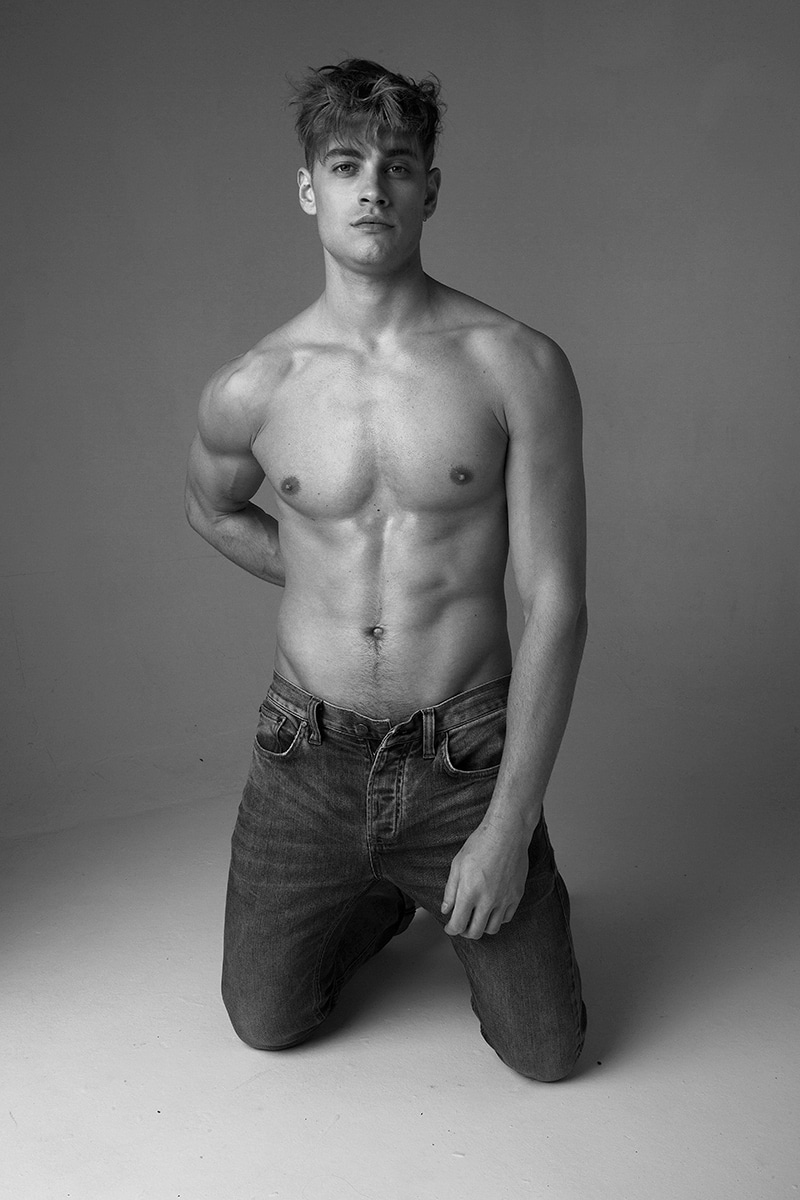 Rather than the walloping feel that screams "I need to look dope" we're used to hearing in our heads that moment we scroll past the seamless Insta post, Rob Knighton is a talent who embraces the opposite.
The Hertfordshire-hailed talent tells us to aim for the best of who we want to be and rising from rejections that furthered his career and journey.
We caught up with the star-in-making to chat about influences, social media, and future hopes…
Let's talk about this from the outset – could you tell us how it all materialized for you?
I was eighteen at the Boardmasters festival when a couple of people came up to me and asked if I'd ever thought about modeling. They turned out to be scouts for Storm Models and wondered whether I could have made it into London for a test shoot. After the shoot, I went back to my life and a couple of weeks later they emailed me saying that they thought that it wouldn't work. I then got scouted again by Nikki Sheldon and was a bit skeptical about meeting her, but in the end, I did, I made my way to SELECT models and I was signed on the spot. Three days later I was walking in my first show for KTZ in London fashion week. 
Three words that describe your best self are…
Loyal, Energetic, Outgoing.
How were you discovered? 
Instagram! Nikki messaged me after she'd seen a photo of me and thought I could make it as a model. I guess she wasn't wrong!
Was fashion always a thing you were keen to dig into?
Not really. I grew up amid skate culture and what I was wearing at the time was always seen as sh*t. I'm talking baggy jeans, way oversized tees and vans. It would probably look alright by today's standards!
Who's been the best client to work with?
I can't really answer that because there have been so many wicked jobs. You're always looked after by clients and most of the time the people on the shoots end up as mates.
Could you describe your favorite modeling experience so far?
I'd probably say shooting a swimwear campaign in Tenerife for Sports Direct. Three days of chilling on a beach with a fantastic group of people, non-stop laughter and getting paid for it.
What could be better?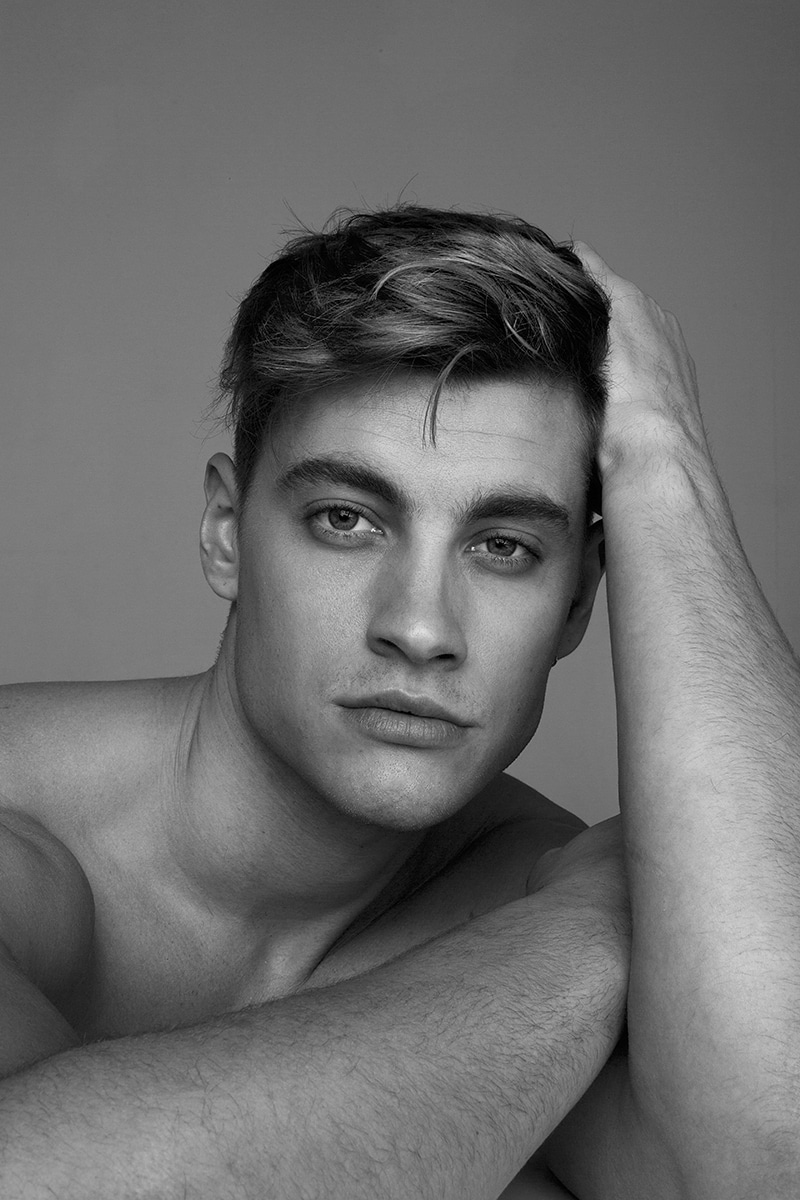 How's it been for you since commencing?
I think I've been quite fortunate and not really had any quiet patches. You always get better weeks than others but overall, I've always been working which is great.
What do you get up to when you're not modeling?
The usual, I guess! Gym, see mates, go to the pub, walk my dog. Throw in some gymnastics and gardening in the summer and you're there.
What's it like living in London?
I don't actually live in London; I live just north of it in Hertfordshire in a small town surrounded by fields and full of pubs which is great. Also, London is only a half-hour train away, so I get the best of the city and the countryside.
And what vibes do you get from this city?
There always something to do or somewhere to go out. It doesn't matter what day of the week it is you can always have a good laugh and a few drinks.
Favorite artist of all time?
I'd probably have to go with either Linkin Park or AC/DC. I've grown up listening to that kind of stuff at the skatepark so it's always going to be there for me.
Go-to tune of the moment?
Gunslinger by Avenged Sevenfold. Not everyone's cup of tea but then again neither am I.
Analog or digital?
Analog! Can't beat old school.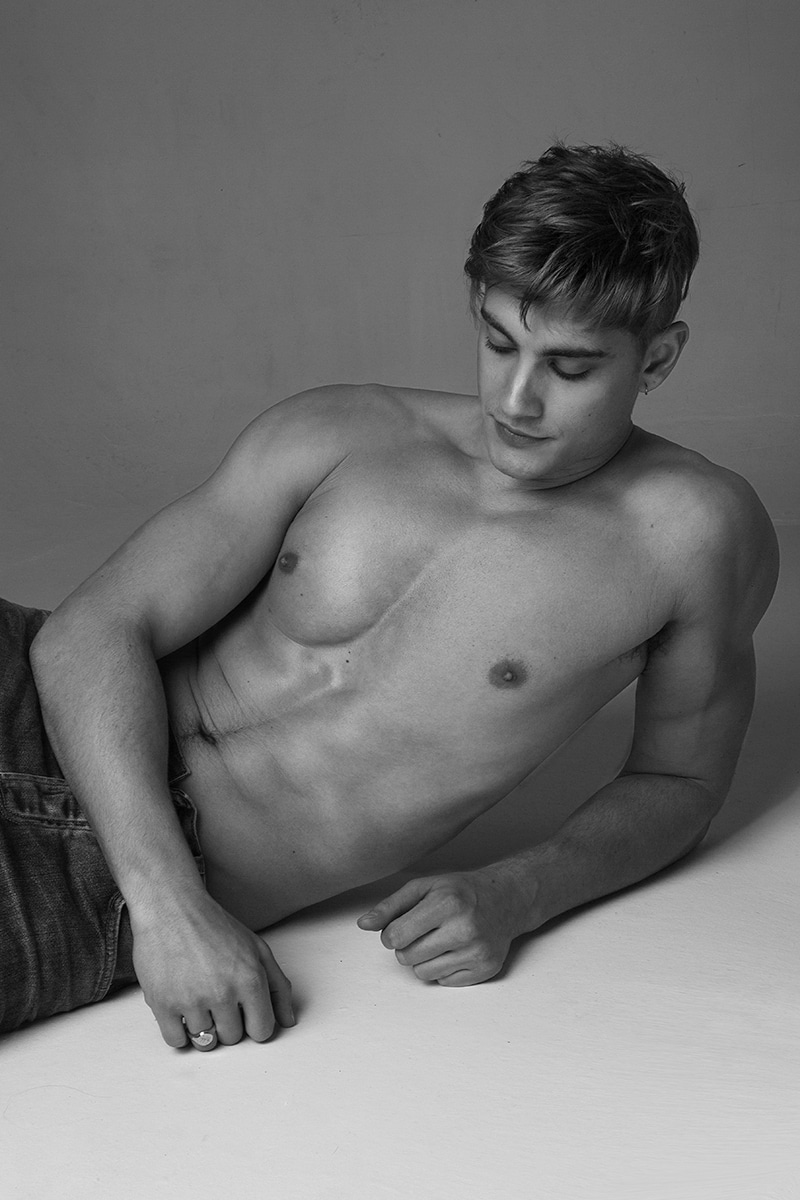 Essentials to bring along your travels for a last-minute job are…
iPad, headphones and good teabags! 
As a deeply respected model across social media, what are your thoughts in regard to the whole Instagram thing?
Instagram is a bit of a weird one, I think. On one side of the coin there are people using it to promote good stuff, for example women promoting men's mental health. On the flip side of that coin you've got people promoting stuff they don't believe in and only promote to get paid, and far too many people buy into the bullshit. Also, too many kids are missing out on being kids because all they want is to be like their favorite Instagram influencer which I think is tragic. Go back to being kids! 
How do you tackle brutalist behaviour and e-trolling?
I've got pretty thick skin so that shit doesn't really bother me. At the end of the day the people who do it are just sad individuals with nothing better to do with their time. On occasion I'll have a bit of fun with them and call them out but if they're really doing my head in, they just block them, and the problem is fixed.
What are the things that really matter to you?
Anyone who knows me knows my family always comes first no matter what. Past that its friend and good times. Life too short for worrying about all the insignificant BS.
Do you feel emboldened through your social media channels? If so/not, how come?
If I'm honest I have no idea why I have the following I do. I post pictures I like and if people like them then great, if not then I'm not going to lose any sleep over it. Having said that I am grateful for the support people show me and it is rad seeing the comments people leave, so shout out to them!
What's your take on the modern media landscape?
Modern media is massively accessible these days, as you can see anything instantly. I think that's great because I can stay up to date while in on the move and doing things. Having said that I think that media companies need to grow with the accessibility and demand in that they need to take responsibility for what they allow on their apps and sites. But overall, I think being able to see whatever you want in real-time is sick.
If they told you that Instagram was going shut-down mode…
I'd make sure I have all my photos saved for the memories, show some love to the followers and say it was fun while it lasted. Peace.
What city inspires you the most and why?
I'd say Oslo because everything there is so clean and well looked after. The public transport has always run like clockwork when I've been there, and I think a few cities could learn a thing or two from it and the people within it.
And your best commemorative moment was…
I'm going to go with my first magazine cover pushing five years ago now. Was never something that I'd thought about and was pretty cool to see.
What do you wish you could have done differently throughout your journey?
I wouldn't change a thing. It has been great and whatever crap moments I've had (not many) I have taken as lessons and tried to grow from them.
Any major inspirations?
Not really, I think everyone should aspire to be the best version of themselves because no one is the same. If I was forced to pick someone though, I'd say Steve McQueen, I mean he's the king of cool!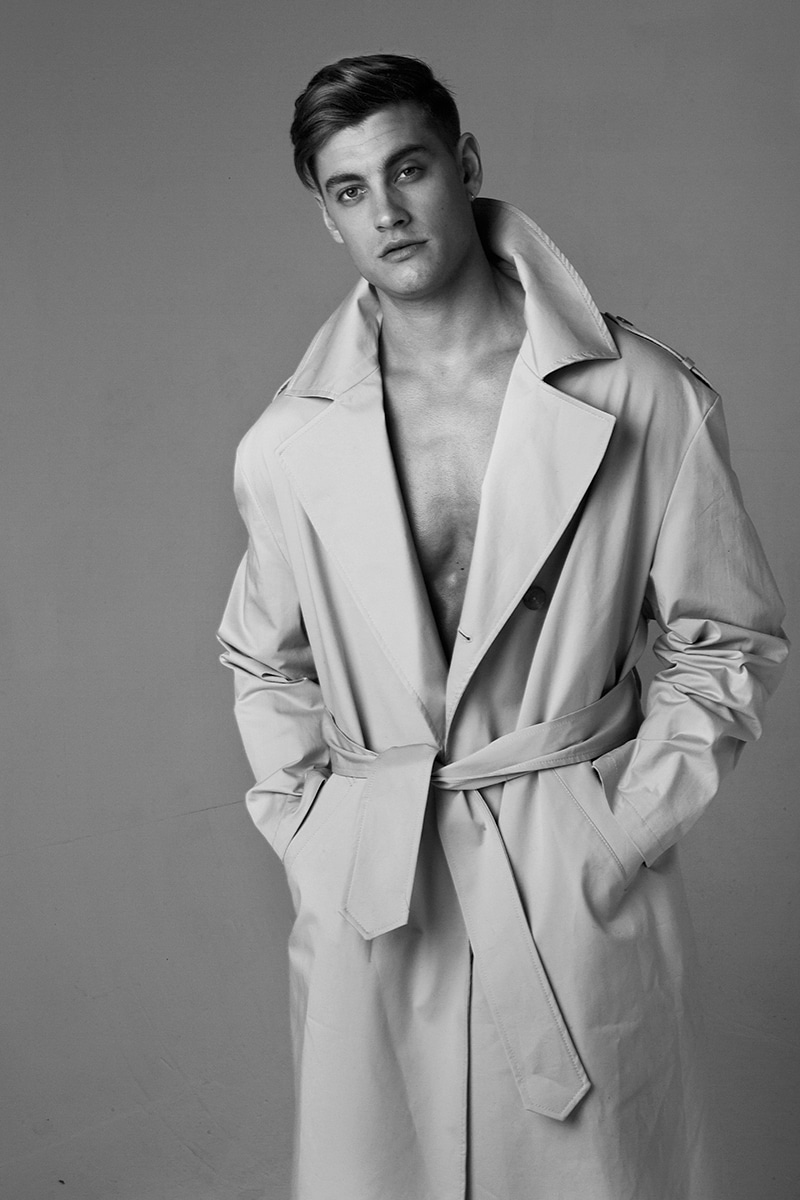 What's the wisest lesson you've learnt being in industry? 
First week at select and one of the lads said to me "don't let the success go to your head and the defeat go to your heart," And I think that stands true in every aspect of life.
If you could change anything in the modern world situation, what would it be?
Where do we start? Our planet is dying. The world leaders are sending their armies to kill each other. There are famine and diseases in places where there doesn't need to be. More and more people are homeless, and the press is feeding us fake news and scaring the shit out of everyone. Take your pick.
One thing people don't know about modeling is…
It's not always the glamorous lifestyle people think it is. Its ridiculously early starts sometimes, there's a lot of being on your own whether its planes, trains or hotel rooms and being away from the people you care about for a lot of the year. Not to mention all the times you're told you're not good enough for certain clients or jobs. Not that you'll hear me grumbling about it because at the end of the day it's a wicked job.
Any final words?
Just thanks to Nikki and Select for all they've done over the years and my family for always supporting me. Cheers.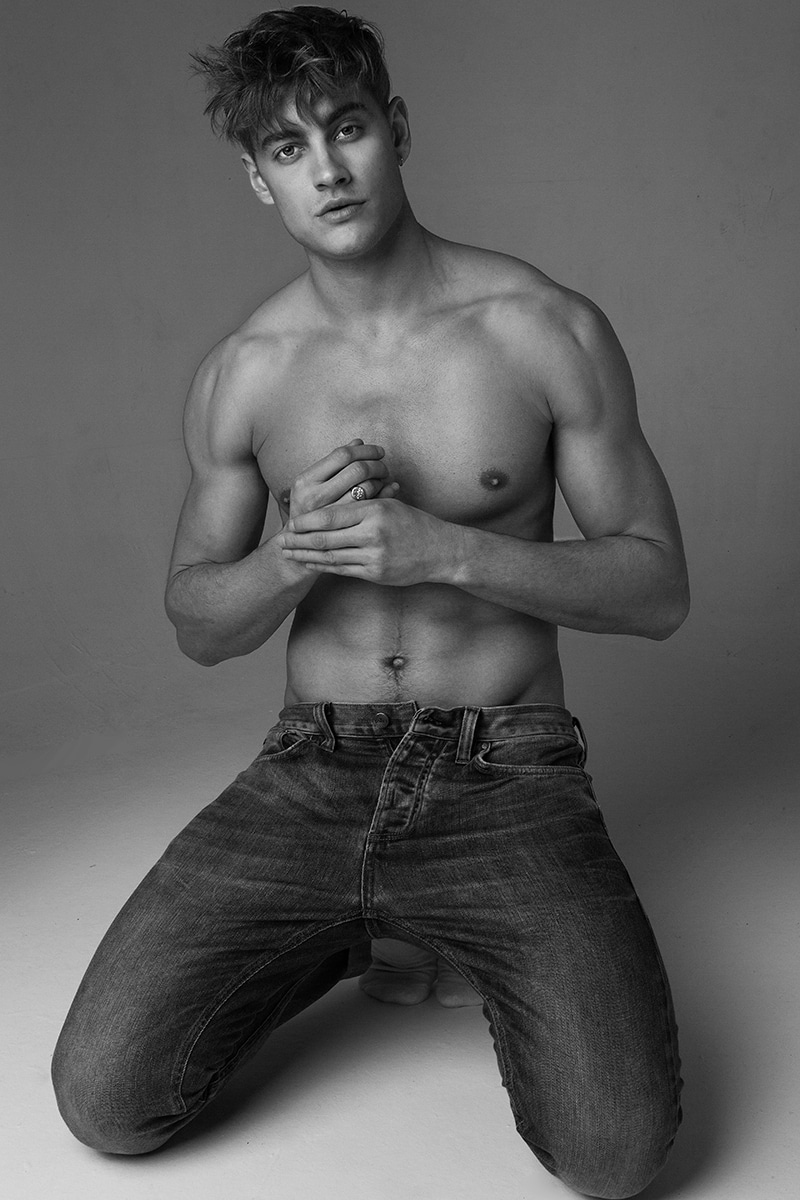 Photography and Fashion: Kyle Springate @kylespringate
Grooming: Francesca Ingram @francescajcingram at @carolehayesmanagment
Special thanks: Emmanuel Noir @emmanuelnoir
Talent: Rob Knighton @knightonface at Select Model Management London @selectmodellondon