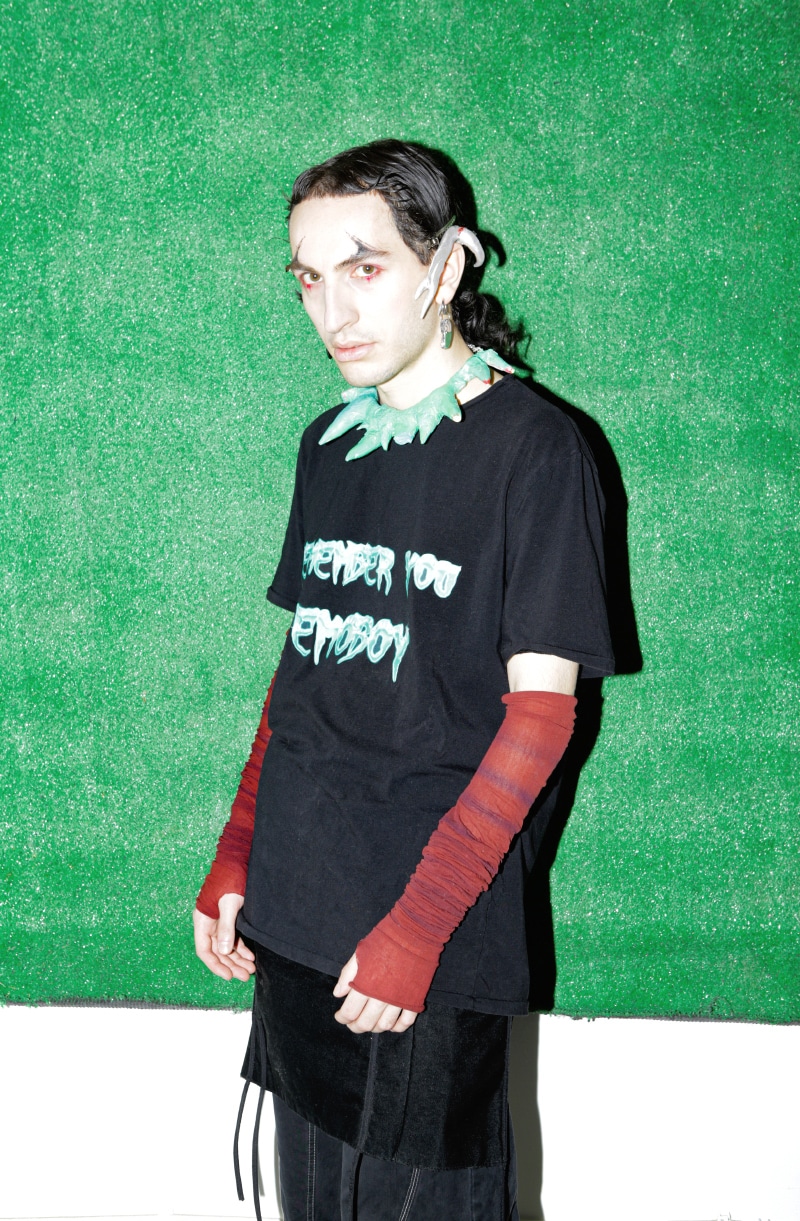 LGBTQ+ community continues to be a sore and stigmatized subject in some parts of the world, but such pressure has never failed creatives to talk about it out loud. One of such kind is a Georgian designer Levau Shvelidze, whose main subject of manifestation and advocation is queer people in such an orthodox, but in same way culturally abundant place like Georgia.
Launching a namesake brand coincided with the pandemic, that put the newly-baked brand on hold, but also with the rush of major hate waves from conservatives and Pro-Russian activists when last summer representatives of the Georgian LGBTQ+ community eagerly aimed to organize Tbilisi Pride as a gesture of acknowledgment, peace, and tolerance. Unfortunately, this idea has miscarried and caused a major conflict in the country, where queer people were targeted in the streets. But this didn't prevent Levau from believing and creating something that he is passionate about, for people he resonates with. Fierce, atomic, and fearless – that's how can be described his fashion endeavor.
We had a chance to sit down with Levau Shvelidze and discuss the story behind the rising brand, the values he promotes, and why fashion is an important medium in the transmission of critical global messages.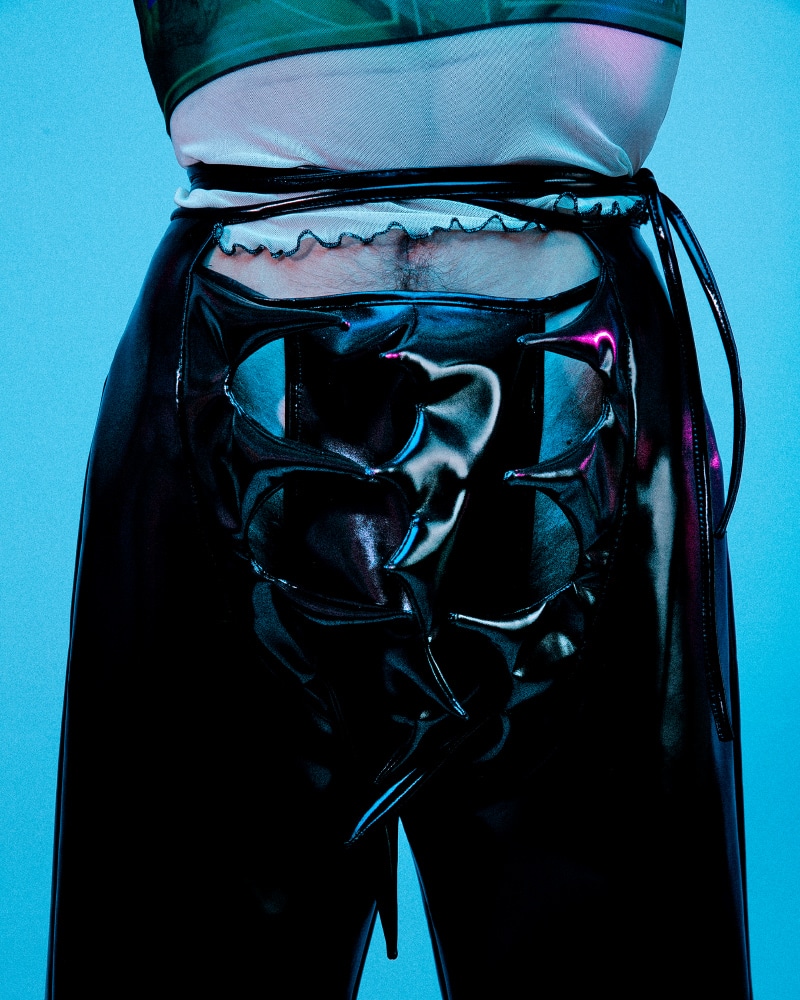 Let's talk about your main instrument – fashion. How and why have you fallen in love with fashion? What's so intimate about it for you?
I've been into fashion ever since I was a little kid. I used to look through mine and other people's closets, and I've always had the sensation that I, too, was capable of creating. I believe that art is one of the most effective tools for changing people's attitudes. On my part, I'm trying to peddle positive and harmonic changes around me. Through my work, I want to make deeply conservative society aware of the other side of the city that they fear or hate, and I want to convert their hatred into understanding. I always dedicate my work to fundamental human rights, and I address and challenge people to think about what matters in life. For me, fashion is about sending messages, either aesthetic, sociological, or sexual. Essentially, I believe that fashion should always be about people feeling at peace with themselves.
How can you describe the path you came through, in terms of forming your signature style and the current version of yourself? What has changed about you since you started your professional endurance?
It's been a long and sometimes even discouraging journey, which I went through with my friends. However, the obstacles I've encountered throughout my life, either my gender identity or my life choices, made me a hundred times more versatile and productive. I always knew that to achieve my goals, I had to fight, firstly, against my fears, and then, against the fears of the rest of the society. Therefore, my brand is my lifelong fight that I declared since the first awakening of my consciousness.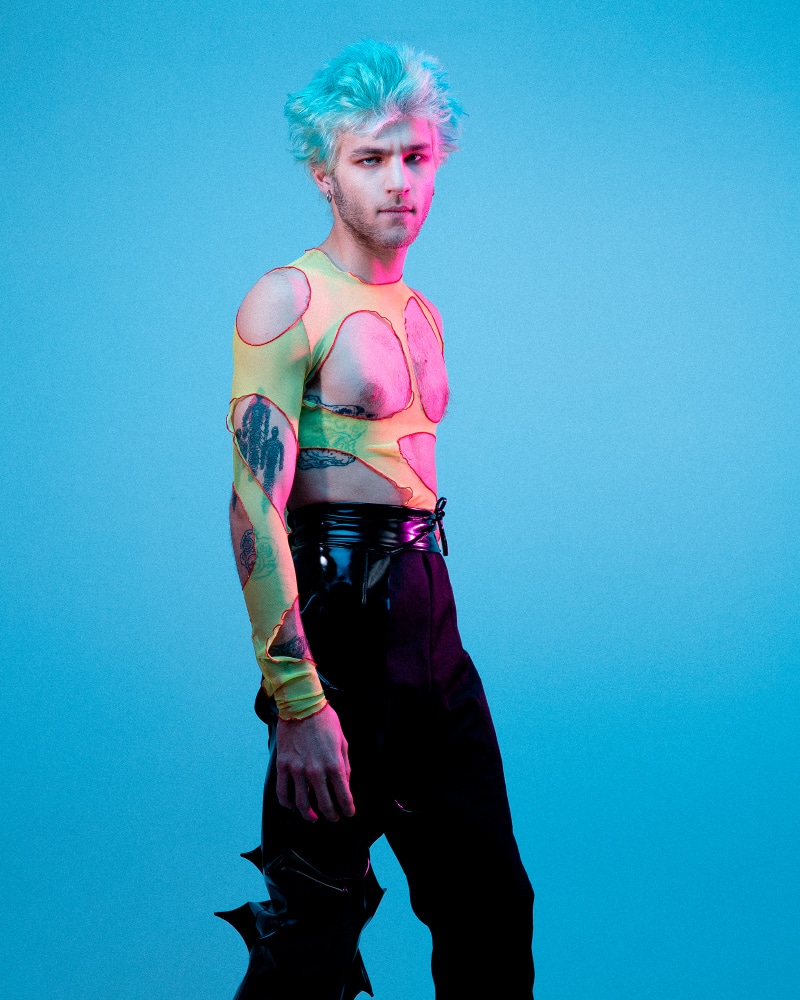 You have quite big experience in the Georgian fashion industry and navigation within its system. What is too special for you as a designer and creator about Georgia and its small industry?
Based on my observations, what's so special about Georgia is that communities are very welcoming here; it's easier to get in touch with people and create something unique with them for a common purpose. I have two years of working experience as a junior designer in a ready-to-wear brand – Materiel. Besides Materiel, throughout my career, I have collaborated with several other brands, which has given me a huge experience and helped me in establishing and defining my brand. I'm glad that the Georgian fashion industry has gained so much popularity, thanks to MBFWT, and I'm honored that, as a queer designer, I'm contributing to putting the country on the fashion map.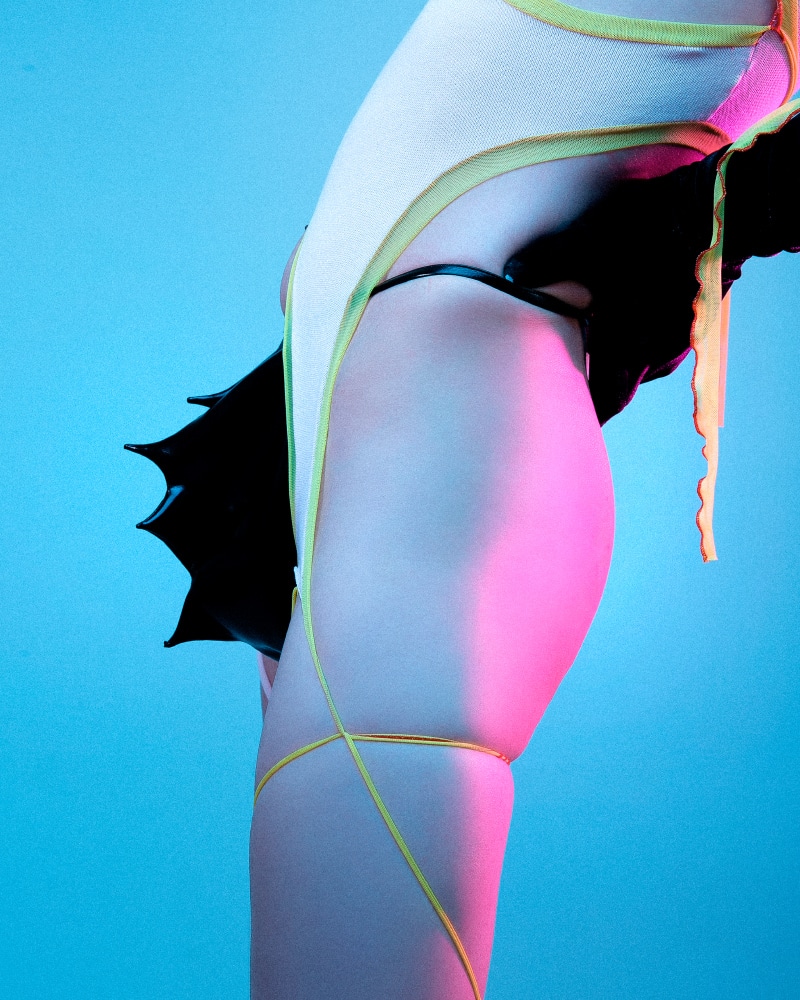 How did you come up with the idea of establishing your independent brand? How long have you been nourishing that idea?
Ever since I can remember, I've dreamed of having my clothing brand, which would voice my identity and capture the zeitgeist of my community in Georgia. Yet, it was only after graduating from Tbilisi State Academy of Arts and winning the BENEXT contest in 2018 that I finally decided to take the plunge and materialize my wishes. As of now, I'd say that the idea of the brand and its direction is still in progress.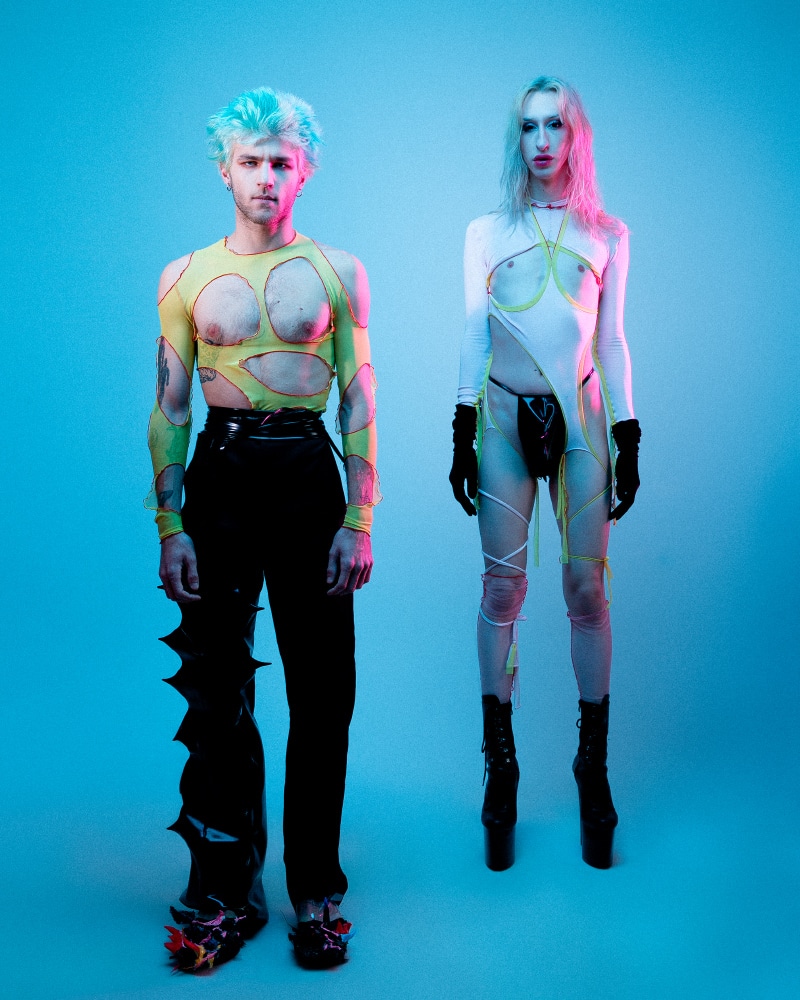 Why have you chosen such a queer approach in setting and expressing your brand?
My source of inspiration is quite diverse, but what inspires me the most and gives me a great deal of motivation are queer people themselves, either working in the fashion industry or other fields of interest. Apart from people, some movies and tv-series have also been an inspiration to me. For instance, as a teenager, I used to watch an iconic British tv-series – Skins, and it was a dream of mine to see the Georgian youth as free-spirited as the characters in the series. Nowadays, I can notice that the youth is much more ahead in terms of accepting new ideas and innovative ways of approaching the world and its inhabitants than back then. There are many parties thrown every month, where we, queers and people who don't conform to the heteronormative standards of behavior, can freely express ourselves. At these parties, I experience the uniting feelings of love and support that we have towards each other. However, there is still much to be done in building safer places for all of us.
What took a pivotal part and big commitment in creating this collection?
This unisex, eco-friendly collection is created in support of the LGBTQ+ community and sustainable fashion. It worries me immensely that the fashion industry is the second-largest polluter in the world. Thus, I want my brand to be fully immersed ethically. This collection is made out of recycled materials retrieved from second-hand clothing stores. In addition, I have also upcycled deadstock fabrics that two prominent Georgian designers, Lado Bokuchava and Aleksandre Akhalkatsishvili, gave me for free.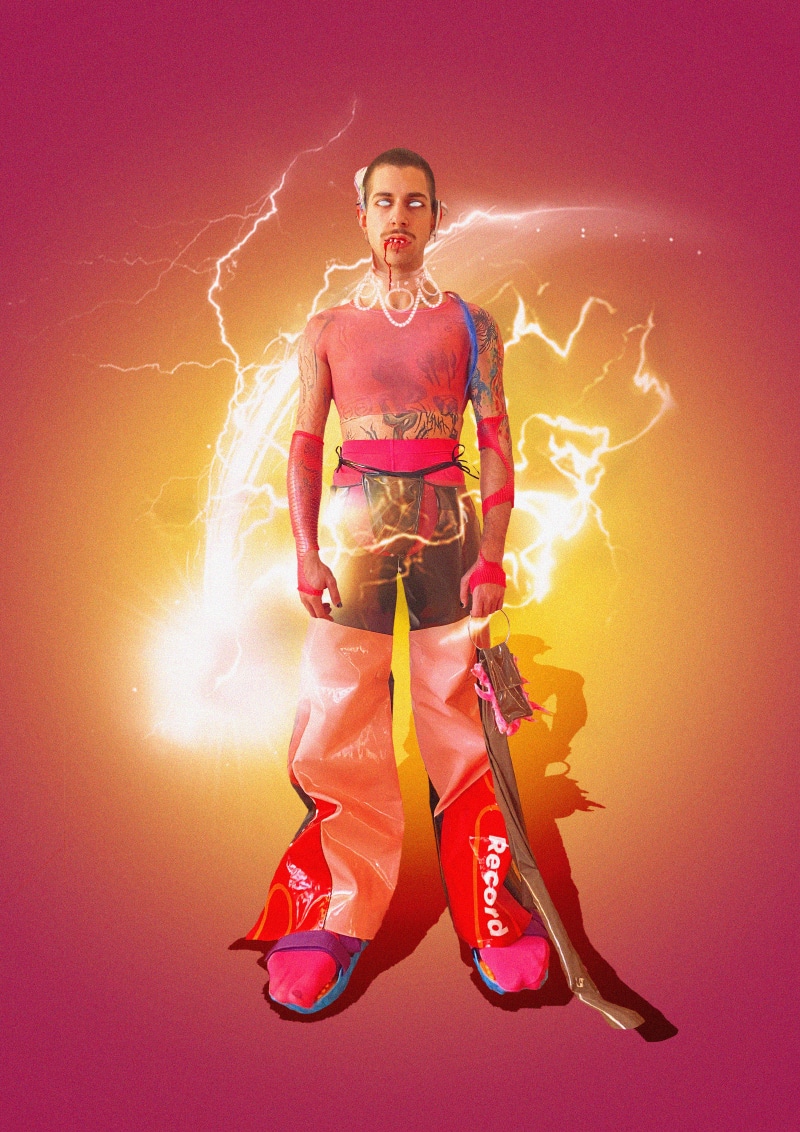 How can you describe your creative journey upon building the concept of the collection? What concept, ideas, visuals, and references were embodied in it?
This collection is a bit of a continuation of the previous one. The concepts of my collections are usually reflections of the eclectic events that are happening around me, in my community, and among my friends. Furthermore, I get a lot of input in the form of movies, tv-series, fashion magazines, and so on. Other than conceptual sketches, I also keep up with and take into consideration current fashion trends. For example, this collection ranges over metaverse, late millennials and Gen Z, LGBTQ+ icons, 3D artists, animes, sexual fetishes and paraphilia, gothic art, modern electro, pop culture, and computer games, such as sims 2 and IMVU.
It's difficult not to spot how electric in terms of color your work is. Can you walk us through your decision and vision of color? Are there any hidden senses, feelings, or concepts put into colors?
Considering I've been drawing since childhood, I've always had a special interest in colors. I choose colors based on fabrics and their textures. So, the materials themselves that I work with can influence my decision-making process. This process lasts until the collection is complete.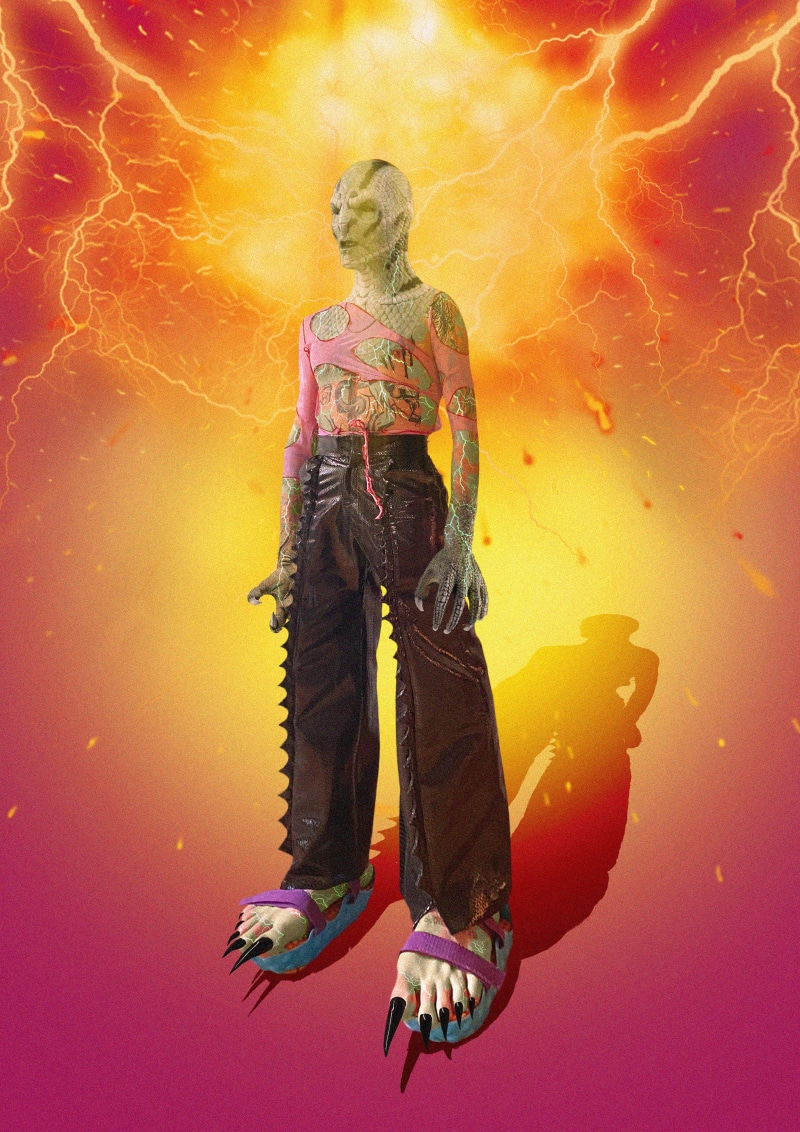 Let's talk about silhouettes, your pieces have a really interesting relationship with cutouts and shapes in general, plus the whole ensemble of different mixtures of patterns and moods makes your work to stand out from the rest of Georgian designers. So, tell us a little bit about your work in terms of constructing silhouettes? 
Before I start making a collection, other than narrowing down what kind of characters I want to create, I also get acquainted with what is trendy in the world. In the making process, I play around with silhouettes, shapes, textures, and cuts until I get the final result that I'm fully satisfied with. I love working on templates, modifying the standard ones, and making new ones. I also get great pleasure out of sewing those details by myself that I consider experimental. One of the most noticeable characteristics of the items from my collections is asymmetrical cuts and the combination of different materials. In the most recent collection, I've used prints as well.
You have mentioned that one of the sources of your inspiration are stories and folktales told by your grandfather. In what way do you think this shaped you as a designer? What's so special about it? 
The tales told by my grandfather had a huge impact on the expansion of my imagination and on the creation of the characters that you often encounter in my collections. These feelings are so unique that I find it difficult to put them in words, so I convey them better in my works.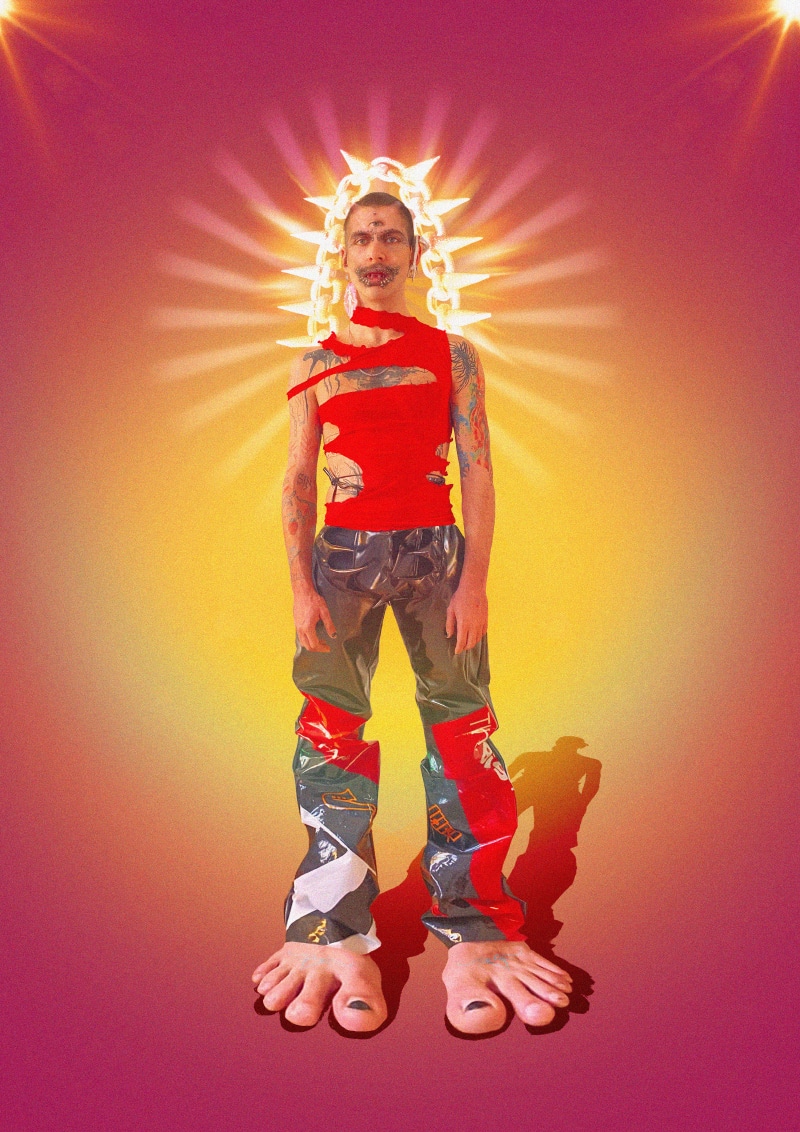 And last and not least, tell us what is for you to be a queer designer in Georgia?
It's not gonna be a huge surprise to admit that it's difficult to be not only a queer designer but a queer person in Georgia due to the acute homophobic attitude. However, lately, I see and feel much more support and enthusiasm from people to empower our community. My brand itself is all about activism. I think that in such a conservative environment in which an individual's self-expression and self-definition are profoundly limited, going against the artificial rules of behavior is essential, not only for our queer community but for our future development as a society.
What's next for you?
Right now, I'm working on a new collection, which will see the light of the day at MBFWT 2022. Stay tuned for another gender-fucking collection. As always, I aim at creating something challenging, that will make you see clothing from a different perspective. I am also interested in creating a digital collection and NFT designs. I'm planning on making a capsule collection soon.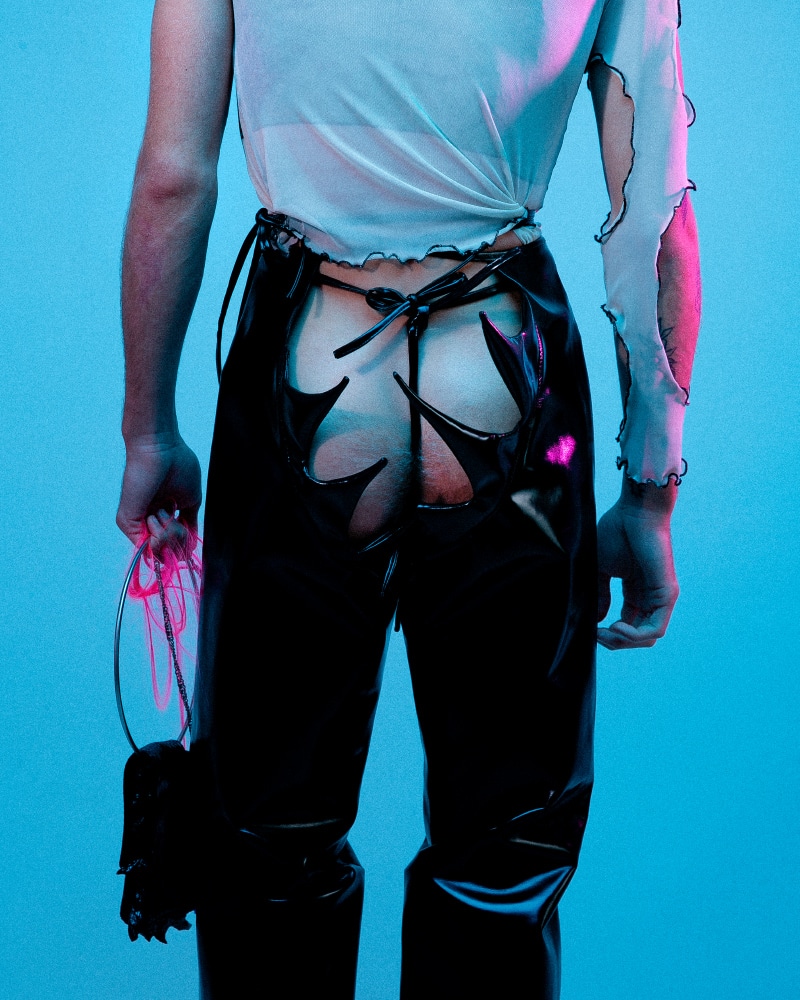 Lookbook Credits
Designer: Levau Shvelidze
Photo edit: @cosmiczezo
Creative direction, styling, casting: Matt Shally and Levau Shvelidze
Photo: Levan Leko Tchkonia
Makeup: @makeupinstitutegeorgia
Models: @chickenfromsesamestreet @temukkai
@euphoralite_ @anoovachnadze @xrjdsl9x0x
@troublemakerz_agency
Levau Shveldize portrait by Masu Mtsariashvili @masu15m