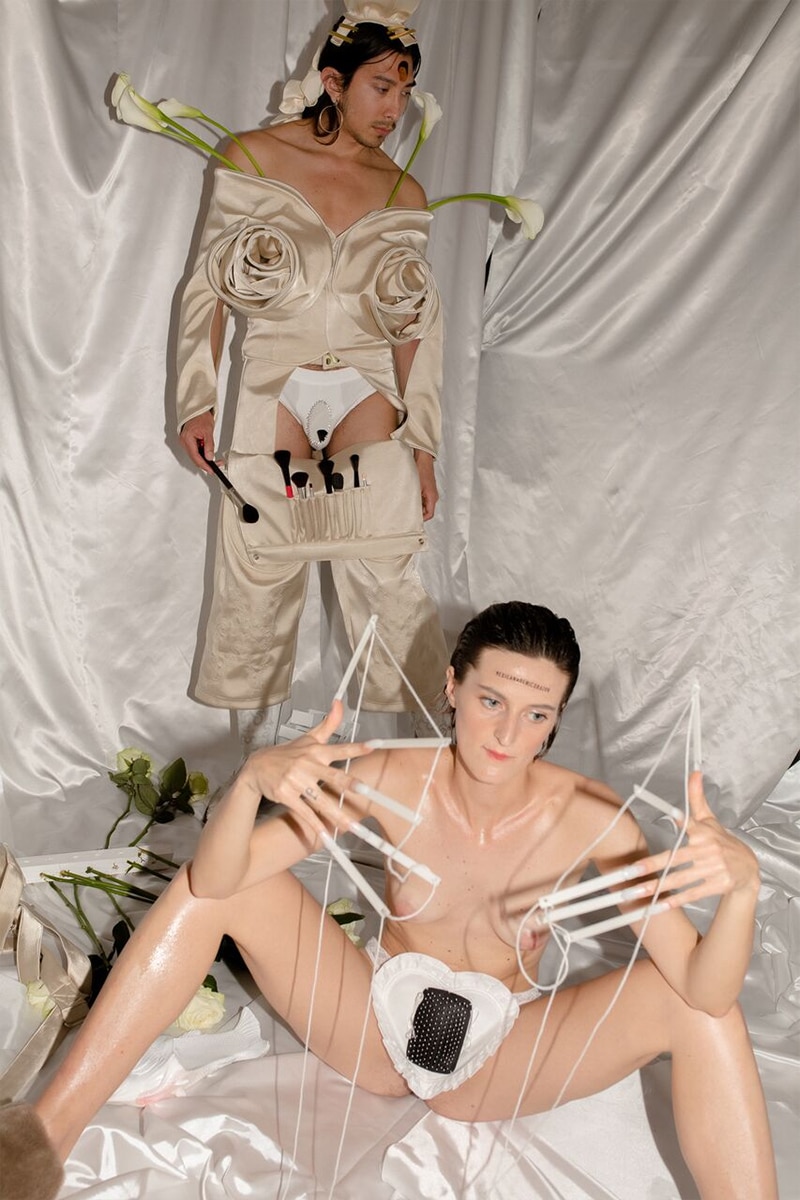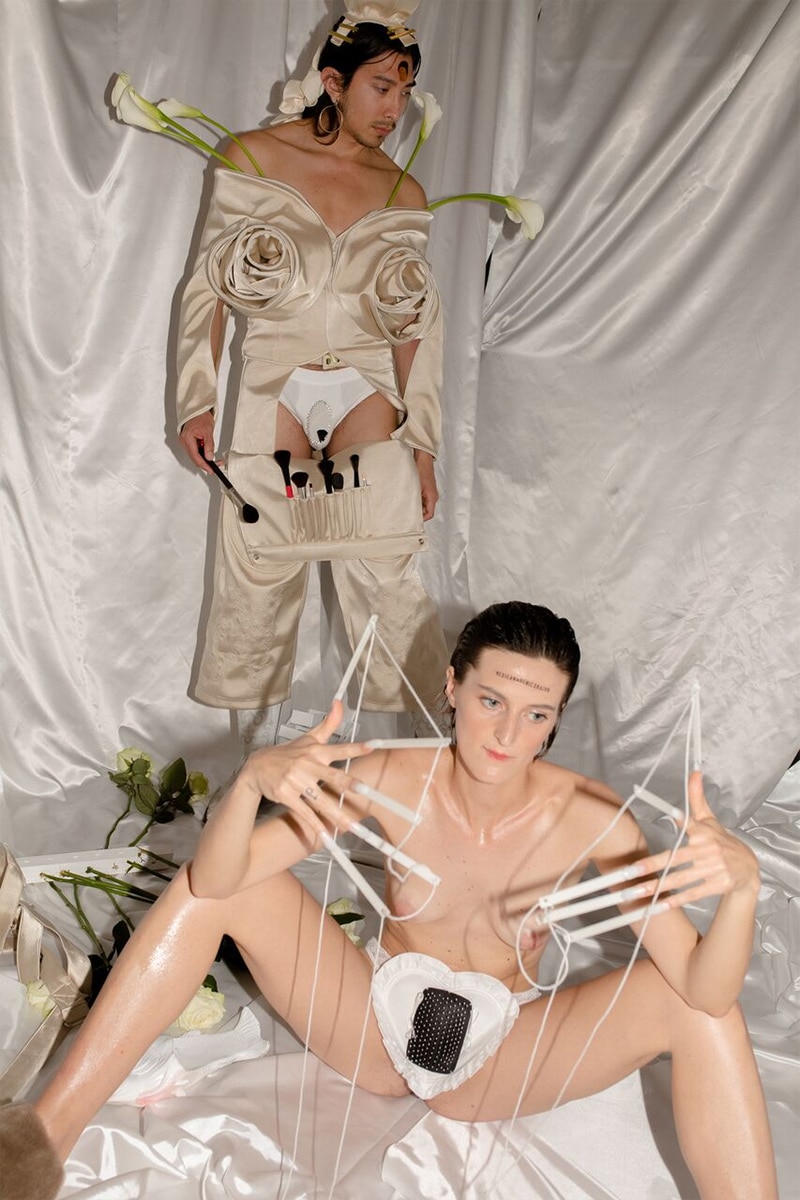 It was an extremely hot afternoon in Milan when last Saturday I spoke with Bárbara Sánchez-Kane, the Mexican designer behind the namesake menswear label. She was highly excited about her first visit to the city and told me of her plan to stay for a couple of weeks before flying back to her native country in order to vote for the local elections on July the 1st, something she feels as greatly important because "at the end someone is going to win anyway and not participating is very stupid". Barbara graduated at Polimoda in Florence and has been presenting her work at New York Fashion Week for three seasons now. Due to the many collections hitting the runway on the same day, you would wrongly guess she was in Milan for the same reason. We met instead at the space owned by Grand Tour Studio, the creative collective founded by Simona Citarella in 2012, who works especially in shoe design developing footwear for Camper, MSGM, Off- White, Fratelli Rossetti, County of Milan by Marcelo Burlon and Eckhaus Latta
among the others. The venue hosted a live performance curated by Barbara herself, which gave just a clue of what she is going to present next September while discussing death, femininity, motherhood, sexuality, spirituality and beauty. "I am quite nervous because it is the first time I am going to interact with the models instead of staying behind the scenes" she confessed. Yet, she didn't appear to be at all when talking about how this performance was born and the ideas behind it just few minutes before it commenced.
'Macho Sentimental' is a recurring theme in your work. What does it represent to you exactly?
It is not what my next collection is going to be named, but it is more a silhouette and the starting point of what I am going to present. Actually, it is more the slogan of the brand itself, which embraces the duality of masculinity and femininity and how people should have both. Mexico is a very 'macho-dominated' country, so I just used this common word to express how men should all be 'macho sentimental' and get in touch with their inner feelings.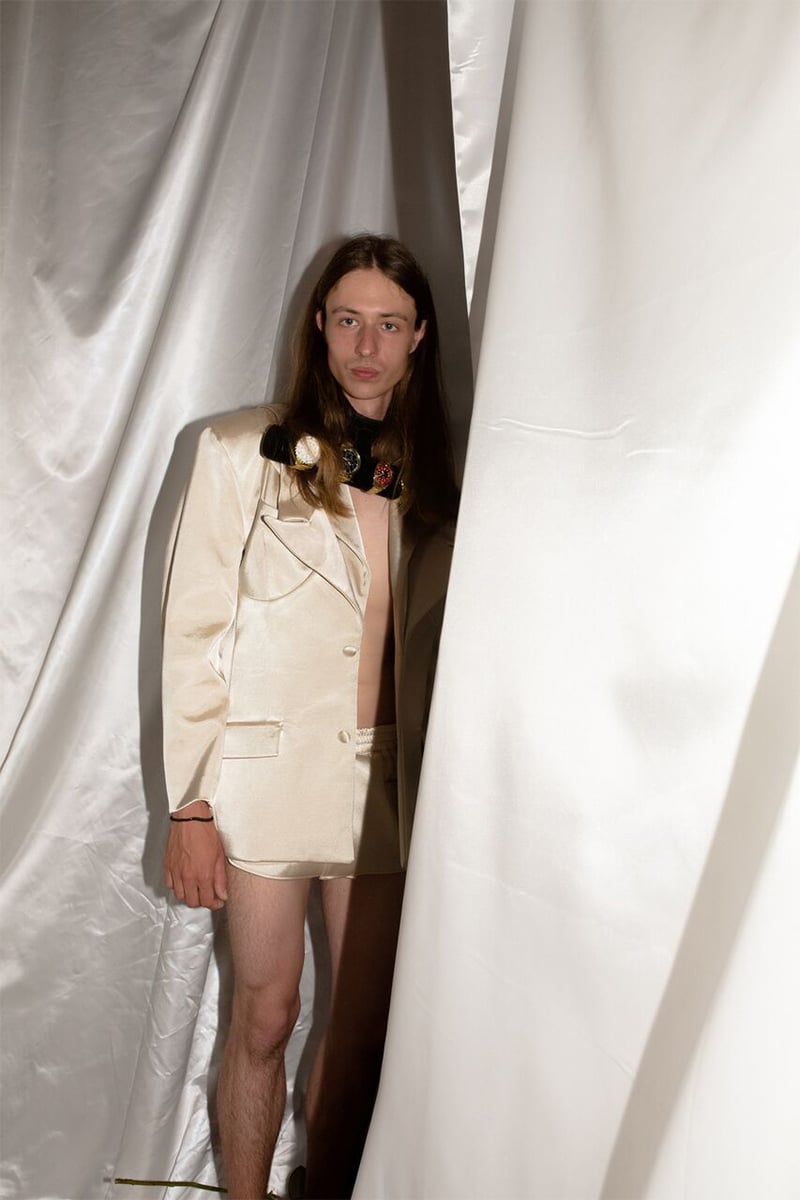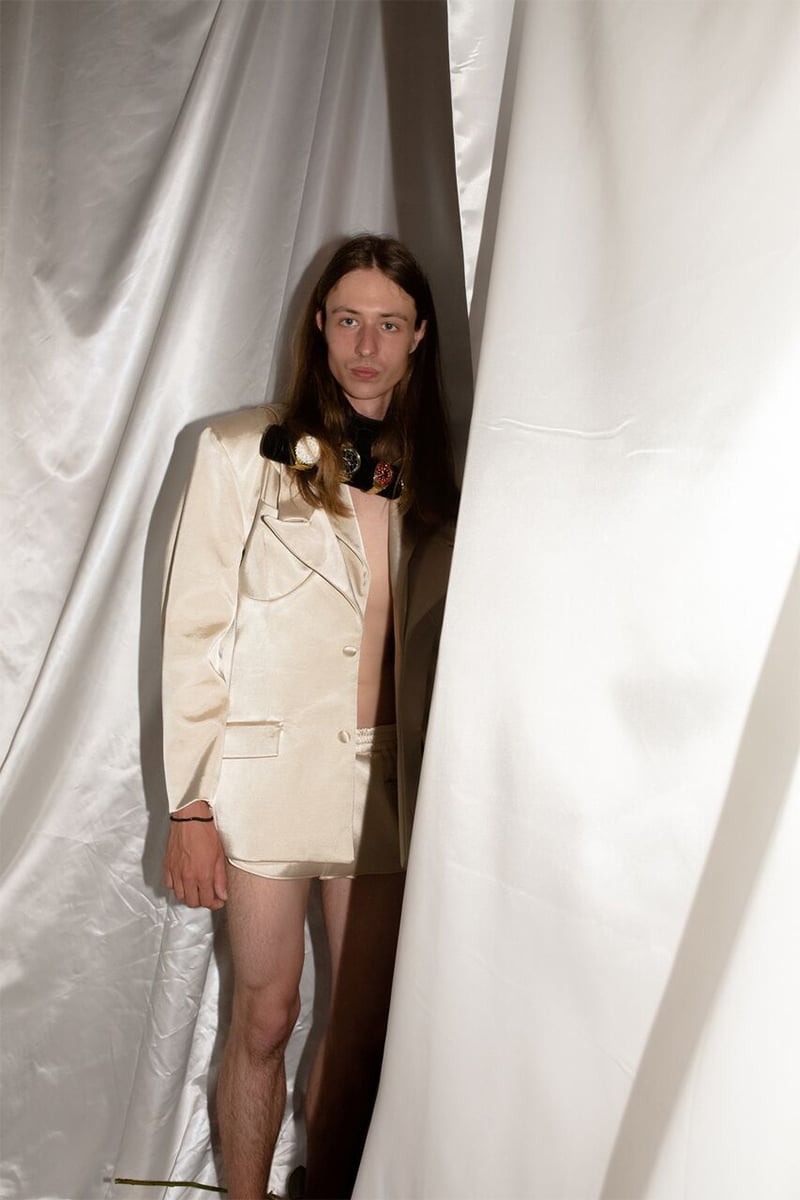 So, did you transform the typical Mexican aesthetic?
Yes! Sanchez Kane is a Mexican brand originated by what could be called 'my own chaos'. It just starts from what I see in the streets, what people wear and how they mix their clothes to make them work. I just see the beauty in it and take it. I could make fun of it or no, and translate it in my own way.
What about your relationship with Mexico?
I've studied in Florence and then I moved back to Mexico. It took people time to get what I wanted to portray with Sanchez Kane, because my work is not the typical design they were used to and sometimes people are afraid of what they don't know. So, at the beginning it was hard to enter the Mexican market and this is why it had been easier starting to present my collection in the US.
Is the reaction to your work changing in Mexico?
After a while, Mexico started being interested in me. For instance, I launched a pop-up store in Mexico City one month and a half ago holding a performance. Now they are enjoying the brand and having fun with all it says, from politics to sexiness and my customer base has grown too. It is true that sometimes you need to go away from your home and comfort zone, move abroad and than go back. That event was the most emotional one, because I was home with my family and friends, and at the end of the day, it's them you want to see what you're doing.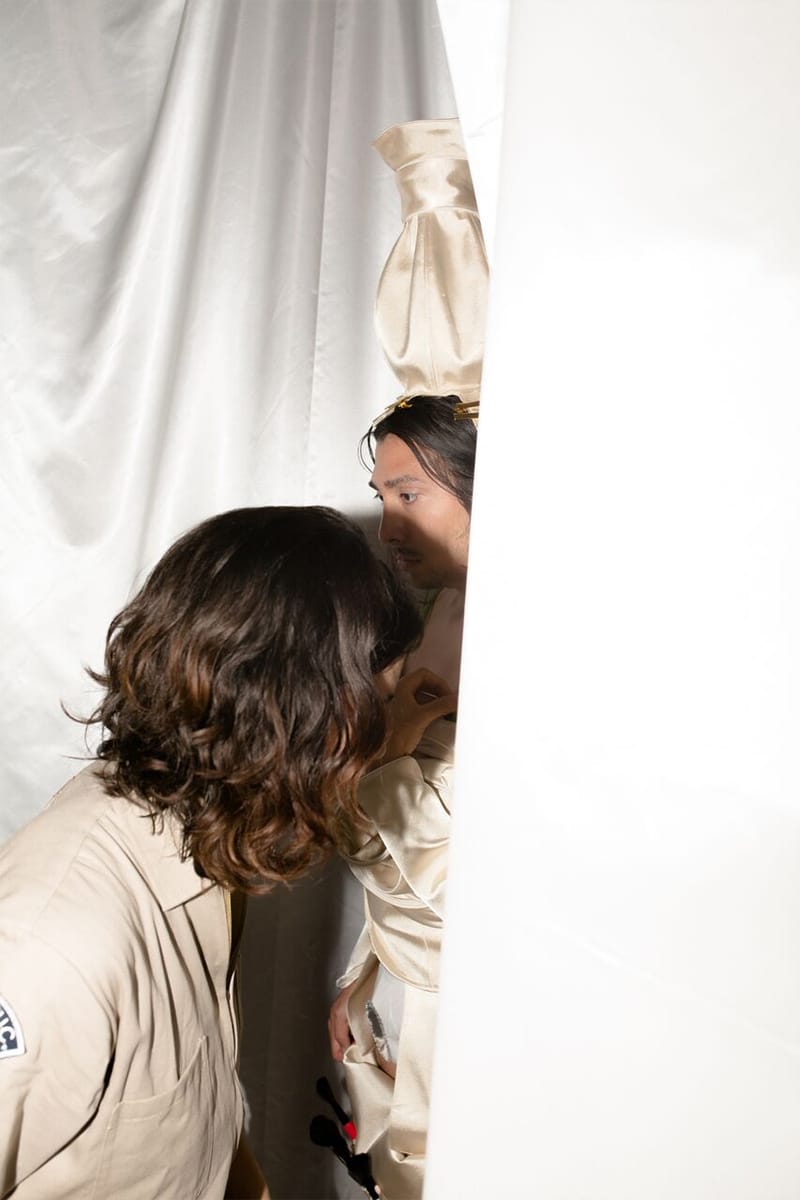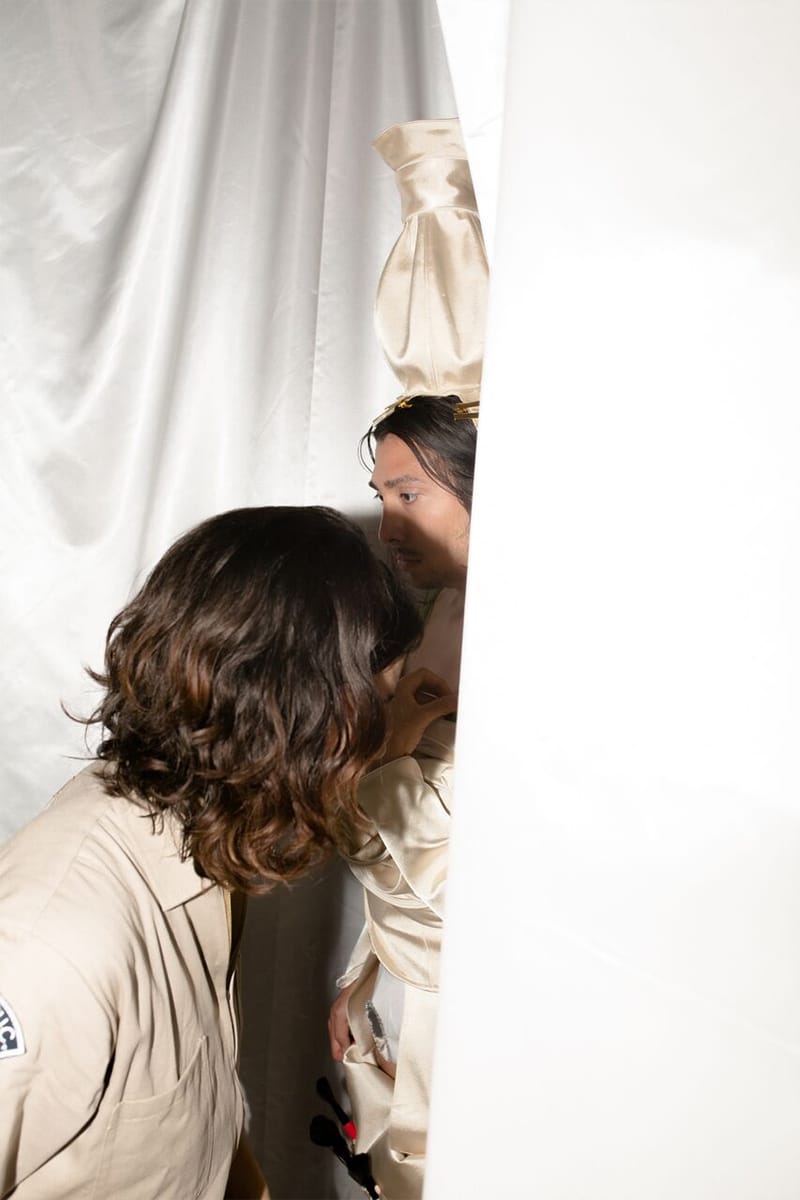 So, what is really behind your work?
I use fashion to portray what's happening in my life. I like creating basically. When people ask me which trends do I follow I answer that I don't care of them and I simply don't search for what is going to be the next colour. I am just doing it to express my feelings.
You also talk about motherhood in this performance. Why?
I've studied industrial engineering and, shortly before getting my degree, I've been diagnosed with cancer. This is when I came out of the closet and, after beating it, decided to move to fashion. Back then doctors told me that, around 30 years old, I should have had another operation If I ever wanted to have kids, so maybe this is why now I have started questioning whether I am going to or not. Not that I feel old, because I don't! It is just now that I am ageing I see the world differently.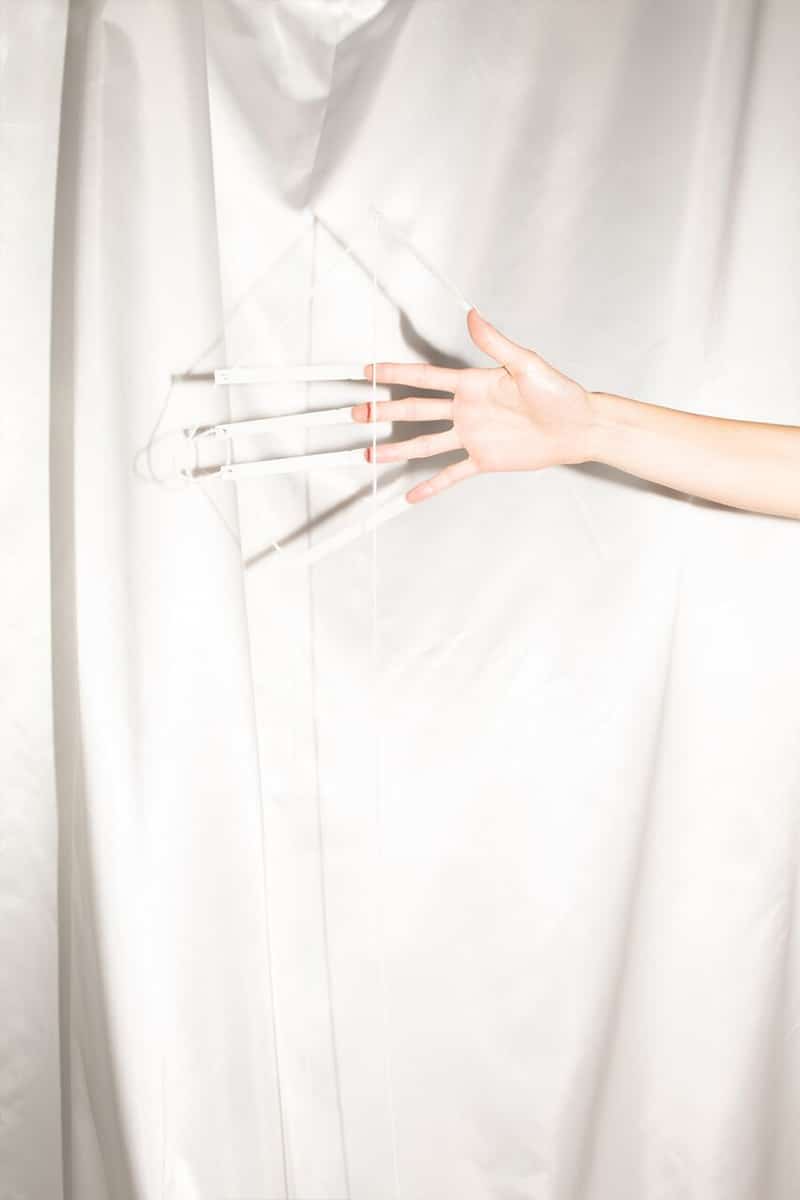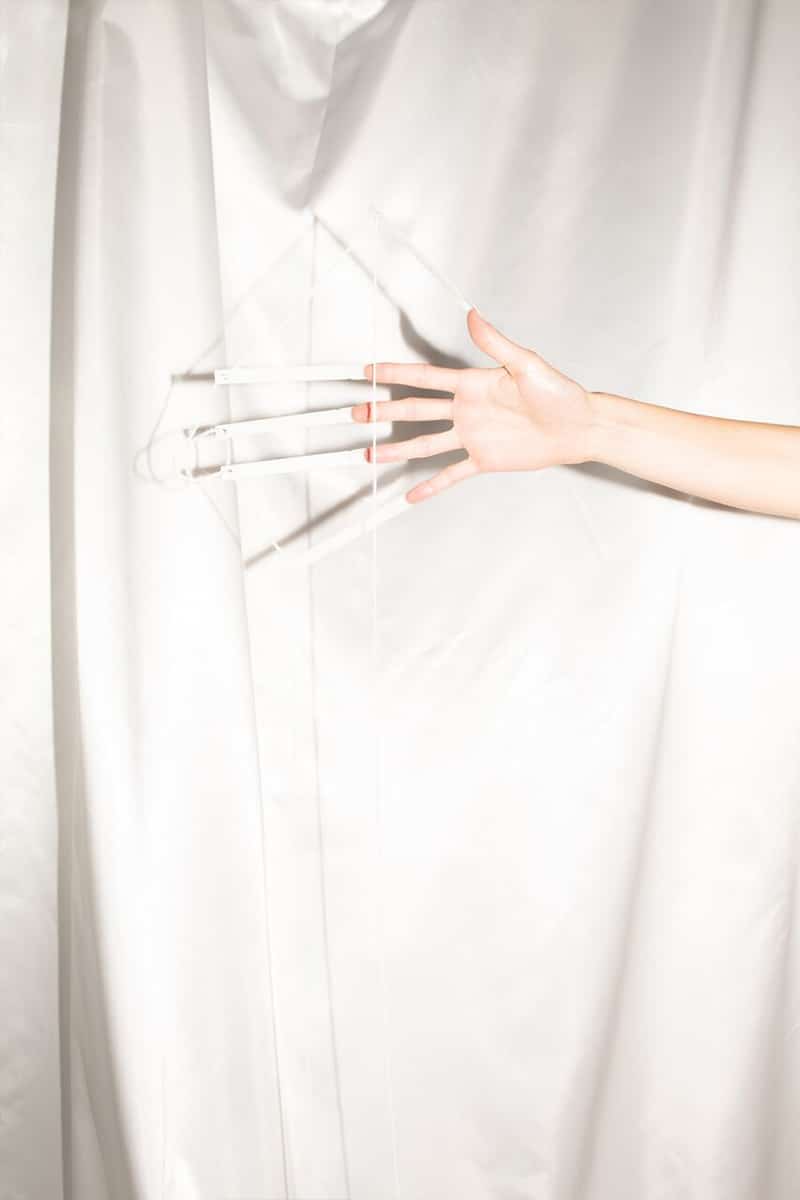 Did what you went through push to do what you really wanted?
Yes. Sometimes you follow what you think makes you happy instead of what you really want to do and for me that was a hit in the face and a wake up call. I realized I hated being an engineer, so I choose to change path completely and applied to Polimoda in Florence.
Why fashion?
I always liked to follow the shows and dress myself. So, it was the closer I felt to where I could say something. I found clothes to be a way of expression.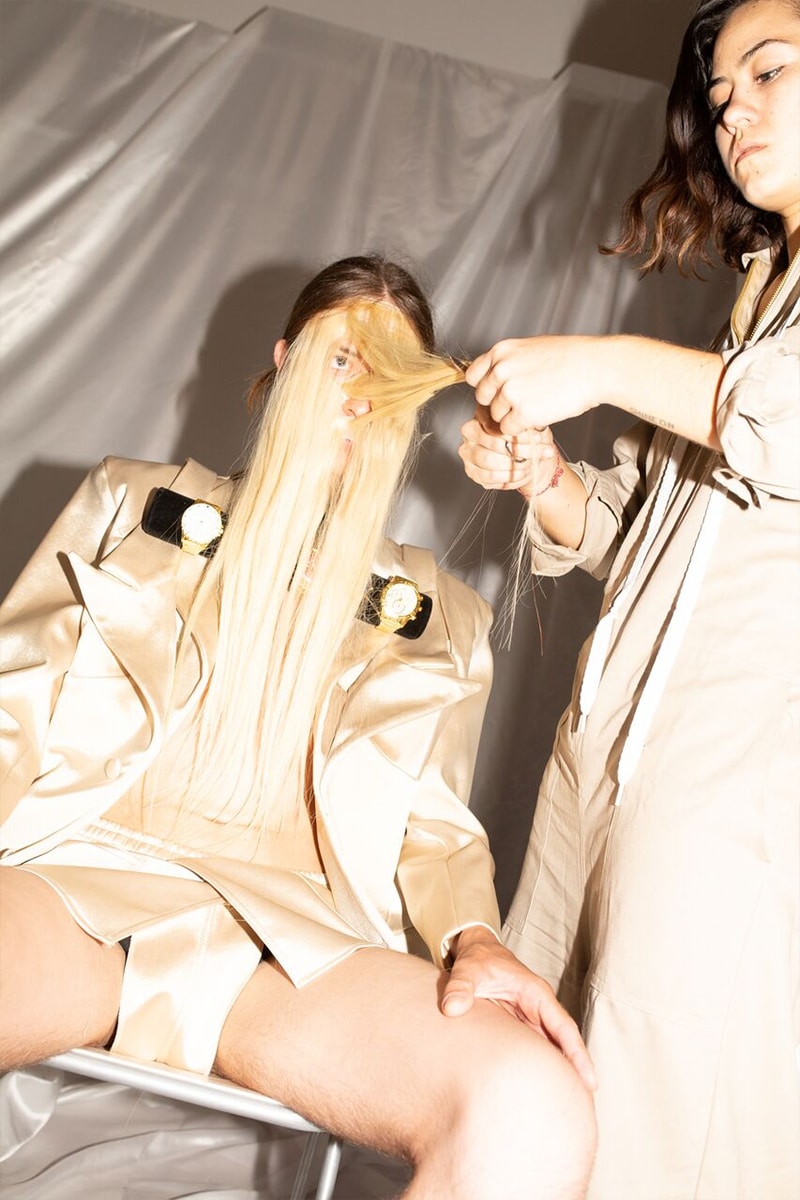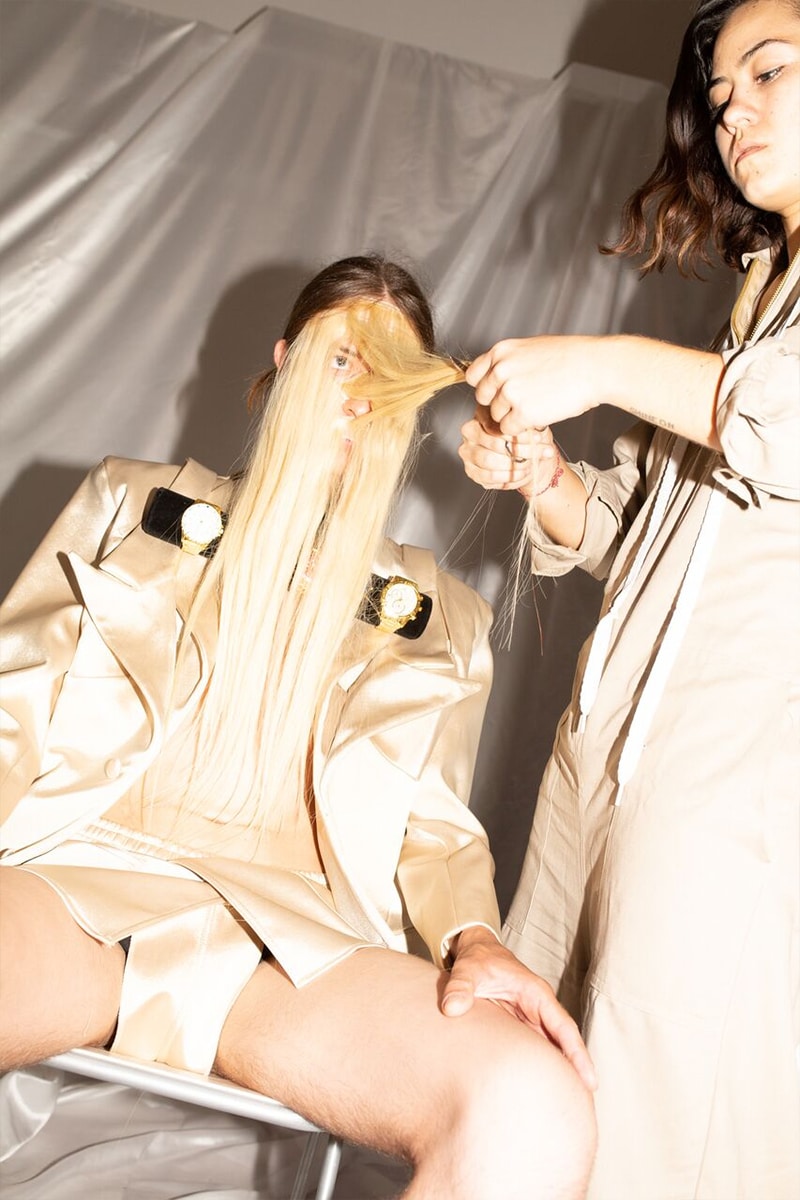 You once said that fashion is a great part of your work, but you are much more interested in creating installations. So, what is your relationship with art?
In 2017 I've been invited by the Institute of Contemporary Art in Los Angeles to show there my collection, but I wanted to do something different because I had already presented it. So, I invited some performers and one of them was Rafa Esparza. I was so anxious because it was the first time I did something more towards art and into a museum. At the end, I feel more safe in deigning than in doing art in a way, yet I'm working with an architect on another installation which is going to be showcased next October in Mexico City, this year's Design Capital. It is fun to do all this. Everytime I present a collection, or launch a pop-up store I need something happening in that moment and a performance seems to be the best way to show what motivates me. It says more than just a traditional show.
How did the collaboration behind this performance start?
Simona invited me to do something together during Milan Fashion Week. I wanted to something smaller and not strictly follow the rules of the system. So, when she asked me to send her ideas I came up with four silhouettes in the same colour. It is a 3D diary of what my next collection is going to be and this is why the outfits are beige. They are going to be in the performance with some objects I worked on. There is a pillow, for instance, the typical one pregnant women put around their neck, which I turned into a legs-shaped one. It is called 'Siesta Conceptual'. There are also iron-shaped sandals and many objects that you usually find in a kitchen. What I wanted to portray is that femininity can hold masculinity too.
I also worked with Delia Beatriz, aka Debit, on the soundtrack and with Dorian López, @mexicanomx on Instagram, a photographer I really love. I asked him if he wanted to share his work with me, so I choose three pictures from his archive and put them today in the installation. With both of them, the link is again Mexico, and the silhouettes too represent Mexico. Collaborations are very essential to me because you always learn something from them and are the best way to keep finding new inspirations.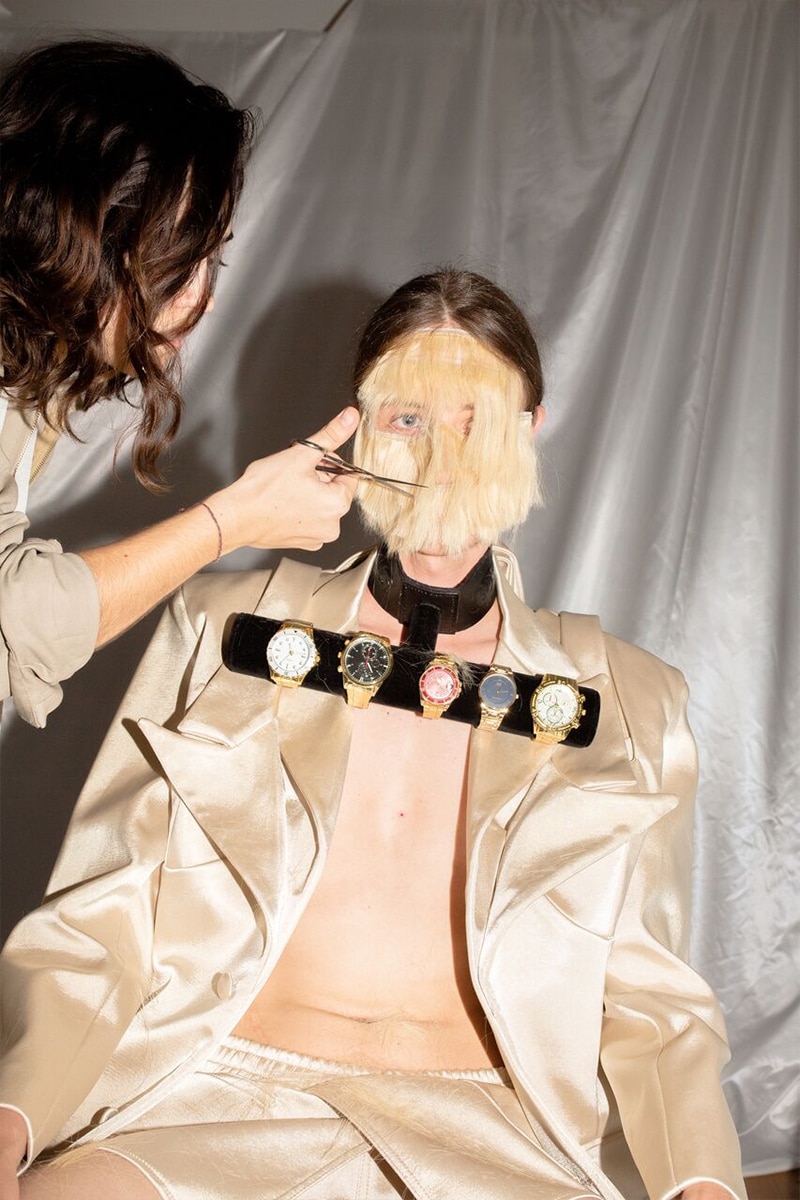 Did you know form the beginning what you wanted to talk about?
No. When I started I wrote down words as femininity and sensuality and later on I tried to link all those words and everything came together.
You started from a menswear brand and ended up dealing with something related to the female world. So what does gender means to you?
Femininity immediately makes you think of women as masculinity of men. Why should guys and women be this way? My brand, for example, has a strong sexual charge and people automatically assume is designed by two men. Two, not one. So you see that when it comes to gender people stick to many labels. I do menswear just because I wear more manly clothes. I believe you should do whatever you want to do, if it is something that you love. The only thing bad is when you hurt people. So, kiss whomever you want to kiss and wear whatever you want to wear. I know this is maybe easier in the big cities, because elsewhere people still don't' understand it, even if it is nothing to be understood. They just have to acknowledge that people are looking for their own way to be happy. Moreover, embracing femininity doesn't make you less of a man. Guys who cry, they are so sexy!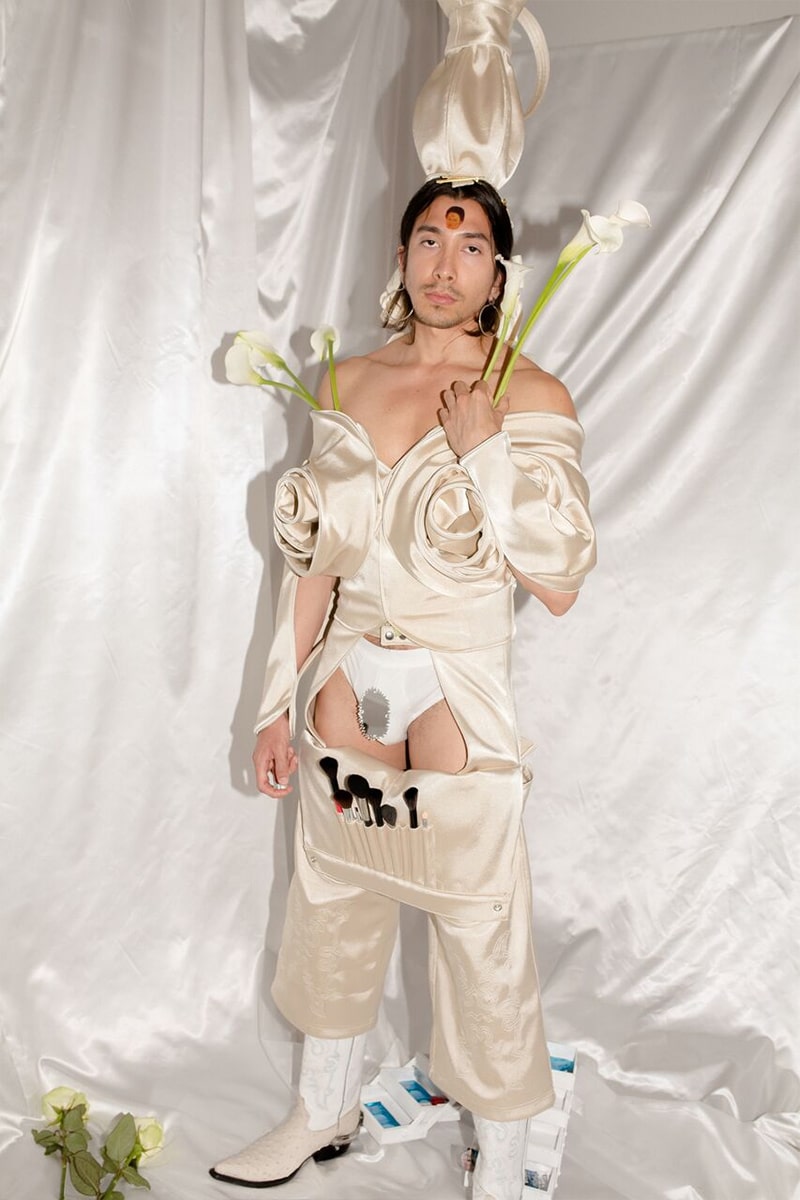 Photography by Ivan Grianti