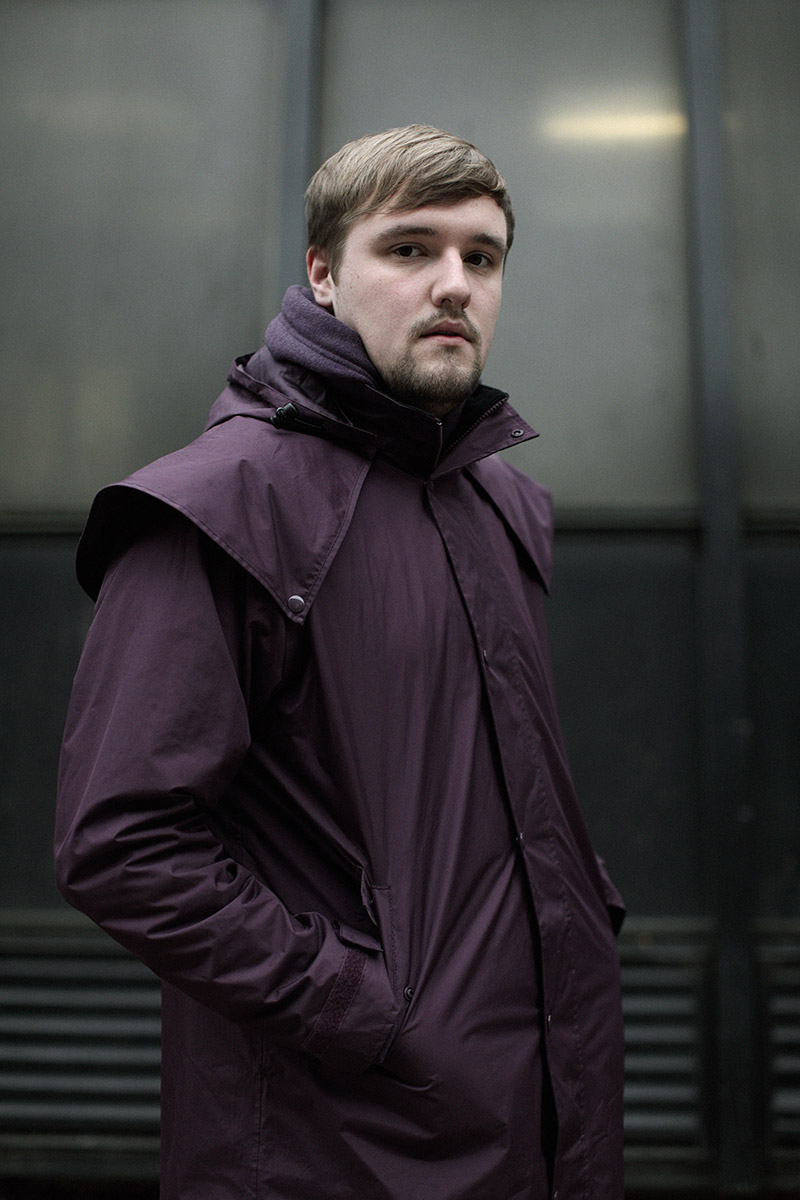 "But you see in dealing with me, the relatives didn't know that they were dealing with a staunch character and I tell you if there's anything worse than dealing with a staunch woman… S-T-A-U-N-C-H. There's nothing worse, I'm telling you. They don't weaken, no matter what". When I listened to 'Little Edie' Bouvier Beale pronouncing these words with his bizarre, distinctive aristocratic aplomb I realized that she would have become one of my heroes… Also  Joseph 'Joe' Turvey must have thought it when he decided to inspire his Libran Husband – the collection that, in fact, has catapulted him into the fashion industry – to Grey Gardens, the documentary starring the eccentric cousin of Jacqueline Kennedy Onassis and her elderly mother.
A native of the Shropshire, Joe soon moved to the capital, where he studied at the London College Of Fashion. He collaborates with Katie Eary and Louise Gray and in 2012 his graduation collection (a tribute to Agatha Christie's Miss Marple, another everlasting icon) is chosen to be presented at the Graduate Fashion Week. The unconventional use of materials, the stylistic choices and the sartorial cut earned him the praise of fans and insiders. But they are especially his prints to give him fame while turning the student's dream into the reality of one of the most interesting designers in the Anglo-Saxon firmament.
Joe manages to amaze and entertain, always… With De Vil's 'GANG' he leads us into an imaginary world in which Cruella is no longer the cruel fur-obsessed Disney character but a super cool young leading a gang of Dalmatian-boys. With No.4 he instead bravely faces the dangers of the NASCAR races retracing the adventurous life of the reckless Ethel Mobley…
Just like her, he is there, ready to overcome his own limits, to accept new challenges. The last one has the glorious features of River Island, one of the most successful companies on the High Street. That of Turvey for the British brand will be a capsule collection for the SS14 where the hero element of the range is in the playful pink camouflage. This is a strong theme throughout, and plays off chic elements of luxe sportswear, statement neoprene accessories and matching jersey sets. These elements juxtapose to create a new take on 90s street wear culture.
This and even more he tells in the interview that follows… There is neither  'Little Edie' nor 'Big Edie' to keep company with us, there is not the large ruined house in East Hampton, there are no cats, hats, magnifying glasses… but we are on Fucking Young! and that is enough!
Fucking Young! – Hello Joe! You are only 24. You graduated in 2012 and in the same year you treaded your first catwalk thanks to the Ones to Watch project. The Libra Husband collection, inspired by Grey Gardens, immediately found the approval of both  the spectators and the critics. How do you remember that experience? What did it represent for your career?
Joe Turvey – I was extremely lucky to be chosen to present my Masters collection during London Fashion week with Ones to Watch. Without that show I don't think I would have continued on to create new collections…so for that I am truly grateful. I had all my best friends backstage helping me and my family in the front row. It was an amazing day and I will never forget it.
FY! – After graduating you had the opportunity to work with Katie Eary and Louise Gray. Which adjective would you use to describe each? Have they any common point? What do you like most about them?
JT – I actually worked for them during my studies. Katie is an amazing designer and her creativity is endless…She taught me a lot about the industry. It was years and years ago when I was at Louise Gray, her use of colour and texture is something that has influenced my work to this day.
FY! – In little more than a year you managed to climb the fashion pyramid and place yourself among the best and most talented designers of the London scene. Which do you think  the key to a so fast success is?
JT – That's a very nice compliment. I still have a long way to go though… I have been very lucky and been in the right place at the right time. I graduated when print was at its height of popularity and I like to think I created something with print that people hadn't seen before; especially in menswear.
FY! – "Inspiration from traditional menswear tailoring and textile surface design. Fusing these together with iconic figures such as David Attenborough and Edie Bouvier Beale. Iconic figures from the past and present enable you to create interesting and original menswear collections"… How could we define your style?
JT – Exactly that. I create a design methodology around the history of my personal style icons and try to tell their story through the collection. Hand drawn illustrated prints are usually my starting point with I develop and find the perfect fabric that references the methodology. My work always has a street wear silhouette and this heavily references the fabrications. Challenging convention will always be at the core of my style.
FY! – A/W 2013 = De Vil's 'GANG' … You looked at the Disney classic 101 Dalmatians character Cruella de Vil. De Vil's obsession with Dalmatians was the basis for your hand drawn prints and heavily textiled fabrics. Would you like to tell us about?
JT – AW13 was my first winter collection and I really wanted to challenge myself by using a completely monochrome colour palette yet  still maintain the fun and vibrancy of my previous work. 101 Dalmatians seemed like the perfect way of achieving this… So we looked at different screen printed techniques, digital print onto chunky yarns and fine cashmeres and printed back onto jacquards. A lot of time and hard work went into the collection but I am very proud of what myself and my team achieved.
FY! – From Cruella De Vil to Ethel Mobley… For the SS14 season, you have explored the story of legendary female NASCAR driver and her family of racing pioneers, taking inspiration from Ethel's strong female presence in the severely male dominated racing scene of the 1950's. Instead, What have you wanted to tell with this Collection?
JT – I wanted to challenge  the conformity of menswear. Ethel managed to break into a male dominated world and I wanted to portray that within the collection. Illustrated florals onto tailoring and street wear mixed with printed mesh, silk and knit. I looked at Rothko for colour blocking ideas that would reference the checks associated with racing drivers.
FY! – Which are the most representative pieces of both and which the fil-rouge that binds them together?
JT – I would say that my illustrations and attention to fabrication is what binds them together. Every season I am to challenge myself and search for new fabrics to print on and techniques to use. AW13 we used screen printing and digital print onto knitwear. SS14 we printed onto power mesh and created new fabric with ripped silks. The design methodology may be different each season but it still looks like a Joseph Turvey collection (I hope).
FY! – An anticipation about what we are seeing on the runway in January?
JT – Only time can tell.
FY! – Not many days ago, the River Island's Design Forum announced your collaboration. How, when and where was the project born?
JT – I started the project during the  design process of  my Dalmatian collection. I have been working on the project for a long time and have loved every moment… I feel very honored that after only 3 seasons River Island have faith in me and my brand.
FY! – It will be a capsule collection for the upcoming SS14, a new take on 90s street wear culture. Neoprene, jersey and especially pink camouflage … How did you manage to combine the Joseph Turvey's  soul with that of River Island?
JT – I wanted to create a collection that wouldn't alienate the River Island customer but still feel like a Joseph Turvey collection. I created hand illustrated prints and applied them to traditional sportswear fabrics. The silhouettes within the collection are oversized and reference the signature style of Jamel Shabazz photography and documentary work. Pink is a colour I can't seem to stop myself from using… It was inevitable it would appear in this collaboration.
FY! – The collection will be anticipated by a film directed by Alex Turvey to be presented within the framework of the Fash/On Film initiative during the LMFW. What is it exactly about?
JT – River Island are extremely supportive of Fashion Film and have realized the importance of creating a platform for designers to  present  their work through digital medias. It's a very exciting way to work and I feel very lucky to be a part of it.
FY! – You made people know you thanks to the  audacity  you put in both your choices of colors and your use of materials. Your prints are always exquisitely over the top. Your collections are, as you yourself say, "fun" As a designer, how much important  is to have fun while working?
JT – I think being a designer and running your own business is extremely hard work. So being able to have fun is vital. I want people to look at my work and have a positive response… The work that has gone into the collection should look effortless and only be seen after the show on the rail when you can see the different techniques, fabrics and story you intended to create.
FY! – The Fashion System, and the economy in general, are having a hard time. There are few opportunities for young people like you to emerge. As a successful man, what  is your advice?
JT – Be friendly to everyone. Never burn bridges.
FY! – What is the garment or the accessory that your wardrobe absolutely cannot miss?
JT – Bomber jacket.
FY! – The book, the song, the film of your life…
JT – Book: Oryx and Crake by Margaret Atwood. Song: Anything by Beyonce. Film: Grey Gardens by Albert and David Maysles.
FY! – What is FUCKING YOUNG?
JT – FUCKING COOL. 
Thanks a lot!