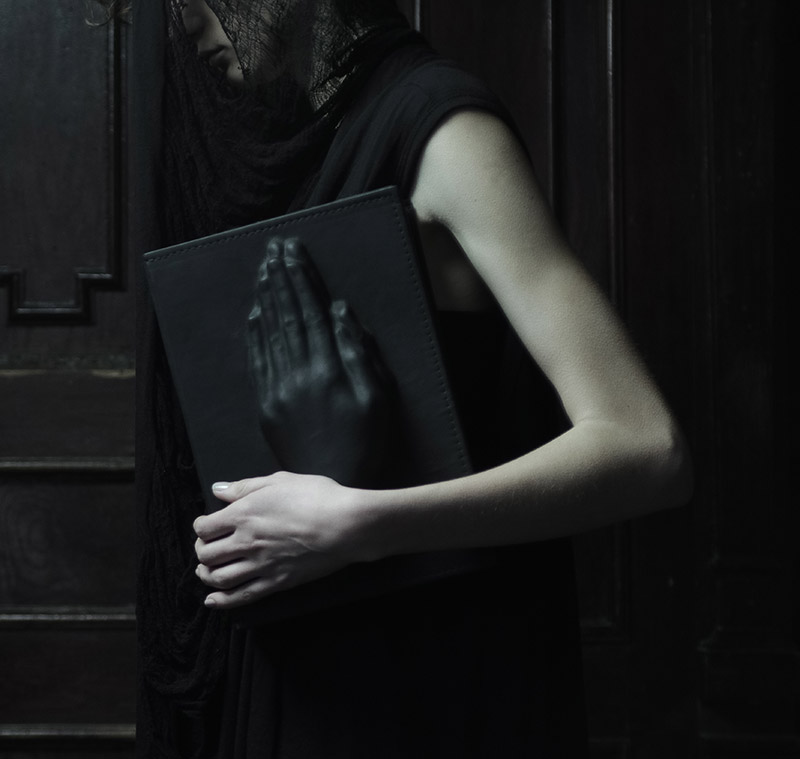 "It all derives from a strong concept for personification of my own desires and ideas. This has lead me to the creation of a complete brand, based on the search for the sacral core of beauty itself. It is a unification and subtle merger of nature and urbanism"…
Real surrealism. Functional art. Beauty exploration. Konstantin Kofta combines rural and urban perceptions and embraces the unintentional and the unexpected. It's to make his desires material that the brand KOFTA was born: dream and style with no compromise! Accessories as artistic installations. Accessories which are unique, strong but undoubtedly wearable.
Hug is the name of the 2013-14 F/W Collection… Pure sensations, freed from comparative notions, Hug is nothing more than an embrace… a metaphysical and concrete one!
Fucking Young! – Hello Konstantin! Your approach to the fashion world is highly unusual and innovative… With what spirit was the brand KOFTA born?
Konstantin Kofta – It all derives from a strong concept for personification of my own desires and ideas. This has lead me to the creation of a complete brand, based on the search for the sacral core of beauty itself. It is a unification and subtle merger of nature and urbanism.
FY – An adjective to describe your style.
KK – Noble.
FY – You are no doubt a fashion's outsider… One who thinks and acts out of the box… What are the difficulties you encountered to assert yourself in the international market?
 KK – For me that has not resulted in any difficulty at all. I just do what I want. That is it.
FY – Your creations are the perfect combination of art and design. So here… How important is fashion in your life and what is the role of art instead? Are they complementary?
KK – Simple, I see fashion as a kind of art. Art has many connotations one can also find in fashion and vice versa. KOFTA is an intelligent dialogue between functionalism and my personal vision of wearability, materials and sculpted accessories.
FY – The absolutely futuristic concept of your creations does not compromise the practicality and wearability of the single garment. How important is to make your items wearable?
KK – It is an allegory, creation starts with a calm moment, suspended in time, I seek to create pieces, by using materials specially crafted in Ukraine, my home country. It is all about the quality and the creative process rather than the final goal. Art is what I aim to suggest, wearability comes second to this, albeit KOFTA stands for meaningful interaction between wearers and objects.
FY – Among the info I can read: "He combines rural and urban perceptions, and embraces the unintentional and unexpected, which provide inspiration for current and future collections. Each collection appears as a form of art installation"… Where do you usually find inspiration?
KK – Inspiration is drawn from many elements of life, nature, soil, surroundings and textures. I attempt to live while being aware of all that surrounds me, rural spheres and perceptions on life always seem to seep into the collections.
FY – Besides leather, which material do you use most or do you prefer to use? How do you get them to "interact" with each other? 
KK – KOFTA also works a lot with resin and pitch as they go perfectly with leather. All materials are carefully treated, yielded, formed and shapes, which allows for a strong natural connection and interlink, this process is very organic.
FY – How important is creativity for a young designer today?
KK – It is inside you. Either you have it or you do not. Creativity is not a choice, it is something that lies within, dormant, ready to be awakened.
FY – An accessory which you could never give up. One to which we all should not give up.
KK – I don't know really and  to be frank, I never thought about as I do not wish to be pinned down. All is changing and in a constant turmoil, this depends on functionality and what we surround ourselves with. KOFTA is more a process than a directional sense.
FY – Born, Tar, Omut, Rust, The Moss, The Web, Barbed, The One. Here they are your Collections.. What is the red thread linking them together and what, instead, the points of contrast, breaking, that differentiate them by making each one absolutely unique, original?
KK – KOFTA is all about sophistication and the process of artistry. For me each collection begins with a set of sentiments, emotions if you will. From this creativity flows accordingly. Centered around a single word, the aim is to explain why we advance artistically. Seasons are moving at an incredible pace, forlorn is the time thinking of this. I choose my fabrics, shapes and detailing formed around central concepts, that spring from my creative processes. Therefore each collection is unique, calmly shaped and developed, allowing for interaction and differentiation.
FY – Hug is the latest born… In the website it is introduced as follows: "From birth, We try to stand up and take our first steps. We yearn to touch and be touched and to feel sensations for the first time. We can perceive objects with an unclogged consciousness. Pure perception without comparison . We know nothing other than that which we can see and feel"…
KK – These pieces come from a desire to depict our sensory approaches to design and objects. It was drawn from a stage of interactive stasis, slowly evolving into the essence of our minds. Hug is about connecting each other, embracing life without any sensory filters
FY – Your childhood dream…
KK – It was to be a ballet dancer…
Thanks a lot!