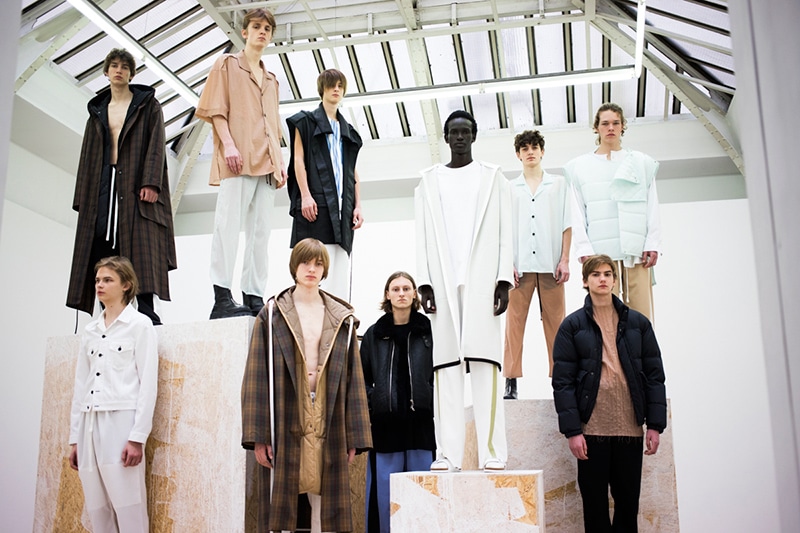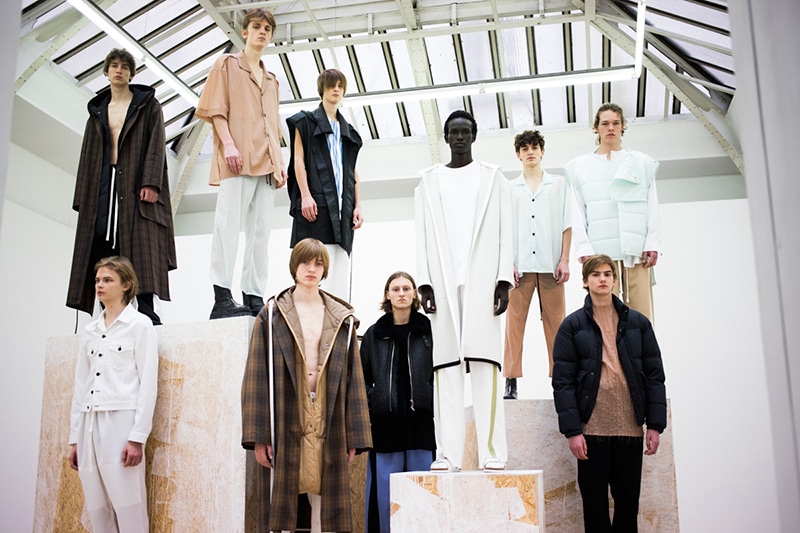 We caught up with the Swiss-born and now Berlin-based fashion designer Klaesi Holdener following his debut presentation during Men's Paris Fashion Week. He works with Japanese school uniform materials juxtaposed traditional English waxed outerwear fabrics combined high-tech fabrics from Swiss supplier Schoeller for contrast. Since being founded in 2015, the label has been conceived in the tradition of classic men's tailoring with a savvy eye for proportion and detail. With the explosion of outerwear in recent years, Holdener takes an unconscious poetic spin on things with romantic undertones.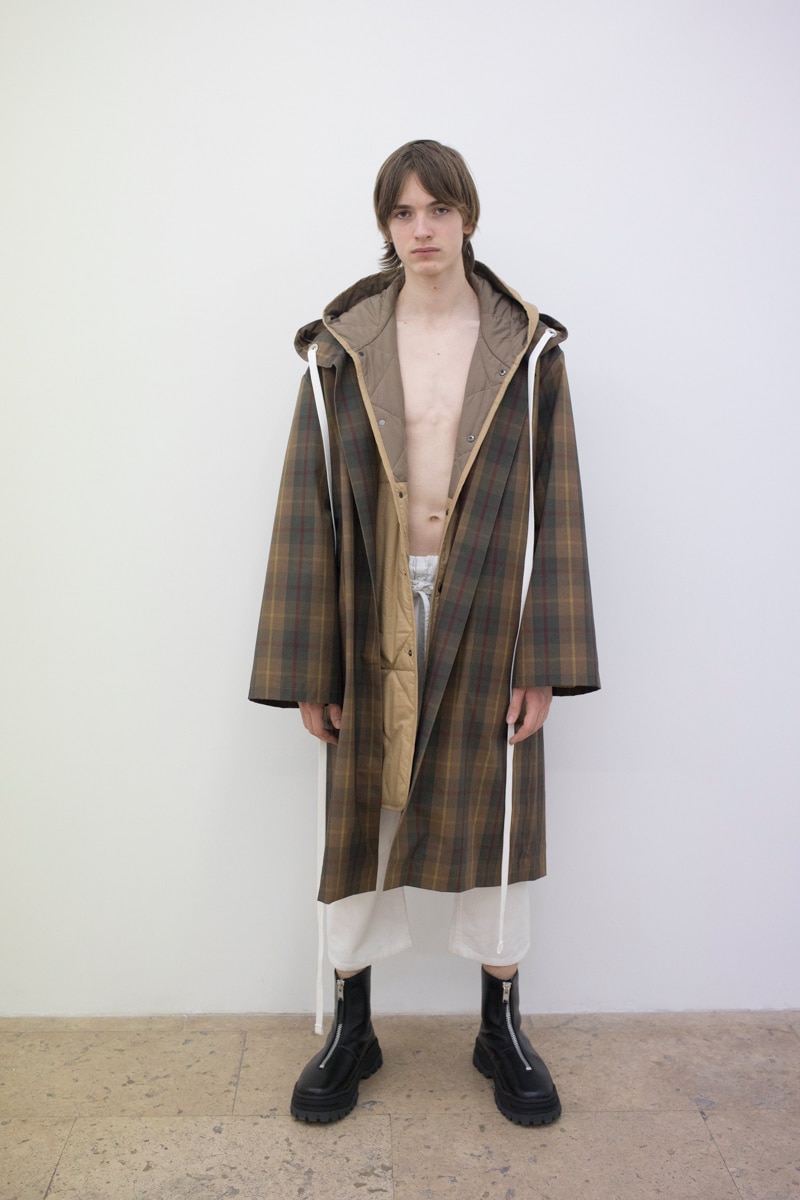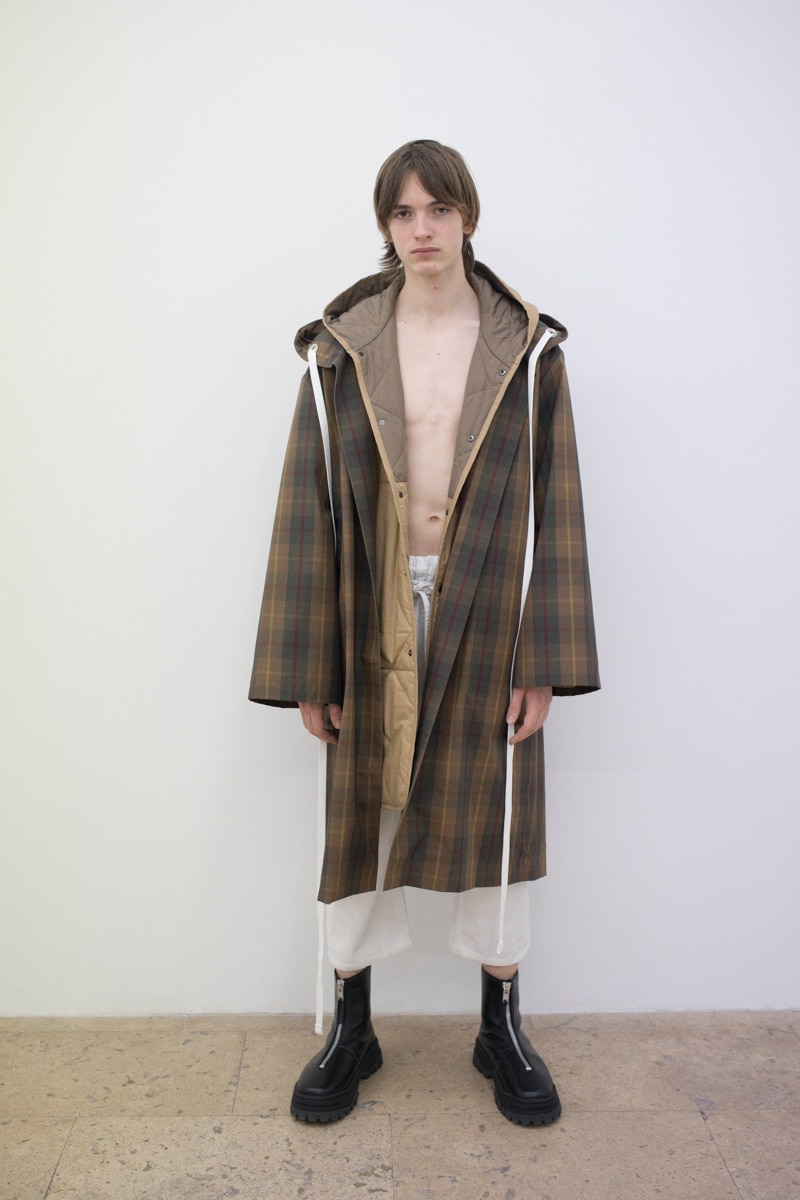 First of all, it's nice to meet you! Walk us a bit around your fashion journey.
Coming from a very design and classical music-oriented family there was a lot of room in my childhood to take the artistic path for becoming a tailor in a couture house in Zurich. After my fashion design studies at the DOING FASHION department in Basel, I was assisting in Munich for GQ at Condé Nast, in NYC for Tim Hamilton and Stockholm being responsible for the men's trend department and the press collection.
You are Swiss-born but Berlin-based, has that influenced your creative process or design at all?
I think it is a good combination to be Swiss-born and having all the support from home but on the other hand, having this creative and inspiring melting pot of creative people from all around the globe.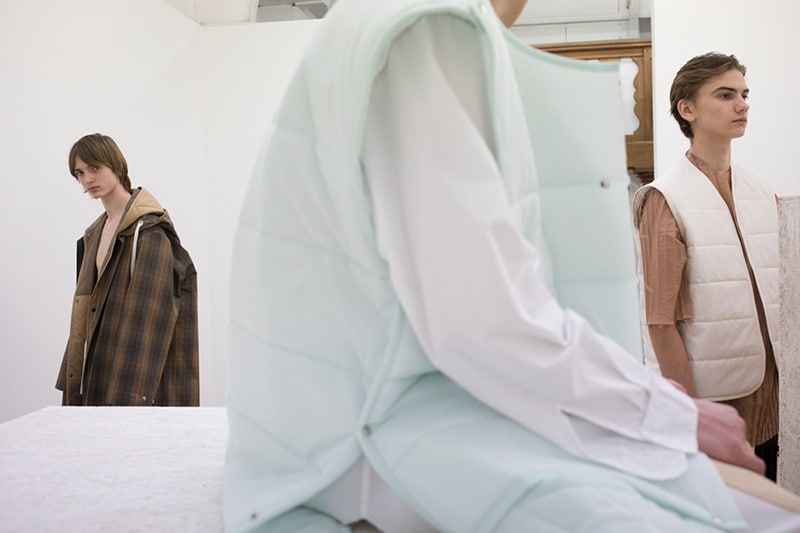 How would you define contemporary as we enter the new decade?
When it comes to fashion I don't believe that there is anything like contemporary anymore. To me, It sounds like a restriction rather than something I'd personally want to aim for as style, taste, technology, and culture are changing rapidly. The definition of contemporary today could be totally dated by tomorrow already. Radical uncertainty in all its beauty, if anything, is what truly defines contemporary.
What essentials make up your personal wardrobe?
Wool Joggers and oversized t-shirts from my personal collections. Preferably black and navy. And always a signature jacket since outerwear is my passion.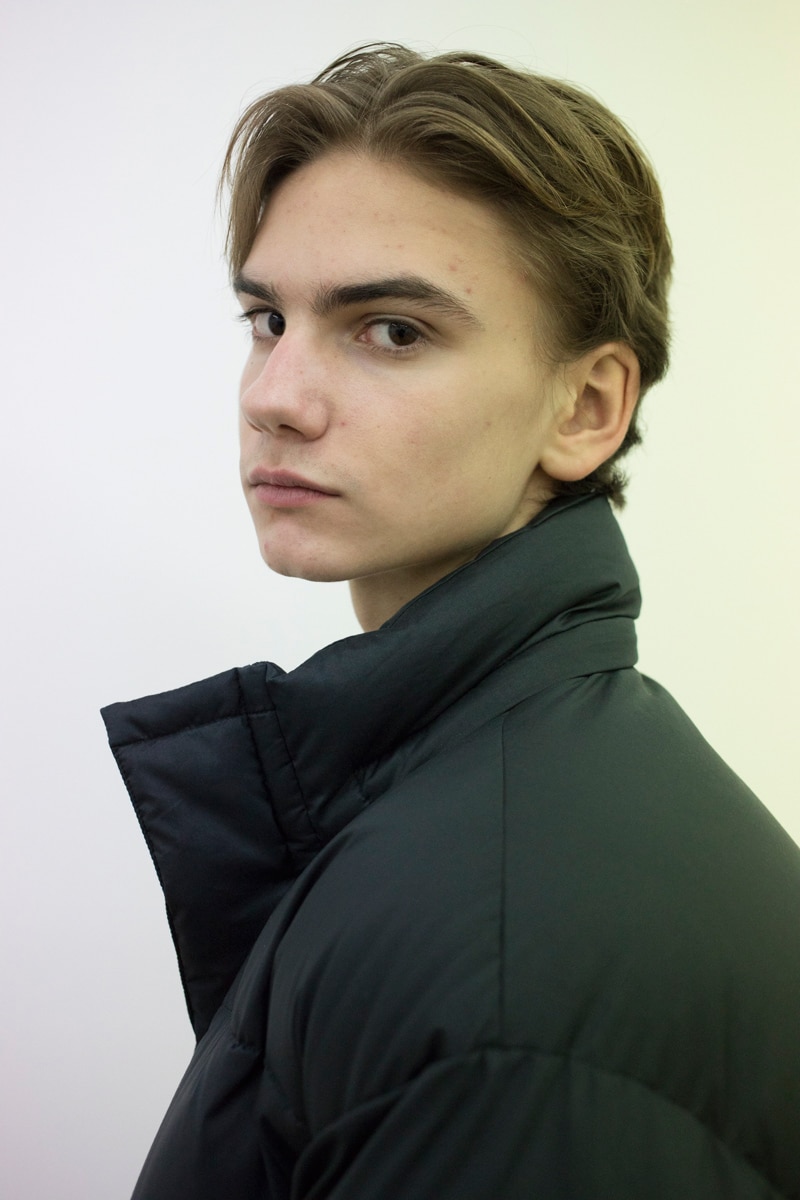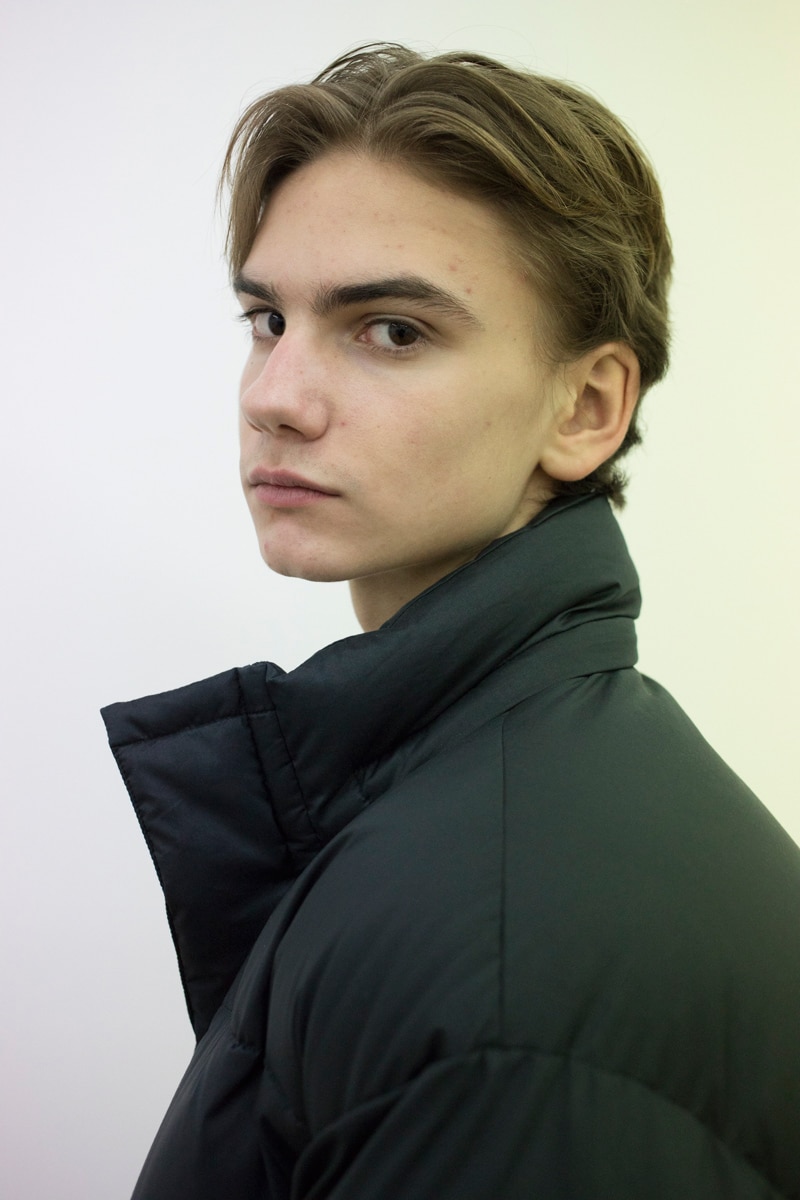 Looking ahead to fall winter 2020, what influenced your collection?
Whenever I start the creative process of a new collection I start building an imaginary character. I imagined a modern-day gypsy guy and built a world around this by taking cues out of music I listen to and modern art. For this show, I've been indirectly inspired by the works of a young French artist, Frank Rausch.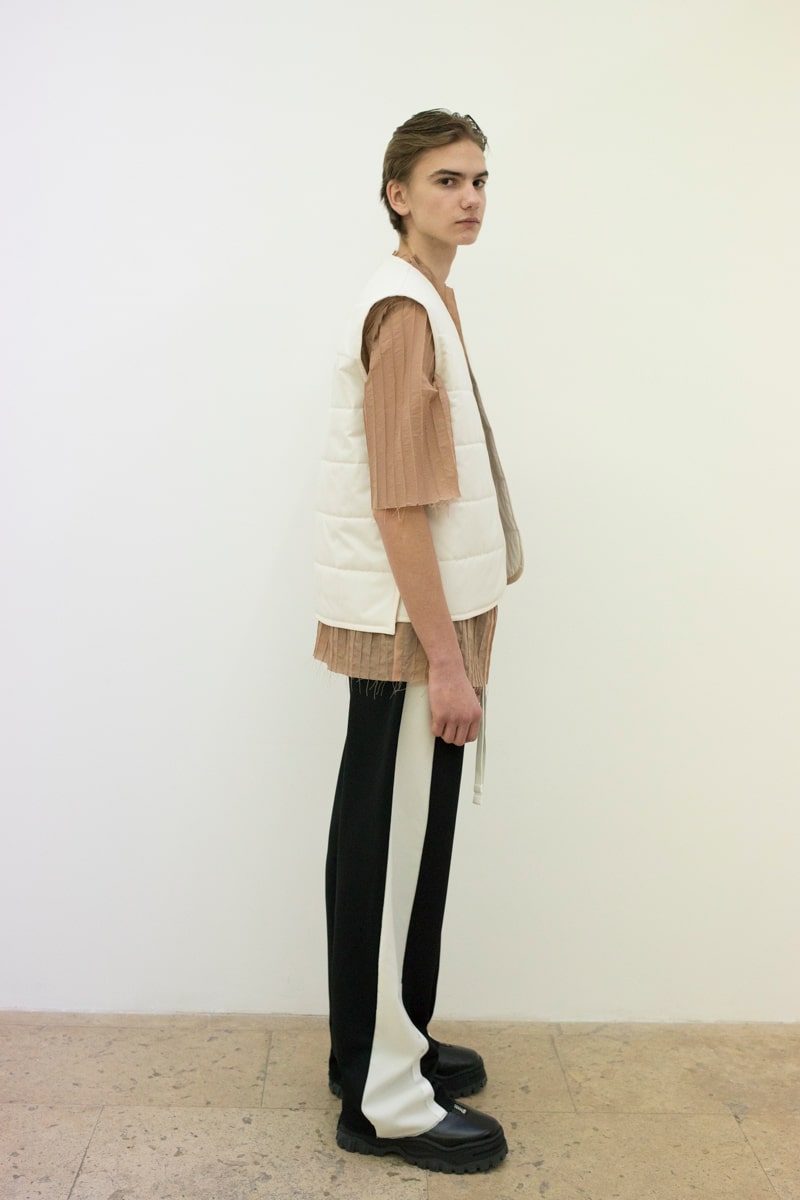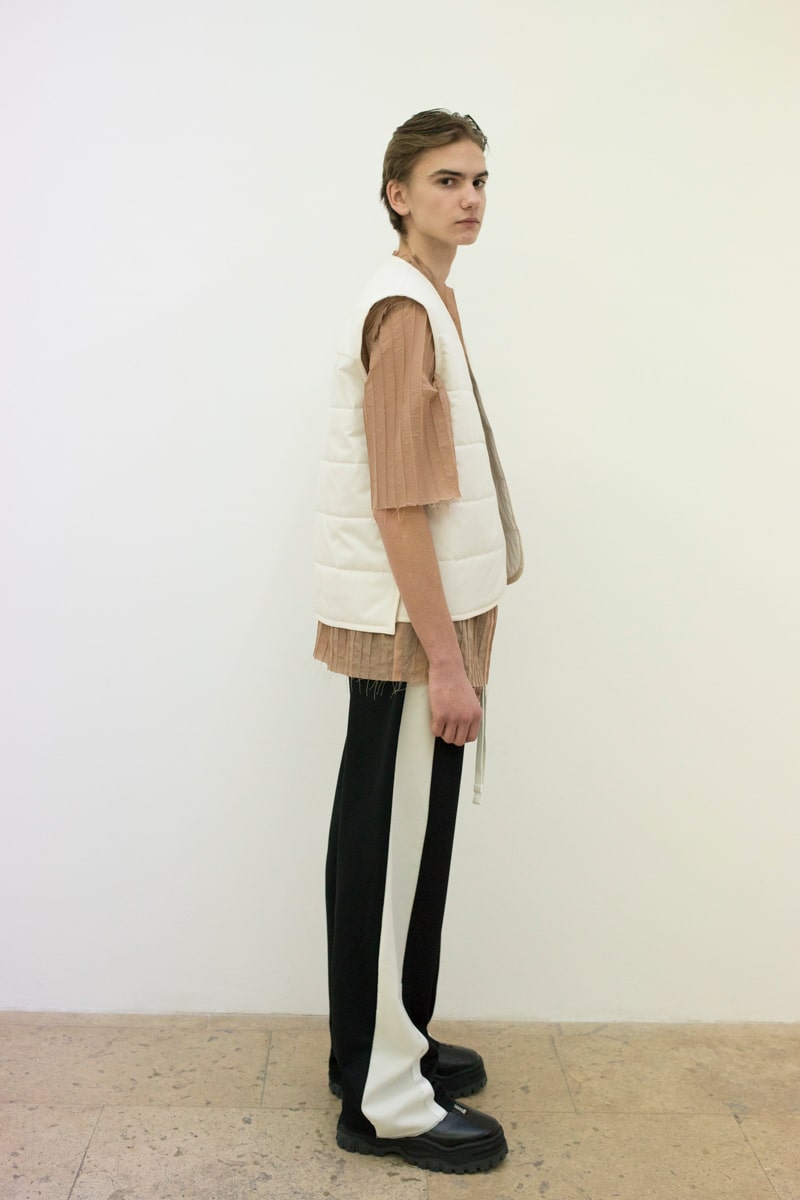 What would you say are your signature pieces?
For sure my oversized parkas and quilted vests, I do love outerwear.
If you were to put together a playlist for this collection, what would it include?
Whilst I'm searching for inspiration and building a collection I'm always listening to classical music. For this show, I stumbled upon Levon Vincent Tubular Bells (Oldfield) [NS-14]. I love how the song is a mix between classic and contemporary. It feels like it was created with the same intentions as my collection. A modern approach on the classics.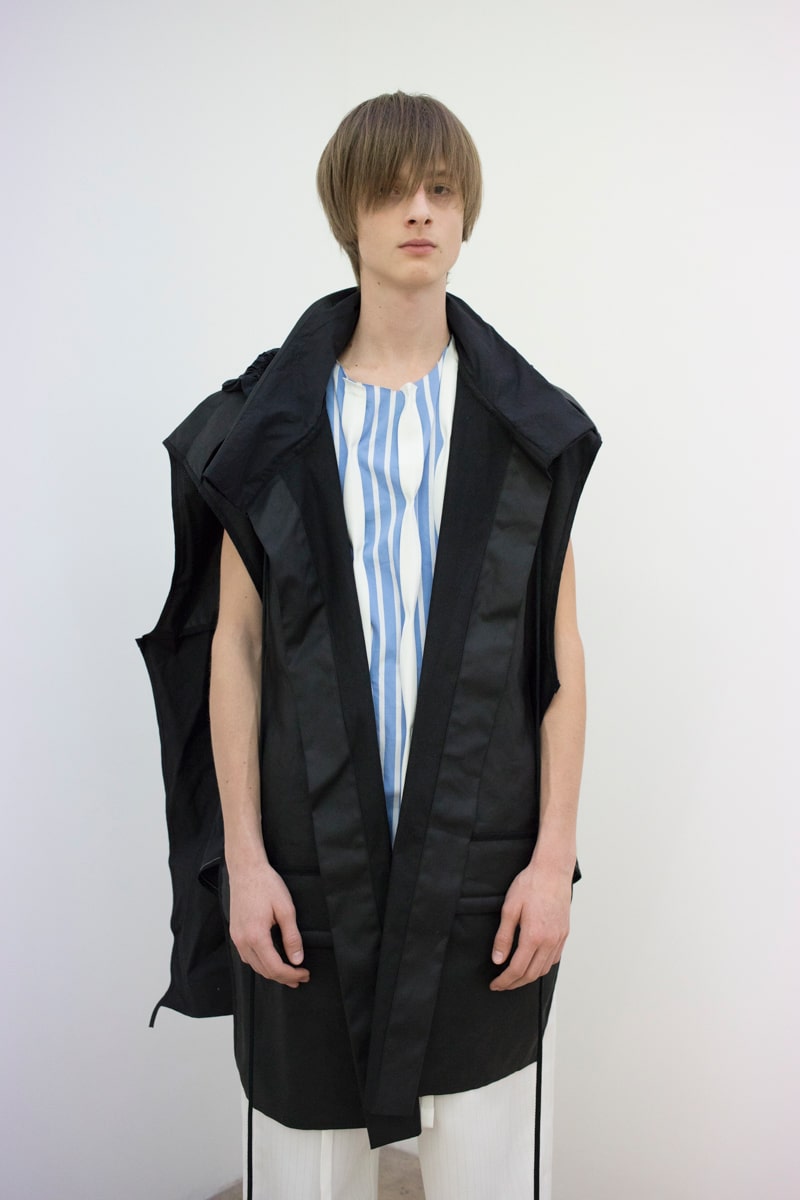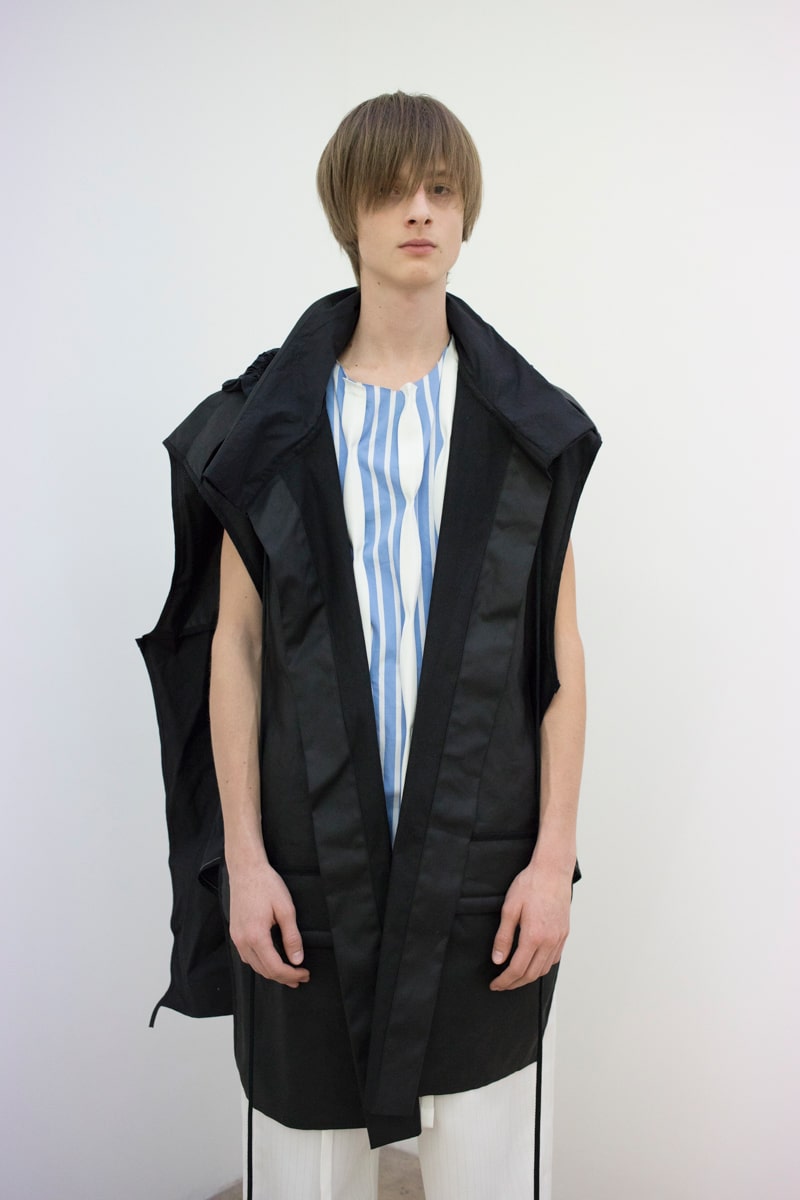 This season marks your first show in Paris, what made you decide to show here?
As Paris is the epicenter of couture it's always been a dream to have my own show in Paris.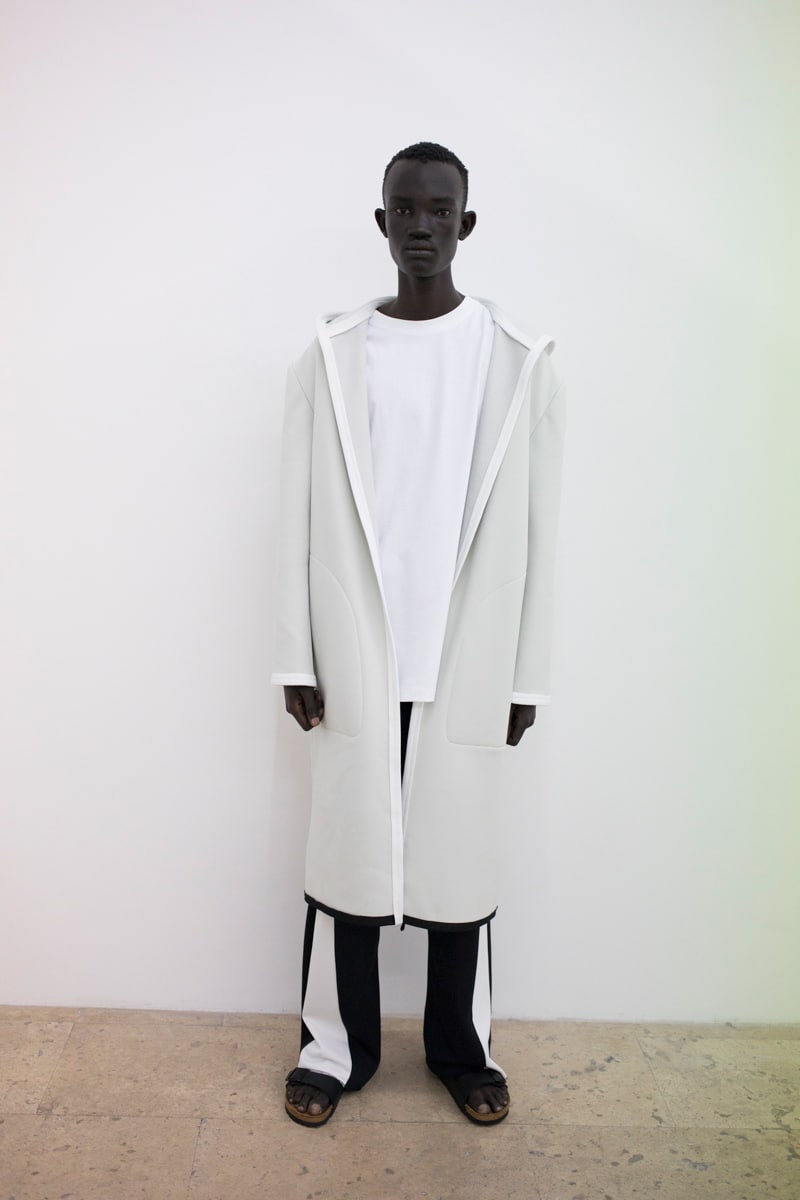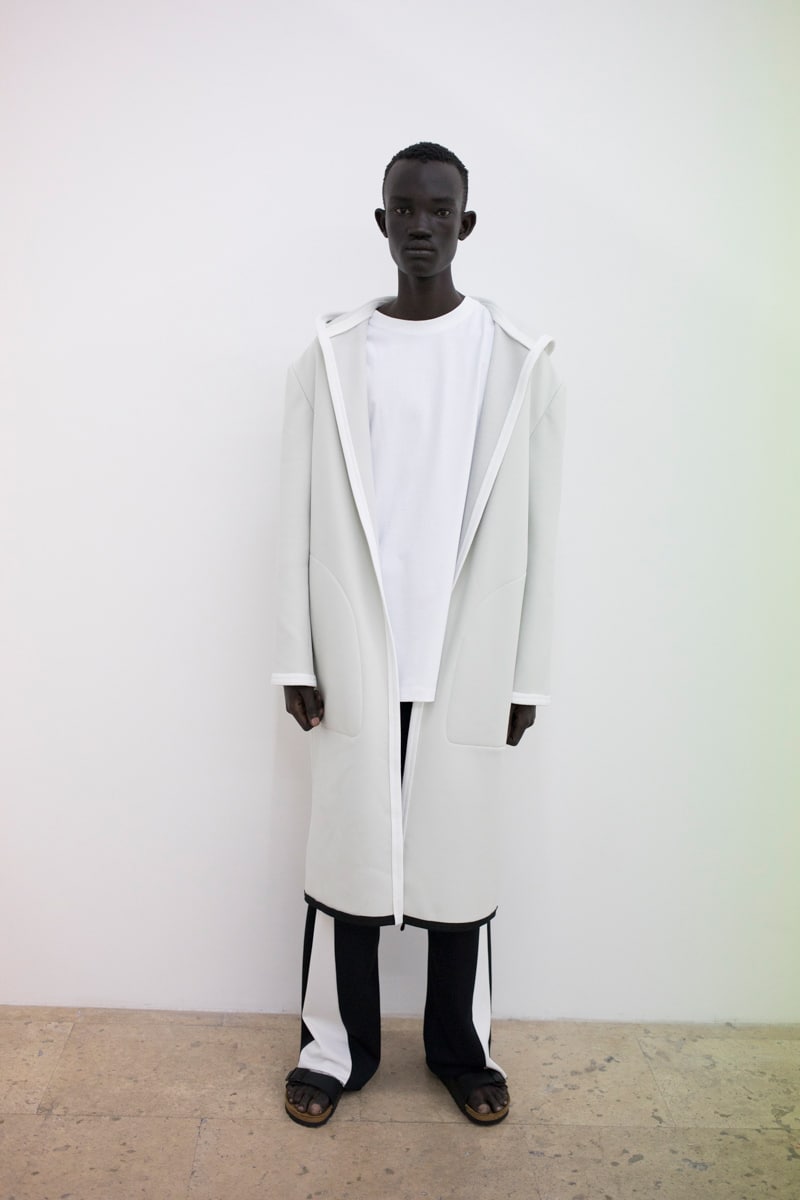 Since finding the brand in 2015, sustainability has been at its core. Can you please tell us how you approach this subject?
I think the idea of sustainable fashion has always been an interesting one – however, while the industry has to continuously work on reducing its environmental footprints true change will only happen through ethical consumption and a paradigm shift in consumer behavior.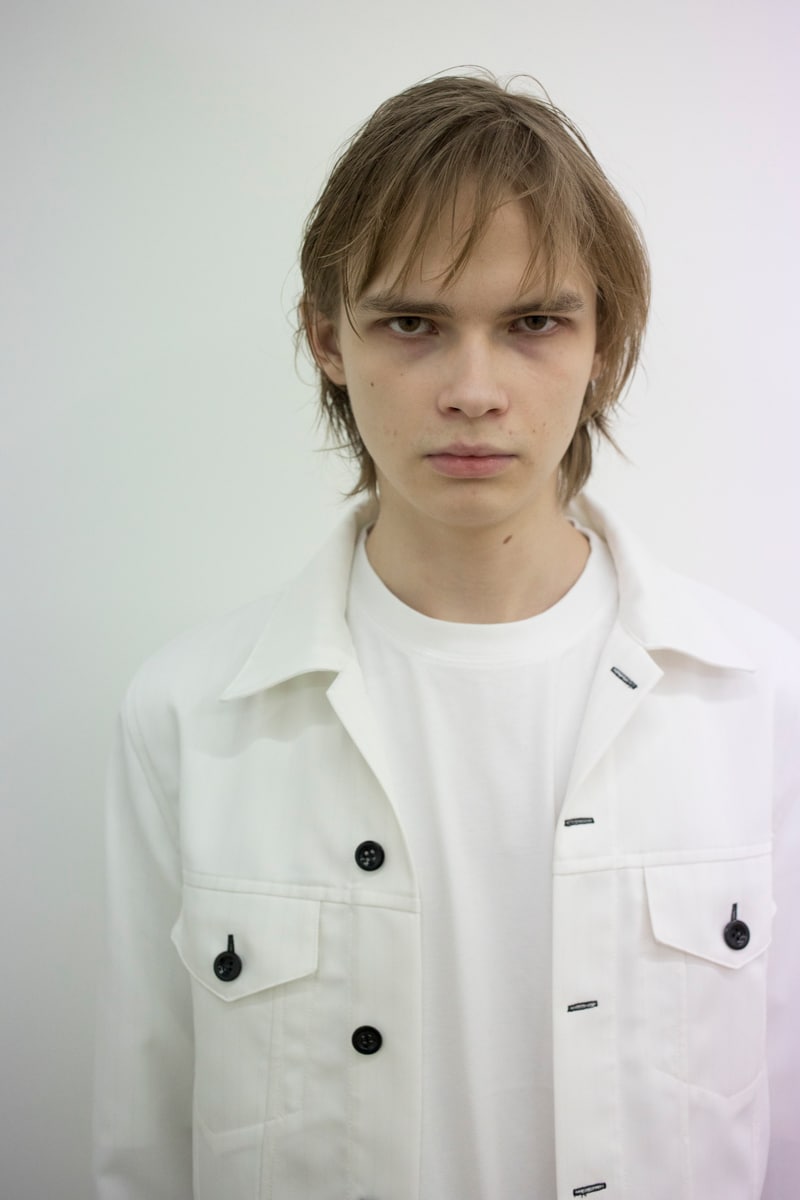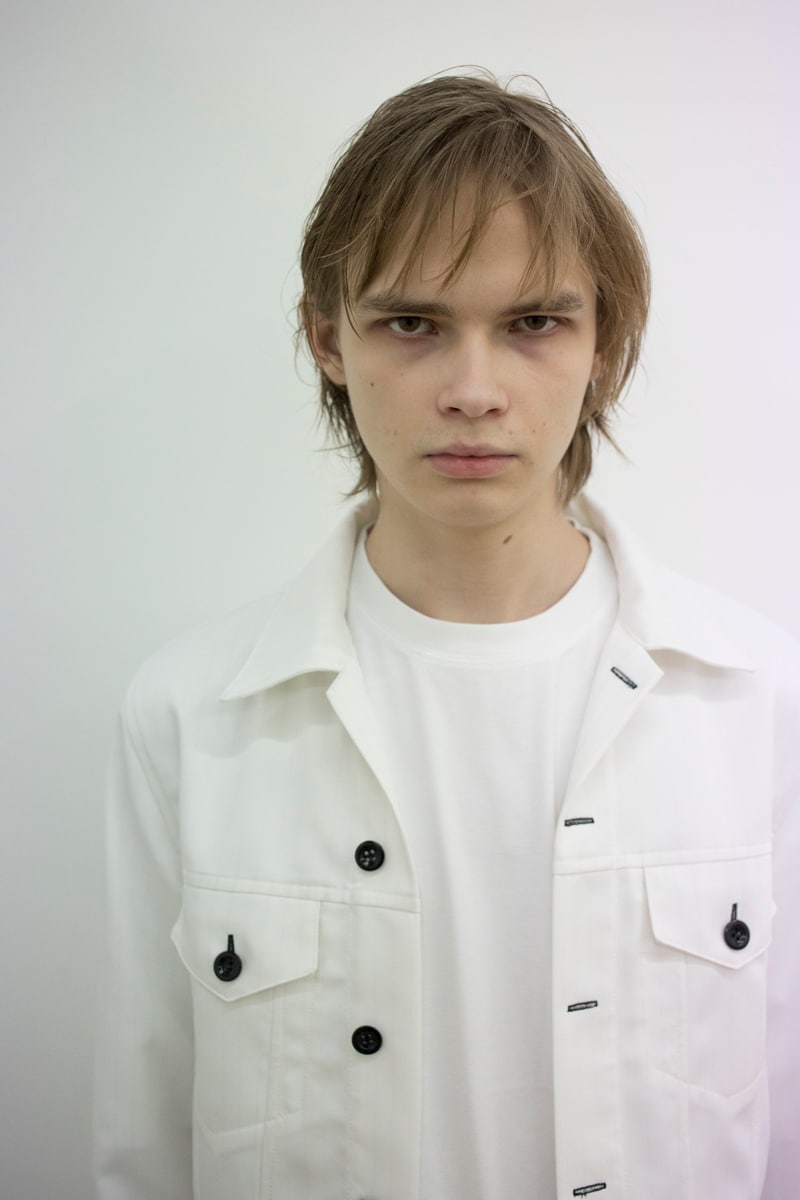 We are entering the age, where we don't really need another shirt or trousers as clothing has been overproduced. How would you reply to this statement?
It is imperative to realign consumer's idea of what wearing sustainable fashion implies: It doesn't mean you have to spend a fortune to dress in beige hemp but wearing classically styled garments that last for years instead of months or weeks. This could serve to minimize the rate at which their clothing gets discarded and can ultimately reduce impacts.
Finally, what role does technology play for you? Is it a blessing or a curse?
It's fun nothing more nothing less.