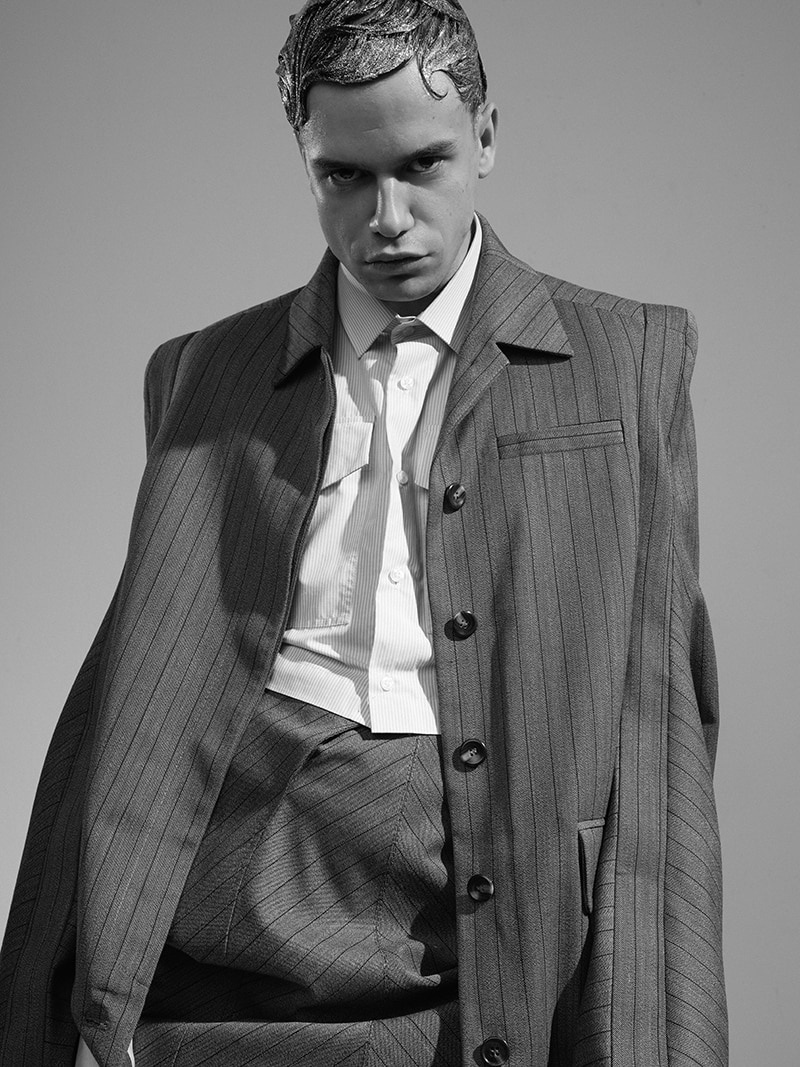 Just under three years old, Popoff Kitchen is the only queer techno party in Moscow and has created a safe place for all queer kids along with being a platform for queer artists to show their music, art, and performances. St Petersburg born and raised, Kirill Shapovalov is one of the young DJs to emerge from the collective that has made several showcases around Europe. We first caught up with him at Mercedes-Benz Fashion Week Tbilisi. His natural style is as effortless as his sets which has brought him to some of the most iconic techno clubs in Europe. We caught up to discuss fashion, music and queer young life today.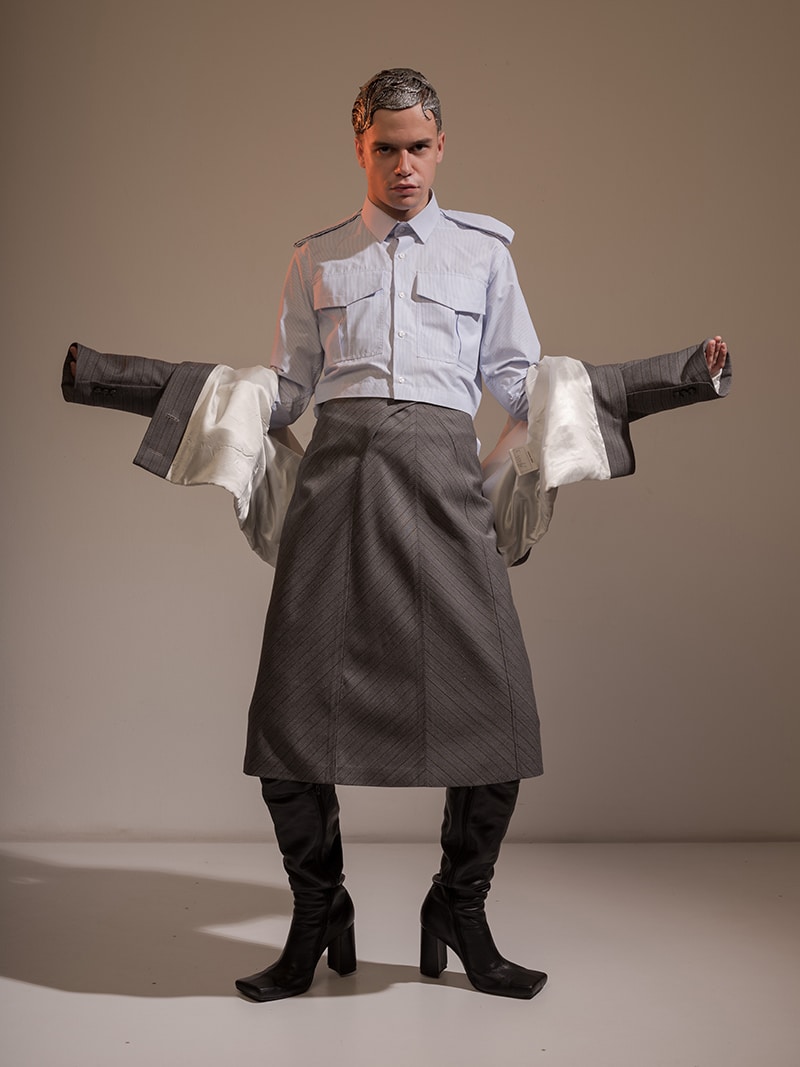 Let's start at the beginning. How would you describe your childhood and what was your first exposure to music?
On one side it was easy and on the other it was difficult, so I guess my childhood was in between. I grew up in the love and care of my family since my mother was still a teenager and my grandmother my nanny who was fully engaged with my upbringing. My grandmother had to work very hard to provide us with food and basic necessities. In any case, my family tried as much as possible to surround me with love and care. I didn't contact my father's family at all.
As I recall from early childhood, I loved to stay home alone, I liked to dress up in beautiful garments from my mom's wardrobe, turn on various cassettes and disks with club and dance music on a tape recorder that we had in our living room and dance for hours changing and constantly switching cassettes.
After school, I took additional music lessons, the choir, and solfeggio. I loved to sing and it worked out great for me. I started to visit nightclubs quite early in life. When I turned 16 I went to my first party despite the fact that in Russia you can go to nightclubs only after 18. I had to look for different loopholes and around 17 I started to enter more serious clubs with electronic music where I heard different genres of this direction and then I realized that it will become an integral part of my life. At 17, I began to learn how to mix music and tried to organize performances for myself in small bars and clubs in St. Petersburg and Moscow. Several of my friends DJs showed me the basics of mixing and working with music on the remote control, and then I continued to do everything by myself.
You are the resident DJ of Popoff Kitchen, queer parties in Moscow. Many of the LGBTQ community is skeptical about traveling to Moscow. Can you please tell us about the mood and the overall vibe?
In general, trips for LGBT people to Moscow can be considered safe, but unlike Berlin and other European cities, there isn't the freedom to which you are accustomed. Many things, such as holding hands, kissing and even defiantly dressing in public places in Moscow are mostly unwelcome. I wouldn't recommend it. For almost 3 years of Popoff Kitchen's existence, none of the artists whom we brought to Moscow has encountered open homophobia, but you still need to understand that Russian society is more conservative, orthodox, and homophobic.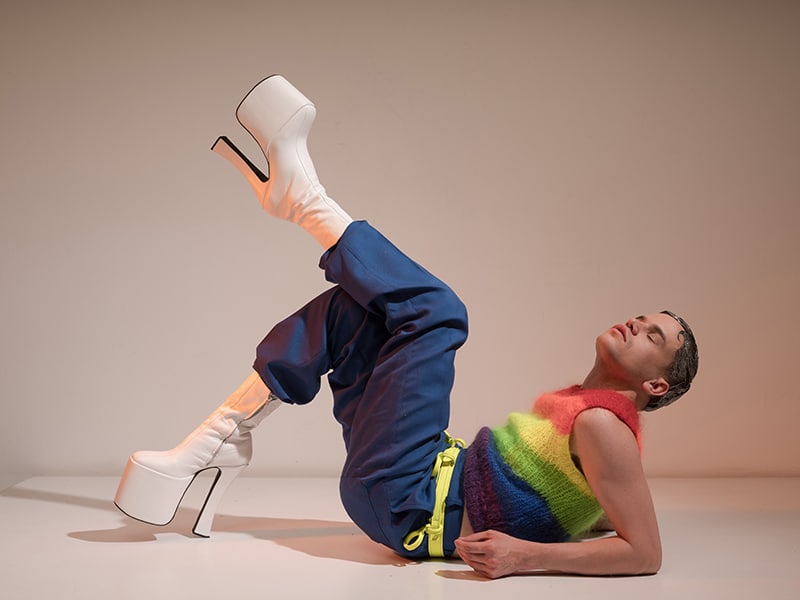 How did you meet Nikita Egorov-Kirillov the founder of Popoff Kitchen?
I accidentally met Nikita in Moscow at one of the Boiler Rooms, I think we knew each other but introduced ourselves and spoke there, we had a mutual acquaintance with Sergey Nesterenko, Nikita's right hand in our team.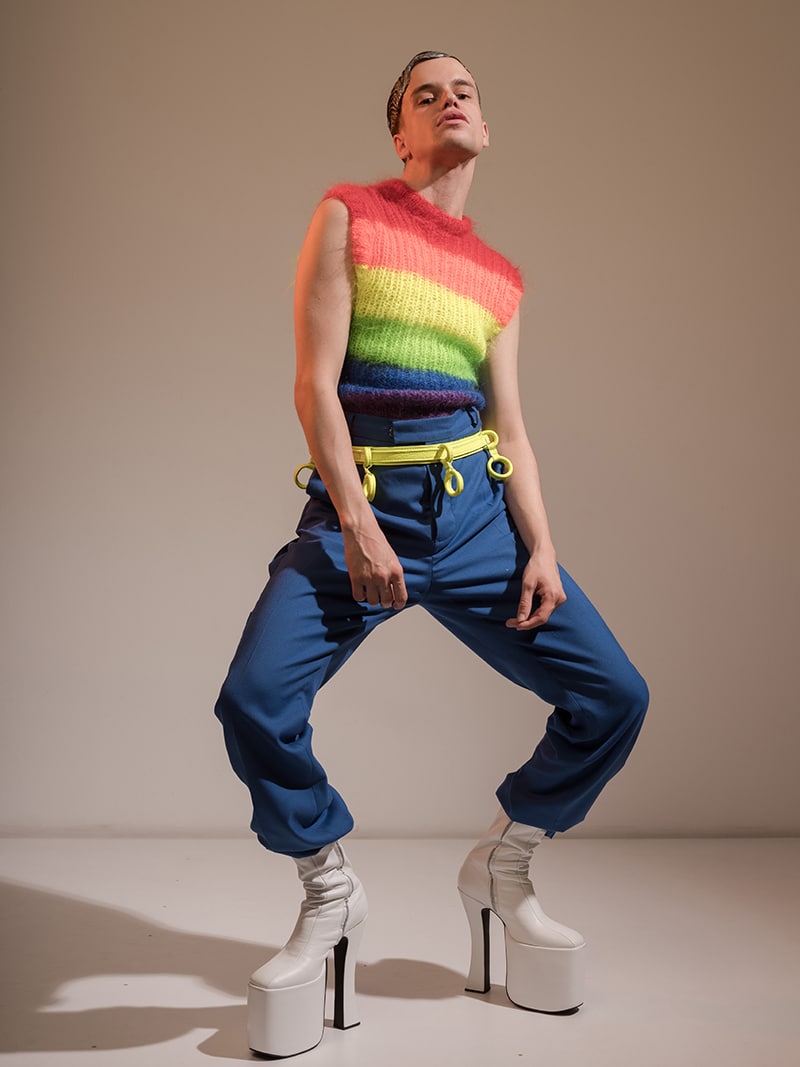 How did Popoff Kitchen begin and where else have you taken it on the road?
Popoff Kitchen was launched in early 2017 by Nikita as the first alternative queer techno party in Moscow. From the first parties, the focus was on high-quality techno and house music and creating an atmosphere of freedom and sexual liberation, which was not typical for Moscow. But with the advent of me in the Popoff Kitchen family, genres at a party in music increased significantly.
I joined the Popoff Kitchen team after my first DJ set in Moscow at a joint party with BLT (Bizarre Love Triangle from Paris) after my DJ set Nikita and I realized without words that we are ideologically, musically and visually suitable for each other and want to work and develop further together. So I became a resident of the most powerful and free queer party in Moscow, and maybe in Russia.
How did you come to terms with your own queerness and did music play a role?
I accepted myself and extremely proud of it and try to realize myself to the limits. Of course, at school, it was difficult to communicate with peers, especially with boys, because in Russia people raise children conservatively, but apart from bullying, I had no other difficulties, I had protection and support in the face of my grandmother. But I still behaved careful and restrained in some cases. My family always tried to support all my aspirations and not tell me what I should do in the future. For this, I am extremely grateful to them!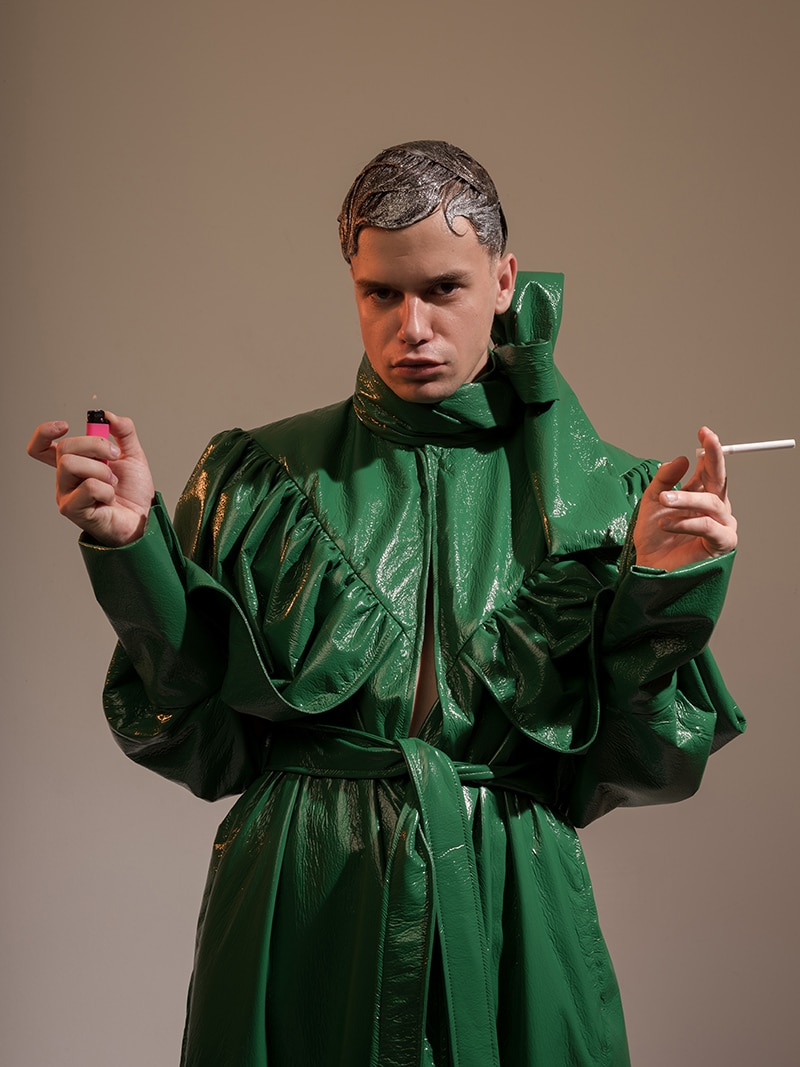 You recently played the Depot in Paris, one of the most iconic hardcore clubs in the city. Do you have a favorite place and how is playing in Paris different from Berlin for example?
Yes, I recently performed at the Le Depot club at a party called Adult! It was one of my best DJ sets. Free relaxed behavior of people on the dance floor, atmosphere and sound were amazing. I liked playing for this audience and my performance was emotionally saturated! And I consider Paris a special city for me because here I met a very special person to me. Berlin and Paris are two different cities with different energies in many senses. You can argue a lot and talk about it, but I can definitely say that in these two underground and magical cities I feel alive. Electronic music has always gone hand in hand with freedom and sexual expression. This is something that can always be found in these two cities of Paris and Berlin!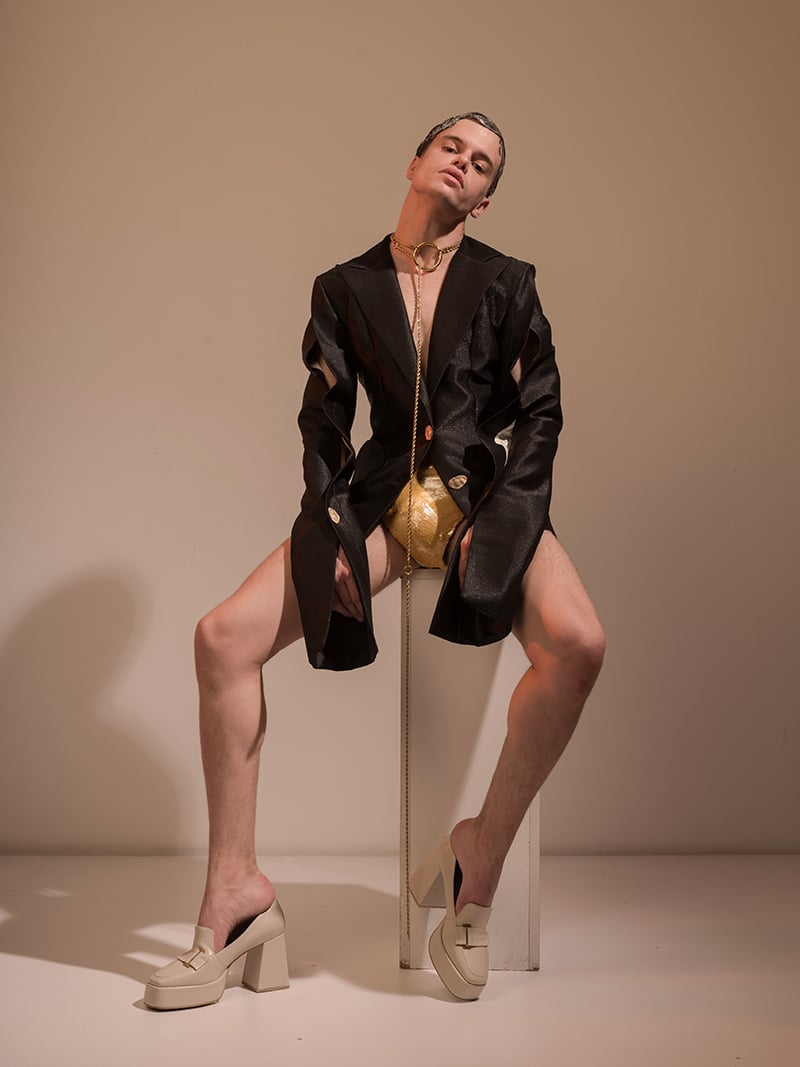 By the way, I'm listening to your set you did at Rinse FM in Paris back in March. Can you please tell us where and how you begin putting together your sets and the inspirations behind them?
I gather my sets for performances always in different ways; these are always different factors. I am a music lover and like to mix different styles and genres in one set. I like to mix difficult compositions in my sets. I also always pay a lot of attention to emotional and vocal tracks, mixing them with hard underground dance tunes.
Although it might be hard to see what you are wearing in a dark club behind the decks, we get to see many of your outfits on Instagram. How would you describe your style? Any influences?
I like to combine styles both in music and clothes. I can't clearly describe my style because it is constantly different. I love to mix things. I think you already understood this (laughing). but I made a bet on the visual image unconsciously. This is my sense of style, I dress up equally in everyday life and in performances. My artistic image it's the quintessence of movements, glances, and energy. It all reflects my inner self and perception of the world.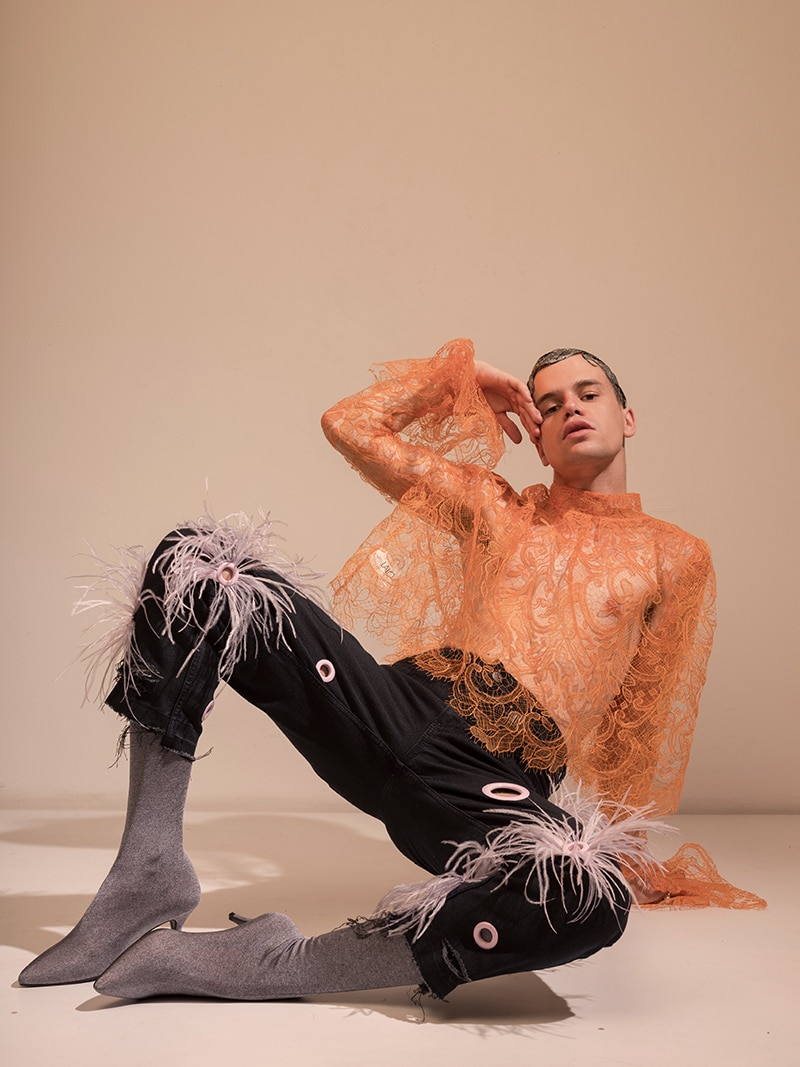 We are living in strange times, what scares you the most about the future?
I am seriously concerned about the fact that in our time I rarely meet truly sincere people, so it is becoming increasingly difficult to meet the true love in this constantly changing world based on selfless feelings.
What role does technology play for you?
First of all, the development of technology helps me to create the exact sound I want, which distinguishes me from others. The development of music, especially electronic, keeps up with the development of technology, and this gives me a platform for experimentation. I would like to create something new, technology is a good companion in helping to do that. However, if we talk about technologies in general, then we can't hide from them anywhere. It remains only to observe their rapid development and try to find a balance between reality and the virtual world.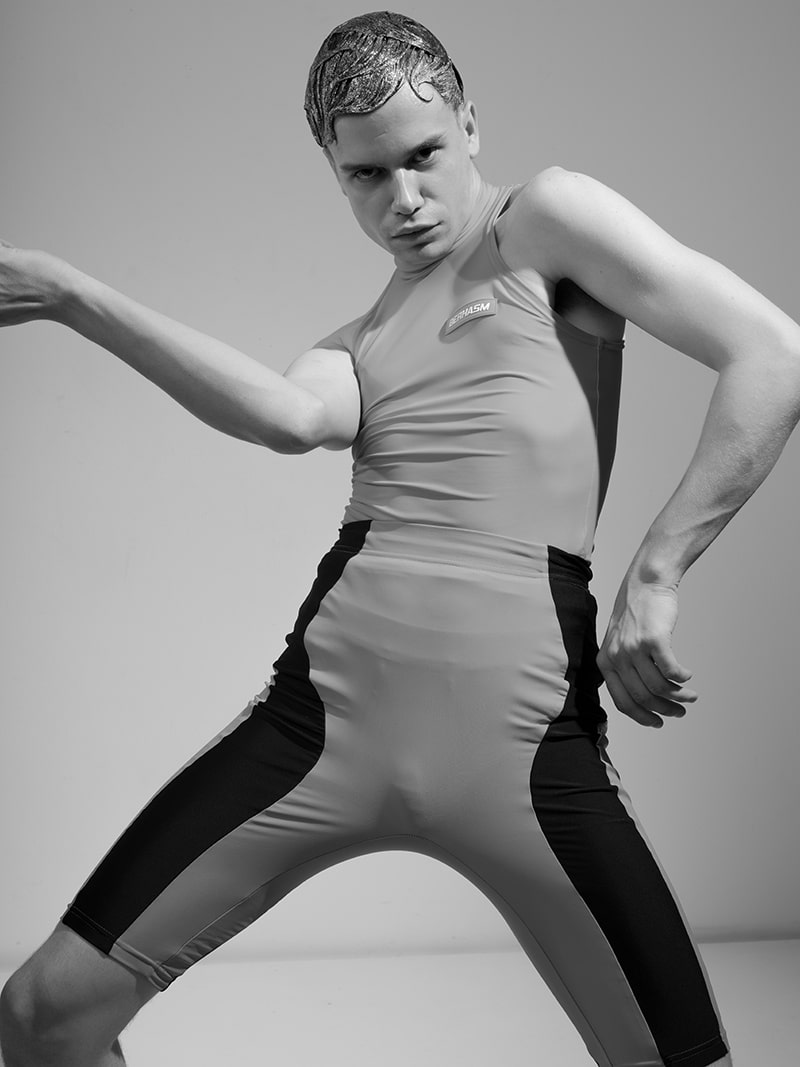 And finally, what are your plans for 2020?
To work and develop more in the musical field and to please my listeners with new works. But in the immediate plans for December this year, we end the season with the last Popoff Kitchen party on the 20th of December! We will bring the showcase to one of Berlin's main queer and sex-positive parties – Pornceptual, it will be a large-scale party and the closing of the season, and immediately the next day I will fly to Antwerp to perform at the closed queer party Shivers together with the Berlin party Brenn, this underground collaboration will take place at the Rodin Bar in Antwerp.
On New Year's Eve on December 31st, I will play a DJ set in the legendary gay bar Ficken3000 with my friends by a musical group called Sado Opera, they themselves come from Russia, but have been living in Berlin for a long time and are residents of the respected Salon club – Zur Wilden Renate in Berlin. We will have a festive home New Year's party there. And also about the ambitious plans for 2020, I would also like to mention the Popoff Kitchen showcase at the WHOLE festival (united queer festival) and the American tour planned for August 2020. And we also want to prepare a second live performance with my friends: DJ Marina Bibik and musician Unfound (they also performed at Popoff Kitchen parties in Moscow and Berlin), they live in St. Petersburg and we have a common musical project Haute Dance, we had the first test live last winter at the club Kisloty and in the coming year we plan to repeat our show more than once!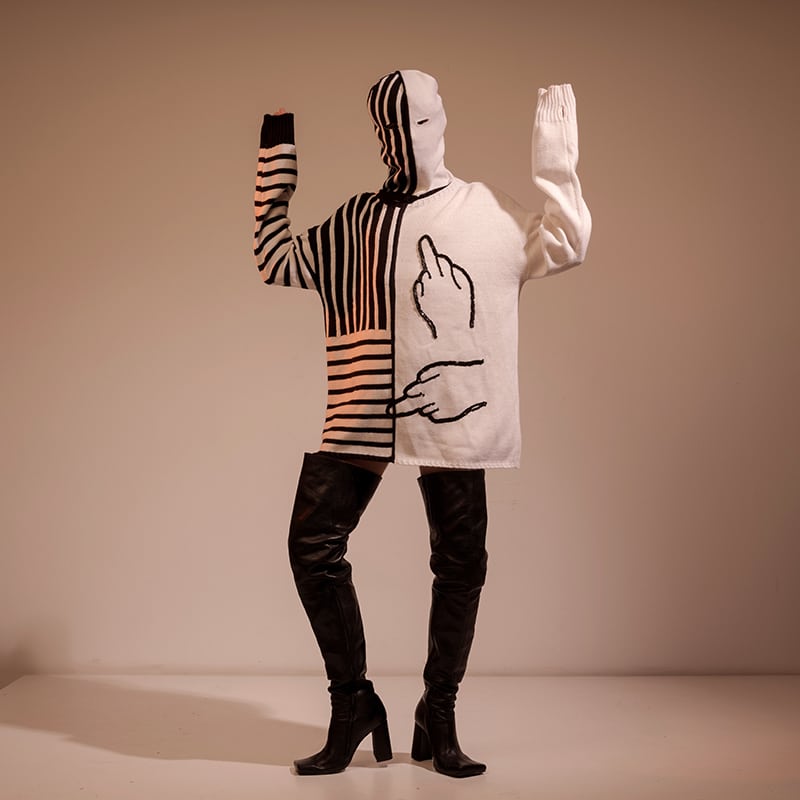 Total looks Top to bottom: SITUATIONIST, Gola Damian, Aleksandre Akhalkatsishvili, Janashia, Lalo, Berhasm, and Blikvanger with boots by SINTEZIA