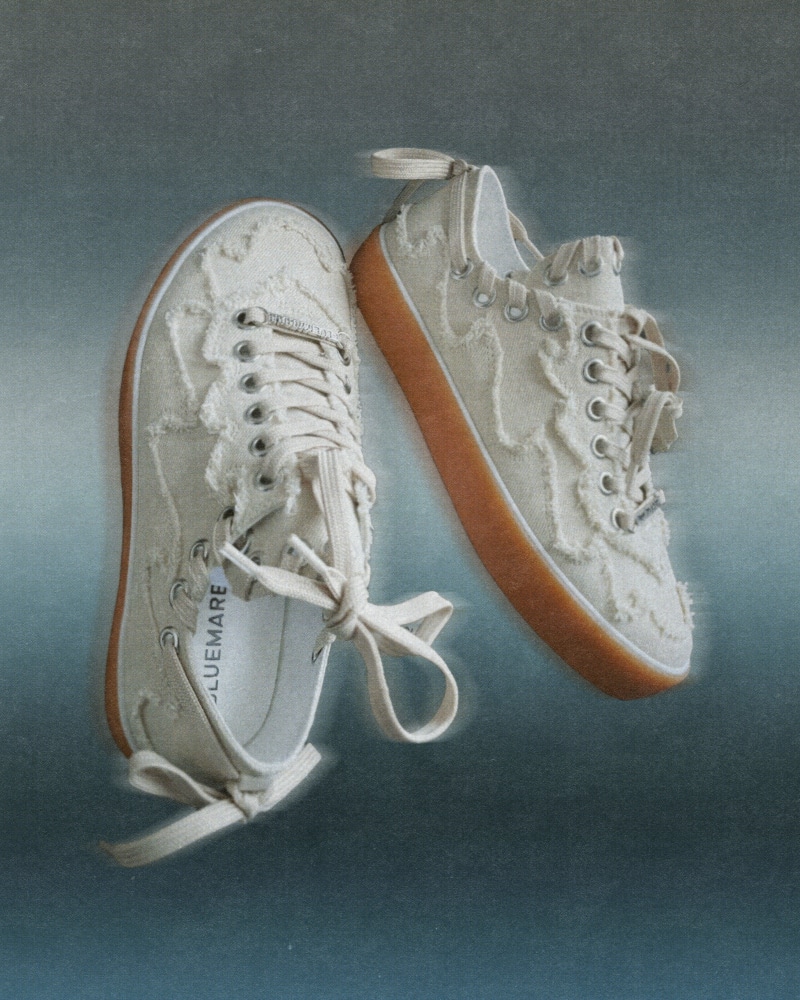 In the same spirit of perpetual voyage that inspires all Bluemarble collections, the brand's first sneaker design makes its debut, ready to encounter the world. Named Kellys as an homage to champion surfer Kelly Slater, these shoes were conceived as a streamlined design imbued with a board-sport attitude. While the thick rubber sole and cotton twill upper are classic in style, the wave detail has become a recognizably Bluemarble motif. Along with this frayed treatment, extra eyelets wrap around the sneaker so that the laces tie at the heel. The tongue is also traced with lacing – a creative twist to convention. As the only visible branding, Kellys sneakers boast a signature metal dubrae with the letters in relief. The enlarged width is a shout-out to skate shoes, resulting in a silhouette that catches the eye.
This launch marks a significant step for the brand, which will continue to develop the category through wearable styles that express the unique and uplifting aesthetic of Bluemarble.
"Kelly Slater was one of my idols growing up, and it felt fitting to channel my love of board sports into the first Bluemarble sneakers," says Anthony Alvarez. "I wanted to develop a design that would enhance our men's wear and be embraced by our community. These Kellys are just the beginning."
Bluemarble Kellys sneakers will retail for 280 euros and are now available to pre-order on the brand's website and through select retailers.