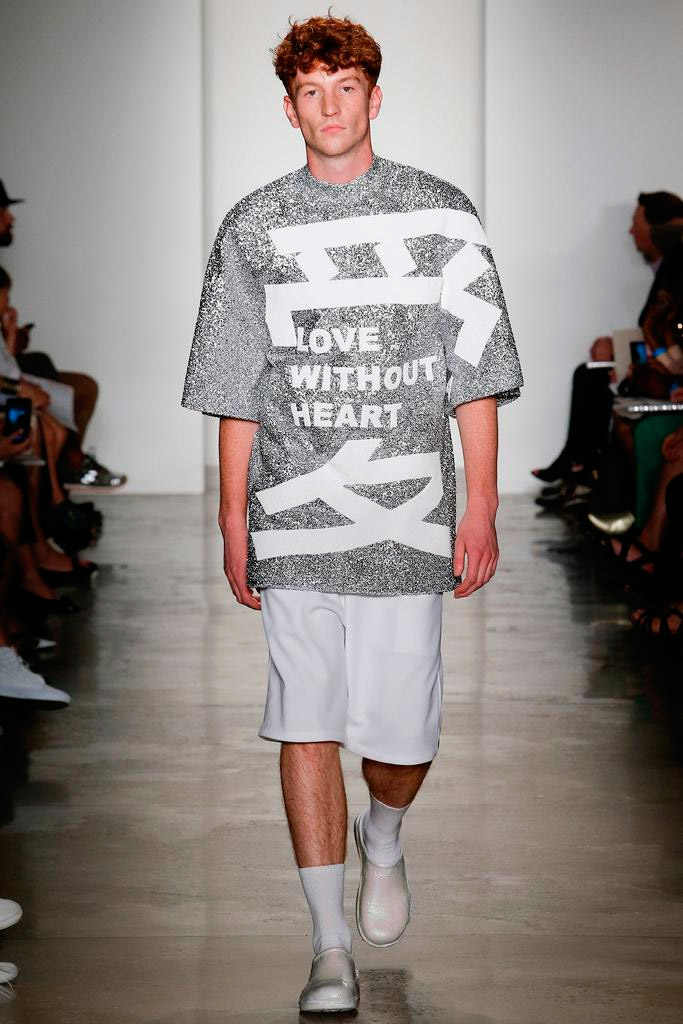 Not too long ago, Style.com described 26-year old designer x performance artist Bei Kuo as "easily the most out-there of the bunch" in her Parsons New School of Design Masters of Fine Arts Fashion Design and Society program. The publication was reflecting on the designer and her series of silver metallic, white embossed neoprene to the slick black sportswear looks, many of which include the text "You do not exist." Well, Kuo took the runway this week, along with the ten other Parsons MFA grads, who showed their collections during New York Fashion Week, and I don't think it is a stretch to say Kuo made one of the most lasting impressions.
Kuo not only worked with interesting materials (Neoprene, knit blends and leathers) and fine-tuned skills (think: a meticulous process that included layering and bonding to create the appearance of Chinese characters on the Neoprene pieces), she took it a step further with a collection inspired by her own past. Of her Spring/Summer 2015 garments, Kuo says: "Most of my works involved both personal and emotional things, and it is not always about something pretty. For most people (or maybe just for some people), there must be some part of your past/memory that you would never ever want to talk about. Every time you think about it, you want that period of your life disappear. And every time it hunts you down, you want to disappear from the world for a while." Hence, the "You Do Not Exist" text that appears on many of her garments. For the non-Chinese speakers among us, the characters that adorn the pieces in the collection represent an array of phrases, one of which is, "Love without Heart," which Kuo intentionally mistranslated using Google Translate, in an attempt to explore and manipulate language and make it her own.
Stay tuned for more from this promising young talent, who, judging by this capsule collection alone, undoubtedly has a lot more in store for us.