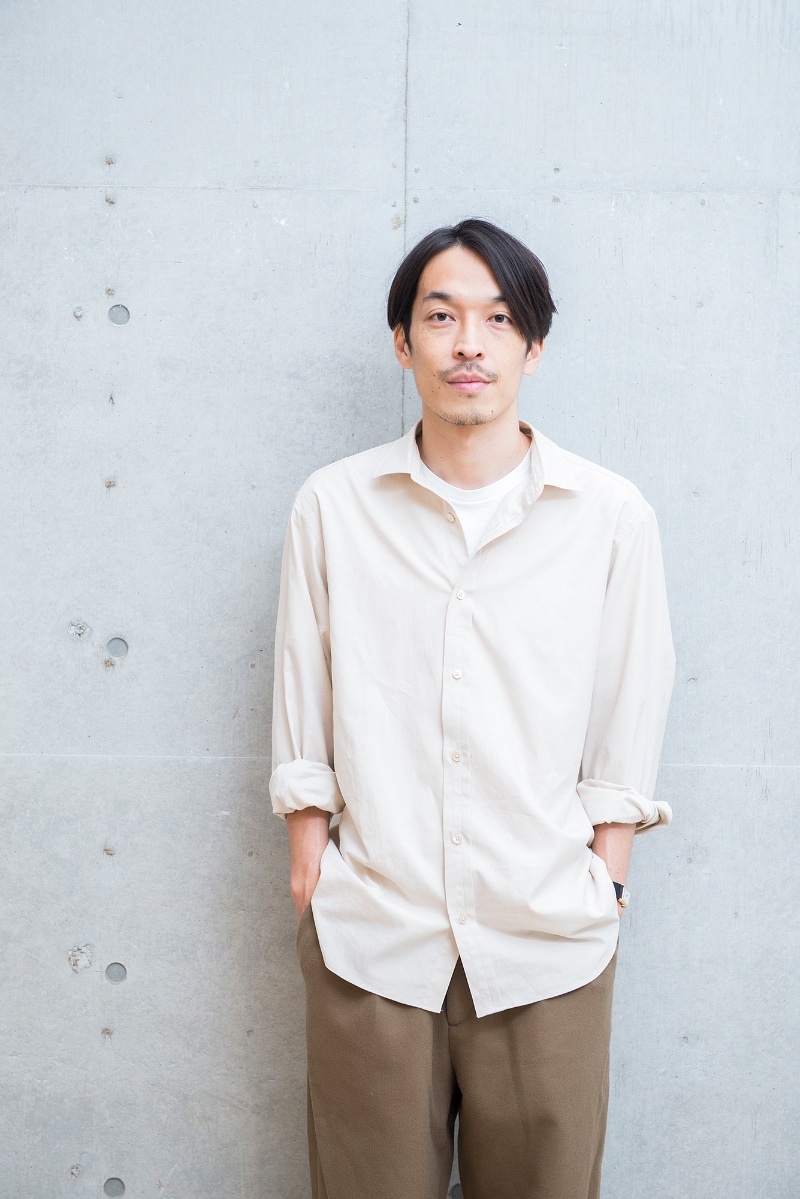 In many ways, AURALEE is an exploration of natural materials, the ones which we will have against our skin and live in. Founded by Ryota Iwai who began as a pattern cutter for several designer brands, AURALEE launched in 2015 and followed by the brand's first directly-managed store opened in Tokyo in 2017. In 2018, Iwai won the FASHION PRIZE OF TOKYO 2019 and started presenting his collections at Paris Fashion Week. We have become familiar with seeing the brand not just during fashion week but also on Mr.Porter and SSENSE. 
With word of mouth spreading of his thoughtful staples, we wanted to know more about how the brand functions, planning a future in fashion with a growing concern of the environmental impact of the industry, and about the designer behind it.
Tell us a bit about your background and when you knew you wanted to be a designer?
My interest in clothing started back when I was in junior high, at first I wanted to open up a second-hand clothing store, and eventually worked part-time at a vintage shop.  
After university, I started going to vocational school in hopes of being a pattern designer. While cutting my teeth and working for other companies, I had eventually been given the opportunity to design, and naturally from there started my own brand.
What is your favorite part of the design process?
The most exciting part of the process for me, is the creation of the fabrics, being able to imagine and visualize the texture and feel, and actually see those ideas solidify into materials.  
Your pieces are produced in Japan, what role does sustainability play in the brand and do you have any criteria when sourcing fabrics from around the world?
Regarding the role of sustainability in the brand and in the industry in general, I want to first acknowledge that we can all be doing more, and I want to further strive to learn more about how to incorporate better practices in a manner that is real and true to the brand. 
 At the moment, every season we always aim to never overproduce and avoid waste, there are no discounted sales at our Tokyo flagship, and we only produce what is ordered from our retailers.  Along with this, we hope to support more sustainable buying practices, our goal is to create only the highest quality products with the intention of being worn and cherished for a long time.  In our production, I try to be on-site as much as I can, and through this dialogue with our producers, directly witness and have my hand in how our clothing is made.  With developing all of our own fabrics, we are able to have control, and with this, we use primarily all-natural materials and whenever possible incorporate recycled materials as well as GOATS certified organic cotton.   
As far as criteria for sourcing materials for our fabrics, through my travels and research, we know that different parts of the world accel at the production of certain materials, whether it be Peruvian Alpaca, Mongolian cashmere, New Zealand wool, or Indian cotton, and we are constantly trying to search for more and bring the best out of these materials in our garments.   
What do you consider to be wardrobe staples?
To each their own, however, for myself, it is a T-shirt with a great touch that can be worn year-round, a comfortable knit, and a well-tailored coat.
What is the biggest fashion mistake you see people make? 
I feel people look the best when their style is actually true to themselves, and you can tell they genuinely mean and enjoy what they are wearing.    
Do you think fast fashion will be eradicated?
As long as the people involved are being properly treated and compensated, I think there is nothing inherently wrong with the concept of having products available that are affordable, easily accessible, and high quality and I think this is necessary for the people. 
That said, the current practices need to be improved, I think currently there is especially an issue with overproduction and a pressure for large quantities and constant turnover, I think there will be a shift and this will gradually decrease, and these companies will take a more inclusive approach, where the well-being for all will take the front seat to the current focus on mere profit and a self-serving agenda. 
There is certain practicality in all of your collections along with an effortless cool that doesn't shy away from being elegant. Do you have any outside creative influence? 
When I was a teenager, Japanese street fashion was in its heyday, but I was always more drawn to American and European second-hand clothing and the minimalist designers of the '90s. 
I also find a lot of inspiration from my daily life and my own interaction with garments, it is important to be rooted in how your clothing will actually be worn, as I want our garments to become an extension of the wearer and be incorporated into their lives. A wardrobe that even when worn roughly, can be worn elegantly. 
How would you describe your silhouette?
I wouldn't say there is one particular silhouette, and this depends vastly as my main priority is to create silhouettes that make the best use of our fabrics.  
You show in Paris and people talk a lot about the French aesthetic, how would you describe the Japanese aesthetic? 
Japan is a place that accepts the natural as it is.  A place that appreciates the margins, over outright beauty.  Beauty in reserved modesty.  
So far in your career, is there something you are very proud of?
I am most proud of being able to work alongside with and help support all of our factories, and producers.  Also, I remember very fondly the first time seeing a stranger wearing our clothes. 
A last message before we disconnect?
Thank you for taking the time to discuss this, I am looking forward to being able to do this in person in the future.  I hope everyone reading is able to watch and enjoy our digital presentation this season, and now it's off to work on next season!
See you next season!