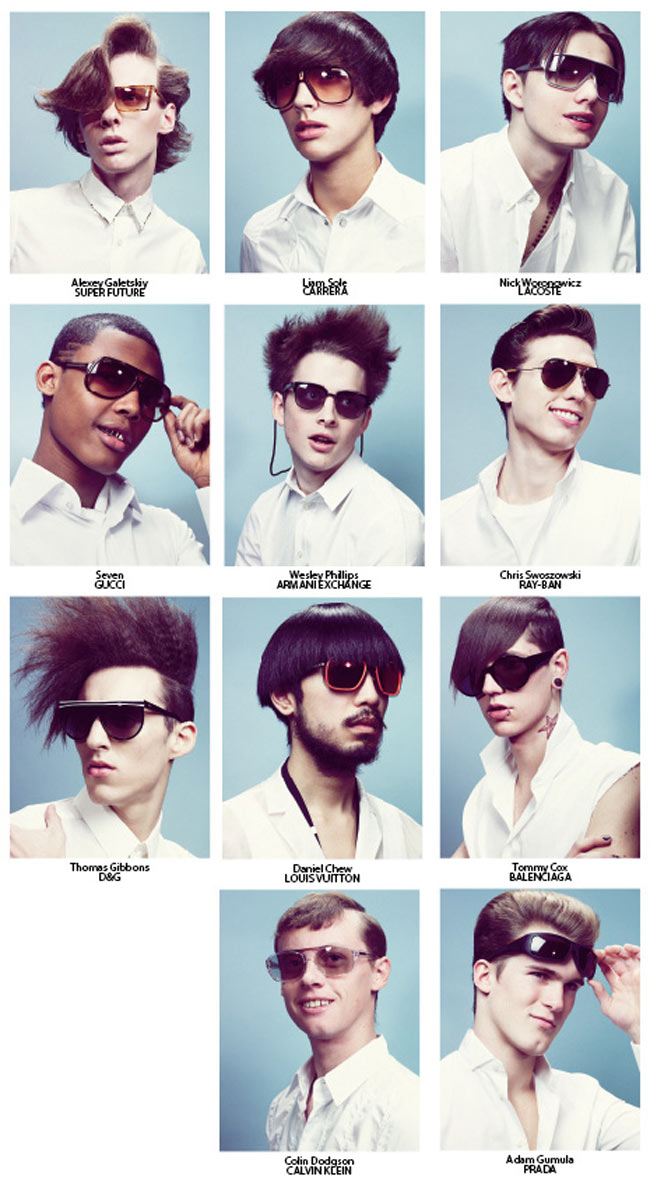 "If eyes are the windows to the soul, then give them the framing they deserve.
This season, the lenses and hairstyles maketh the man."
By Miguel Enamorado photographed by Gregory Harris for Interview Magazine.
Photos: On Liam: Shirt: D&G. On Nick: Shirt and t-shirt: Lacoste. Necklace: Model's own. on Chris: Shirt: Zzegna. T-shirt: DKNY. On Tommy: Shirt (customized): Topman. On Adam: Shirt: D&G. On Colin: Shirt: Comme des Garcons shirt. On Daniel: Shirt and tank top: Jil Sander. Necklace: Louis Vuitton. On Thomas: Shirt: Dolce & Gabbana. On Seven: Shirt: Tom Ford. Scarf: Ann Demeulemeester. On Alexey: Shirt: Jil Sander. On Wesley: Shirt: Emporio Armani. Grooming Products: YSL Beauty, including Temps Majeur Creme. Makeup: Yadim. Models: Liam Sole/Red, Nick Woronowicz/Request, Chris Wwoszowski/Red, Tommy Cox/Red, Adam Gumula/VNY, Colin Dodgson, Daniel Chew, Thomas Gibbons/Fusion, Seven/Red, Alexey Galetskiy/DNA, Wesley Phillips/DNA. Casting: Michelle Lee/KCD, Inc. Special Thanks: Fast Ashleys.