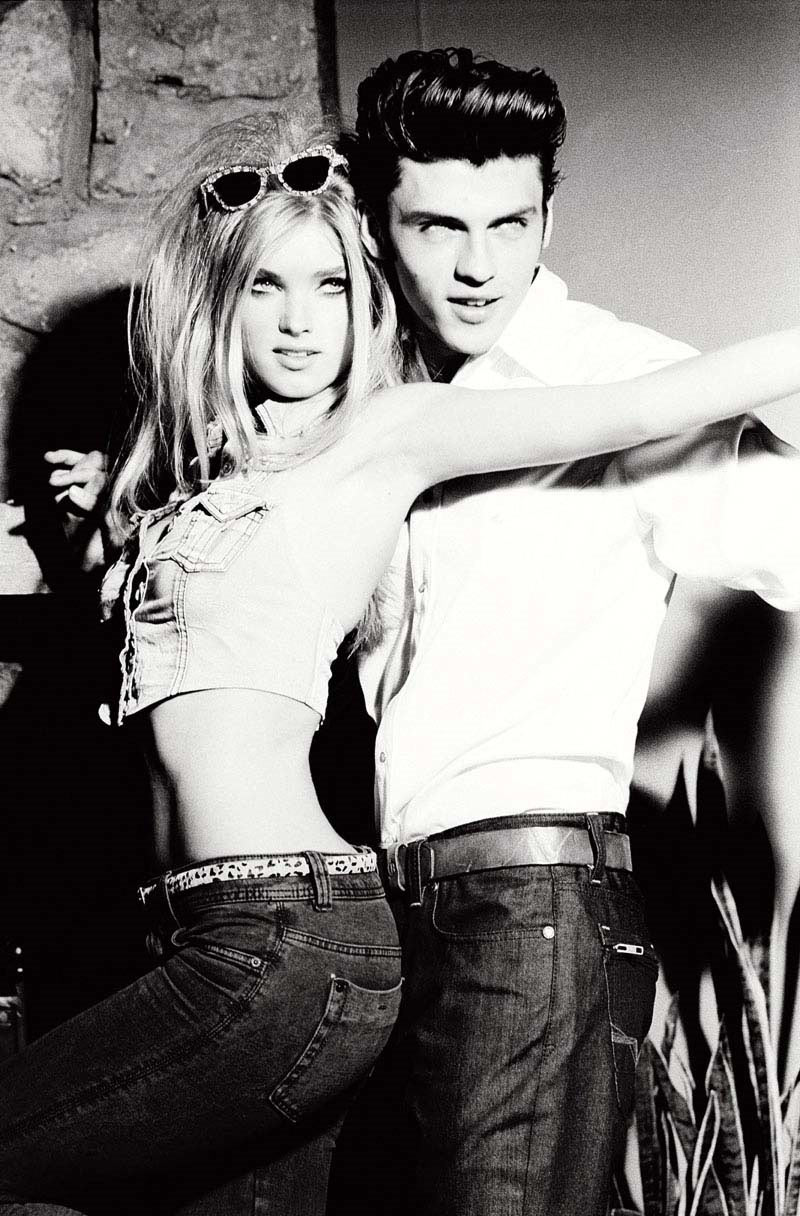 Paul Marciano and Ellen von Unwerth reunite for Fall 2010 GUESS Campaign.
For Fall 2010, GUESS unveils an iconic advertising campaign using world renowned photographer Ellen von Unwerth, who shot the classic GUESS campaigns of the 1980's and 1990's including famed GUESS models Claudia Schiffer, Carre Otis, and Eva Herzigova. The newest partnership between GUESS and Unwerth will be unveiled in top magazines this fall marking a return to the company's roots.
Shot in black and white, the GUESS Fall campaign goes back to one of GUESS' and Unwerth's classic shoots by revisiting Tennessee, where Unwerth first shot Claudia Schiffer in 1989. Over 20 years later, GUESS lands in Memphis, the birthplace of rock 'n' roll. The campaign story follows three rebels as they embark on a road trip to Memphis and try and make their mark in the music scene. The trio, Elsa Hosk, who first appeared in the GUESS spring 2007 campaign, Alyssa Miller, who appeared in the GUESS by Marciano Spring 2010 campaign and is the face of the new GUESS Seductive fragrance along with GUESS campaign newcomer, Silviu Tolu, are the perfect individuals to showcase the latest collection from GUESS.
The images transport the viewer back the 1950's, where the stars go through a transformation from the quintessential girl / guy next door into a rock star. Gingham plaids, nautical stripes, bustier style tops and classic denim jackets and jeans are the core of the fall 2010 collection. As the girls take on an edgier, more rocker look, the jeans make way to cut-off shorts and peddle pushers emanating the GUESS girl image that the brand has been built upon.
Under the direction of GUESS?, Inc. Vice Chairman and Chief Executive Officer, Paul Marciano, and photographer Ellen von Unwerth, the GUESS fall 2010 campaign is shot in the same classic manner that helped launch GUESS into the global lifestyle brand it is today. "Working alongside Ellen and incorporating our rock 'n' roll history combined with a picturesque setting, stunning talent and impeccably designed clothing are the perfect ingredients for another iconic campaign," says Paul Marciano, Vice Chairman and Chief Executive Officer of GUESS? Inc. "Through Ellen's lens we have created yet another masterpiece to sit alongside the classic campaigns that have made GUESS a household name."